Don't end up a "beer corpse" – how to survive Oktoberfest

Oompah!
Feeling steady on your legs? We're a few days into Oktoberfest 2014, in all its Bavarian beer-filled glory – the revelry continues until October 5.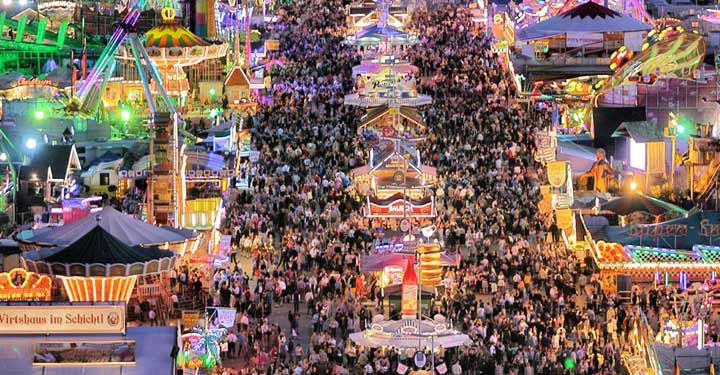 So if you're off to Munich to pay homage to the revered beverage – or are considering it for next year – read our survival guide to the great Lederhosen-clad knees-up.
Where's my tent?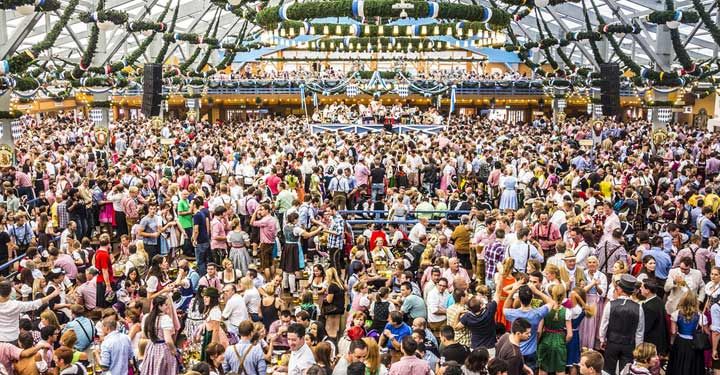 Fourteen big – very big – beer tents await at Oktoberfest, giving visitors the delightful headache of deciding which to choose. Each tent seats between 4,000 and 11,000 people and has its own distinct flavour – just like the beer. Among them are:
Kalbsbraterei: New for 2014, this is a tent for the foodies. A gourmet menu complements the beer drinking, with roasted veal a speciality.
Löwenbräu: Popular with Australians, New Zealanders and South Africans, this tent is guarded by a huge model lion – complete with frequent loud roar.
Hofbräu-Festzelt: The biggest and one of the most fun tents to visit, with legendary singing and dancing.
Augustiner-Festhalle: Among the most friendly of the beer tents and a great option for families. A kids' day is held on Tuesdays during the festival – minus beer.
Weinzelt: More a fan of the grape than the grain? This tent offers 15 different wines along with a selection of Sekt (sparkling wine) and Champagne.
Ein Bier, bitte! ( A beer, please!)
The last thing you want from your Oktoberfest visit is to end up as a "Bierleiche" – a beer corpse. Despite the ocean of beer swallowed during the festival, Oktoberfest is about enjoying the amber nectar in moderation. A few tips for staying vertical:
The beer at Oktoberfest is typically strong stuff, with an alcohol percentage of between 6% and 8%. In other words, drink more slowly than you would often milder British beer.
Hardened local Oktoberfesters can probably stein you under the table. Don't try to compete.
Consider alternating your beer with "radler" – shandy – if you like it. Some revellers drink only this during the festival – it's strong enough in itself.
Don't forget your goat-hair hat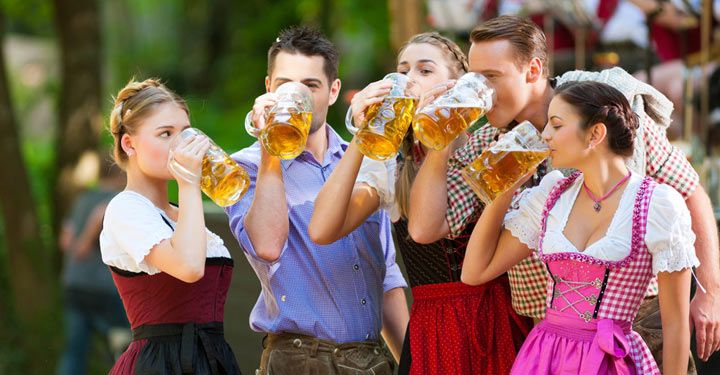 Almost everyone at Oktoberfest dresses up in traditional Bavarian costume – albeit with the odd attention-grabbing variation these days.
So ladies, don your Dirndl, and guys – it's obviously lederhosen. Men especially should think of adding a hat – preferably with a tuft of goat hair in the rim (traditionally a sign of wealth – the price of goats these days!).
The Wurst that could happen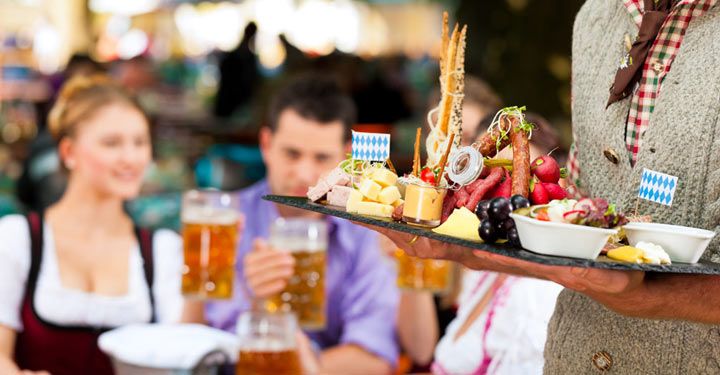 With all the beer swigging, you're going to need something to soak it up. Here are some pickings from the feast:
A Halbe Hendl is a roasted half chicken – add sauerkraut and pickles
Bratwurst in a baguette
Schweinshaxe: ham hock
Steckerlfisch: grilled fish on a stick
Giant pretzels (that's right, vegetarians, we know it's Germany but you needn't starve)
Don't let it ALL hang out
Precautions are all the more important at a festival more or less devoted to beer.
Keep some cash spare for a taxi fare home – stumbling through Munich looking for a cash point is no fun and leaves you vulnerable.
But leave valuables in your hotel room: drunken tourists are a pickpocket's wet dream.
Write down the address of your hotel and put it in your pocket. If you suffer memory loss on the way home – or your brain fails to engage your voice box – you can just hand it to the cab driver.
Remember that your travel insurance probably won't pay out for mishaps due to alcohol.
What's the Bavarian for "Cheers!"?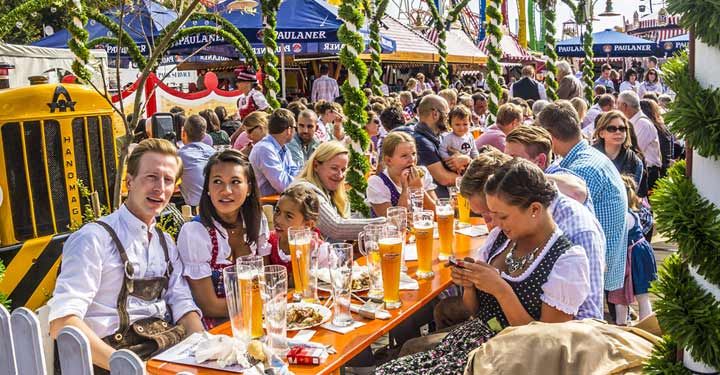 Learning a few key Bavarian phrases (the dialect sounds pretty different from standard German) not only shows respect but is a quick way to make new friends. And everyone's in a friendly mood at Oktoberfest…
The festival isn't just about eating and drinking, there are fairground rides and parades, too.
The beer tents can get hot and stuffy. Most have outside areas (which can also become packed). If you do want to leave for a breather, make sure you'll be allowed back in.
Don't try to smuggle a mug out of a tent as a souvenir – unless you fancy being landed with a €50 fine.
Book seats in the tents well in advance – or haul yourself out of bed early to stake a claim at one of the few available benches.
Have a comment or question about this article? You can contact us on Twitter or Facebook.
Sign up. Be inspired. Travel.
Subscribe now for hand-picked holiday deals, inspiration and the latest travel tips, straight to your inbox.