There are plenty of excellent water parks around the world already, but we're especially excited about the latest offering from Universal Orlando Resort, Volcano Bay, which will be packed with tube slides, wave pools and hi-tech water-coasters when it opens on May 25.
You can find more details about Volcano Bay below, but if you can't wait until it opens or are headed elsewhere this year, we've also rounded up some other top options for wet and wild fun around the globe.


Volcano Bay, Orlando, US
Besides the rides at Volcano Bay, Universal Orlando's brand new water park, the innovative 'TapuTapu' electronic wristbands sound like a great idea – you simply register your interest in an attraction by scanning the wristband near its entrance, then you're given a time to return to the ride to access it without a queue.
The centrepiece, however, will be a steaming, lava-spewing volcano, and rides will include a four-person aqua-coaster, a 70-degree drop ride and a six-person raft ride (through lava tubes, naturally). Its location, just off International Drive and right next to Universal's Cabana Bay Beach Resort, makes getting to Universal's other parks easy.


Siam Park, Tenerife, Spain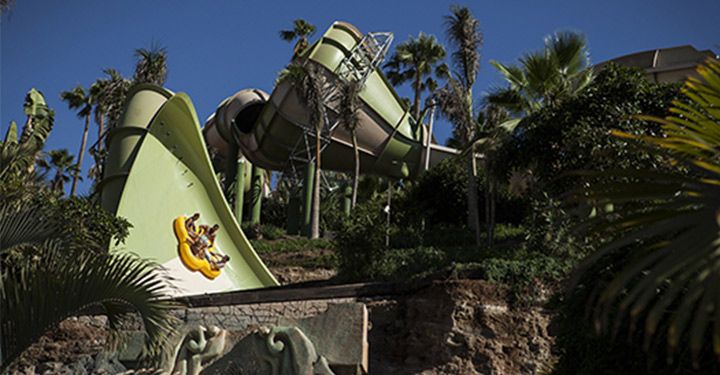 Step into this Thai-themed water park and you'd be forgiven for thinking you've entered some long-lost ancient city, complete with temples, dragons and traditional Thai houses.
Kinnaree is a high-speed raft ride incorporating huge bowls, the Dragon slide features near-vertical funnels, and the Tower of Power is a lightning-fast slide which passes through an aquarium filled with sharks.


Wild Wadi Waterpark, Dubai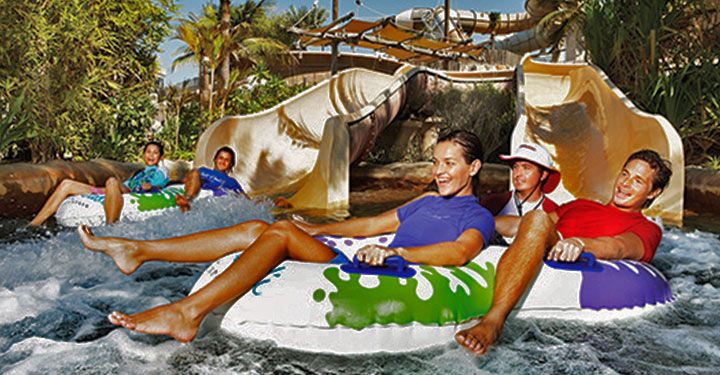 Tempting holidaymakers into the water in a place where the mercury regularly tops 50C is never going to be hard, but the team behind Wild Wadi haven't rested on their laurels. Take on the Jumeirah Sceirah, for example, and you'll drop through a trapdoor before whizzing through an enclosed tube slide at speeds of up to 80kmh.
For more high -peed fun, head to the park's Master Blaster water coasters, before chilling out in Breaker's Bay (the Middle East's largest wave pool) or hanging ten on the FlowRider standing wave.


World Waterpark, Edmonton, Canada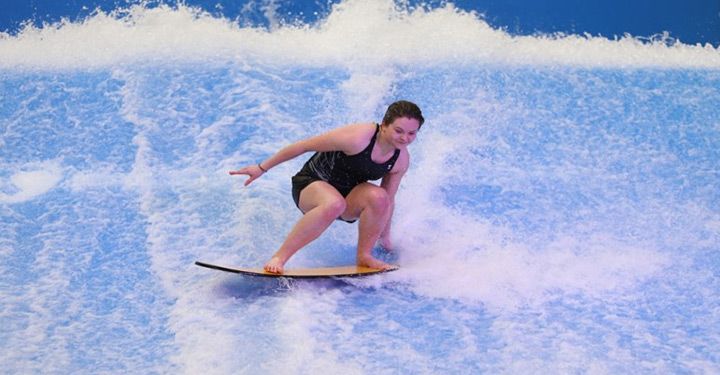 At first glance just a shopping centre, the West Edmonton Mall is also home to one of Canada's biggest water parks – follow up your retail therapy session with some water therapy, where you can sip cocktails in your very own poolside cabana or learn how to surf on the water park's standing wave.
World Waterpark's other highlights include a looping flume ride, the world's largest indoor wave pool and an enormous children's play area.


Tropical Islands Resort, Krausnick, Germany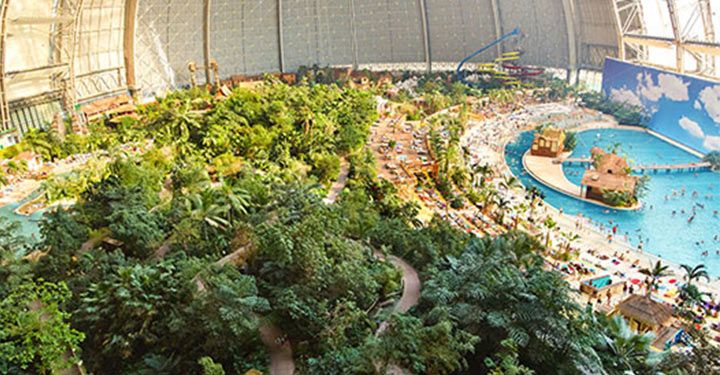 Tropical Islands Resort, tucked inside a former airship hangar, covers an area the size of eight football pitches. In addition to several waterslides, there are multiple pools, including Tropical Sea (the size of three Olympic pools) and the Bali-inspired Magical Lagoon, complete with grotto and waterfall.
Other attractions include indoor hot air balloon rides, a brand new outdoor area and an enormous white sandy beach – you can even spend the night inside the dome, which gives you an all-important headstart when it comes to poaching a perfectly-positioned sun-lounger.


Area 47, Ötztal, Austria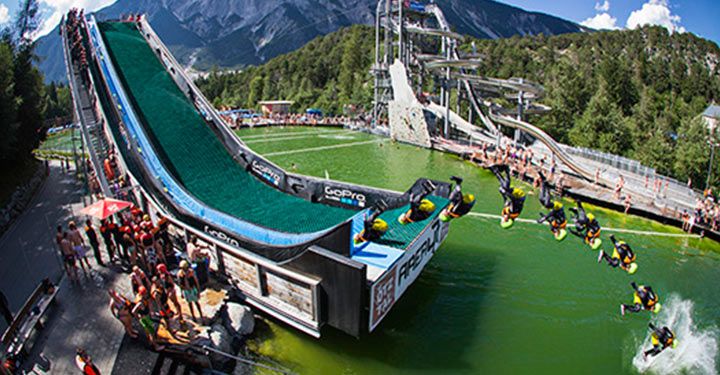 As the entire place freezes over in winter, Area 47 is a summer-only affair. Head to this alpine lake and you'll find water slides, a wakeboarding area, a cannonball ride (a scary-looking contraption which shoots riders over the lake) and a blobbing area. That's right – blobbing.
The blobbing concept is simple: one person lies on the end of an enormous inflatable cushion (the blob), before two people jump onto the other end from a raised platform, catapulting the first person into the air to splash unceremoniously into the water.


Aquatica, Orlando, US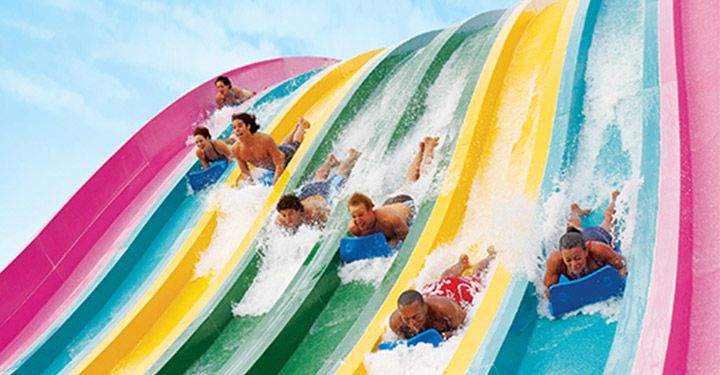 Aquatica is well-loved for its two enormous wave pools and its unique water rides, including Dolphin Plunge: a transparent tube slide which passes through an aquarium filled with cute Commerson's dolphins.
Also excellent are Ihu's Breakaway Falls, Orlando's tallest, steepest, multi-drop tower slide, and Roa's Rapids, which is three times faster than most lazy rivers.


Yas Waterworld, Abu Dhabi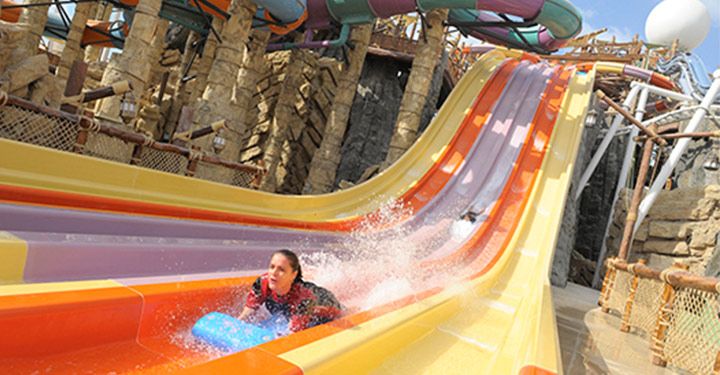 Highlights of this futuristic water park include Dawwama (a six-person raft ride on which passengers drop through an enormous funnel) and the Bandit Bomber, an interactive rollercoaster which flies over the park.
You'll also find the world's largest standing wave and a transparent, looping waterslide. The park is next to Ferrari World, so if you're planning on checking out both, you'd be best off opting for the two-park ticket.


Waterbom Bali, Kuta, Bali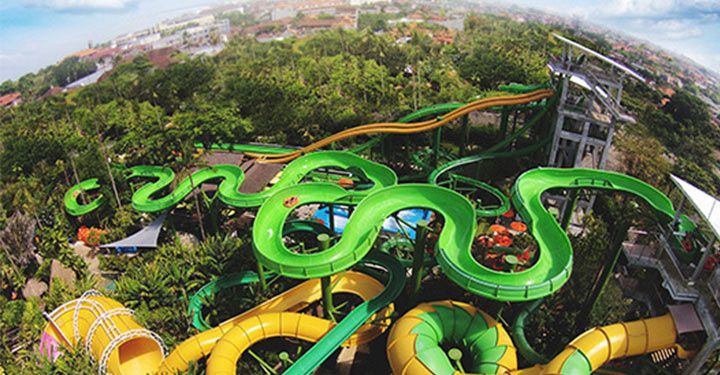 Most visitors to the Balinese beach resort of Kuta don't realise that somewhere beyond the backpacker hostels, beach bars and powdery stretches of sand lies one of Asia's best water parks – Waterbom Bali.
Ride the double Flowrider's standing waves with your nearest and dearest, experience 2.5Gs on the dubiously-named Climax drop ride, or zoom down the park's newest attraction, the looping Double Twist.


Beach Park, Aquiraz, Brazil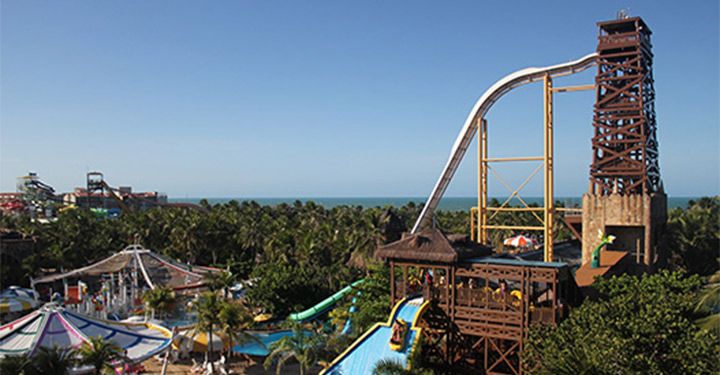 Iguazu Falls and Christ the Redeemer are overrated – if you're heading to Brazil, avoid the selfie sticks and head to this brilliant water park instead! Insane is the name of the park's biggest attraction; take on this nerve-jangler and you'll reach 104kmh in five seconds as you plummet 14 storeys.
For younger visitors the park features the Acqua Circus activity area, the Enchanted River and Treasure Island, which has water cannons and a lighthouse. For lunch, you should make a beeline for one of the restaurants on Porto das Dunas beach, which is maintained by the park.


Have a comment or question about this article? You can contact us on Twitter or Facebook.