10 free things to do in Singapore

December 6, 2017
Thought Singapore was expensive? Think again! Some of its most popular attractions are free to check out. Top of the list is an exploration of its beautiful botanic gardens and a history lesson at one of its many free museums, but as you'll see from the list below, there's no end to the free fun in this spectacular city-state.
1. Celebrate flower power at Singapore Botanic Gardens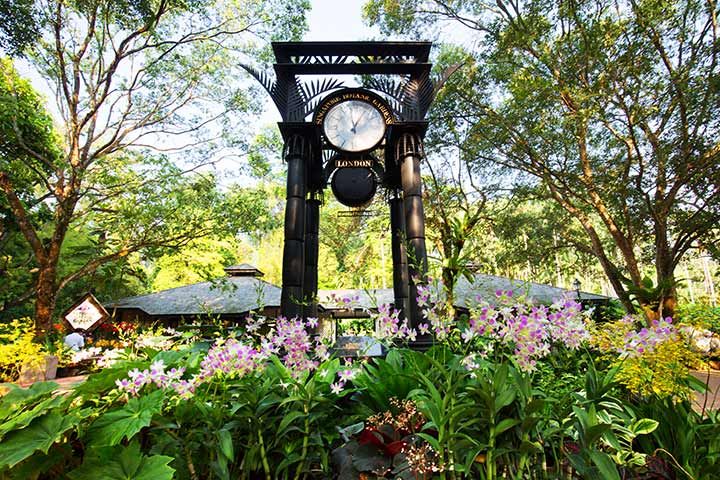 The Singapore Botanic Gardens date back to 1859. Their plants were initially tended to by a team of dedicated botanists who learned their craft at our very own Kew, and the gardens have played a crucial role in the agricultural development of south east Asia ever since.
One of the biggest successes was the introduction of the Hevea brasiliensis rubber tree, which became one of the region's most important money making crops. An orchid breeding programme was created in 1928, and ever since, Singapore's reputation as a Garden City is largely the result of work carried out at the gardens.
Our favourite bits? The beautiful Bonsai garden and the Learning Forest, where boardwalks weave through a range of habitats, including a freshwater wetland and a lowland rainforest.
2. Hit the beach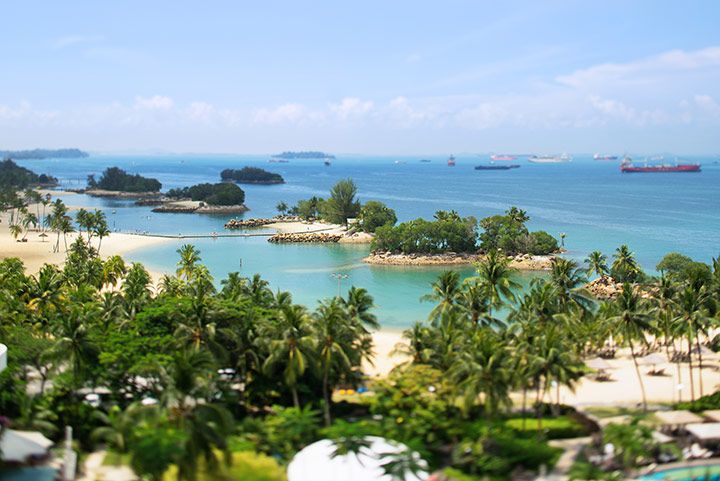 Sentosa Island is jam-packed with theme parks but there's also plenty for those on a budget. There are three main beaches: head to family-friendly Palawan to take a selfie on the Southernmost Point of Continental Asia, to Siloso Beach for the lively bars and a dose of people-watching (this particular stretch of sand is popular with Singapore's beautiful people) or to the soft white sand of Tanjong Beach for some peace and quiet.
All of the beaches are family-friendly and patrolled by lifeguards between the hours of 9am and 7pm.
3. Get a history fix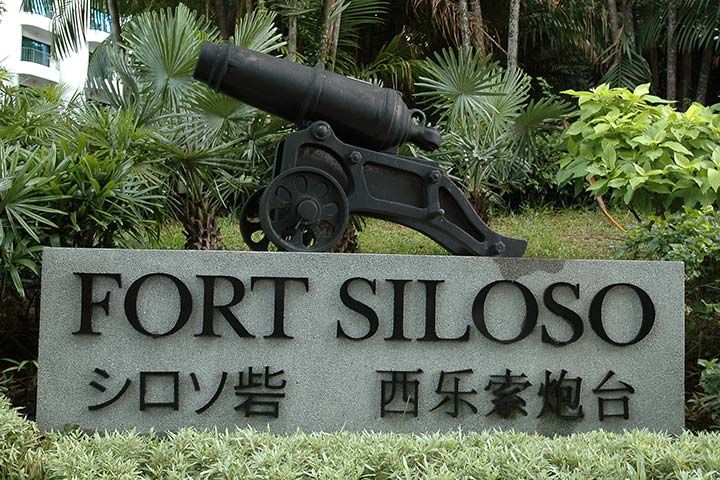 Fort Siloso is Singapore's only preserved coastal fort. It was built in the 19th century and played a crucial role in the protection of the coastline. On the second and third Saturday of every month, you can sign up for free tours of the site, which is home to Singapore's largest collection of coastal guns.
Younger visitors will love exploring the tunnels and various military structures, and there are six interactive zones where you'll be able to learn about different aspects of Singapore's military history, including the Japanese invasion and their eventual surrender at the end of World War II.
4. Wander along the MacRitchie Treetop Walk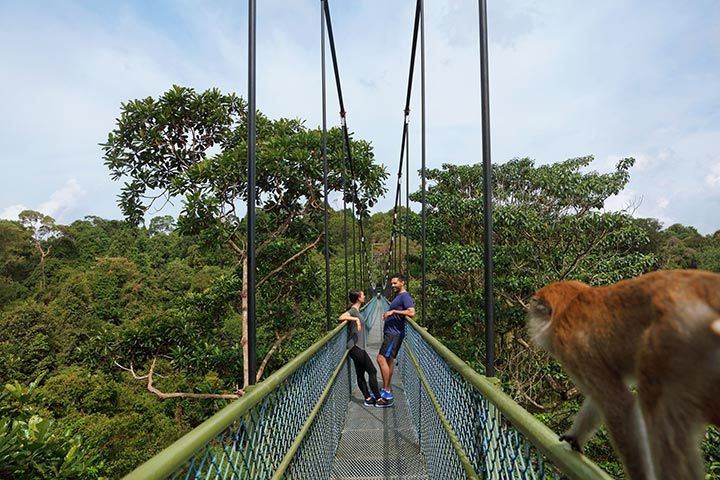 Singapore is full of unexpected green spaces and this 250-metre-long boardwalk provides a bird's eye view of one of our favourite areas. It's not for those with a fear of heights - the bridge connects the two highest points (Bukit Peirce and Bukit Kalang) in MacRitchie Reservoir Park.
Afterwards, explore this 12-hectare green space and hike its trails, canoe across its lakes and spot its wildlife, which includes monkeys, terrapins and the ridiculously cute, wide-eyed slow loris.
5. Learn about Asian art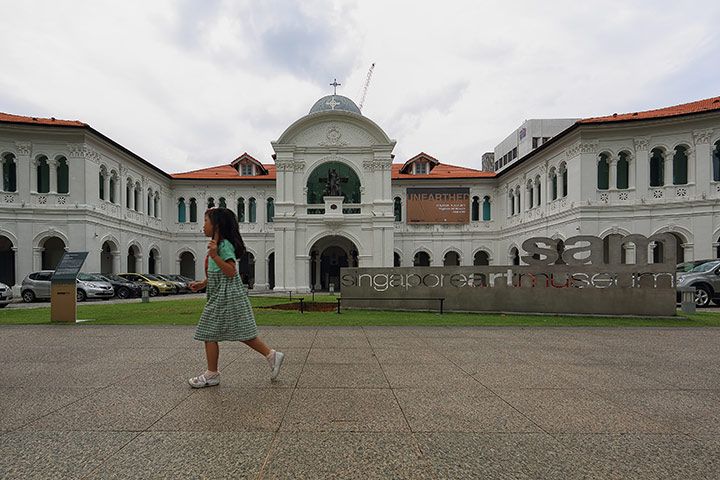 Singapore has a huge number of museums and galleries with free admission, and the Singapore Art Museum is one of the best. The focus here is on contemporary art in southeast Asia, and you'll find work by some of the region's best artists.
If you visit before March 2018, make sure you stop by Cinerama, an exhibition which examines the moving image. You'll be able to see everything from hand-drawn animations to immersive video installations.
Younger visitors will love the toddler workshops, which take place every Saturday between 10.30am and 11.30am.
6. Enjoy the Esplanade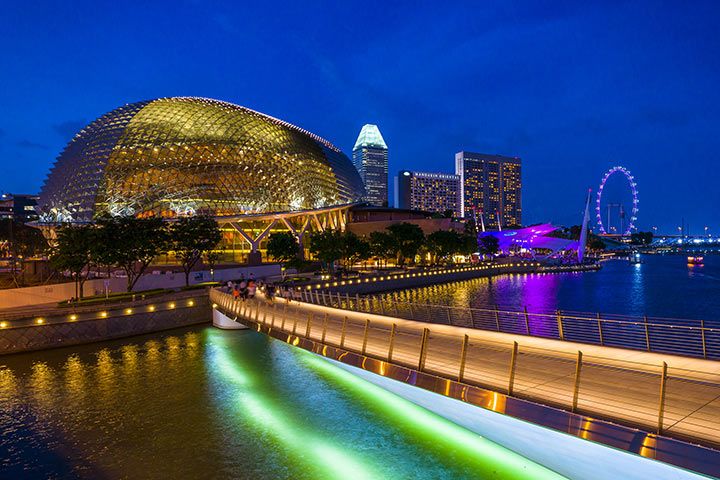 Singapore's Esplanade is one of the world's busiest art centres, staging around 3,000 performances every year. What's more, many are free, including everything from art installations and exhibitions to musical performances and film screenings - simply look at the website's free section to find out more.
We also recommend a visit to [email protected], which is the city-state's first performing arts library. The Esplanade has some of Singapore's best restaurants, shops and bars so if you do feel a need to splash some cash, you're in the right place. It's also a great place to pick up souvenirs, as several stores specialise in goods made only in Singapore.
7. Be dazzled by a light show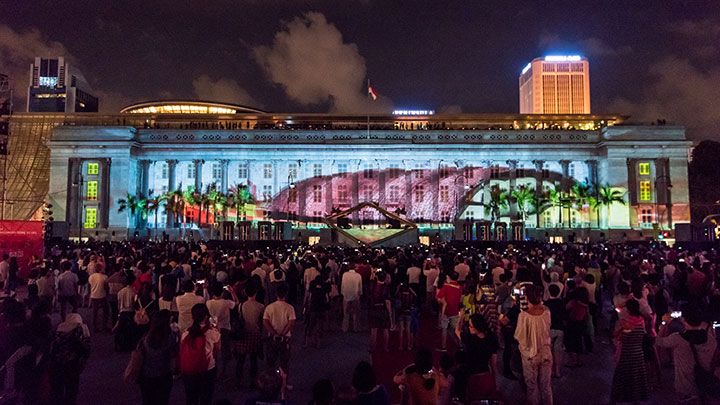 Sadly, you'll have to pay an admission fee to step inside Gardens by the Bay but it costs absolutely nothing to take in its free nightly sound and light show, Garden Rhapsody.
These shows, which take place every night at 7:45pm and 8:45pm, are based around specific themes, and recent performances have been inspired by Star Wars, the moon and Christmas. The score is usually created by local artists, although from now until December 31 the shows will have a festive theme and a soundtrack of Christmas classics such as Frosty the Snowman and Dance of the Sugar Plum Fairy.
8. Admire the view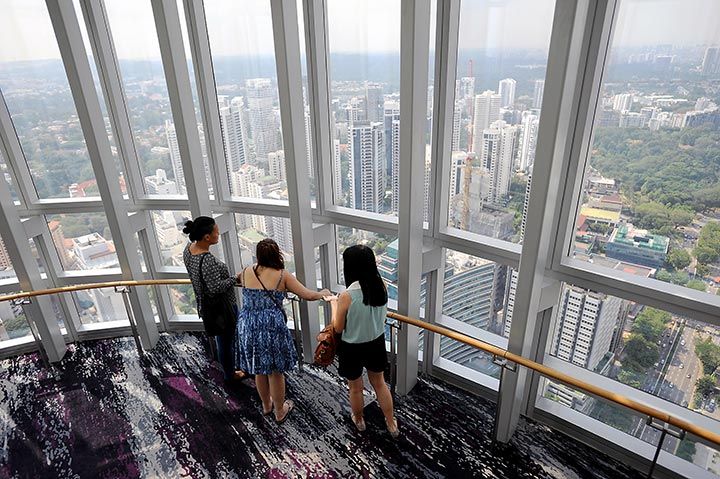 If you fancy taking in the view from the top of the Marina Bay Sands, expect to shell out - a visit to the viewing platform will cost you £13. But the view from ION SKY, which can be found on the 56th floor of the ION Orchard shopping mall, is just as spectacular.
It's open between 3pm and 6pm - get there by hopping in the elevator on the fourth floor. And then take great pleasure in giving a cursory glance to the selfie-taking tourists who've paid £13 to get the same view from atop the Marina Bay Sands.
9. Get arty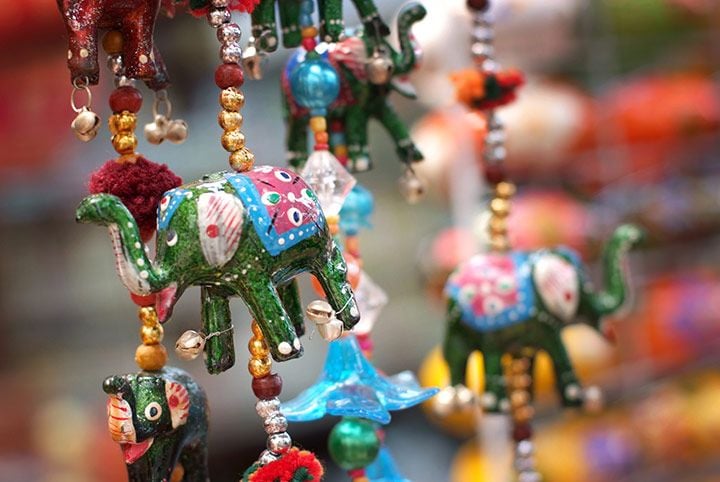 MAAD (Market of Artists and Designers) is an initiative which provides local artists and craftsmen with a platform on which to exhibit and sell their work. The next market will take place on December 8, 9 and 10, but they take place regularly, so keep an eye on the website.
You don't have to buy anything to make the most of it, either. It's a great place to admire the work of local artisans and MAAD also hosts regular exhibitions and performances.
10. Learn about Singapore at the National Museum of Singapore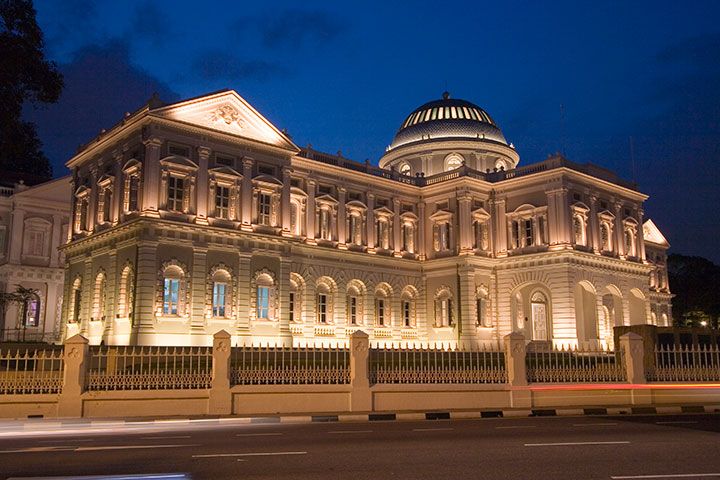 OK, this museum does actually have an admission fee, but only a small one (£9). The fee is also waived if you're a permanent resident or Singapore citizen, and children under six can also visit for free. But we're still including it in this list because the best bits - the daily guided tours - are free. They provide a fascinating insight into both the museum and Singapore's past.
Two of the best exhibits are the We Built a Nation Gallery on level one, and Surviving Syonan Gallery on level two, where you can learn how Singaporeans coped with the Japanese occupation.
Have a comment or question about this article? You can contact us on Twitter or Facebook.