So you've done Dubrovnik, been sightseeing in Split, and maybe even cruised the delightful Dalmatian Coast? Guess what – you still haven't seen Croatia.
Head north to the heart-shaped peninsula of Istria – right on the border with Slovenia, and a hop, skip and jump across the Adriatic from Venice – and you'll find a lot more to fall in love with.
Firstly, it's only two hours – yes, really – from Gatwick to gateway city Pula, and who doesn't love a weekend break that you can actually fit into a weekend? Then there's the wine, the truffles, the top-notch olive oil – pretty much everything neighbour Italy is famous for, but at Croatian prices. Top it off with easy-going seaside towns, astounding ancient history and beautiful rolling hills, and that's the real Croatia.
Pula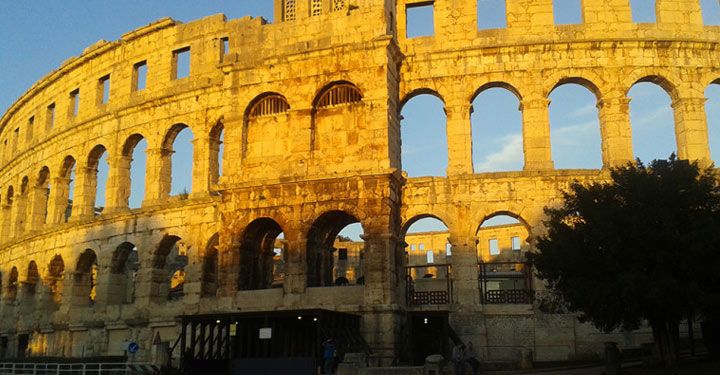 There's no question what should be stop number one on a Pula sightseeing tour – its enormous first-century amphitheatre, the sixth-largest Roman arena in the world (entry 50 kuna, approximately £6). Having set off from Gatwick early that morning, we were admiring its grand arches and incredible engineering before 10am – and a good thing too, as it's open air and can get pretty toasty in the height of the sun.
Allow plenty of time to marvel at its sheer scale and imagine its sandy arena playing host to gladiator battles and public spectacles, though these days it doubles as a venue for the likes of Sting or Tom Jones. Then delve down into its underground tunnels to see huge piles of Roman amphorae, ancient olive presses and artefacts, and admire the ingenious logic of a fourth-century walking map that plots out Pula's place in the heart of the Roman Empire.
That's not the only ancient monument you're likely to see on a wander around Pula: from the Temple of Augustus in the forum to the grand Triumphal Arch of the Sergi family, the city is littered with evidence of its ancient past. While you're at the arch, stop in for a coffee alongside James Joyce (well, his statue at least) at Caffe Uliks, named after the Irish writer's most famous work. He spent a few months teaching in the city in 1904, writing much of Portrait of the Artist as a Young Man during his time here.
From there, it's just a few steps to a farmers' market, where you'll quickly cotton on to the local specialities. Aside from piled-high stalls of glossy fruit and vegetables and mushrooms twice the size of my fist, there is row after row of fiery local grappa, jars of honey scented with sage or chestnuts, and towering stands of rich truffle oil. And if that leaves you feeling peckish, nearby bistro Alighieri has a pleasant outdoor terrace and a good selection of fish and seafood dishes perfect for a light lunch at about £15 a head.
Rovinj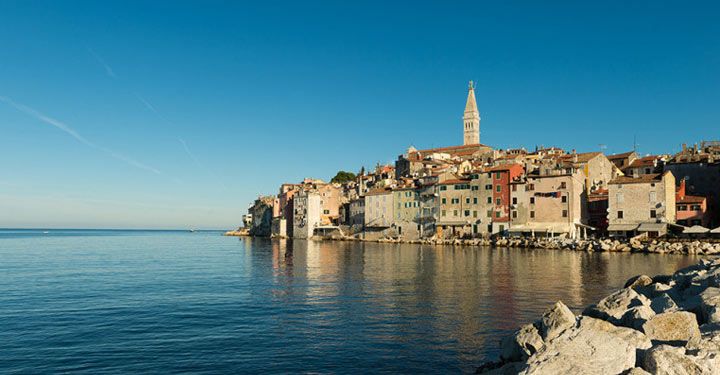 As captivating as Pula might be, it's only the tip – both literally and metaphorically – of what this region has to offer, so it's worth hiring a car to get out and explore its pretty coastal spots.
With cobbled streets, a pretty marina and gorgeous waterfront terraces, Rovinj is just about as delightful a day trip as it's possible to put together, and only a 45-minute drive from Pula.
The town is overlooked by the lofty Church of St Euphemia, set high up in the heart of the old town, but if you want to spend the day ticking off sightseeing boxes, you're rather missing the point of Rovinj. This is a place to meander through tiny, car-free streets and to browse in the market or its handful of little ceramic shops. Then stop for a coffee at one of dozens of cafes that proclaim 'terrace, this way', take a few steps down a rather dark, unpromising staircase, and emerge to the glorious sight of a sunny balcony overlooking the turquoise blue waters of the Adriatic.
If you must add a little activity, there are several bike hire shops here, with prices from about €10 a day, or enjoy a spot of open-water swimming in the sea with the locals – such as the Speedo-clad man I spotted walking nonchalantly through the streets with nothing but a towel and much-too-tight swimming shorts to hide his modesty.
Poreč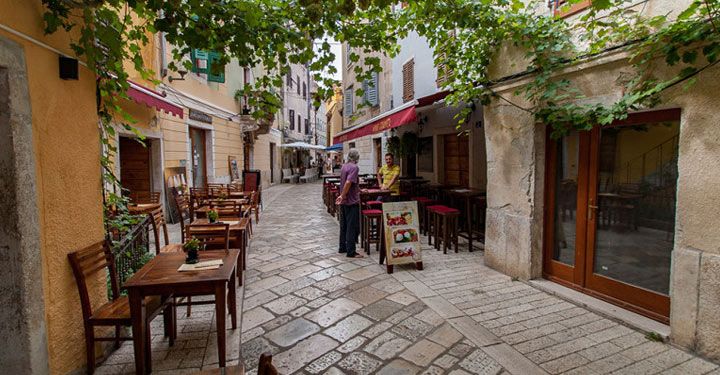 Another three quarters of an hour up the coast lies the equally enchanting town of Poreč, which also wears its historic heart on its sleeve. The old town is all cobbles and crumbling Roman walls, with a few Gothic arches and brightly-painted shutters thrown in to make it even more Instagram-friendly. You can even stop for a drink in a Roman guard tower-turned-café bar, Torre Rotonda, provided you don't mind the number of steps it takes to get to the terrace at the top.
Poreč is another place where it pays not to be in a hurry, though those who like to get their sightseeing fix along the way won't be disappointed by the sixth century Basilica Eufrasiana. It's hard to believe a building this well-preserved could really be the better part of 1,500 years old – in fact, the chapel is built around the remains of an even older baptismal pool, from the fourth century, and remnants of the original mosaic floor peek through at the back of the church – but the rest of the building barely shows its age.
Once you've worked up an appetite, there's no end of restaurants with a vista worth lingering over. From the basilica, head across the peninsula to Restaurant Sveti Nikola, or turn north towards the slightly pricier Hrast, which serves a mean fish dish with a side of sea views.
What else?
Still got time on your hands after exploring the pretty Istrian coast? Why not…
Visit a winery?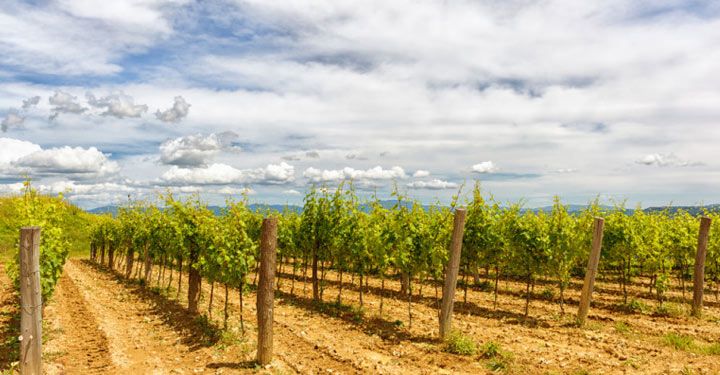 Damjanic boasts eight and a half hectares of vineyards in the tiny town of Fuskulin, about 15 minutes outside Porec. Istria is known for its white wines – the local grape, malvasia, is a delight – but this winery also turns out some quality reds and roses made with the notoriously tricky borgonja grape. A very pleasant way to spend an afternoon.
Take a boat trip?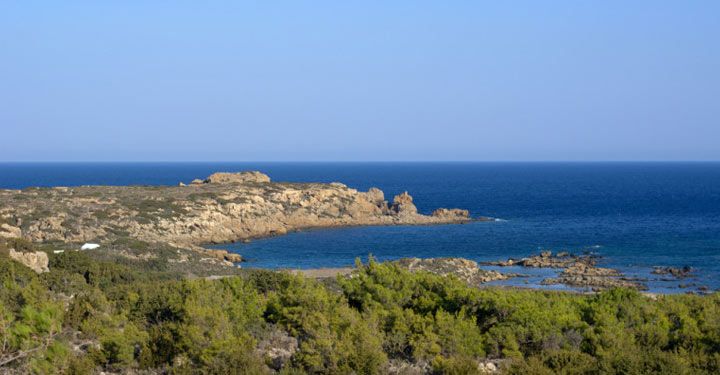 The uninhabited Brijuni Islands lie less than 20 minutes by ferry from port town Fazana, and have seen everyone from Queen Elizabeth II to Angelina Jolie grace their shores. The largest island, Veliki Brijun, is a curious place that mixes real dinosaur footprints, Roman ruins, a zoo, and a small strip of hotels along the promenade. It's worth stopping in at the excellent museum for more background on the natural history of these islands, but that's about the only thing on the island that will really make sense.
Go truffle hunting?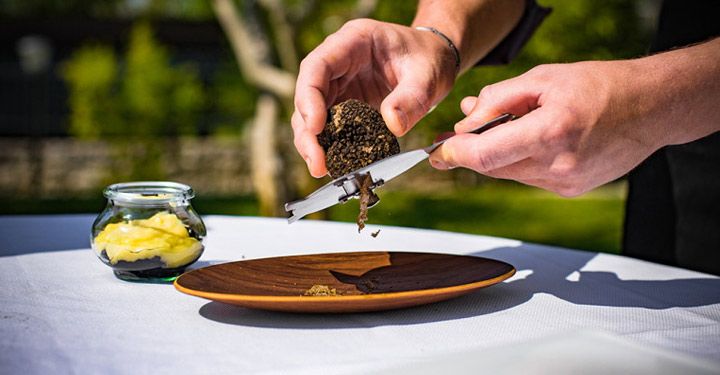 Istria is known for truffles – both black and the even more prized white variety – but aside from ordering them in restaurants (then gasping when you spot how much they were on the bill), what can you really do with them? Karlić Tartufi is a family truffle-hunting business set way up in the hills in the village of Paladini, where you can learn the ins and outs of the mighty truffle – including a quick trip to the forest with truffle-hunting hounds, no less – followed by a chance to sample the good stuff in all its forms, from infusions in olive oil to truffle-spiked chocolate spread – yum!
Have a comment or question about this article? You can contact us on Twitter or Facebook.