Exploring the Sorrento Peninsula

November 27, 2018
By Hannah Frances
The Sorrentine Peninsula is home to some of Europe's most famous scenery. It juts into the Tyrrhenian Sea south of Naples and Mount Vesuvius, whose brooding silhouette is overlooked by the lush and lofty resort of Sorrento on the peninsula's northern shore.
Punta Campanella lies at the westernmost tip – an area which is surprisingly rugged and wild considering it's in touching distance of the illustrious island of Capri. The southern coast is home to the inimitable towns of Positano, Amalfi and Ravello, and the (literally) breathtaking roads that connect them.
A masterpiece of natural beauty and a classic Italian destination, here's what to expect from a holiday on the Sorrento Peninsula.

Neapolitan sojourn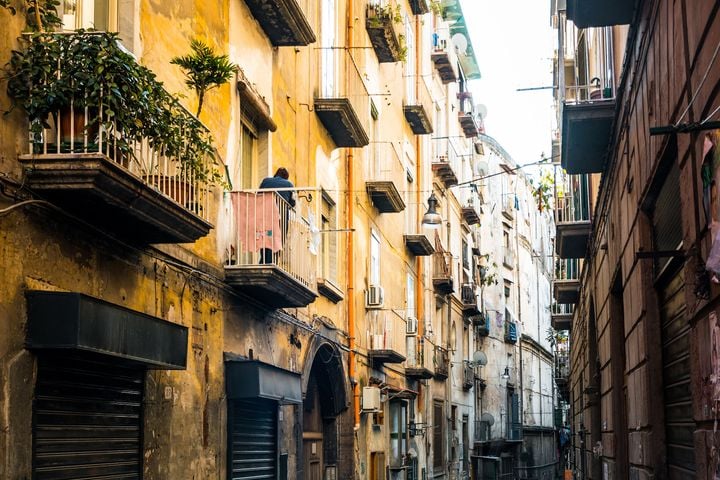 Naples Capodichino Airport is the international gateway to the area. Many who pass through arrivals make a beeline for Pompeii and the Amalfi Coast, but it's worth lingering for at least a day to soak up the tremendous energy, proper pizza (for the best, join the queue at Da Michele [Via Cesare Sersale 3]) and superb museums in southern Italy's largest city.
Naples is a messy sprawl of scooters, graffiti and washing lines, and the tumultuous social and political history is tangible – as is its rich cultural legacy, fervent Catholicism and proud food heritage.
Learn more about the city's complex layers at the Archeological Museum (Piazza Museo 19), and consider investing in a Campania Artecard; the 'tutta la Regione' regional discount card will get you three days of concessions on some public transport, and most museums and archaeological sites including Pompeii and Herculaneum (otherwise €15 and €11 respectively).
A journey back to AD 79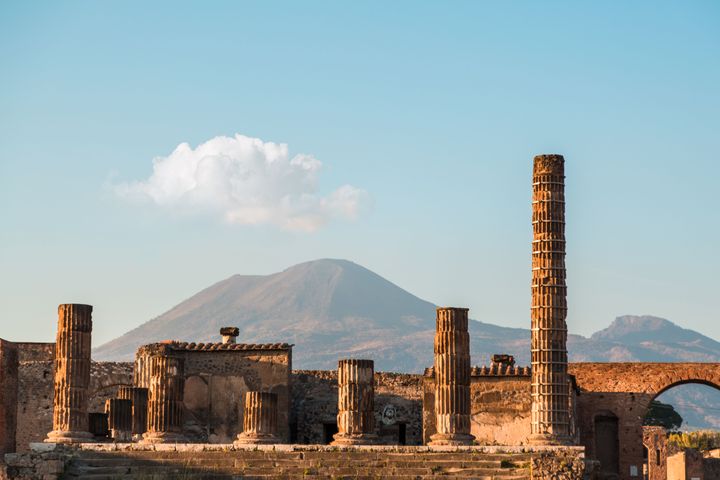 Two of the world's most remarkable archeological sites can be visited in a day trip from Naples, situated in the ominous shadow of Mt Vesuvius.
Pompeii was once a thriving Roman city. After the catastrophic eruption of AD 79, the entire city was buried under meters of ash, which helped to preserve its streets and buildings. Today the ghostly ruins are incredibly atmospheric and offer a glimpse of ancient life. There are houses with stone staircases intact; shops with takeaway counters; an amphitheatre; Roman baths; and even a brothel. To get the most out of Pompeii, a guide (or an audio guide) is advisable.
Herculaneum is often overlooked in favour of Pompeii, but the smaller site is actually better preserved due to its proximity to Vesuvius, which carbonised terror-struck skeletons, furniture and mosaics during the same eruption.
There are a handful of transfer companies at each site that offer trips to Vesuvius. From the entrance of the national park (there's an entrance fee of €10, which includes a guide), it takes around ninety minutes to reach the crater. While you're waiting for the bus back, pop into the bar near the station for a glass of Lacrime Cristi wine, made from the grapes that grow on the slopes of the volcano.
When life gives you lemons, you're probably in Sorrento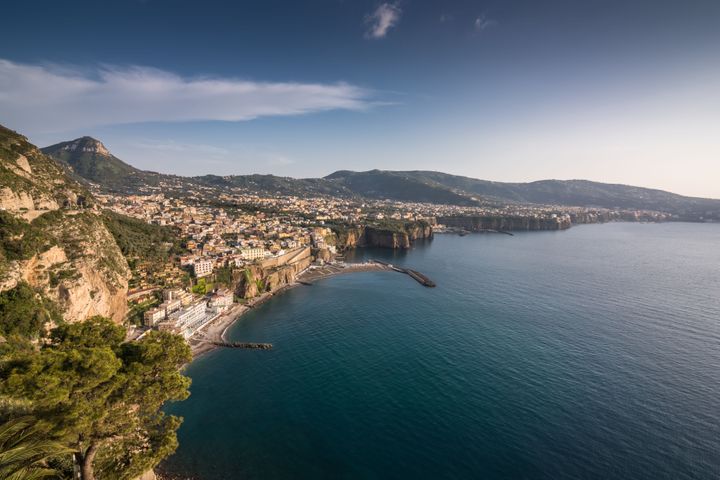 Beyond Pompeii are the Monti Lattari (or the "milky mountains", named after the cows that graze there) which form the knobbly spine of the peninsula. Sorrento is wedged on the coast between the Bay of Naples and the mountains, and is an incredibly scenic base for regional sightseeing.
Draped in fragrant bougainvillea and flanked by trees heavy with lemons, the resort town offers panoramic views and quaint streets lined with restaurants and souvenir shops that sell limoncello and all manner of lemon-themed gifts. Stay at Casa Astarita (Corso Italia 67, Sorrento), a family-run B&B in the heart of the old town.
Island life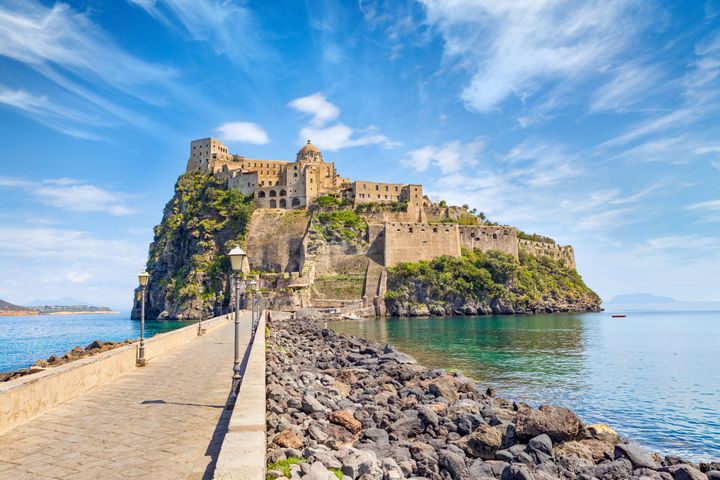 There are three islands in the Gulf of Naples – Capri, Ischia and Procida – which can be reached by ferry or hydrofoil from Naples or Sorrento.
The most famous is Capri, renowned for its designer boutiques and age-old glamour, but it's the volcanic island of Ischia that promises a relaxed escape from the mainland. With natural hot springs, Ischia is known for its excellent thermal spas and mineral-rich waters.
Villa Marinella (Via Castiglione 66, Isola d'Ischia) is a fantastic boutique hotel near the thermal and sea pools of Parco Termale Castiglione. Other attractions on the island include the medieval Aragonese Castle, the Sea Museum dedicated to fishing history; and a host of excellent, unpretentious seafood restaurants.
Italy's most famous coast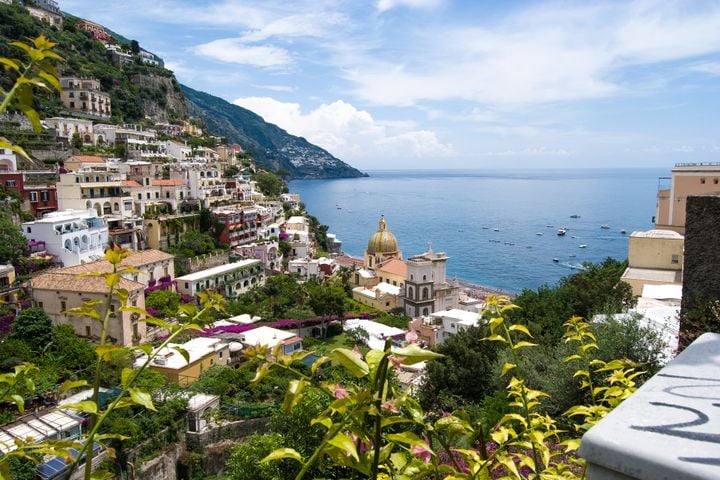 Back on the peninsula, the southern coastline is sprinkled with colourful villages that cling to near-vertical cliff faces; sandy bays lapped by crystal-clear waters; and steep switchback roads that twist up and down along the coast – those without a head for heights would be advised to travel by boat.
Positano is the region's most beautiful village, with its vertiginous stack of pastel-coloured buildings and steep lanes that seem to tumble down to the water. Hotel rooms here come with a hefty price tag, but the simple and charming Villa Rosa (Via Cristoforo Colombo, 127, Positano) is a less expensive option should you wish to enjoy the views over a morning cappuccino.
With regular boat tours from both Positano and Amalfi, tourists flock to Grotta dello Smeraldo, or the Emerald Grotto – an atmospherically lit cave and swimming spot along the rugged coastline between the two towns.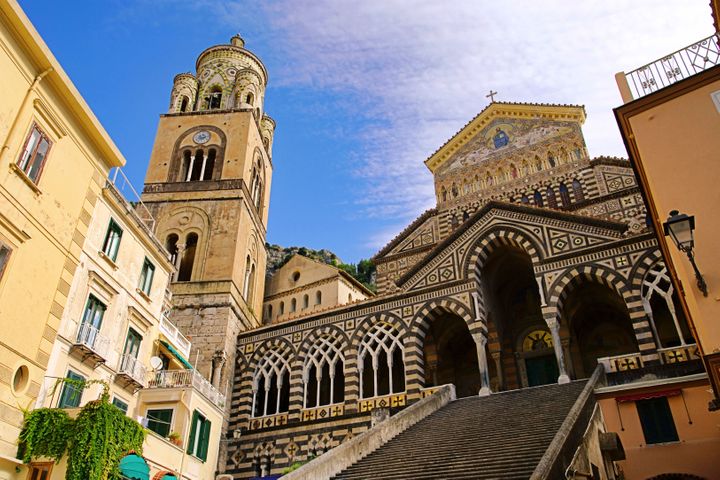 Amalfi was once the centre of a powerful maritime republic, and today it's still a busy seaside town. It boasts a magnificent cathedral, flower-filled streets and yet more gorgeous views. Residenza del Duca (Via Duca Mastalo II 3, Amalfi) is a wonderfully friendly place to stay in Amalfi. The small B&B has a handful of rooms at reasonable prices, some with sea views.
A few miles up a steep and winding road is the refined town of Ravello. It sits high above the Tyrrhenian Sea and offers a completely different atmosphere to that of its seaside neighbours. Lush gardens, grand villas and quiet, shaded lanes offer a sense a serenity that warrant at least an overnight stay here. Slightly outside of the town centre is stylish B&B Torre dello Ziro (Via delle Cartiere, 6, Ravello), which has a lovely garden (where breakfast is served) and far-reaching sea views.
30km (18.5 miles) down the coast is the port city of Salerno, which marks the end of the peninsula at its south-western-most point. From here, Naples is a little less than an hour away by car or train.
Have a comment or question about this article? You can contact us on Twitter or Facebook.