How to do Sorrento on a budget
November 26, 2018

By Hannah Frances
Sorrento sits on a spectacular clifftop perch, overlooking Mount Vesuvius and the shimmering Bay of Naples. In the other direction, the resort is backed by mountains and their dizzying switchback roads, which twist through the heart of the Sorrentine Peninsula towards the cliff-hugging towns of Positano and Amalfi.
With lavish hotels, iconic views and trees heavy with oranges and lemons, Sorrento was once one of Italy's most exclusive and expensive resorts. Today, it's mostly used as a sunny base from which to visit nearby attractions – but the jewels within Sorrento's own city walls deserve a little more attention.
The old town has retained much of its timeless allure, and while there's no shortage of grand hotels and fancy restaurants, there are also plenty of budget lodgings, rustic places to eat and local buses that will help keep costs down while uncovering the authentic side to this seaside town.

Where to stay in Sorrento on a budget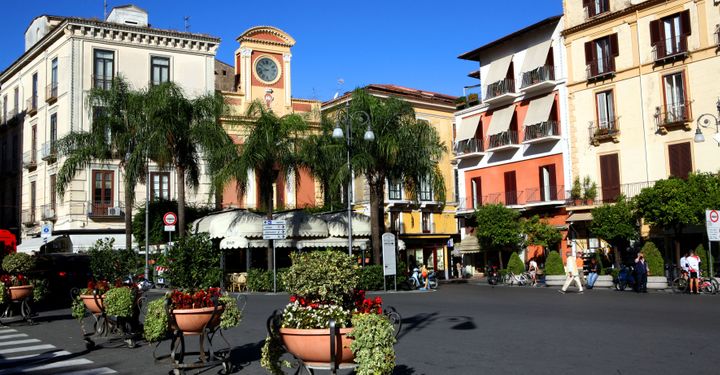 The most budget-friendly hotels in Sorrento are also the most conveniently located – in and around the historic town centre. The hotels become grander and pricier nearer the sea, but there are some excellent low-cost options near Piazza Tasso and the main pedestrianised drag of Corsa Italia.
Casa Astarita, for example, is a family-run B&B that occupies an elegant 18th-century palace in the heart of the old town. The six ensuite guest rooms are simple but charming, and prices start at around £54 per night. A more modern option is Magi House Relais. This is a small boutique hotel between Piazza Tasso and the harbour, where boats leave for excursions to Capri and Ischia, and breakfast is served on the terrace. Doubles from £69 per night.
For those looking for a no-frills option, Palazzo Tasso is a good budget hotel on a quiet street behind Corsa Italia. The eleven rooms are decorated in a minimalist style, and each has a little balcony. The staff are wonderfully helpful and friendly. Excellent quality doubles with breakfast start at £42.


Where to eat in Sorrento on a budget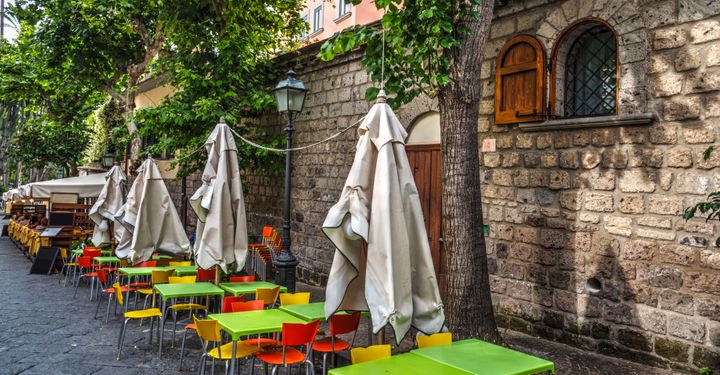 The easiest way to eat cheaply in Sorrento is to opt for pizza, which will almost always cost under €10 – even in a restaurant. Pizzeria Da Franco (Corso Italia, 265; +39 081 877 2066) serves the best pizza in town, and patrons sit elbow-to-elbow along shared wooden tables. The pizza bases are made in the Sorrentine way, which is crispier than those from Naples and served in a tin tray.
When you get bored of pizza, head to AZZ! Tavern (Corso Italia, 14) for tasty, home cooked dishes. It's a bit of an institution in Sorrento, run by a very passionate family and frequented by tourists and locals alike. The service is brisk – not a spot for a lingering romantic meal – but for inexpensive local fare, it's one of the best.
For a waterside setting with a beautiful view of Vesuvius across the bay, Trattoria Da Emilia (Via Marina Grande, 62) offers big portions of simple but tasty food – think seafood pasta, fried fish, caprese salad – for extremely reasonable prices. This is no secret, so expect to wait for a table.


What to do in Sorrento on a budget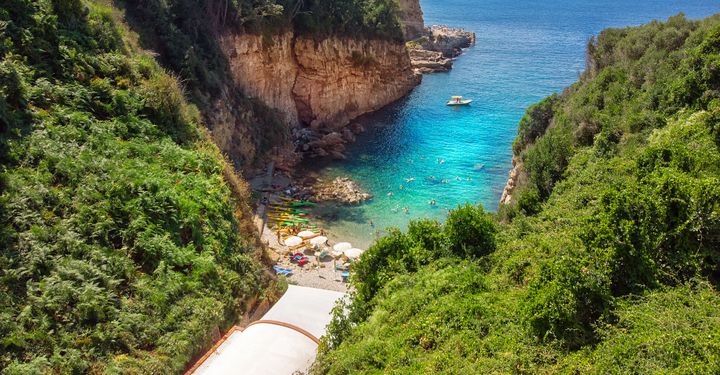 Some of the best things to do in Sorrento are free, including the breathtaking coastal hikes. There are many different routes of varying length and difficulty, and the paths are well signposted. Try the scenic ninety minute hike (one way) from Sorrento to Massa Lubrense, where there are plenty of cafes to stop for a drink and frequent buses back to Sorrento.
It is free to enter Sorrento's Duomo, which has a fantastic frescoed exterior and a triple tiered bell tower. There's also no charge to get into the 14th century Chiesa di San Francesco, whose tranquil cloisters are well worth a visit. The Correale Museum has a wonderful collection of artefacts, Neapolitan paintings, ceramics, Greek and Roman artefacts over four floors. The garden is also lovely, and entrance is €8.
As is typical in Italy, the beaches here (Marina Grande and Marina Piccola) charge an entrance fee. Instead, follow the locals to Bagni Regina Giovanna a little further down the coast. It's better for swimming, and entrance is free.
For stunning views of the nearby Amalfi Coast, and to truly appreciate its beauty, it's worth taking a boat around to Positano or Amalfi. Organised trips can start at €40pp and usually stop at both of the aforementioned towns. There are operators everywhere offering trips, so it's a case of shopping around for the best price.


How to get around Sorrento on a budget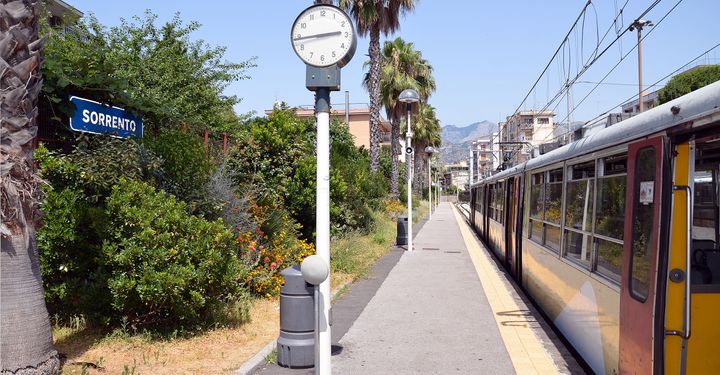 Sorrento is small enough to explore by foot. The old town is situated high on a cliff, while the port and beach areas of Marina Piccola and Marina Grande are set on the water below. It's a steep climb, so you might prefer to take a bus back up again. Remember to buy a ticket in advance from a tabaccaio (newsagent) as they can't be purchased onboard.
Avoid the pricey organised tours to Pompeii and Herculaneum – these places are easy to reach on public transport. The best way to get from Sorrento to Pompeii is on the Circumvesuviana train. It's the main commuter line to Naples so can get busy, but the journey takes less than 30 minutes and costs around €2. Pompei Villa dei Misteri station is close to the main entrance of Pompeii.
The cheapest way to get from Sorrento to the Amalfi Coast is by bus from Circumvesuviana station in Sorrento. Sit on the right for the best views. Taxis are expensive, so it's best to avoid them.


Insider tips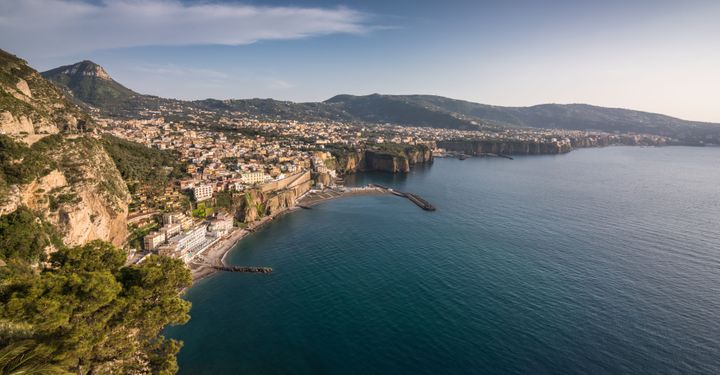 Sorrento is a small place with a lot of visitors, and as such it's a good idea to reserve a table for dinner in advance – even if you pop in during the day or the day before – to ensure you get a seat.
If you plan to take day trips from Sorrento by bus, it's worth buying an unlimited-use daily ticket. It's just under eight euros, and can be used right along the Amalfi Coast. If you hop on a ferry to Capri, sit on the left for the best view.
Entrance is free for children and many of the historical sites in the region – just remember to take their passports.
If you suffer from motion sickness, the cheap SITA bus to Amalfi Coast might not be for you. The journey takes over an hour, the buses are always crowded and the road is windy.


When is the cheapest time to go to Sorrento?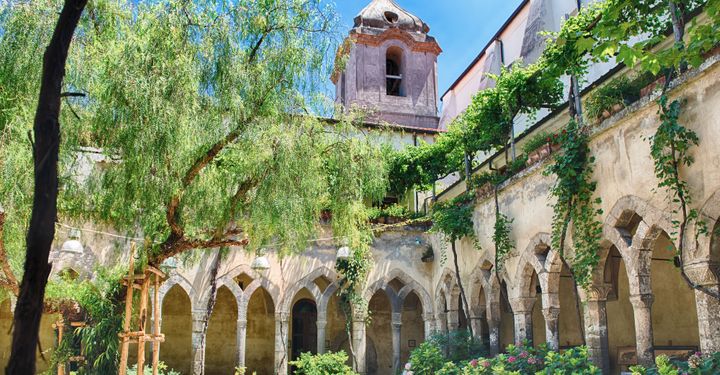 Sorrento's long tourist season officially begins at Easter and runs right through to the end of September.
Prices are much lower in early spring, temperatures are perfect for walking (even during the hottest hours in the middle of the day), there are fewer tourists, and the town starts to come into fragrant bloom.
Both March and April are wonderful months to visit.

Have a comment or question about this article? You can contact us on Twitter or Facebook.