Covid-19 advice:
Understand the traffic light system and check FCDO updates before you travel
Find out more
October 3, 2019
By Joey Tyson

Thanks to countless supporting roles in a million movies, Los Angeles has become one of the world's most familiar cities: you know it, even if you've never actually been.
But there's so much more to LA than the movie biz, even if it plays a big part in what makes the city so intriguing. Beyond the silver screen, LA is a city of endless beaches and cultural fusion; a city at the forefront of music, fashion and food. A mass of individual neighborhoods entwined together under one Angeleno banner.
Vast and sprawling, it's a city you could easily spend a month exploring. Only got two days? No problem, we've condensed LA's best bits to give you a flavour of America's second city.
Day 1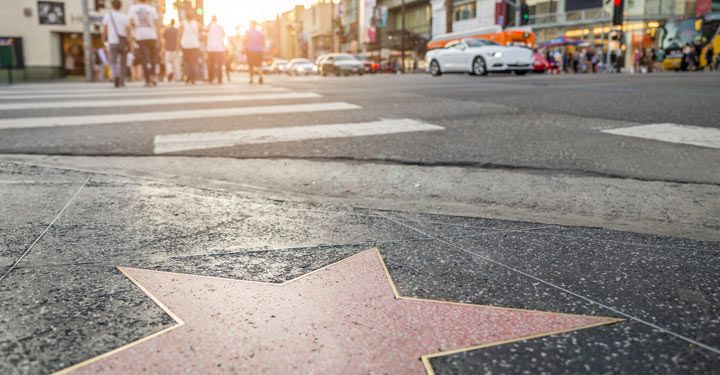 Morning
Start your LA adventure the right way, with a generous pile of pancakes from The Griddle Café, a breakfast institution. The place might be tiny, but its portions are anything but. Toppings range from banana and buttermilk to whipped cream and strawberries. Get here early if you don't like queuing.
Then, walk off your mammoth breakfast with a short stroll over to the heart of Tinseltown: Hollywood.
Big, brash, and ever so tacky, Hollywood is unapologetically in your face. It's also a very entertaining way to spend a morning, head down, in and among the colourful street performers that cluster around the strip, searching for your favourite stars on the Walk of Fame.
For views of the iconic sign, head to the Hollywood & Highland shopping centre, which has a second floor walkway that looks right out onto the famous hills. If you've still not had your fill of showbiz, head to the Hollywood Wax Museum for a selfie with the stars or The Hollywood Museum, a colossal collection of props, costumes and memorabilia from over 100 blockbusters.
Afternoon
Trade celeb spotting for culture next, and head up to the Getty Museum, an incredible collection of American and European art which is one of LA's finest museums. The vast art collection ranges from old masters such as Rembrandt and Van Gogh to more modern artists like Marini and Hockney.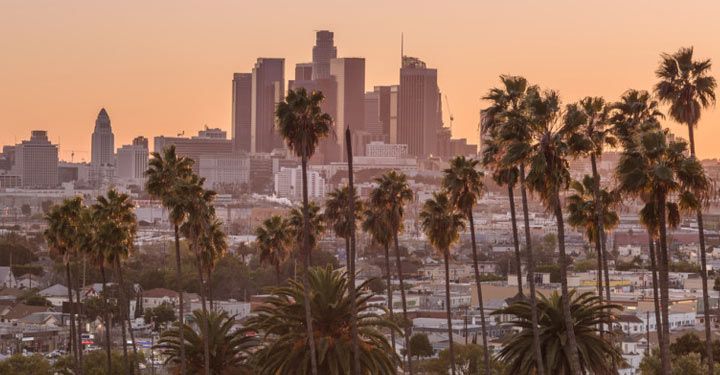 Perched high above the city up in the Santa Monica Mountains, the centre is a masterpiece in modernist architecture which also has a series of vibrant gardens on its grounds.
On a clear day, the Getty boasts some of the best views in Los Angeles, stretching from the ocean all the way across the city to the San Gabriel Mountains – it's well worth sticking around until sunset if your schedule allows. The museum is free to enter and spreads out over a whopping 110 acres, so take your time exploring. To get there, take either of the Metro bus lines 734 and 234.
Evening
Los Angeles by day is one thing, but by night the city is a completely different, and often bizarre, animal. The Sunset Strip almost always guarantees an interesting night, even if it's not the debauched centre of LA counterculture it once was. Still, for live music, busy bars and entertainment, it's hard to beat the Strip.
Treat yourself to a steak at the Saddle Ranch Chop House before heading on to one of the area's classic venues such as The Whisky a Go Go, The Viper Room or The Rainbow Bar and Grill.
Day 2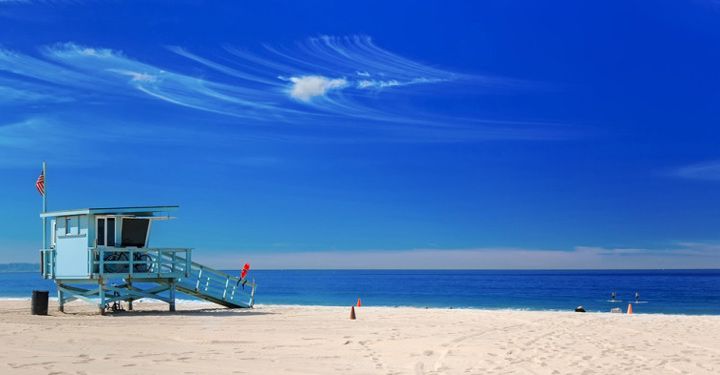 Morning
Blow off the hangover with some sea air down at Hermosa Beach. A far cry from the city's central urban sprawl, this sleepy beach town offers a glimpse of LA at its laidback best. Grab a quick breakfast at Good Stuff, a cheap and cheerful diner right on the beach front that specialises in healthy, locally-sourced American-style food.
After you've eaten, it's time to hit the beach. Pick your spot from two miles of uninterrupted sand and get to grips with the tranquil side of LA living. If you're an active beach bum, don't worry; besides lounging, Hermosa is famed for its surfing and volleyball.
To try your hand out on the waves, Pier Surf offers surfing gear rental (and lessons for beginners), while the beach itself is dotted with volleyball nets – if you're lucky, you might catch a amateur or professional tournament.
Afternoon
In the afternoon, head uptown to one of LA's most talked-about neighbourhoods, Venice Beach.
Acquaint yourself with the area by strolling down the Venice Ocean Front Walk, a busy congregation of eccentric street artists, one-off shops and local restaurants. A few blocks away, Abbot Kinney Boulevard, once dubbed "the coolest block in America" by GQ, continues in this vein, but with more of a focus on shopping and eating.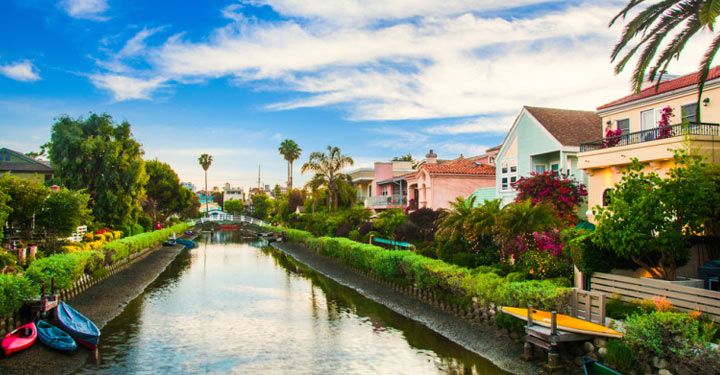 Aside from shopping and people watching, much of what makes Venice great is outdoors: Venice Beach Recreation Center, with its myriad basketball courts, is always a hive of activity, while Venice Beach Skatepark is a fun place to watch skaters tear up the concrete – this is the city that gave the world skateboarding, after all.
It's also worth a quick glance at the surreal vanity project that is Muscle Beach, the legendary mecca of mass where LA's biggest and bulkiest take turns pumping iron. Once all that watching other people exercise has worked up your appetite, head to Komodo for a healthy and original take on the taco. The Asian-fusion specialist serves up delicious Asian dishes – think Indonesia wrapped in Mexico – that won't burn a hole in your wallet.
Evening
Spend your last night in LA looking out over the city at Mama Shelter, a cool rooftop bar close to Hollywood, sipping playfully-named specialty cocktails.
Feeling peckish? Nip downstairs to the restaurant for some home-cooking-style comfort food – a combination of spicy ribs, chicken, roasted or fried, and fresh seafood – served in a trendy setting.
Have a comment or question about this article? You can contact us on Twitter or Facebook.
Sign up. Be inspired. Travel.
Subscribe now for hand-picked holiday deals, inspiration and the latest travel tips, straight to your inbox.