11 Las Vegas hotels for under £50 a night
April 29, 2019
If you've bagged cheap flights to Las Vegas then it seems somewhat frivolous to flutter away your savings on an overpriced hotel. The good news? Las Vegas is one of America's cheapest cities when it comes to accommodation, and we've found 11 cool crash pads for under £50 a night.
*Rates based on the lowest year-round price available.


1. Excalibur Hotel & Casino

From £22 a night
One of the most recognisable hotels in Las Vegas, the Excalibur Hotel & Casino is also one of the most action-packed – entertainment at the Excalibur includes the nightly Tournament of Kings show, where you'll be able to watch knights duel it out at medieval jousting while gnawing on a delicious chicken leg.
Then there's Thunder from Down Under – the all-male Australian revue act (this one's for adults only, we might add) – and the hotel's newest show Fuerza Bruta – an acrobatic extravaganza incorporating special effects and a pounding soundtrack.

2. The D Las Vegas

From £21 a night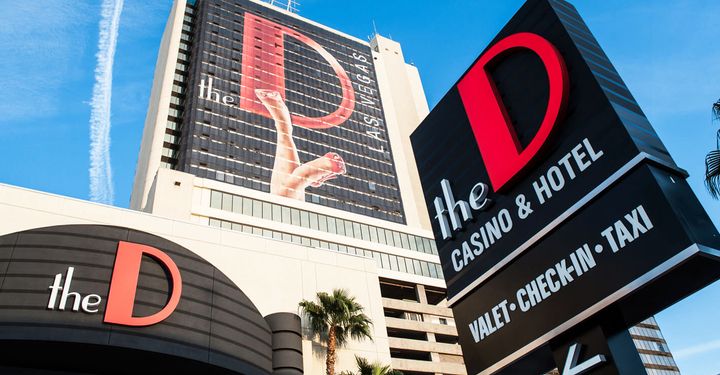 Regarded as one of the best hotels in Downtown Las Vegas, The D is proof that staying off-strip doesn't mean turning down the fun factor. Where else, for example, will you find dancing dealers on the casino floor? Or a 30-metre Long Bar which happens to be the longest in Nevada? Or a Bitcoin ATM?
Other highlights include the vintage casino on the second floor, the chunk of Blarney Stone to rub before you gamble away your life's savings (please, don't do that), and the camera which videos you as you ride the escalator to the ground floor, then displays the footage on an enormous video screen at the bottom.

3. Circus Circus Hotel Casino and Theme Park

From £46 a night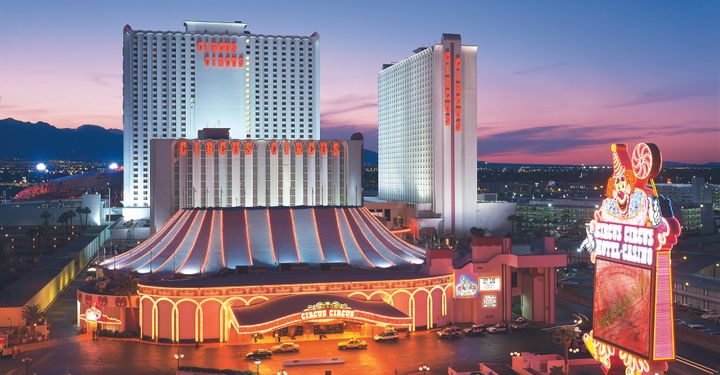 It's a myth that the cheapest Las Vegas hotels are either miles away from the Strip or filled with rooms the size of the average airing cupboard. Circus Circus is enormous, with almost 4,000 generously-proportioned rooms and some of Las Vegas's best bars and restaurants (we recommend Blue Iguana Authentic Mexican Cuisine for the taco al pastor).
And then there's Circus Circus's entertainment, which includes the Adventuredome indoor theme park and the Carnival Midway, where younger visitors can try their luck on 200 arcade games.

4. The Luxor Las Vegas

From £45 a night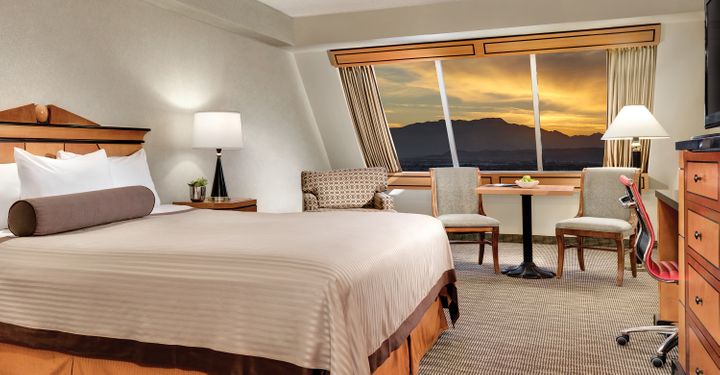 You'll never get bored at this iconic pyramid-shaped hotel, which has one of the biggest casinos on the Strip – there's a jaw-dropping 120,000-square-foot gaming area. Fans of video games will love the enormous Esports Arena, and you'll also be able to check out performances by the Blue Man Group.
Prefer pools to poker? You're in luck, because the Luxor has one of the largest in Las Vegas – a 19,000-square-foot pool divided into four sections. The entire pool area comes in at an even more impressive 125,650 square-feet and has some of the sexiest day beds we've come across, along with cabanas kitted out with televisions, air conditioning and fridges.

5. New York-New York Hotel and Casino

From £44 a night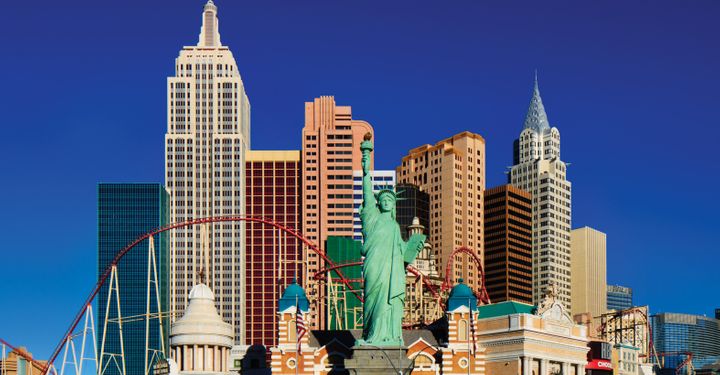 New York-New York is hard to miss – if only because of the terrified screams of thrill seekers on its Big Apple ride. A hotel with a rollercoaster passing through its centre? Only in Las Vegas.
That's not the only impressive thing in this hotel, though. It's been designed to resemble Manhattan's skyline, complete with a Statue of Liberty, making it one of the city's most striking hotels.
It's also got some of the best restaurants in Las Vegas. Perhaps unsurprisingly, many are a tribute to the Big Apple, whether it's Gallagher's Steakhouse for delicious, dry-aged American beef, or the New York Pizzeria, famous for its 18-inch slabs of doughy deliciousness.

6. Super 8 by Wyndham Las Vegas North Strip Fremont St Area

From £31 a night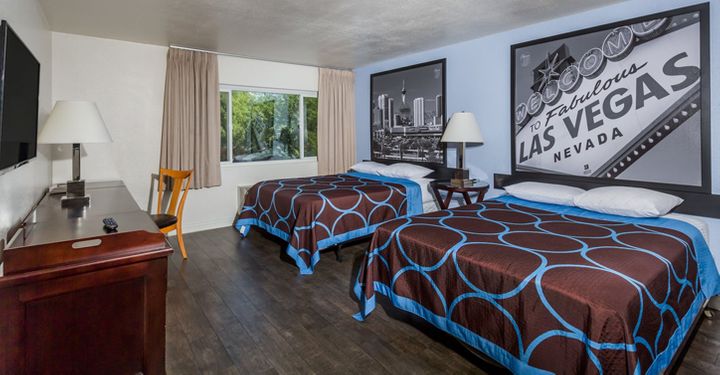 The Downtown area is a fantastic base, especially if you're planning on seeing sights other than the inside of a casino. The Neon Museum and the Mob Museum are both within walking distance of this hotel, as is Las Vegas Premium Outlets North – one of two outlet shopping centres in Las Vegas.
But easy access to top museums and shopping centres isn't the only perk – stay here and you'll get free parking, which is especially handy if your visit to Las Vegas is part of an all-American road trip.
A top tip? Request a room with a microwave at no extra cost and save money by preparing your own meals. There are only so many buffets a person can eat, after all…

7. Fremont Hotel and Casino

From £32 a night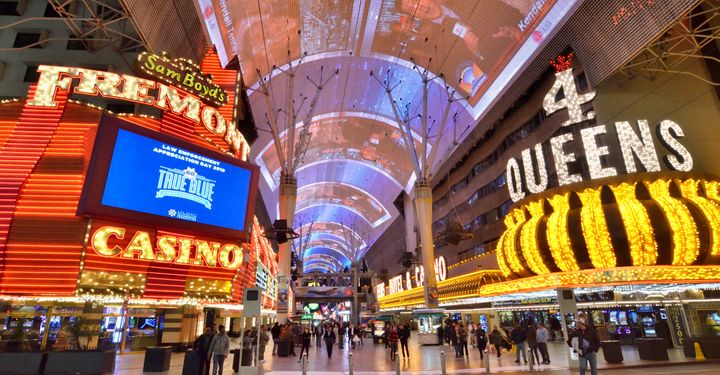 Another Downtown property, this hotel is right in the centre of Fremont Street, so you'll get easy access to local attractions, whether it's Slotzilla, the zip line stretching the entire length of this covered entertainment district, or the nearby Mob Museum.
Restaurant options include Tony Roma's (the only one in Las Vegas) and the hotel's Paradise Buffet. If that doesn't cut it, you're just a few metres from the Heart Attack Grill, where menu options include the 8,000-calorie Octuple Bypass Burger. Probably not one for vegetarians...

8. Flamingo Las Vegas

From £26 a night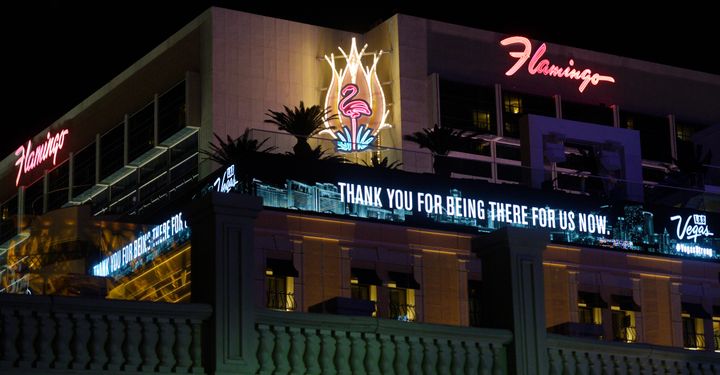 One of the most iconic hotels in Las Vegas, the Flamingo is a Strip hotel with something for guests of all ages. Kids will be wowed by the flamingo habitat (there are daily free tours), while adults will love the great range of shows, which include Donnie & Marie, X Burlesque and Piff the Magic Dragon, a former America's Got Talent finalist who's joined on stage by Mr. Piffles, his pet Chihuahua.
The pools are pretty spectacular too – our favourite is the palm tree-fringed Beach Club Pool, with its fabulously garish flamingo statues.

9. Bally's Las Vegas

From £34 a night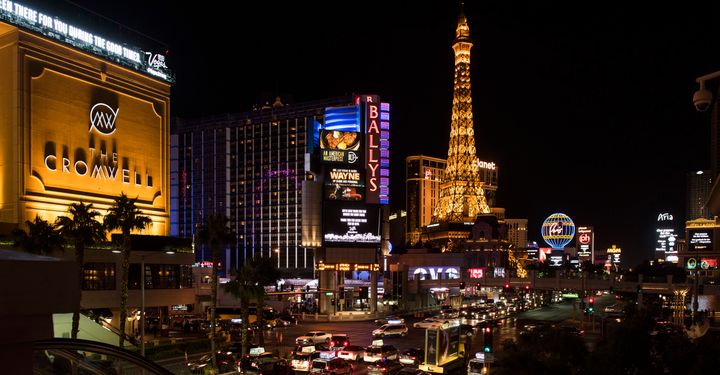 Bally's is another iconic Las Vegas resort with a great location right in the heart of the Strip. Unusually for a Las Vegas hotel, there's plenty to keep gym bunnies happy, too – amenities include a gym and tennis courts. You'll be within walking distance of the Bellagio, Caesars Palace and Flamingo, and the hotel has its own monorail stop – ideal if you're heading further afield.
Decor is classic Las Vegas, with lots of red velvet and eye-wateringly bright neon, although bedrooms are more understated (thankfully). Book a room in the hotel's recently-opened Resort Tower for the best views of the Strip.

10. The LINQ

From £26 a night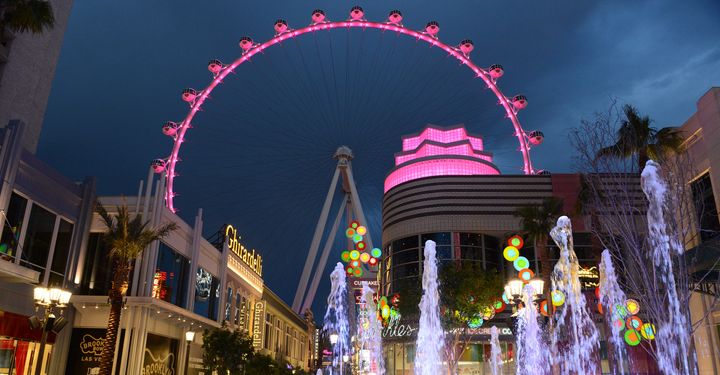 This achingly cool crash pad is proof that travellers searching for cheap hotels in Las Vegas can still enjoy a little luxury. The recently re-vamped LINQ has the feel of a boutique hotel, and is popular with a younger crowd, who come for the raucous pool parties, funky decor (rooms have huge murals and plenty of tech) and easy access to Las Vegas's best bits, such as the High Roller Ferris wheel, just a few metres away.
Dining options include Guy Fieri's Vegas Kitchen & Bar, and the hotel offers direct access to the LINQ promenade, which has dozens of restaurants and bars along with some of Las Vegas's best shops.

11. Golden Gate Hotel & Casino
From £19 a night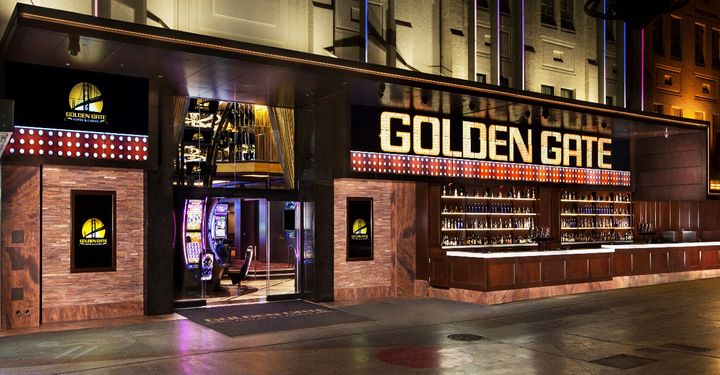 A Las Vegas icon, the Golden Gate Hotel and Casino opened in 1906 on Fremont Street. Since then it's had multiple makeovers but has always stayed true to its roots. Rooms have art-deco accents and swing-era pinstripe carpets, and black-and-white photos of famous guests hang from the walls.
A word of warning – some of the rooms have shower areas which can be seen from the rest of the room, with only a curtain to draw around the area. If privacy is a priority, request a room with a fully-enclosed bathroom when you check in.


Have a comment or question about this article? You can contact us on Twitter or Facebook.