Covid-19 advice:
Understand the traffic light system and check FCDO updates before you travel
Find out more

November 15, 2019
By Carolina Sarmiento-Ortiz

With a nickname like the 'heart of European politics', Brussels may not be high up on your city break hit list. However, there's much more to Belgium's capital than a bunch of bureaucrats…

Is a short trip to Brussels worth it?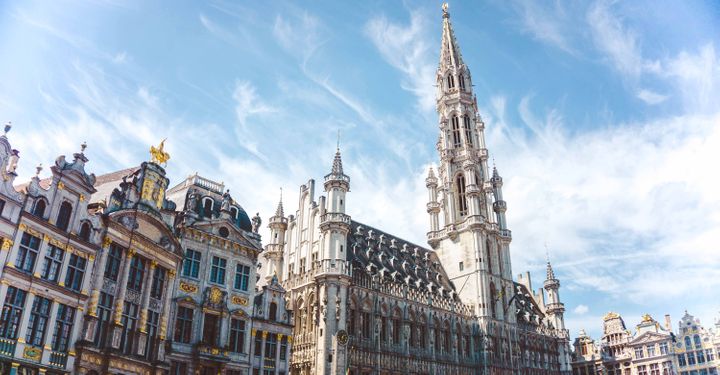 For those based in London or the Southeast, Brussels is just a two-hour Eurostar journey away. An early start will give you plenty of time to zip through the city in a day and save you a packet on accommodation costs.
Prefer a plane? Flights to Brussels are frequent, affordable and depart from most airports across the UK. If you need an overnight stay, a 3-star hotel will set you back around £80
What can you do in Brussels in one day?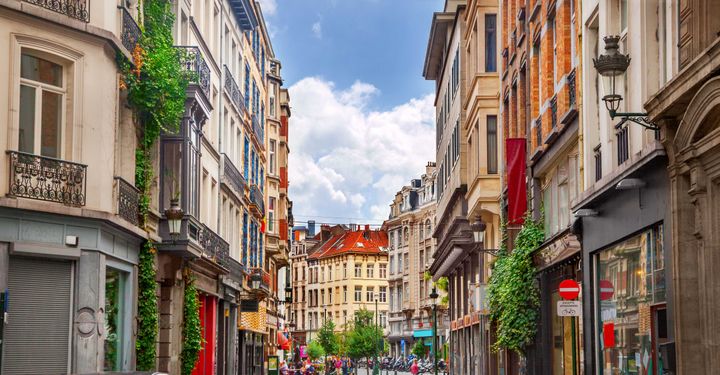 From architecture so ornate you could get lost in the detail for hours to an iconic cuisine you could only dream of tucking into daily, Brussels hardly lacks for culture.

There's royal history dating centuries, quirky museums that show the city's fun side and of course, that famous Belgian chocolate – all the more reason to visit!

Morning: Royal rambles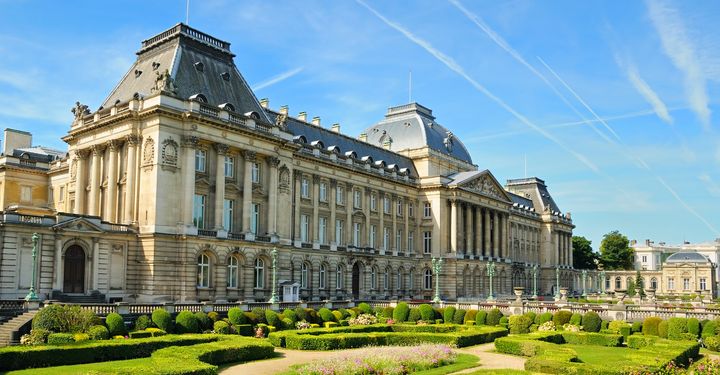 Ease into your day with a stroll through Parc de Bruxelles (Brussels Park) in the direction of the Royal Palace.
Between July and September, the palace opens its doors to the public – and you can explore its lush interiors, made only more extravagant with its plethora of historic paintings and statues, completely free of charge.
If you're travelling outside of these months, spend some time rambling through the park's grounds, where well-kept gardens give way to tranquil ponds and tree-lined trails.

Midday: Chocolate and comics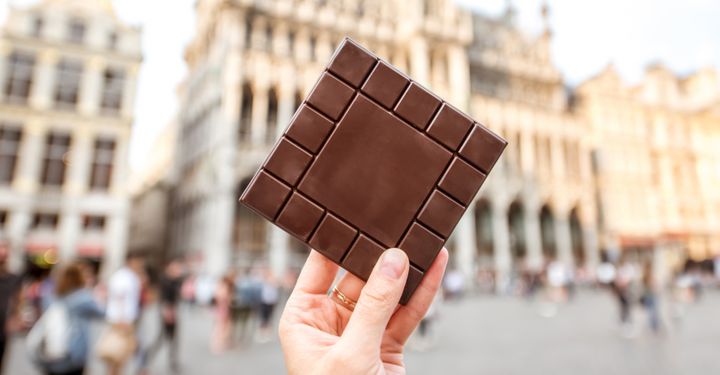 It's not quite Willy Wonka's Chocolate Factory but Brussels comes pretty close. In the old town, chocolatey aromas waft out of store after store, each boasting theirs is the best in Belgium. If you can resist their calls, follow your nose to Rue de l'Etuve. Along this street, both boutique and world-renowned chocolatiers have set up shop, proffering more sugary delights than even Augustus Gloop would know what to do with.
Stop in on Godiva for your first sugar hit of the day. Originally founded by the Draps family in 1926, this chocolatier has since gone on to create some of the finest premium chocolate in Belgium, and its boutiques can be found in Brussels and beyond.
It's in this area that you'll also find Brussels' famous mascot, Manneken Pis ('Peeing Boy'). This little guy is the icon of the city, thanks in part to his lavish wardrobe. He's sported over a thousand new looks since '54, from literature-inspired costumes and athletes' attire to the national dress of countries around the world. Take home a souvenir of this quirky character from the nearby Chocolaterie Manneken Pis. The chocolate shop do exactly what you'd expect: hand-made chocolate replicas of the statue!
Throughout the day, also keep an eye out for the Jeanneke Pis and Het Zinneke statues. These two 'peeing' statues are an homage to the original and all three have come to symbolise Bruxellois lighthearted natures.
Continue up the street to find an eye-catching mural of one of Belgium's most beloved characters, Tintin, and from here on out, keep your eyes peeled – the city is renowned for is street art.
March onwards to the Grand Place. Here, intricate, gothic facades - strikingly beautiful both day and night - surround the UNESCO-listed plaza, which is frequently cited among the most beautiful in the world. Reflecting its roots as a market square, shops still command a lot of space here, giving you the perfect excuse to shop to your heart's content.
Afternoon: Food glorious food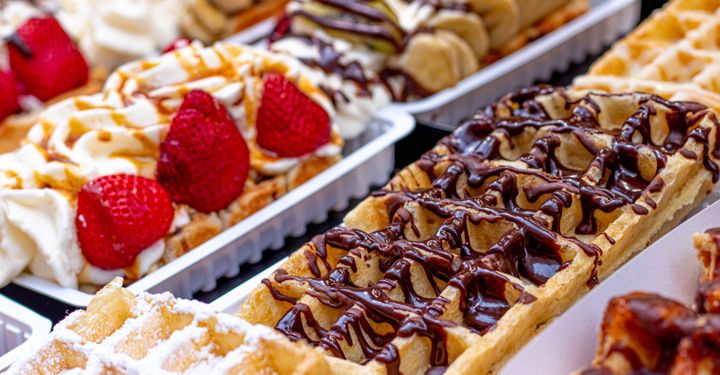 Throw out any rules you have around lunch; in Brussels, there's only one food that should be on your list: frites. You'll find street stalls and shops hawking the Belgian classic all over the city, so grab a coneful of the crispy-on-the-outside, soft-on-the-inside chips and be generous with the tomato sauce and mayo.
Follow it up with a meal-in-itself dessert; the waffle. You'll find your next snack just footsteps away from the Grand Place at Maison Dandoy. The speculoos specialist ventured into waffles – another of Belgium's most notable exports – some 50 years ago and they're now up there with the best in the city. Anything goes when it comes to toppings, and the bakery encourages you get as creative.
Have room for more? Visit Vitalgaufre, which is just eight minutes' walk from the Grand Place.
From here, meander over to the cathedral of St Michael and St Gudula.
Reminiscent of Paris' Notre Dame, this Roman Catholic cathedral blends Gothic and Baroque interiors and is adorned with twisted gargoyles on the outside. It's free to enter and worth the walk to take some impressive photography, though keep in mind it closes at 6pm every day, except Saturday when it closes at 3:30.
End your day with a bite to eat (more frites are fine by us) and head back to Brussels Midi.

Time to spare?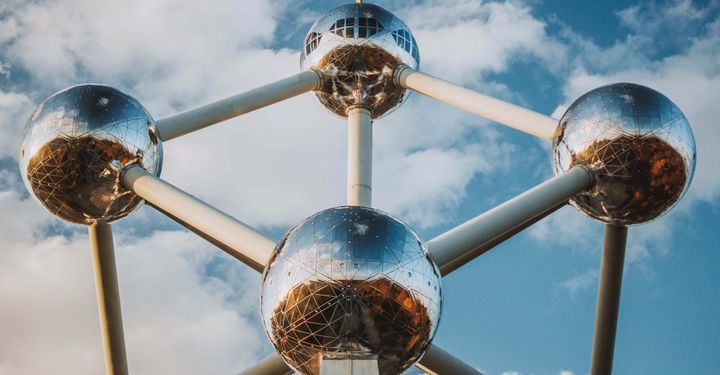 Take the Metro number 3 from stop Beurs, near Grand Place, to the end of the line at Esplanade. Here you'll find giant stainless-steel atom-turned-museum, Atomium.
Representing a renewed faith in science, and now an attraction in itself, you can climb the structure for panoramic views of Brussels and a surrealistic walk through its tunnels and spheres. Entry is €15 (about £13).
Four tips for a day in Brussels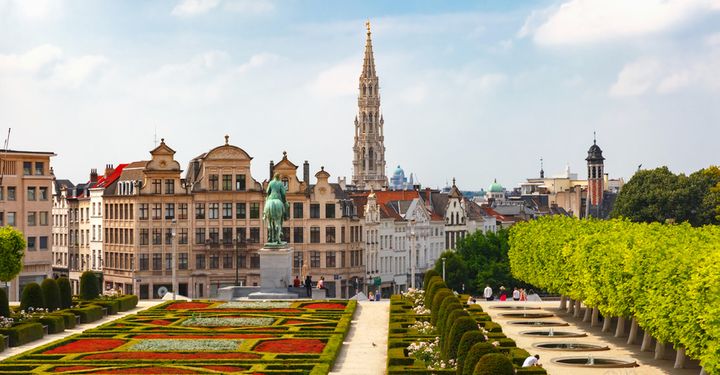 1. Consider travelling at a less busy time: It's no secret that off-peak travel will keep you under budget. Plus, you'll save precious time with shorter queues for transport and attractions.
2. Take advantage of free samples… Most chocolate shops let you try before you buy so you can find your favourites.
3. And free tours: Get your bearings and a history lesson with a free walking tour. History not your bag? Create a self-guided walk of Brussels' best comic strip murals – you can find itineraries online or ask for a map at the information desk in Brussels Central station.
4. Meet the metro: The Eurostar pulls in to Brussels Midi station, which is about a 20-minute walk away from the Grand Place. You can slash that to just five minutes by taking the metro to Brussels Central. Tickets will set you back about €4 (£3.45).
Have a comment or question about this article? You can contact us on Twitter or Facebook.
Sign up. Be inspired. Travel.
Subscribe now for hand-picked holiday deals, inspiration and the latest travel tips, straight to your inbox.