July 15, 2019
Ah, the beach. The traditional focal point of many a holiday. Sweeping golden sands, fresh sea air and a chance to let all of life's stresses melt away.
But not all beaches were made equal. Some have been blessed with waters so clear, surroundings so dramatic, that they just aren't like the others.
It's this kind of beach that we dream about at 8am on a rainy Monday morning: the idyllic spot of paradise where emails remain unread and an ice-cold mojito is never too far from your grasp.
Luckily, Europe has a fair few of these sandy escapes, and we've rounded up some of the best out there – prepare to channel your inner beach bum in style!
1. Playa de Ses Illetes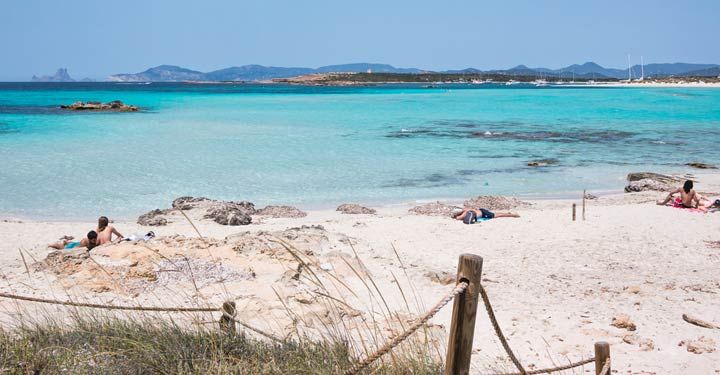 Where is it? Formentera, Balearic Islands, Spain
Gorgeous. Beautiful. Amazing. After a while, you run out of words to describe Formentera's Playa de Ses Illetes. Eventually, it leaves you speechless.
It's probably the combination of clear blue water, white, powdery sand and that almost endless feeling that makes Ses Illetes so special. And the fact that there's a distinct lack of high-rise buildings around the beach doesn't hurt either. Out of the high season, this stretch of sand boasts the kind of laid-back sentiment you'd expect from a Caribbean beach.
Still not convinced about this Balearic beauty? Well, TripAdvisor named it the ninth best beach in Europe after users found that it ticked all the boxes and then some. In fact, it's been in the top ten for three years running.


2. Porthcurno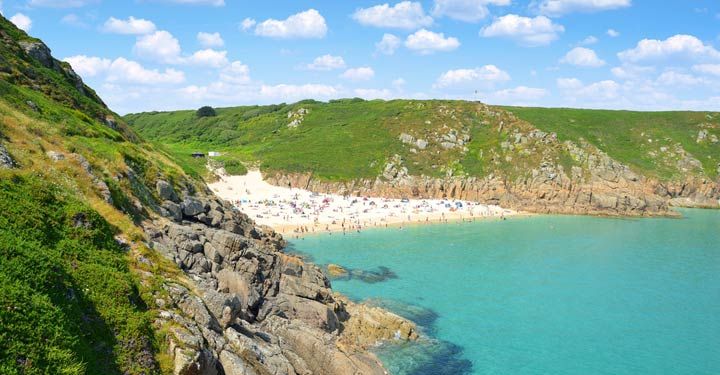 Where is it? Cornwall, UK
Britain's coast is lined with remarkable beaches. Cornwall's Porthcurno Beach is the perfect reminder that you don't have to go abroad to find pristine beaches.
Surrounded by craggy rocks, golden sands meet near-turquoise waters to create a beach so good, you'll wonder why you haven't been sooner. Whether you want to paddle in the shallows with the kids or venture out beyond the steep shelving for a challenging swim, Porthcurno does not disappoint.
Above the beach, high up in the rugged Cornish cliffs, the famous Minack Theatre hosts unique open-air shows all year around, giving it a unique edge.

3. Navagio Beach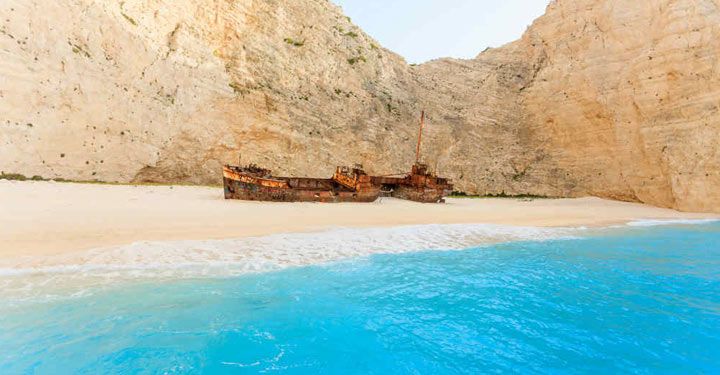 Where is it? Zakynthos (Zante), Greece
So irresistibly photogenic is Navagio Beach, you've probably seen it a million times, even if you have never actually been. Nothing, however, compares to the real thing.
A hulking, rusted shipwreck stands out against a backdrop of white shale, while imposing limestone cliffs surround it, protecting its warm, turquoise waters from the elements.
What makes this jaw-dropping beach even more appealing is its secluded location: the cove is completely cut off from the rest of the island so you can only reach it by boat from Zakynthos (Zante) town or Alykes.
To avoid crowds, book an early tour of the cove and take all you'll need with you: other than the ship and the clear water, there's nothing else there!

4. Dune of Pilat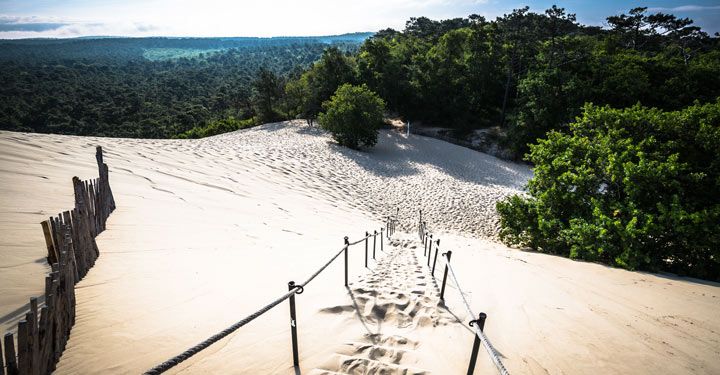 Where is it? La Teste-de-Buch, Arcachon Bay, France
For sheer drama, it's difficult to beat the remarkable Dune of Pilat. Rising 107 metres out of the sea, it quite literally stands out among Europe's beaches.
A hike to the top of Europe's tallest sand dunes reveals extraordinary views in both directions: to the west, the wild Atlantic, to the east, a mighty pine forest.
Dubbed one of Europe's last great wild beaches by the Telegraph last year, this is a beach to make the effort for.


5. Myrtos Beach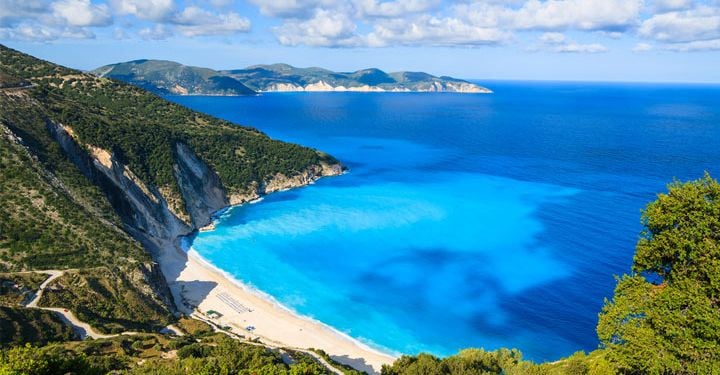 Where is it? Kefalonia, Greece
As you drive down from the coast road above, you catch a glimpse of Myrtos Beach below. The view is, quite simply, breathtaking.
Steep, green cliffs descend rapidly into crystal waters, while one mile of tempting sand curves out beyond view, luring you toward it. Then, when you eventually get down to the beach itself, surrounded by all of this natural beauty, you begin to appreciate its allure all over again.
Ideal for swimming and sunbathing, this idyllic beach found fame in the film 'Captain Corelli's Mandolin', where it featured during the mine explosion scene.

6. Jaz Beach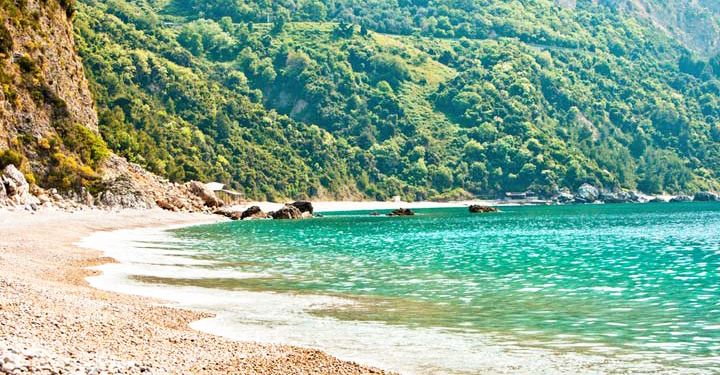 Where is it? Budva, Montenegro
Jaz has all the attributes you'd expect from an awesome beach: clear, blue waters, long stretches of glorious coastline and dramatic surroundings.
Unlike most beaches, however, Montenegro's Jaz hosts its own music fiesta, the Sea Dance Festival, and has a rep as a bit of a party beach.

And, to give you just that little but more incentive, travel giant Lonely Planet has awarded Jaz the accolade of best European beach in the past.


7. Oludeniz Beach and the Blue Lagoon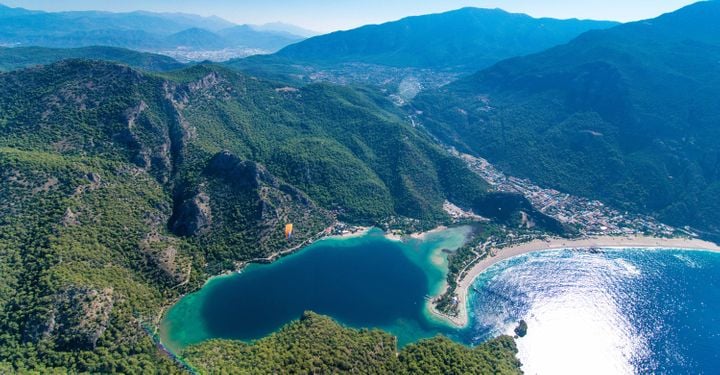 Where is it? Oludeniz, Turkey
A mile of pure sand, stretching into a beautiful Blue Lagoon: It sounds like paradise, right? Well, not far off. Oludeniz Beach and the Blue Lagoon it leads to are the stuff of storybook (or should that be travel brochure?) perfection.
The beach that leads up to the Lagoon is stunning enough, but once you get to its deep, azure waters, you'll find that the entire area is surrounded by soft, golden sand.
Above your head, bold paragliders swirl like birds of prey as they descend from Babadag Mountain, the fearsome-looking peak that provides a backdrop to this wonderful beach scene. If you're brave enough, you too can take the trip up the mountain: the views of the Lagoon are, if anything, even more sensational.

8. Praia da Marinha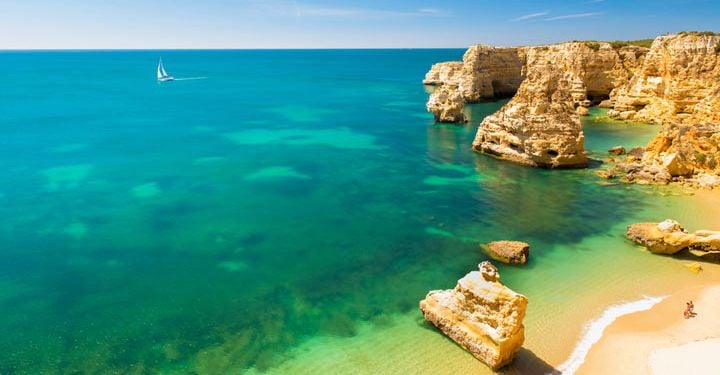 Where? Carvoeiro, Portugal
Praia da Marinha is one of the Algarve's most attractive beaches – no mean feat for a place famed for its incredible sandy shores.
The most remarkable thing about Praia da Marinha is probably the dramatic, rocky cliffs that surround the beach, a feature that has probably helped keep it so well preserved. Although the beach itself is fairly narrow, smaller coves become accessible when the tide goes out.
As well as its drop-dead gorgeous good looks, this picture-perfect spot is also known for its super clear waters – ideal for a bit of snorkelling!

9. Rabbit Beach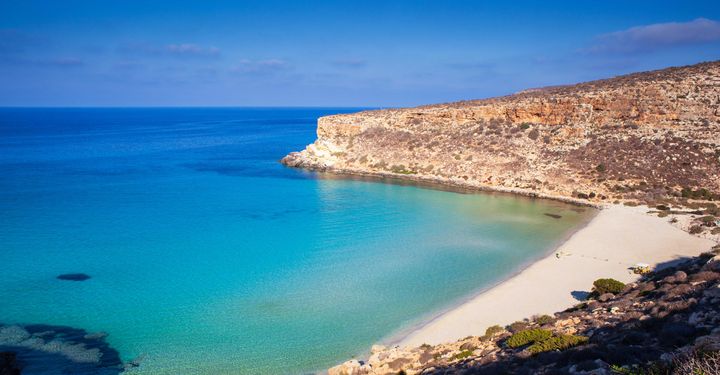 Where is it? The tiny island of Lampedusa, Italy
The curiously named Rabbit Beach is no stranger to the limelight.
Located more than 100 miles from mainland Italy, in the middle of the Mediterranean Sea, the island of Lampedusa has a remote quality that seeps into its wonderful beaches, even when they are crowded. Once again though, it's the tried and tested combo of clear, blue waters, soft white sand and picturesque setting that draws people here year on year.
Rough Guides, the Independent, Travel + Leisure and TripAdvisor (the beach was voted number one by users last year) have all featured Lampedusa's premier beach over the last few years – as if you needed any more convincing.
To get there from Sicily, you'll need to take the ferry from Porto Empedocle or a flight from Palermo or Catania.

10. Barafundle Bay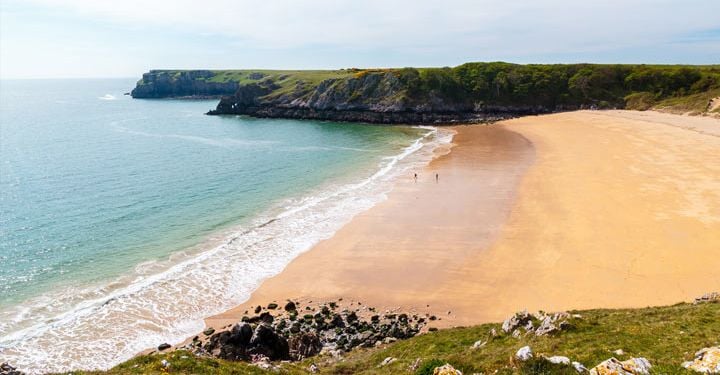 Where is it? Pembrokeshire, Wales
For such a small country, Wales certainly packs a punch when it comes to pristine beaches. Barafundle is rightfully said to be one of the very best.
The small bay comes with a big wow factor, leading VisitPembrokeshire to make the Caribbean comparison – a bit biased, maybe, but we see where they are coming from. Nice and isolated, the beach has no facilities nearby, just as Mother Nature intended!

11. Monsul Beach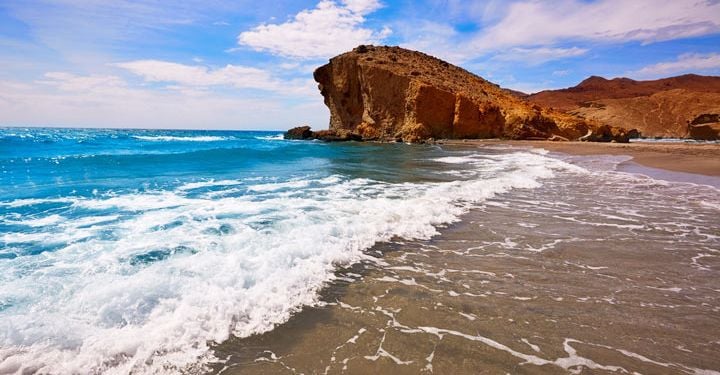 Where is it? Almería, Spain
One of Spain's many, many Blue-Flag beaches, Monsul Beach maintains an off-the-beaten-track appeal despite its showbiz credentials.
Indiana Jones fans may recognise Monsul's signature rock formation from 'Indiana Jones and the Last Crusade' in the scene where Indy and his curiously Scottish father are being harassed from above by a classic fighter jet.
Today, the Cabo de Gata-Nijar National Park, which contains the beach, is better known for its interesting volcanic rocks and sweeping sand dunes. Perfect for beach bums with an adventurous side.

Have a comment or question about this article? You can contact us on Twitter or Facebook.