12 family holiday experiences you need to try

December 18, 2017
Your idea of a dream break may be lounging on a beach with a great book then heading into town for posh food and cocktails. But if you've got kids in tow, holidays are all about keeping them occupied, enriched…and off Snapchat for a short while at least.
Mum-of-four Fiona Whitty is on a relentless mission to conjure up novel adventures for Harvey, 16, Max, 14, Rosie, 12 and Freddie, nine. Here she reveals 12 fantastic tried-and-tested family experiences that have helped make their holidays special.
1. Swimming with giant tuna in Spain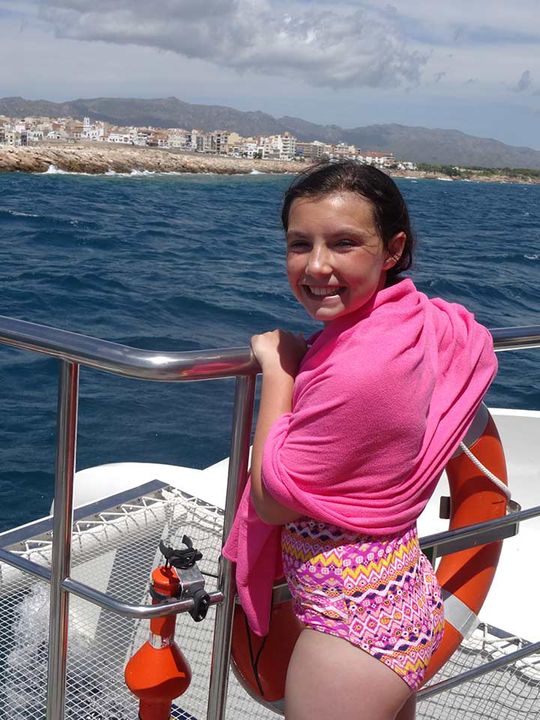 We love snorkelling, but coming face to face with a hungry fish that's bigger than you takes it to another level.
Tuna Tour (+34 977 04 77 07; [email protected]) in L'Ametlla de Mar on Spain's Costa Dorada whisks you out to sea by catamaran to a huge net containing 400 of the finest Bluefin tuna up to two metres in length and 200kg in weight, nurtured for top restaurants around the world by the Balfego fishing family.
While you're snorkelling inside the net, the crew throw in mackerel to tempt the big beasts to the surface to ensure you get the best view. As their colossal silvery torsos darted it was slightly terrifying, yet exhilarating too.
2. Canoeing off the beaten track in Corsica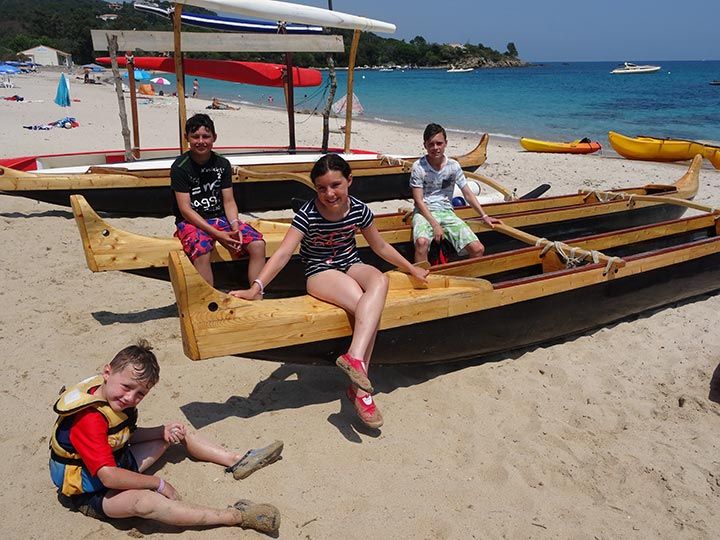 The sea on Corsica's east coast is amazing – calm, bathtub-warm and clear as glass – and a fun way to enjoy it is on a pirogue, a canoe-like replica of an old wooden Polynesian fishing vessel.
Sea adventure company Acqua Vanua (06 03 60 87 29) based on Favone beach south of Solenzara, hand-craft the beautiful boats themselves and their guide Paolo jumped in ours for a three-hour coastline tour.
First stop was a prime snorkelling spot – they provided the gear – for saddled bream, damselfish and wrasse. My lot loved it when Paolo dived down to retrieve a starfish from the seabed for them to feel.
He also took us further out to sea where we swam along a hidden underwater tunnel carved through a rocky outcrop.
Then we visited caves where we crawled along the seabed underneath a submerged ledge. It left us with fantastic memories of places we would otherwise be oblivious to.
3. Breaking down borders (literally) in Berlin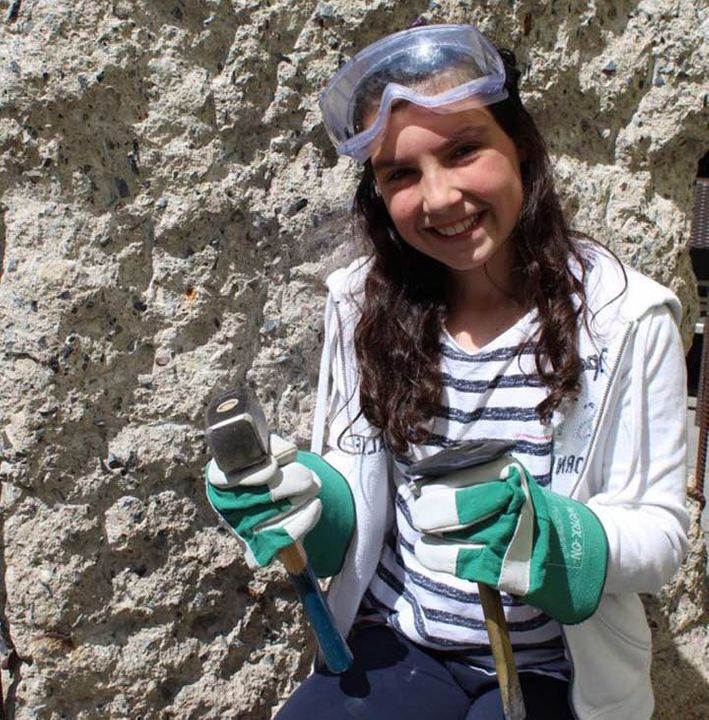 I was a student when the Berlin Wall started falling in November 1988 and I dashed over to join in with the jubilant, gluhwein-swigging crowds who celebrated the end of the city's partitioning.
Back then I knocked out my own piece of Cold War concrete using a table knife and the heel of my shoe. Nowadays you can do it fully kitted-up with safety goggles and a hammer and chisel at Berlin's elegant Westin Grand Hotel.
The hotel owns one of Germany's few surviving pieces of Wall left which is on show on its terrace – and ready for guests to take home a unique souvenir. Hurry though…it won't last forever.
4. Surfing seven miles in from the coast in Wales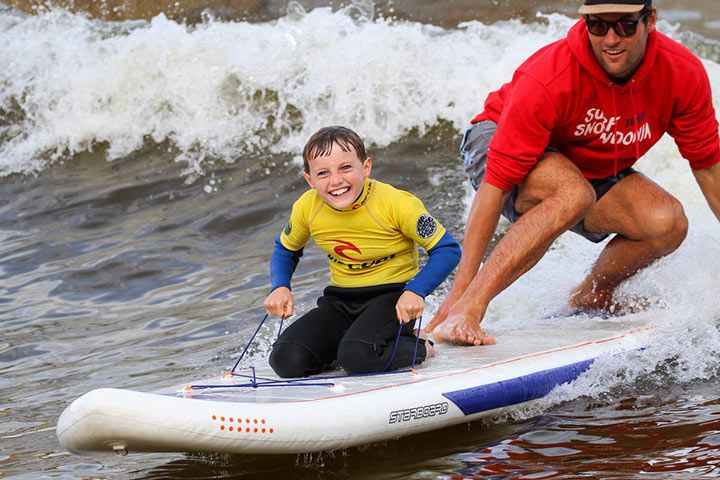 Don't believe the hype that you have to be out at sea to catch the best waves. The innovative Surf Snowdonia (Conway Road, Dolgarrog, Conwy LL32 8QE; 01492 353 123) in Wales has opened Europe's first inland surf lagoon.
It's a great place to let the kids loose on a board for the first time without the fear of them being swept out to sea or knocked unconscious in unpredictable conditions.
Clever technology means that regulated waves are delivered every three minutes so you know exactly where, when and how they'll break. Beginners learn in the white water dregs at either end, die-hards get to surf the two-metre high crests in the middle, and intermediates can practise in between.
The best way to start is with a lesson or two. Instructors give you half an hour's dry-side tuition before taking you in to the lagoon. And after just an hour in water we'd all managed to stay on the board.
5. Shivering in the underworld in Greece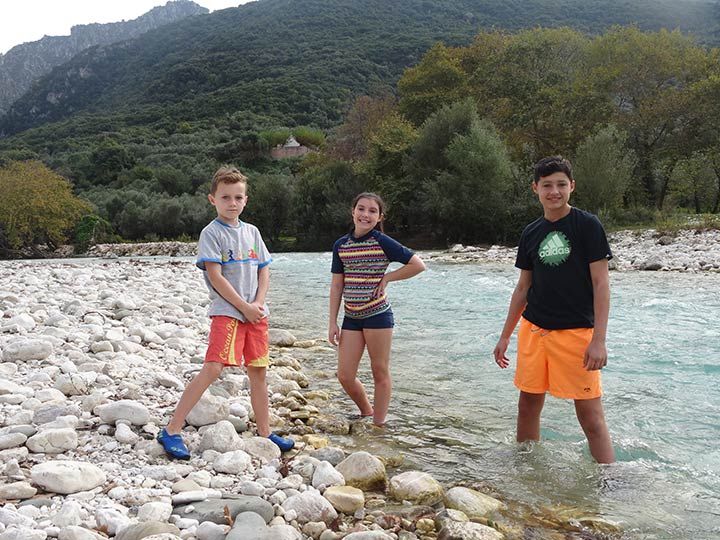 Thanks in part to Rick Riordan's Percy Jackson books and ensuing films, the children couldn't wait to experience a bit of Greek mythology when we visited Parga.
The Acheron River near Gliki on Greece's mainland is said to represent the gates to the underworld where the souls of the dead were sent.
Tradition dictates that you wade upstream as far as you can to meet the gates – and I can tell you it's very cold, even when the summer sun is beating down.
Despite the chill, it's fun scrambling up the turquoise-tinged river as it narrows into a gorge. We held hands to steady ourselves as boulders, crevices and a strong current all sought to knock us off balance and, at times, it was so deep we had to swim for it.
Top tip: Wear dive shoes to protect your feet. And prepare to freeze.
6. Cycling up a mountain without breaking a sweat in Barcelona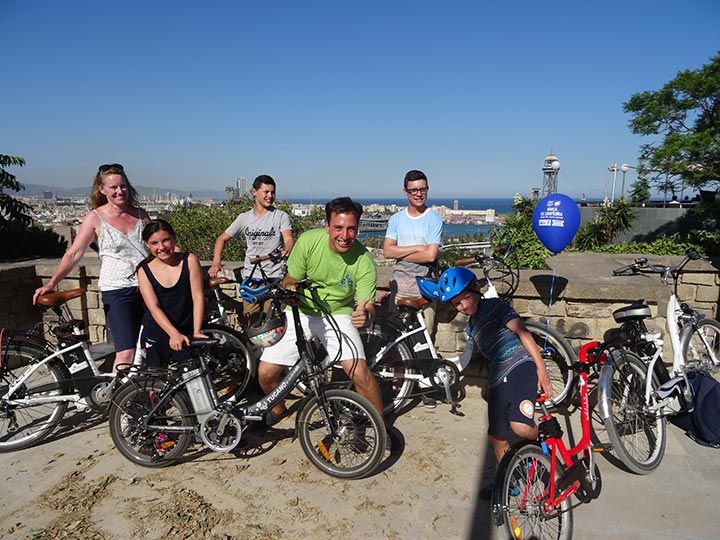 Chances are if you've visited Barcelona you've staggered up its famous 210-metre high Montjuic Mountain – or taken the coward's way out and queued for the cable car.
But a better way to explore it is on an e-bike so you can make your way up leisurely along winding paths through pretty hillside cactus gardens without so much as a pant.
It took us around 20 minutes to reach the top – about a third of the time it took the puffed out hikers who joined us for the magnificent views over the port, the Med and the sprawling city.
The cycles, from E-bike Rent, have a manual gear plus a battery pack-operated electric gear which can be activated on hills for an added boost.
The children loved the novelty of it - and the admiring glances unsuspecting onlookers gave them as they tackled the hill with ease.
7. Paddling alongside gentle giants in Florida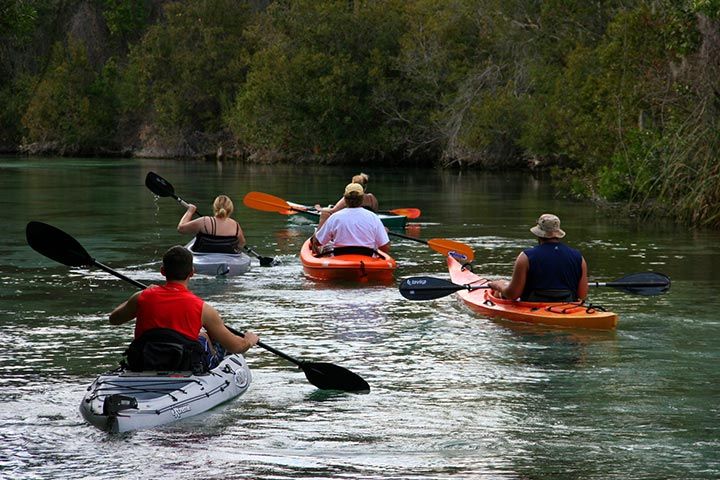 OK, we all love Florida's theme parks but the state is bursting with natural beauty and wildlife too. For a rest from the rides, you can't beat packing up a picnic and kayaking down the mellow Weeki Wachee River.
You can hire a kayak at the Weeki Wachee Springs State Park and have three hours to explore the serene waterway, stopping off at will amid the cypress, oak and palm trees or even taking a dip.
The water is so clear you'll have no trouble spotting fish and you'll often see turtles, otters, storks and pelicans too. A highlight is definitely watching endangered West Indian manatees gliding underwater. A real magical experience.
8. Finding fun in frozen Yorkshire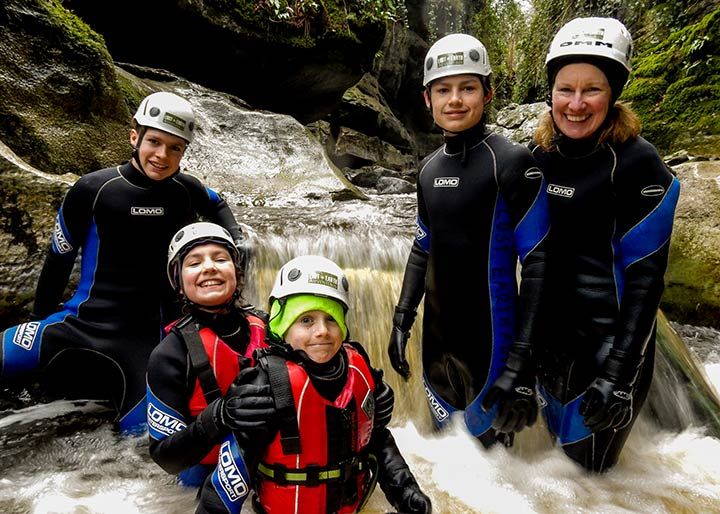 It was a damp February afternoon in Yorkshire and the temperature couldn't even make it into double figures – yet we were about to abseil off a bridge into a decidedly chilly river.
I'd booked gorge walking – or canyoning – at How Stean Gorge with outdoor activity specialists Lost Earth Adventures who assured us we'd be too busy to notice the cold.
They were right. Wetsuits on, we scrambled over boulders, slid down slippery ledges, explored waterside caves, dive-bombed into plunge pools and hauled ourselves up waterfalls. A brilliant, year-round thrill for all the family.


9. Husky sledding in the Arctic Circle, Norway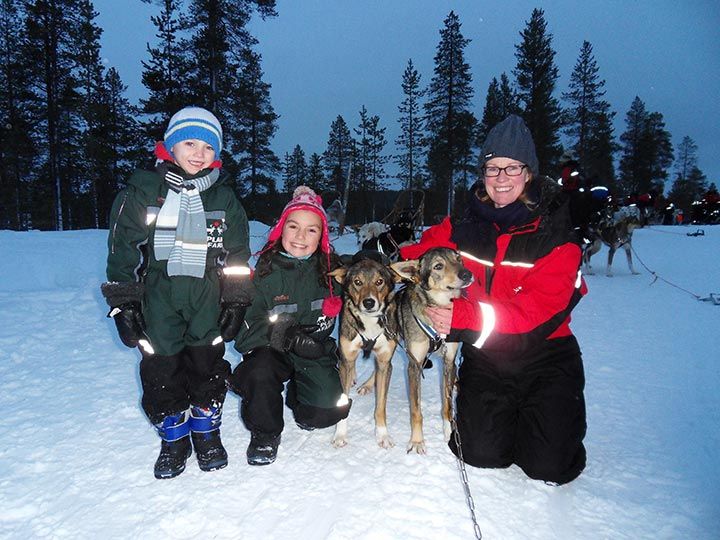 The guides tell you there's not much you need to know before you take control of six baying huskies harnessed up to the sled you're standing on - apart from how to slam on the brake.
And believe me, you'll need that brake. The thrill is intense as you swoosh across a thick blanket of snow, slicing through dense forest and skirting frozen lakes.
I swear the dogs forget you're hanging on in there behind them as they prance ever faster, sending the sled swinging towards tree trunks or bouncing over bumpy ground. Pressing the brake down into the snow with your foot slows them momentarily but it's not long before they're flying again.
We skimmed across the countryside near Kirkenes on Norway's northern coast, a stone's throw from the Russian border. The most magical time to try it is in the hazy twilight hours when your way is lit by a head torch, the beam of light picking out obstacles just in time for you to swerve out of the way.
10. Wildlife watching on the beach in Turkey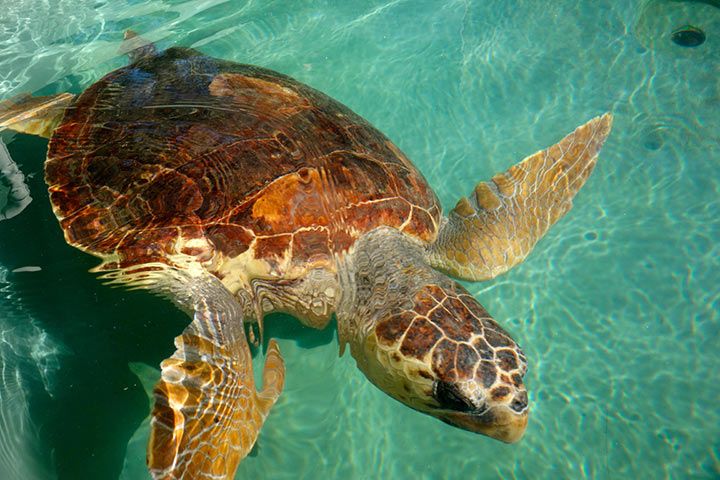 You shouldn't visit Dalyan without spending a day on Iztuzu Beach, arguably one of Turkey's prettiest places.
But the biggest draw isn't its soft golden sand and shallow child-friendly waters, but its wildlife. It's a breeding ground for loggerhead turtles, and if you're lucky you'll find yourself swimming with them.
The turtle hospital, which treats the injured and allows visitors in exchange for a donation, is worth a visit too. And the kids will also enjoy watching hordes of crabs scurrying along the sand to their burrows.
11. Exploring a gorge…on a pedalo in France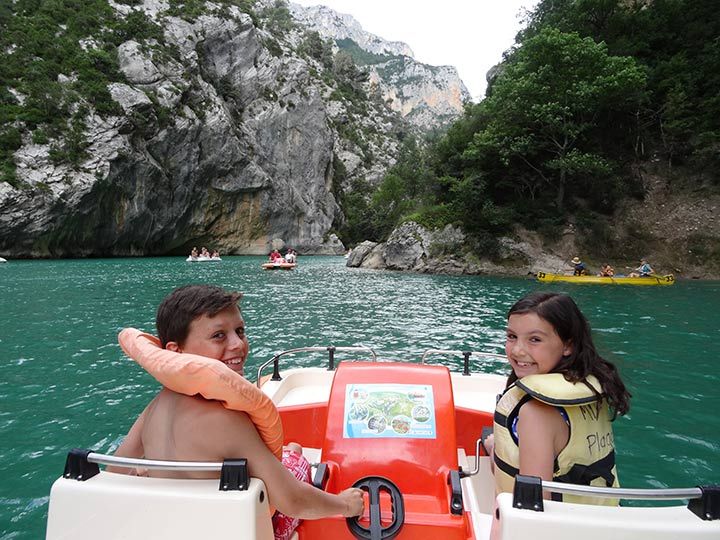 For the pedalo ride of your life head to France's pretty Provence - home to the Gorge du Verdon, dubbed Europe's Grand Canyon because of its dramatic scenery.
The River Verdon, which cuts through the 1,000-foot-high limestone cliffs, is an amazing emerald green in colour and will whip your breath away.
For a novel way of seeing it we hired pedalos on the stunning Lac de Sainte-Croix and paddled up into the gorge's mouth. The views are simply awesome; you'll have to pinch yourself.
12. Foraging for a feast on the Isle of Skye, Scotland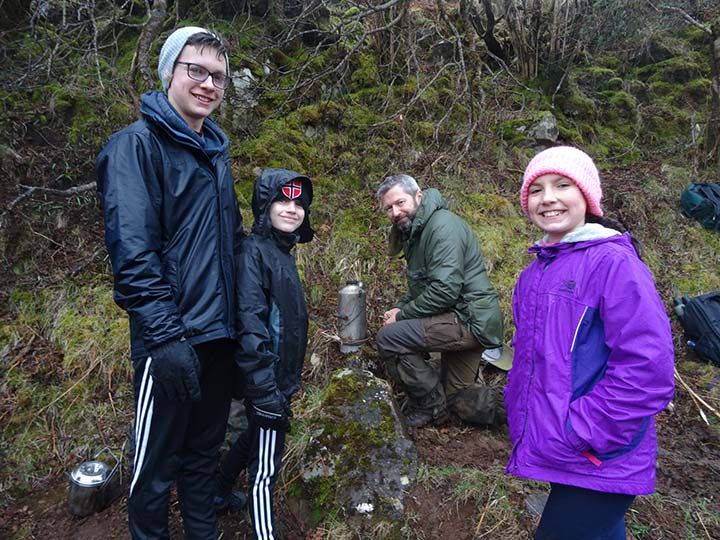 We've eaten mussels in fine restaurants but the best ones ever were cooked on a mini portable stove…outside in the rain.
They were certainly the freshest; we'd collected them ourselves just minutes earlier on a guide-led 'wild walk' on the beautiful Isle of Skye.
Mitchell Partridge, who runs Skye Ghillie, took us to the shores of Loch Snizort and showed us how to find plump mussels clinging to rocks under thick layers of slimy green seaweed.
When Scotland's famous heavens opened we ditched our plan of cooking up our foraged feast on an open fire on the beach and turned to Mitchell's emergency stove.
But we all agreed they were the most delicious we had ever tasted. We were soaked…but satisfied.
Have a comment or question about this article? You can contact us on Twitter or Facebook.