Alternative East Coast Usa Destinations
The best places to discover on America's East Coast

March 12, 2020
By Meryl Pearlstein
Enhance your trip to New York or Boston – and add a different dimension to your travel experience – by spending some time in these three neighboring destinations.

Brooklyn: Manhattan's cousin across the river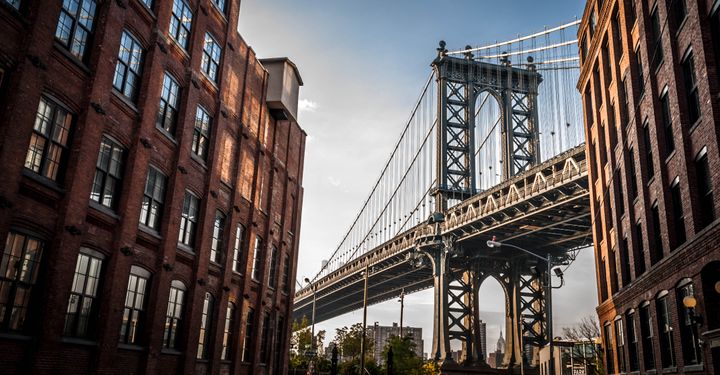 Okay, Brooklyn is technically one of New York City's five boroughs but every hipster will tell you it's where the city's style and restaurant scene is happening. The borough is a mélange of colorful neighborhoods that embody New York's independent spirit, and you'll quickly find that each has its own rich personality. You could spend a week or more exploring from Red Hook to Greenpoint, from Williamsburg to Sunset Park, or from Bushwick to Park Slope, ferreting out what's most interesting in this cultural patchwork on the other side of the Brooklyn Bridge.
Start your visit in classy Brooklyn Heights, Brooklyn's oldest neighborhood, to drink in stunning views of Lower Manhattan, walk through the sedate brownstone-filled streets and marvel at the beautiful architecture. Continue to DUMBO, a burgeoning, somewhat gritty neighborhood with restaurants and cooler-than-cool boutiques by indie designers. Have your camera ready – you'll recognize the iconic views of the Brooklyn Bridge and Manhattan Bridge that have created DUMBO's instagram frenzy. A worthy food stop is Grimaldi's Pizzeria on Front Street, noted as one of the city's best. Or, for fine dining and a dose of old New York, book a waterside table at the River Café, a favorite for its enduring elegance and magnificent views.
Old world and new come together in Williamsburg as well, with trendy restaurants like Missy Robbins's Lilia and Misi bordering sedate residential areas including Hasidic Williamsburg.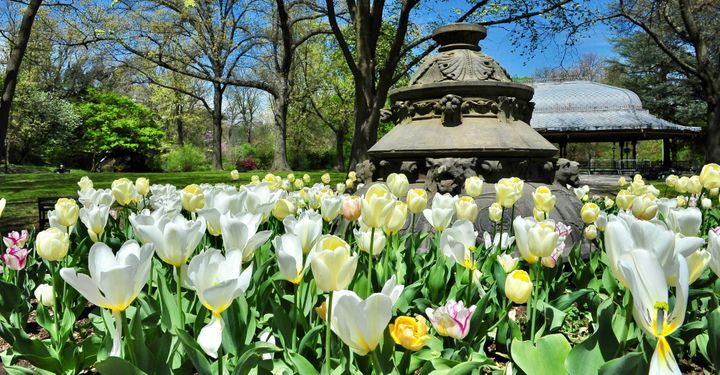 For a mix of makers and iconic New York foods, visit Industry City in Sunset Park, a multi-block area of artsy shops and trendy restaurants in former factory buildings. A new favorite, Hometown BBQ, will treat you to the best pastrami and brisket sandwiches in the city. Adjacent Japan Village is an indoor food market with stands hawking ramen, sushi and okonomiyaki. Finish your meal with a pub stop at Barrow's Intense Tasting Bar to sample homemade ginger liqueur.
Work off all of Brooklyn's deliciousness in Gowanus, with its medley of quirky activities. Brooklyn Boulders offers energetic rock wall climbing for all levels: you can try your hand at shuffleboard at the Royal Palms Shuffle Board Club or give axe throwing a go at Kick Axe. If you'd rather be outdoors, you can kayak the Gowanus Canal.
Brooklyn is a hotbed of nightlife and culture, too. Williamsburg's Brooklyn Bowl has nightly music shows (and bowling) and St. Ann's Warehouse in DUMBO is your go-to for first-rate theatre productions. BAM, the Brooklyn Academy of Music, has a year-round schedule of forward-thinking music and theater productions.
You can satisfy your craving for outdoor space and art in one easy visit to Brooklyn's Prospect Park, little sister to Manhattan's Central Park. After exploring the grounds, take a stroll up stately Eastern Parkway to the Brooklyn Museum, the second largest art museum in New York, and a short walk from the Brooklyn Botanic Garden, a welcome spot for a picnic and a gaze at the cherry blossoms or other seasonal florals.
For a well-located and very Brooklyn hotel, reserve a room one block from the East River at The Wythe, where brick walls from its days as a factory offer coziness and authenticity in a hip setting.
From The Big Apple to the City of Brotherly Love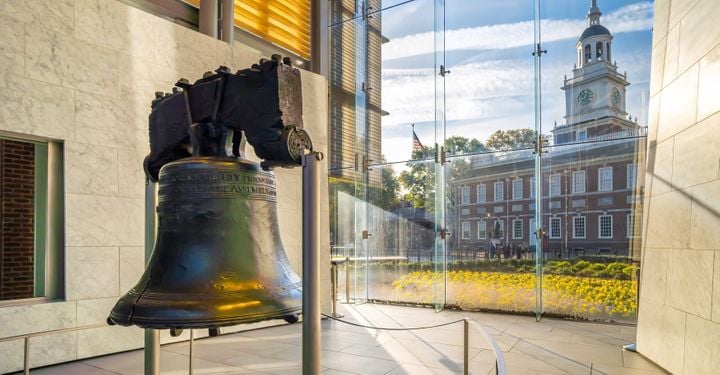 Visit somewhere slightly different in Philadelphia, Pennsylvania – the city that owns the title of "the birthplace of the nation". With direct flights from London, or a quick two-hour Amtrak train ride from Manhattan, you can immerse yourself in the colonial city that is now one of the US's culinary and arts giants.
Starting on Independence Mall, take a walking tour of Philly's Center City and Society Hill areas, with their narrow streets and beautiful townhouses, while you learn about key figures in American history. Stop off at the famous Liberty Bell before entering Independence Hall where the Declaration of Independence was signed in 1776.
Reading Terminal Market, a public market since 1893 and the nation's first food hall, is home to more than 80 shops and food stands. Standouts like Bassetts ice-cream will give you a taste of the richest version of the dessert in the US (it has the highest butterfat content). But that's OK, because you'll burn off calories wandering the streets down to the Delaware riverfront, where you can admire the boats and perhaps enjoy a cocktail at the Moshulu restaurant on a restored historic ship. Be sure to stop for photos at cobblestoned Elfreth's Alley, considered the oldest residential street in America.
Philadelphia is famous as the home of the Rocky movies, and a run up the stairs of the illustrious Philadelphia Museum of Art is a must for fans. Once you've made it to the top, do go inside – the museum has one of the premier art collections in the US. Re-opening in stages after a massive restoration under the direction of noted architect Frank Gehry, the museum sits on tree-lined Benjamin Franklin Parkway. There you'll also find the Rodin Museum, the largest collection of Rodin pieces outside of France, along with the Franklin Institute, a family favorite for everything science, and the Barnes Foundation, one of the world's foremost collections of impressionist, post-impressionist and early modernist paintings.
At the center of Philadelphia sits statue-covered City Hall. Atop the building is a statue of William Penn, the city's founder. Book the Tower Tour to the observation deck for a closer view and a panorama of the city itself. The famous LOVE sculpture is on ground level in nearby LOVE Park.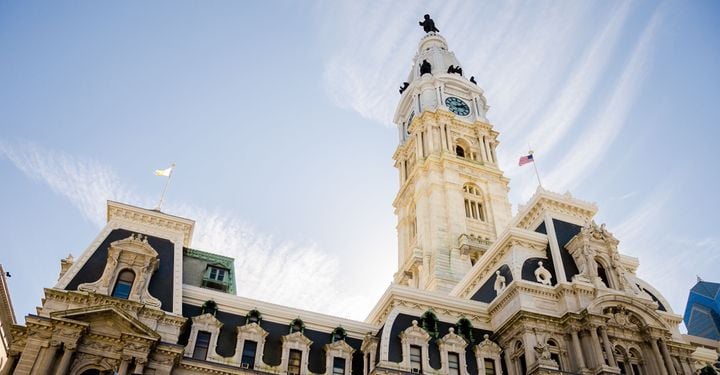 Philadelphia is also known for its culinary prowess. From Vietnamese to Spanish to Philly's own cheesesteaks, you'll want to carefully consider your dining options here. The debate is ongoing regarding the choice for the city's top cheesesteak, but you can be guaranteed one of the best at Jim's on South Street. Pro tip: order your cheesesteak "whiz with," and you'll get the "proper" version of the city's sandwich with fried onions and Cheese Whiz, the most appropriate topping.
For some happy hour love, try a.Bar, noted for its creative cocktail wizardry, or the 160-year-old McGillin's Old Ale House, an appropriate stop after exploring the city's history.
Sports fans in Philadelphia are often called Philly Phanatics. If you'd like to get a sense of why that's so, pick up tickets for a Phillies baseball game, an Eagles football game, a Flyers hockey game, or a 76ers basketball game. For a calmer recreational spot, Fairmount Park offers miles of trails for hiking, cycling and horseback riding.
From Beantown to the Country's Smallest State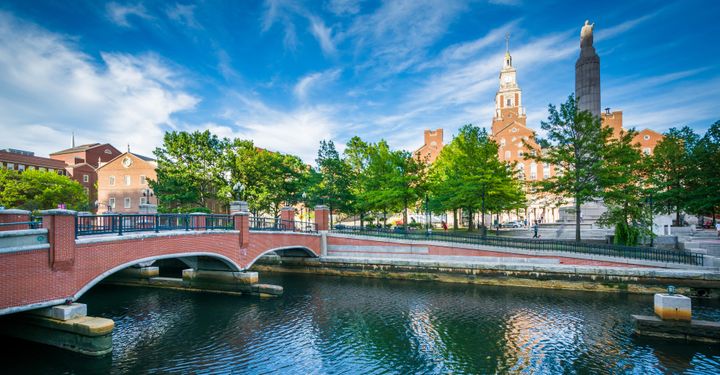 Flights into Boston offer easy access to one of New England's loveliest small cities, Providence, Rhode Island, a one-hour train ride south. The capital of the smallest of the original thirteen colonies, Providence is a small-scale version of its bigger sister, Boston, but every bit as historic and charming.
Founded in 1636 and committed to preservation, Providence has a long lineage of arts, food and immigrant influences. Federal Hill, Rhode Island's own "Little Italy" is where you'll find trattorias and pizzerias both original and "stuck in time." College Hill is an architecture lover's dream with its many landmarked homes, and the Fox Point neighborhood along the waterfront has a strong Portuguese presence stemming from early whaling and seafaring activities.
The Providence River, once hidden under pavement, was rerouted in 1994, opening the city to pedestrian-friendly Waterplace Park and RiverWalk, an area now crisscrossed with bridges and lined with shops and restaurants. If you visit from late spring through fall, WaterFire is a carnivalesque event for all ages along the Venice-like shores. The evening's one hundred anchored bonfires, music, street performers and gondolas plying the river make for a must-see experience.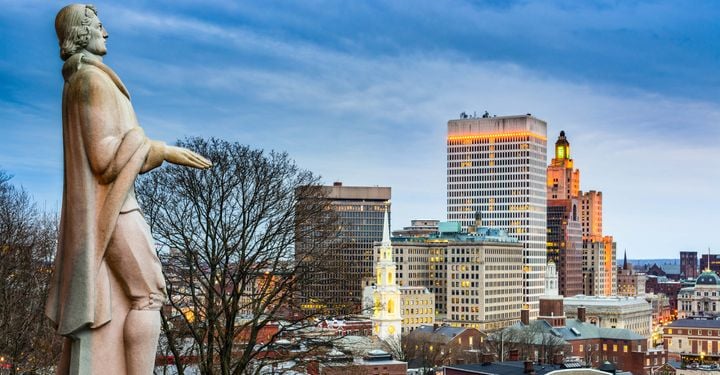 Located an easy walk up one of Providence's seven hills are the campuses of Rhode Island School of Design (RISD) and Brown University where a variety of cutting-edge museums are open to the public. You can wander the beautiful grounds, and the imposing buildings give a glimpse into two of the country's most revered educational institutions. Between the two schools lies historic Benefit Street, a walker's paradise with more than a hundred elegant 18th-century houses with styles from Colonial and Federal to Greek Revival and Victorian.
Plan for some touring of the mansion area along Blackstone Boulevard on Providence's East Side, a leafy one-and-a-half mile stretch of park and residences popular among cyclists and walkers. Self-guided walking tours, available from GoProvidence.com or the Providence Visitor Center, will help you map your route. Tired of walking? You can discover Providence on a leisurely river paddle from the Providence Kayak Company.
As in Brooklyn and Philadelphia, dining is serious here too. Pizza and seafood are paramount. Plan to wait for perhaps an hour or two at Al Forno on the river, the spot that invented wood-grilled pizza. For a New England dose of clams, oysters and mussels, both raw and cooked, book a table at the Providence Oyster Bar on Atwells Avenue. Next to City Hall, the mobile Haven Brothers Diner, one of the country's original food trucks, will satisfy your late-night cravings.
For a taste of history, stay at the newly "debuted" 100-year-old Providence Biltmore Hotel, now renamed the Graduate Providence.
Have a comment or question about this article? You can contact us on Twitter or Facebook.