Best Light Festivals Around The World
The best light festivals around the world

January 17, 2018
In the bleak midwinter, light festivals have started springing up all over the world to cheer us through the chilliest months of the year. Anthea Gerrie rounds up some of the best, including a few world-class examples on show here in the UK.


Lumiere light festival, London
When? January 18 - 21, 2018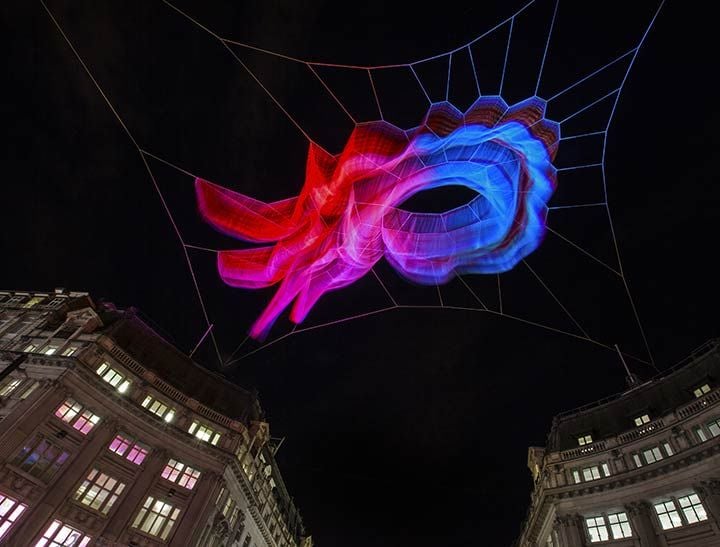 The spectacular Lumiere London light festival returns to the captial for its second edition this year, after a brief hiatus in 2017.
Over 50 nocturnal artworks will be on display accross London, transforming some of its most iconic buildings, streets and open spaces into dazzling temporary light exhibtions of all shapes and sizes.

As well as being the largest light show in the UK, it's all completely free and easily visited on foot or by tube. You'll find the main displays in King's Cross, Fitzrovia, Mayfair, the West End, South Bank and Waterloo, and Westminster and Victoria.
Christmas at Kew, London, UK
When? Now until January 21 (closed December 24 and 25)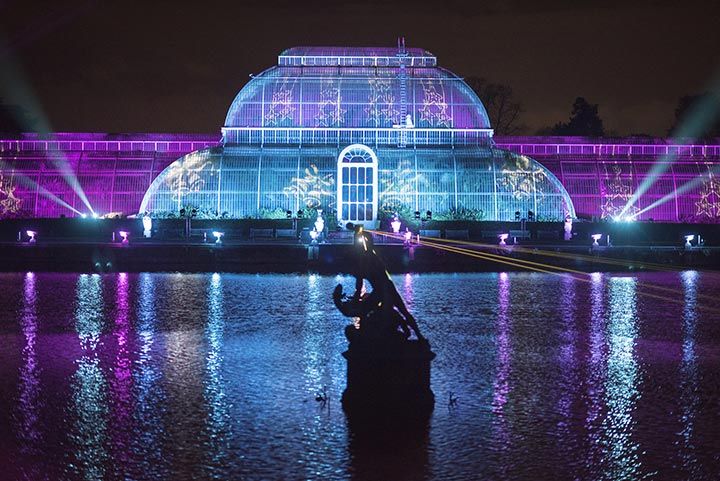 Another spectacular London light show is on at Kew Gardens, where work on the festival takes nine months of planning. The main players are dozens of fabulous old trees whose branches have been backlit with brilliant colour or had their trunks wrapped in ribbons of multi-coloured bracelets. A world-class speaker system belts out Christmas tunes and classics activated by passers-by to add to the drama.

The trail is punctuated by mistletoe and marshmallow-toasting stations, stalls dispensing mulled cider and roast chestnuts, and an amazing laser performance over the lake in front of the famous Palm House which is, inevitably, the star turn.
Timed entry at the peak hours of 5pm-7.40pm mean there will never be too many crowds to dispel the magic, but come late and you will eventually have the show almost to yourself until doors close at 10pm.
Find out more

Compare London city breaks


Waddesdon Manor, Buckinghamshire, UK
When? Closed until next year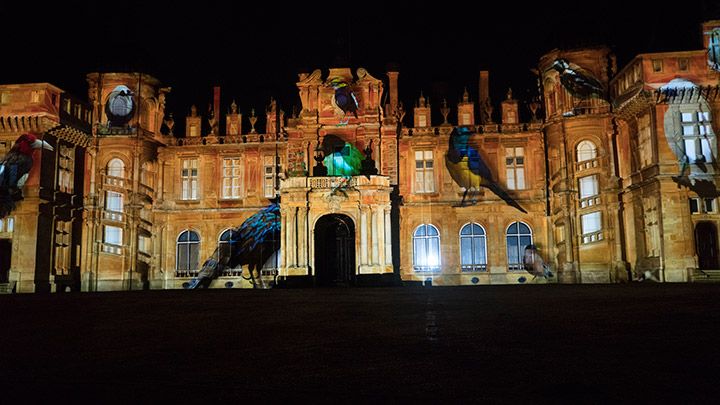 Inspired by treasures from the former home of the Rothschild family, including birds from its aviary and rare porcelain from its collections, the Guildhall School have created a world-class projection of birds, animals, dancing clocks and teapots set to a festive soundtrack. It plays four times an hour between 4.15pm and 6pm.
The light show extends into the manor house, whose fantastical Christmas decorations should not be missed, and continues in the grounds with an Electric Menagerie created by American artist Lauren Booth, who has reproduced goats and birds in neon throughout the grounds and created a giant Chinese lantern in the shape of a dragon.

Christmas market-style stalls featuring beautiful handmade wares will be an extra attraction during the first half of December.

Find out more


Amsterdam Light Festival, Amsterdam, Netherlands
When? November 30 - January 21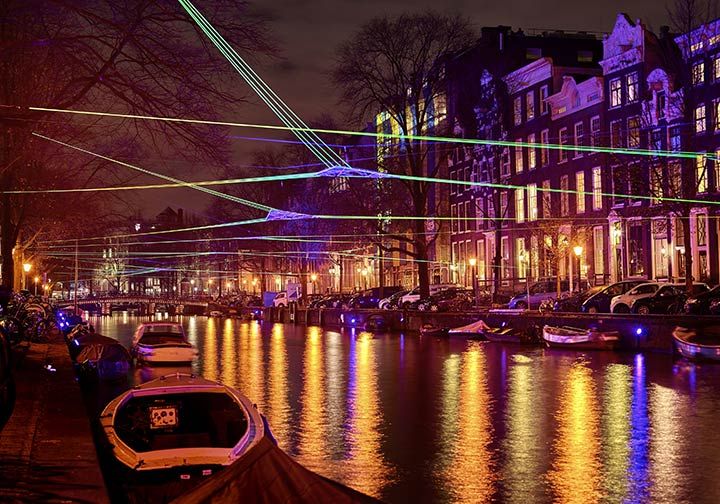 With its rings of concentric canals and the majestic Amstel river, the geography of Amsterdam city centre offers the perfect infrastructure for spectacular illuminations reflecting columns of dancing lights on the water.
Dutch and international artists pull out the stops to create different installations every year, and there are dedicated canal cruises to help visitors enjoy the complete show without pounding the shoe-leather. However, a walking route guides those who want to stick to the streets past the best of the action, and there's even a super-active trail for experienced rowers prepared to wield the oars under the direction of an instructor!

Find out more
Chinese Lantern Festival, Gaillac, France
When? December 1-January 31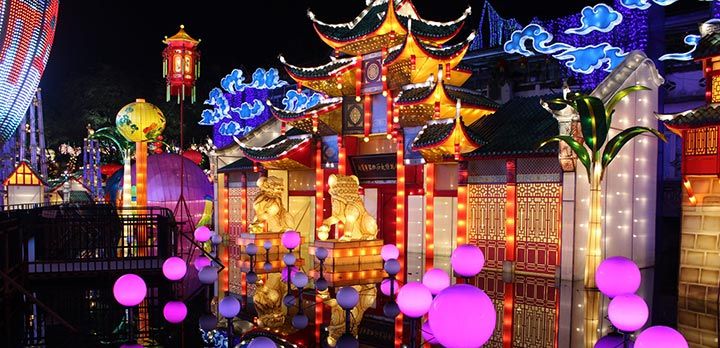 Artisans from the Zigong Lantern Culture Industry Group in China are bringing their light magic to Europe for the first time, choosing the picturesque town of Gaillac near Toulouse in south-west France as their first venue. All the exotica of Asia, from peacocks to pagodas, dragons to rice paddies, will form a brilliant backdrop to performances by acrobats, fire-eaters and masters of martial arts.
The Christmas market will have a section devoted to Chinese arts and crafts, hopefully a world away from the mass-produced goods from Asia which infects too many Christmas shacks in Europe.

Find out more
Macao Light Festival, Macau, China
When? Closed until next year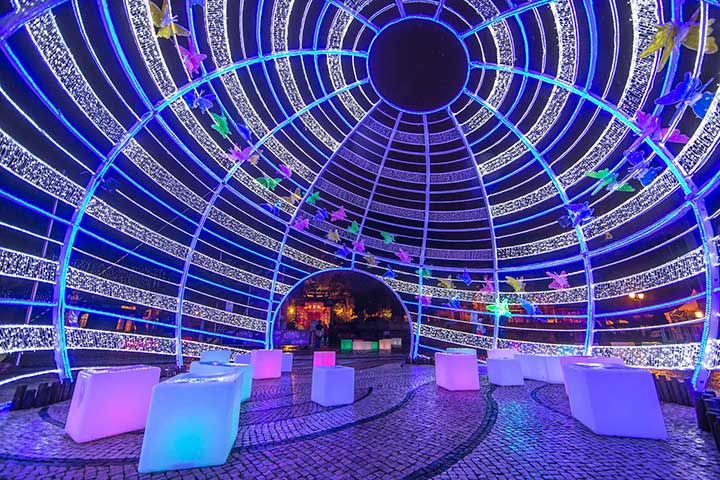 Projection mapping, interactive games and outdoor concerts along with twinkling installations will make the third edition of one of the most innovative light festivals in the Far East a lively event. Starting from the ruins of St. Paul's Church, the route will process past Senado Square, St. Lazarus and other key locations in a west-meets-east city centre which has earned UNESCO World Heritage Site status for its historic Portuguese and Chinese buildings.
New for this year will be a Light Dinner promising "a blend of light projections and culinary delights into unprecedented dining experiences." Hopefully it won't involve fire-eating!

Find out more
Lux Helsinki Light Festival, Helsinki, Finland
When? Closed until next year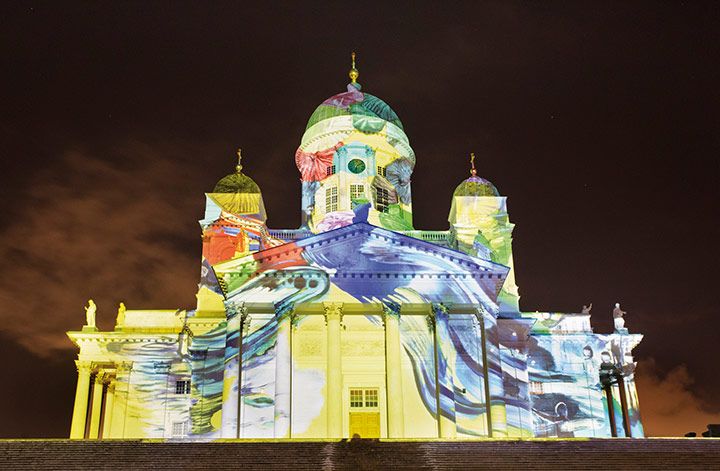 Artworks in light from top Finnish and international artists light the way through the centre of Scandinavia's most exotic capital, from the splendid Esplanade running down to the to the waterfront, to the pair of famous cathedrals and the Russian-inspired architecture of Helsinki's Market Square.
Watch out for the Flowers of Life "Sacred Geometry" projections of patterns that float in the air
in the courtyard of one of the university buildings, and the people-powered installation at Senate Square, where spectators determine the intensity of the colours produced by piling their combined weight on to special scales.

Find out more
Portland Winter Light Festival, Portland, USA
When? February 1-3, 2018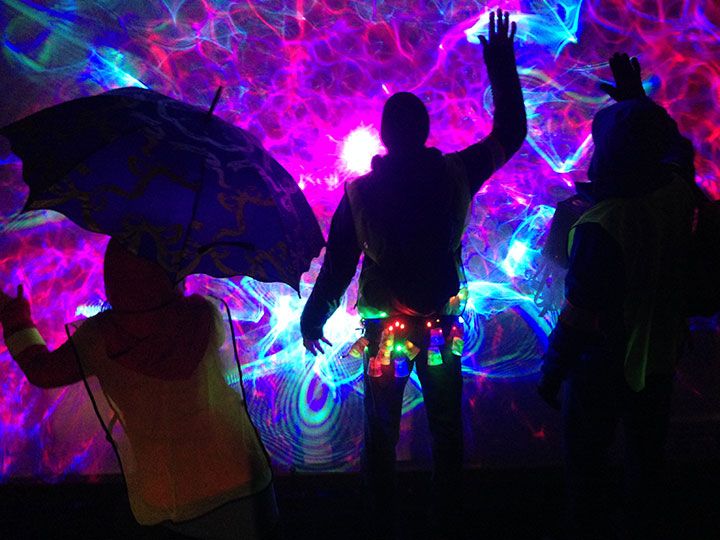 Naturally, the world's most right-on city powers its brilliant light festival with renewable energy, but also expect some flashes of fire along with the eco-electrics, which will light up bridges, the Oregon Museum of Science and Industry and the Eastbank Esplanade in an event the city calls "a stepping stone to spring".
This is certainly one to lift the spirits at a time when everyone else has taken down their Christmas lights and the clocks have not yet gone forward.
Find out more

Compare West Coast USA holidays
Festival of Light and Sound, Eden Project, Cornwall, UK
When? Closed. Opens again December 2018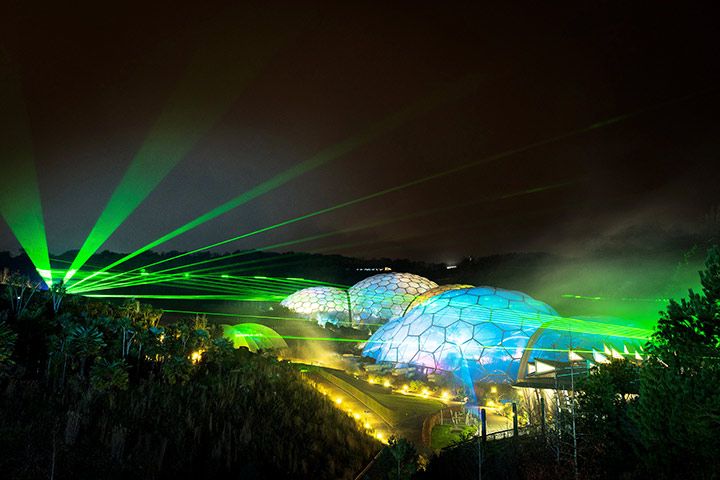 Star of this spectacular event is the immersive iy_project light and sound installation which transforms Eden's signature biome domes with a 70-speaker pulsating soundtrack and lasers projecting geometric patterns onto the night sky. Producer Chris Levine has created light work for Grace Jones, Massive Attack and Anonhi, so expect visual and audio fireworks!
Find out more

Compare hotels in Cornwall


Festival of Lights, Lyon, France
When? Closed. Opens again December 2018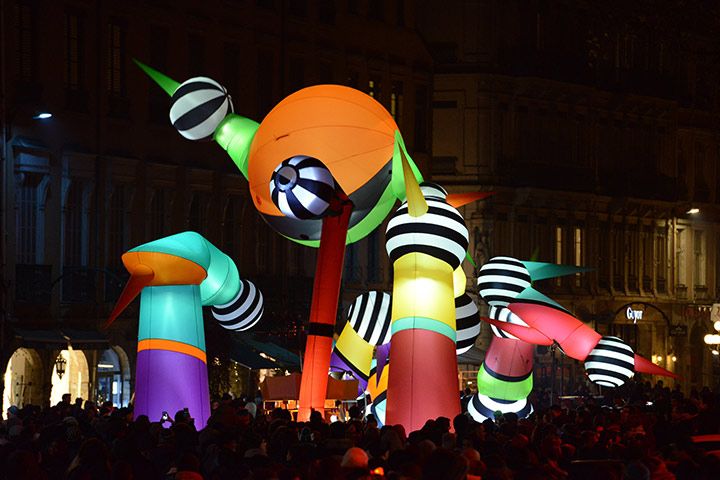 As the home of the brothers who gave cinema to the world, Lyon has been a world leader in creative light festivals, exporting its expertise around the world. Expect fabulous projections on the city's iconic buildings and dazzling displays in its squares and along its riverbanks, then eat well in France's gastronomic capital.
Find out more

Compare flights to Lyon
Night Light, Tel Aviv, Israel
When? Closed. Opens again December 2018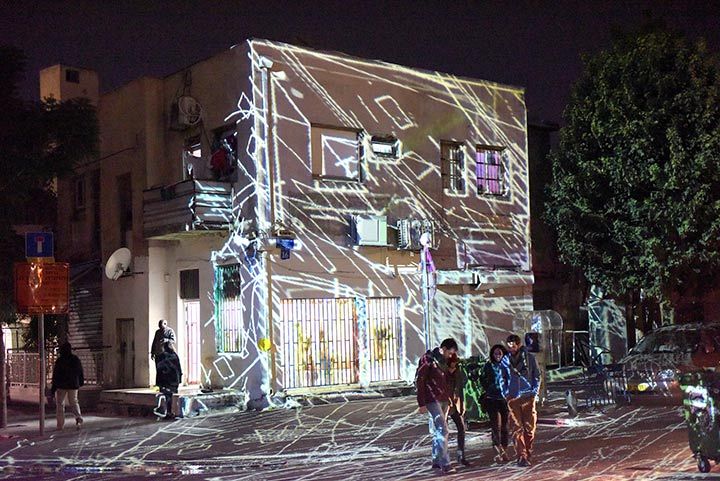 The run-down neighbourhood of Neve Sha'anan, is where Tel Aviv creates a multi-sensory visual experience during the annual Jewish light festival of Hannukah. Street musicians will help create a party atmosphere in the edgy multicultural area around the city's Central Bus Station where Sudanese and Eritrean eateries offer exotic post-festival cuisine.
Magical Lantern Festival, various UK locations

When? Closed. Opens again December 2018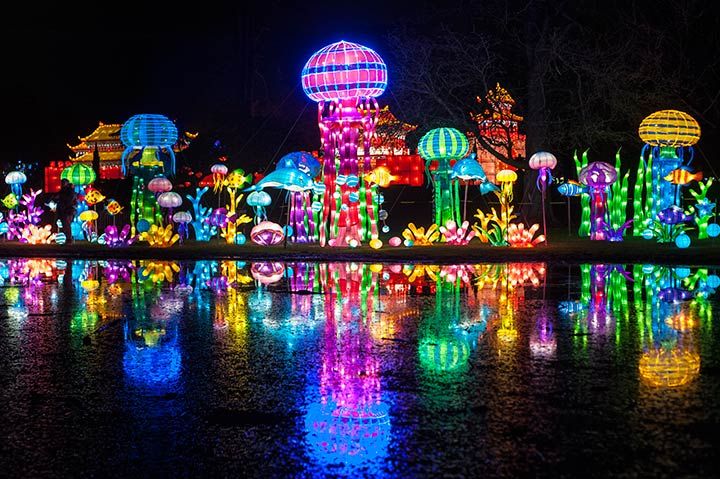 Illuminated sculptures of flowers, animals and fish dreamed up by Chinese creatives are lighting up parks in major British cities this festive season. Expect food and drink stalls, a Santa's grotto and a handful of fairground rides for children - but the fantastical lanterns are the main event.
The festival is taking place across the UK in Chiswick House & Gardens, London; Kings Heath Park, Birmingham; Roundhay Park, Leeds; and Philips Park, Manchester.

Find out more
Have a comment or question about this article? You can contact us on Twitter or Facebook.