Quarantine Free Winter Sun Destinations
8 quarantine-free winter sun destinations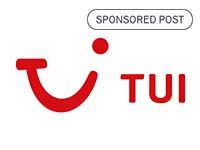 Please note: this article is sponsored by our partners at TUI. The links on this page will take you directly to the TUI website.
Updated November 23, 2021
(Published August 27, 2021)
In need of a little sunshine this winter? Whether you're looking to stay close to home with a short hop to Europe or want to go all-out on a luxury holiday in the likes of the Caribbean or Mauritius, our partners at TUI have plenty of winter sun inspiration.
Plus, with TUI's Black Friday offers available now, you could even save up to £200 on your trip – and if things change, you'll get free amends from the moment you book up until 28 days before departure as part of TUI's holiday promise.
Tempted? Us too. Here's where to go when you want to turn up the temperature this winter.
Please note: Check the FCDO website for the latest travel advice for your destination both before you book a holiday and in the lead up to your trip.


Where to go for short-haul winter sun
1. The Canary Islands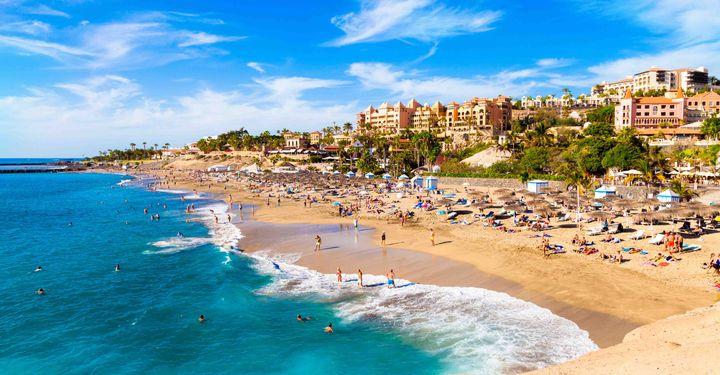 Scattered off the coast of Africa, this Spanish archipelago is a treat for travellers, as there's so much diversity across its islands. Beaches, watersports, outdoor adventures and nightlife are well covered by big hitters Tenerife, Lanzarote, Gran Canaria and Fuerteventura, while their smaller neighbours, including La Gomera and La Graciosa, are ideal for a quieter day trip.
Choose Tenerife for the most variety (the south is all resort towns and beaches while the north is dominated by lush tropical forests and vineyards), Fuerteventura for swathes of golden sand and watersport fun, and Lanzarote for sightseeing – its otherworldly, volcanic landscapes redefine the meaning of beauty.
In terms of temperatures, Tenerife just pips its neighbours with averages of 20C in January and February. But all islands rarely drop below the high teens so there's not really a bad choice here.
Discover the latest deals to the Canary Islands with TUI


2. Cape Verde (Cabo Verde)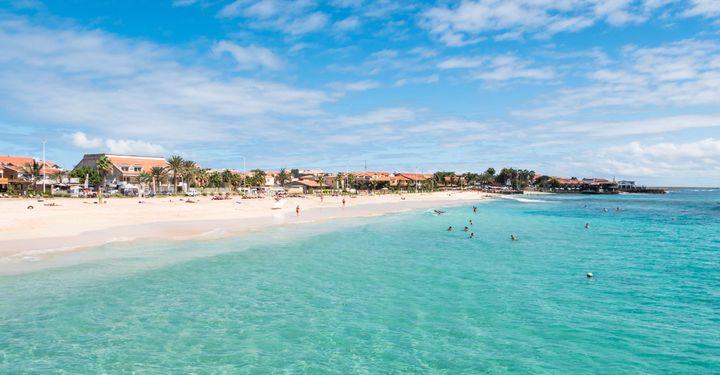 Cape Verde (or Cabo Verde) doesn't see as many British visitors as its northern Atlantic neighbours, but it should. Not only is the weather warmer (around 23C on average in January and February) but the vibrant archipelago gets around 350 days of sun a year – not a bad reward for only two more hours of flying.
Ten islands make up this sunny nation that was once part of Portugal, but most holidaymakers stick to Sal or Boa Vista on a package break. You'll find mile after mile of gorgeous, unspoiled beaches fringing both islands, plenty of watersports on offer and a wide range of choice for a relaxing all-inclusive stay.
When you're ready to leave your sun-lounger, head inland. There's otherworldly landscapes, so-salty-you'll-float lakes and excellent hiking on Sal and a sprawling sandy desert on Boa Vista.
Discover the latest deals to Cape Verde with TUI


3. Malta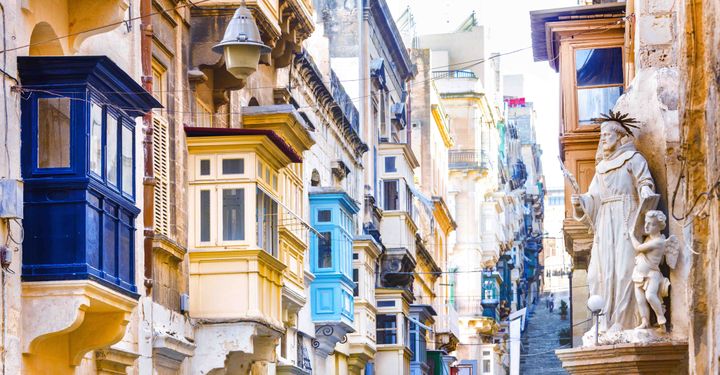 Despite its idyllic location bang in the middle of the Mediterranean, a holiday in Malta isn't just about hitting the beach (though you'll certainly find an abundance of postcard-perfect spots).
The entirety of its capital, Valletta, is a UNESCO World Heritage Site thanks to its extensive history and high concentration of historical sites (320 in all). St John's Co-Cathedral, the Grand Master's Palace and St George's Square are all worth stopping in, and further afield, you'll find the Megalithic Temples of Malta. These ancient structures are dotted right across the island and on neighbour Gozo; some of the most famous are Ġgantija, Hagar Qim and Mnajdra.
Weather-wise, it's little cooler in Malta in winter – you're in for average highs of 16C – but sunshine still abounds.
Discover the latest deals to Malta with TUI


4. Spain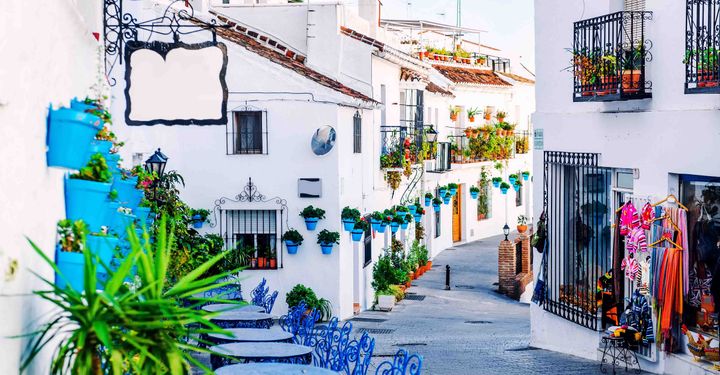 Mainland Spain won't give you the scorching days and endless sunshine of a long-haul destination this time of year but it's a good chance to see a quieter side to your favourite spots. Whether you're combining city and sea with a holiday in Valencia or are settling in for a few days by the beach in a sunny Spanish costa, you'll have excellent eats, tons of art and history to discover and even the chance for a bit of a boogie come nightfall.
Head to the resorts further south in the Costa del Sol or the Costa Blanca for a few extra degrees of warmth – average highs hover around 16C. Considering prices are so low this time of year, it's a good bet for budget warmth and a pleasant time to explore away from your resort.
If you're staying in the Costa del Sol, hire a car to explore Andalucia and its picturesque, whitewashed villages (pueblo blancos) or stop by cities such as Granada and Seville for a mini city break.
Discover the latest deals to Spain with TUI


Where to go for long-haul winter sun
5. Dominican Republic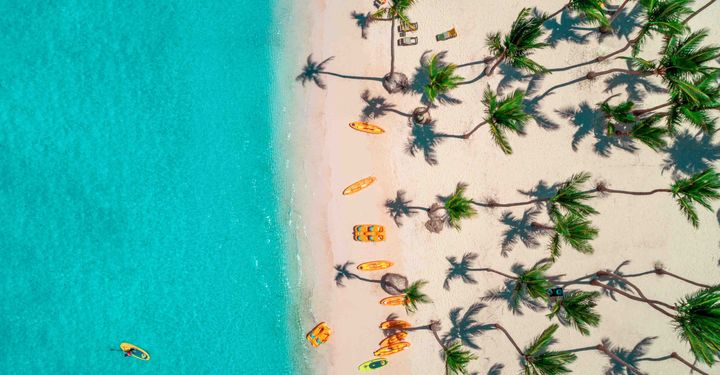 The Dominican Republic is the kind of holiday destination you'd want at the top of your must-visit list after the last 18 months. Sugary sands, swaying palms and clear waters fringe this beautiful Caribbean island, while inland, it's lush and wild and teeming with opportunities for adventure. It's only a bonus that mid-December to March is the best time to visit for excellent weather.
As for where to stay, Punta Cana is package holiday central, with every kind of hotel stay imaginable and activities from kitesurfing and horse-riding to whale watching (the gentle giants visit the waters around here between January to March).
For activities of a different kind, pop on a snorkel and swim out to the Igneri Caribe Taino Underwater Museum, where sculptures of the country's indigenous Taino people now reside. Or, swap salty seawater for the clear freshwater lagoon at the nearby Ojos Indigenas Ecological Park and Reserve – you might even spot turtles and iguanas!
Discover the latest deals to the Dominican Republic with TUI


6. Dubai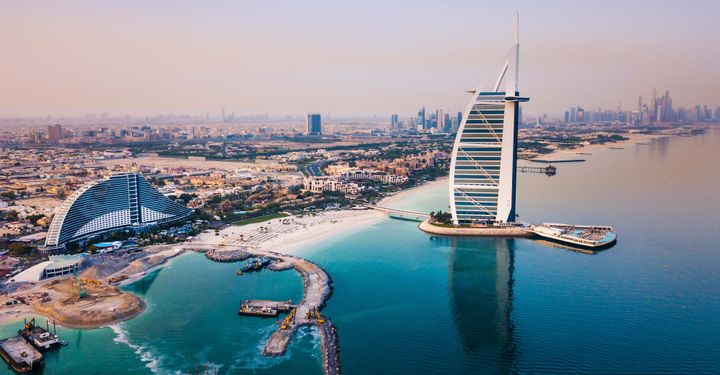 Winter is arguably the best time to visit Dubai. The weather is warm but not scorching – 40C temperatures are common in the height of summer – meaning it's much more pleasant to explore this city of skyscrapers. And what a city it is. A playground for adults and kids alike, this flashy city has almost anything you could dream up, including an enormous indoor ski centre in the world's largest mall.
Consider a stay on the hotel-studded Palm Jumeriah. This artificial island is all about living it up, whether you're on one of the stunning private beaches or overlooking them from a swanky rooftop bar.
For a different experience on the sand, give dune bashing a go – that's high-speed driving in a 4x4 across the dunes. Many tours combine the action with a much more sedate camel ride and a barbecue in the desert.
Discover the latest deals to Dubai with TUI


7. Barbados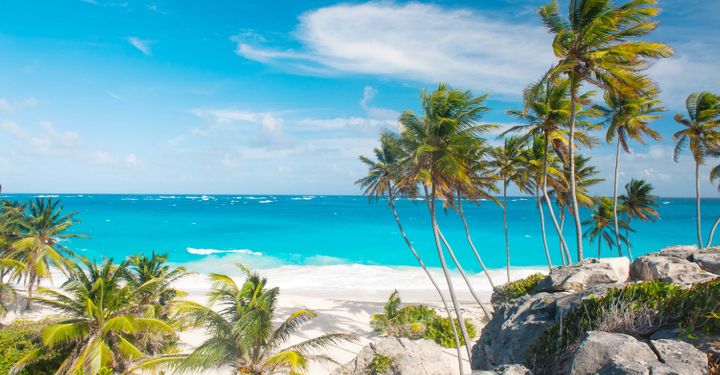 Like most places in the Caribbean, Barbados more than lives up to its postcards: yes, the palm-lined sands really are that blindingly white and the water truly that blue. And when it comes to winter sun, well, Barbados does that brilliantly too. Expect temperatures hovering at the 26C mark between December and April, with the driest months early in the year.
Stay on the southwest coast for a quintessential Bajan experience. Capital Bridgetown bustles with shopping opportunities and restaurants all while being minutes from the beach. Mount Gay has its rum distillery here and you'll get crash course in the island's colonial history in its landmarks and museums.
Around 20 minutes' drive from the capital is St Lawrence Gap with its line of rum shacks and reggae dancehalls. In between the two, you'll find the tranquil neighbourhoods of Hastings, Worthing and Rockley – perfect tropical retreats if you'd prefer to sleep a step back from the action.
Discover the latest deals to Barbados with TUI


8. St Lucia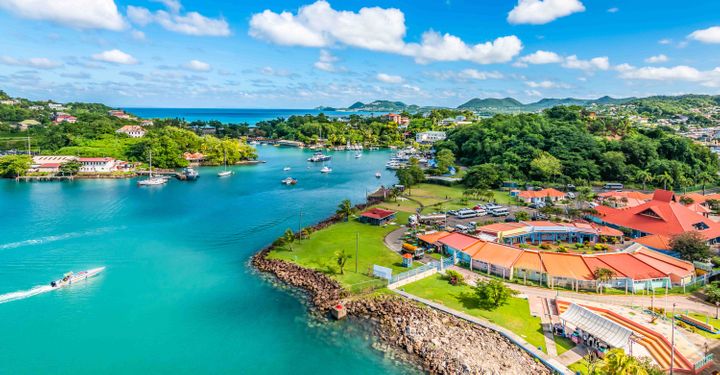 St Lucia combines luxury and adventure in the most glorious of ways: you can zip-line through rainforest, hike one of its distinctive twin peaks and drive between sulphur springs on the world's only 'drive through volcano'.
Then, you can retreat to your boutique hotel nestled high in the hills or sprawl out on a sun-lounger by the pool of your all-inclusive resort. For a lesson in local life, make for St Lucia's famous Friday night parties. The Gros Islet 'jump up' is probably the biggest on the island but if you're craving seafood, it's got to be Anse La Raye's Fish Fry.
As in the rest of the Caribbean, winter is the best time to visit, as the weather is still balmy, the waters warm and rainy days few and far between. Expect highs of 29C between December and March.
Discover the latest deals to St Lucia with TUI

Have a comment or question about this article? You can contact us on Twitter or Facebook.