The European Capitals You Never Thought To Visit But Really Should
The European capitals you never thought to visit – but really should
April 5, 2018
It's time to put Paris to the back of your mind, remove Rome from the equation and go beyond Berlin, writes Richard Trenchard. Europe is blessed with some of the planet's most unique capitals and that applies well beyond the big hitters.
Here are a few you might not have considered, but really should…
Ljubljana, Slovenia
Flight time - 2hrs 20mins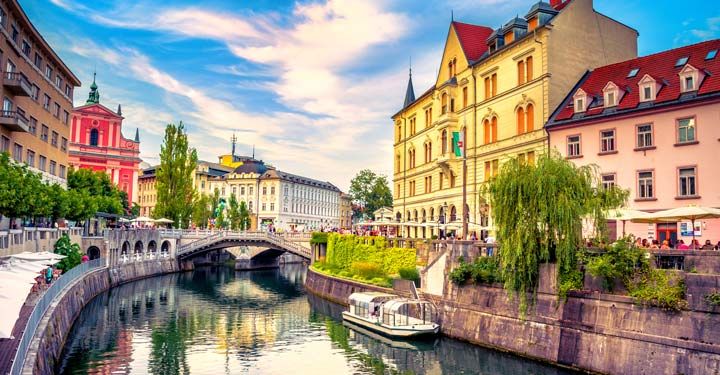 Slovenia's biggest city is renowned for greenery, as well as attractions that really deserve more recognition than they currently receive. Ljubljana Castle (Grajska Planota; 00 386 1 306 4230), for example, is a 12th-century gem, with the remains of Roman gates standing close to the epicentre (on Mirje).
The Museum of Modern Art presents an excellent range of permanent and temporary exhibitions, (Tomšiceva; +386 1 2416 834), while the National Museum of Contemporary History – focussed on a 20th century defined by two World Wars, Communism, a popular revolution, and civil war – is truly memorable (Celovška cesta; 00 386 1 300 9610).
Two fine river crossings, Triple Bridge and Dragon Bridge, are photogenic, in the middle of town, and in close proximity to the Open Market. Running daily from morning until early afternoon from Monday to Saturday, it's best visited on Fridays between March and October for delectable and cheap local treats.
Metelkova City is a self-declared autonomous social centre. Formerly a military zone, it has been occupied by artists since the 1990s, who still rule the roost and host events throughout the year. Hostel Celica (Metelkova; 00 386 1 230 9700) was once a political prison; today, it's the guests who sleep in the cells. Metelkova City buzzes with alternative culture and, at just 25 minutes on foot from the castle, is well worth the time taken to visit.
Podgorica, Montenegro
Flight time - 2hrs 50mins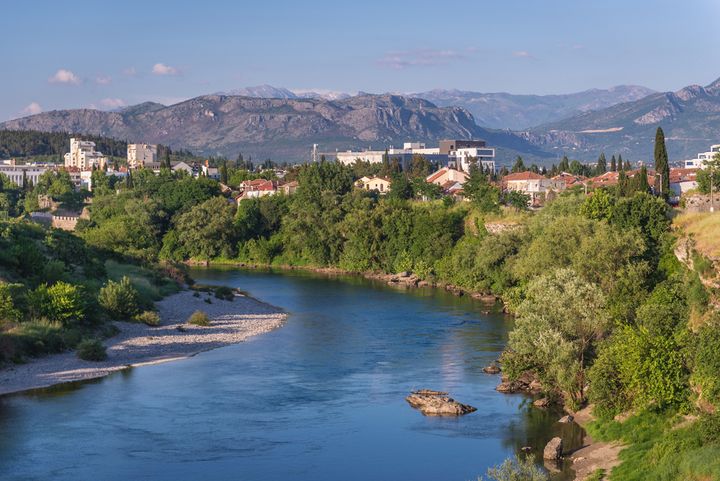 Home to just 200,000 inhabitants, Podgorica, Montenegro's capital, is worth investigating. Having been ruled by the Ottoman Empire, Stara Varos – the Old Town – has a Turkish feel in parts. Tour the narrow curved streets, the mosques and the historic clock tower.
Petrovic Castle (Kruševac; 00 382 020 243 914) should be on the list of highlights too. It is widely regarded as the city's finest building. Since 1984, the castle has been home to the Centre for Contemporary Art of Montenegro, where more than 1,000 works have been collected from 60 countries.
Further from the centre, in the Konik district, is the city's most intriguing structure: the Church of the Holy Heart of Jesus. Brutalist on the outside, its interiors are equally ominous.
Podgorica's most alluring aspect, aside from the inviting colours of the Morača River during mid-summer, is its cafe and restaurant culture. This is trendiest around Rimski Trg, also known as the Roman Square and at the heart of New Town. It's within walking distance of the new and extravagant Serbian Orthodox Cathedral of Christ's Resurrection, which features a breathtaking interior (Bul Džordža Vašingtona; 00 382 550 3610 20).
Tirana, Albania
Flight time - 2hrs 55mins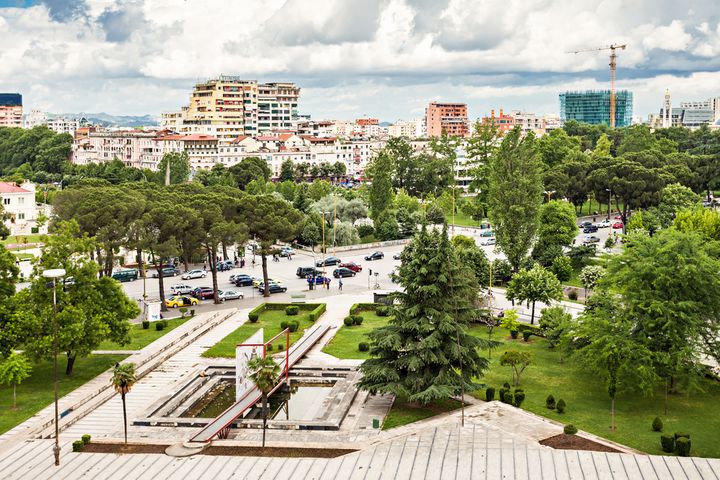 Albania's capital was established in 1614, though there's evidence of a much older settlement. It's possible to find ancient history, if you look closely enough. The Tirana Mosaic (Rruga Naim Frashëri), uncovered in 1972, is a Byzantine-era case in point.
The most fascinating sights stem from the 20th century, though, especially the rule of Enver Hoxha: a dictator renowned for isolationism and brutality. Head to BUNK'ART and BUNK'ART 2 (Rruga Fadil Deliu/Rruga Abdi Toptani) for an insight into his dark era. Both bunkers were built by Hoxha to protect government officials in the event of nuclear attack. The original, and smallest, is an underground maze where rooms convey the realities of those bad old days through photography and artefacts, showcase new art, and, in the central assembly hall, host musical performances.
Piramida (The Pyramid of Tirana; Bulevardi Bajram Curri) was the most expensive construction project during Albania's Communist era. Hoxha's daughter was behind the design, planning a totem-like posthumous dedication to her father. Today the edifice stands empty and broken: an urban photographer's dream. Plans to refurbish both building and surrounding square remain unrealised.
Other areas of interest include Postblloku (Bulevardi Dëshmorët e Kombit), a Cold War installation comprising another bunker, parts of a prison camp, and a section of the Berlin Wall. It is not to be confused with Blloku, an apartment complex once reserved for high-ranking Communist Party members and now home to Tirana's best restaurants and nightlife (head for Rruga Ismail Qemali and surrounding streets).
Valletta, Malta
Flight time - 3hrs 25mins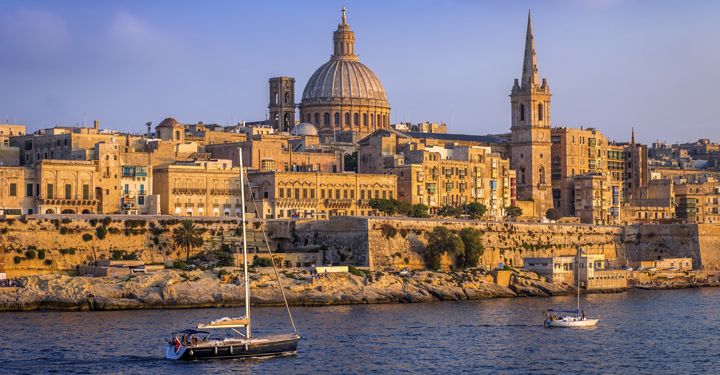 Malta's capital of Valletta is enjoying a youthful renaissance, boasting the title of European Capital of Culture 2018.
Of course, you can still gaze at the spellbinding golden interior of St John's Co-Cathedral (Triq San Gwann; 00 356 2122 0536), with artwork from Mattia Pretti and Caravaggio, and explore the breathtaking Grand Master's Palace (Pjazza San Ġorġ). But there's plenty here of a more contemporary leaning, too.
From late June to mid-July, the Malta International Arts Festival takes over various spaces and venues, including the Pjazza Teatru Rjal (Republic Street; 00 356 2122 3366). Once Malta's most elaborate opera house, it was almost levelled during the Second World War. It has been restored to ensure it's safe to enter, and watching open-air performances here, whether part of the festival or not, is an epic experience.
The city is home to amazing shopping, too, including vintage havens such as Blush & Panic (3 Melita Street; 00 356 2720 9889). Valletta is not a buzzing nightspot, though there are bars and restaurants catering to visitors and locals. Bridge Bar (East Street; 00 356 7947 4227) is among the most popular, with outdoor jazz every Friday and drinks taken on steep steps. Valletta Waterfront has more modern restaurants and bars.
The Phoenicia Malta (The Mall; 00 356 2122 5241), an historic hotel just outside the main city walls, features a lavish terrace restaurant, Phoenix, serving up many ingredients grown within 7.5 acres of ornate gardens. As the first luxury accommodation on the island, situated in the old Parliament House, the building is a sight to behold.
Vilnius, Lithuania
Flight time - 2hrs 40mins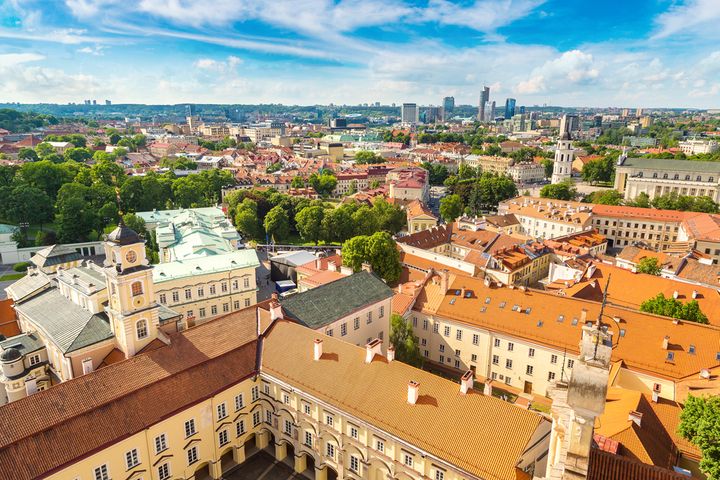 One of the Baltic capitals that has largely escaped the attention of British stag and hen parties, Vilnius really warrants a trip.
Gediminas' Tower (Arsenalo) is the most iconic location in town, on a small hill with spectacular views. It's walkable from Old Town, which is an atmospheric mass of winding lanes filled with eateries galore.
The Gates of Dawn (Aušros Vartų) represent the only remaining ancient entrance to the city. Erected in the 16th century, there's a tiny chapel boasting an extremely rare icon of the Virgin Mary without Baby Jesus, which is visible from the street.
The Hill of Three Crosses (Kalnų parkas), in the centre of Vilnius, marries old world and new, apparently built from wood by 17th-century Franciscan monks in tribute to their murdered brothers, replaced by stone versions, then destroyed by Soviet troops, and finally rebuilt by the sculptor Henrikas Silgalis.
Less antiquated, but still unspoiled, is the Uzupis district. Formerly a no-go neighbourhood, in the 1990s it became the centre of bohemian life in Vilnius. It's packed with bars, restaurants, boutique shops and street art. Uzupis stands in huge contrast to the Old Town's cathedral (00 370 5 261 1127), a pristine white colonnaded triumph with beautiful interior and crypt.
Have a comment or question about this article? You can contact us on Twitter or Facebook.