Themed Hotel Rooms That The Kids Will Love
Themed hotel rooms that the kids will love

The summer holidays are just around the corner, and a number of hotels have recently launched themed hotel rooms designed specifically for younger guests.
Tamara Hinson rounds up some of her favourite kid-friendly crash pads…
Stayokay Miffy Suite, Stayokay Hostel, Utrecht, Holland
Located just a few metres from Utrecht's Miffy Museum, Stayokay's Miffy suite is a tribute to the cute white bunny created by illustrator Dick Bruna, who lived nearby. Step inside this four-person room and you'll find Miffy-themed furniture (the bean bags are my favourite items), Miffy wall paintings and Miffy linen on the beds.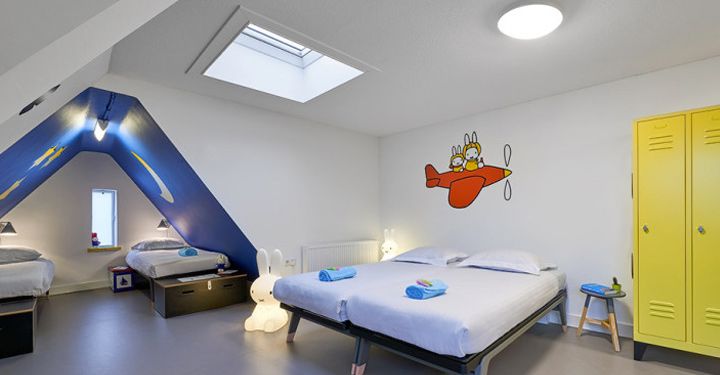 There are Miffy toiletries in the bathroom, breakfast is served with Miffy crockery and you'll drift off under a painted Miffy-themed starry sky. By which point, you may never want to read anything about the fluffy white bunny ever again!
£113 per night
stayokay.com
Africa Resort, Camping & Resort Sangulí Salou, Spain
If your little darlings love the thought of a safari but aren't so keen on the thought of stampeding elephants, poisonous snakes or hungry mosquitoes, Camping & Resort Sanguli Salou's Africa resort is the perfect compromise.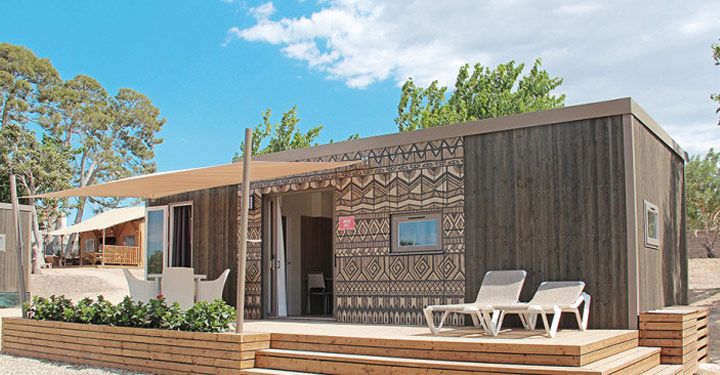 Book one of the tents and you'll be forgiven for thinking you've been transported to an African safari camp (albeit one with enormous televisions and air conditioning). I also love the five-person Masai Lodges for their spectacular views over the Spanish savannah.
From £57 per night
sangulisalou.com
Gruffalo rooms, Chessington Safari Hotel, Chessington World of Adventures, UK
Chessington Safari Hotel's brand new Gruffalo hotel rooms are ideal for fans of the popular children's book created by Julia Donaldson and Axel Scheffler. The attention to detail is astounding: there are Gruffalo footprints on the carpet and opening the door triggers audio recordings of the Gruffalo's famous catchphrases.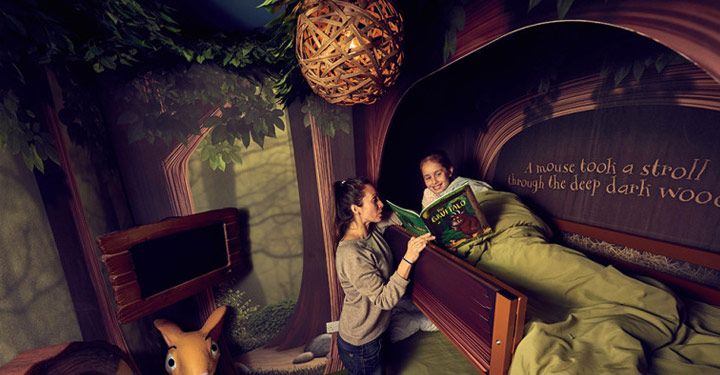 Kids can play inside Mouse's tree house or in the Gruffalo's deep dark wood before climbing into a Gruffalo dressing gown and getting a Gruffalo-themed film fix. There are a number of fantastic perks too, including priority access to the theme park, dedicated Gruffalo parking spaces and the chance to attend Gruffalo meet-and-greets.
From £259 per night
chessington.com
Space Suite, Kameha Grand Zürich, Switzerland
Check into the Kameha Grand Zürich and you'll be able to travel to another dimension without leaving moving a muscle. The hotel has a number of themed rooms but my personal favourite is the Space Suite. Out-of-this-world furnishings include a floating bed, shelves shaped like space gloves, model rockets, photographs of distant galaxies and a live video link-up with NASA broadcasts.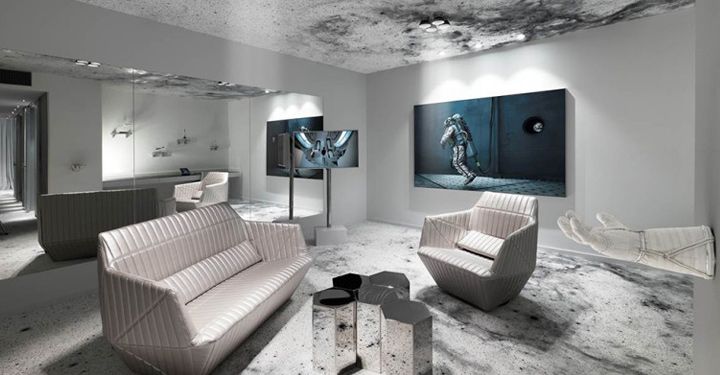 When you enter the room you'll be welcomed by an automated female voice inspired by John Carpenter's science fiction film Dark Star, and an added perk is the opportunity to spend 30 minutes inside a nearby vertical wind tunnel or an Airbus A320 flight simulator.
£552 per night
kamehagrandzuerich.com
The Cockpit Suite, Jumbo Stay, Sweden
If your little one dreams of being a pilot, give him or her a taste of the high life with a night inside a jumbo jet. The Jumbo Stay hotel can be found at Stockholm Arlanda airport and it's housed inside a Boeing 747.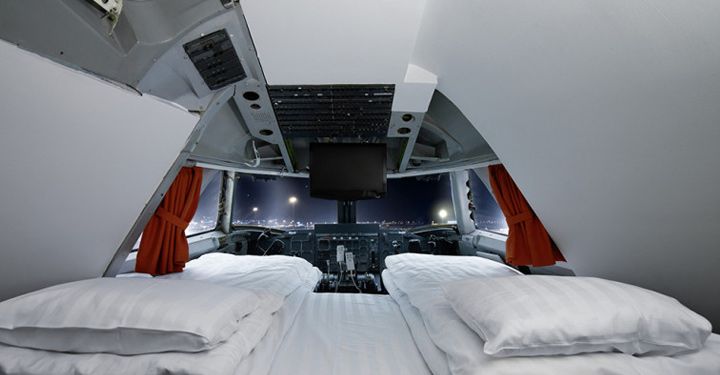 There are 33 rooms inside the plane, located a few metres from the airport, next to the main runway. The jet is filled with original features, including the original pilots' controls and instruction panels next to emergency hatches. Die-hard aviation geeks will love the cockpit suite, which covers the entire upper deck, but for travellers on a budget, hostel-style accommodation is available at the rear of the plane.
£297 per night
jumbostay.com
Eloise Suite, The Plaza, New York, US
It doesn't take a genius to work out that pink is the name of the game in this very expensive suite at New York's The Plaza hotel. Although the Eloise books it's based on are more well known in the US than in the UK, this pink-hued paradise is sure to be a hit with princesses in training.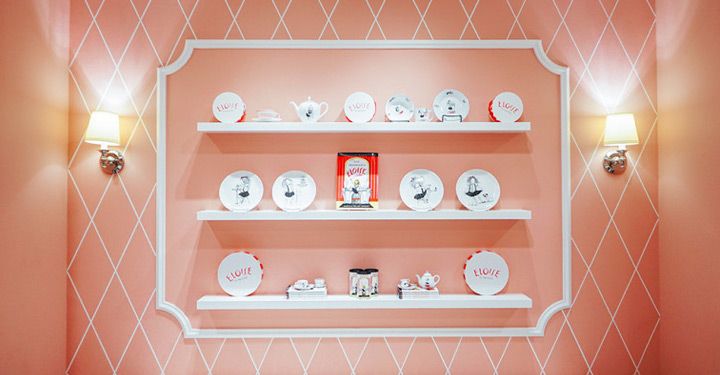 There are candy-striped walls, a huge, sparkly pink headboard and Eloise-themed dolls, books and decor. You'll also enjoy pink lemonade and sweets on arrival and afternoon tea at The Palm Court restaurant. Reimbursement for dental reconstruction not included!
From £2,300 per night
theplazany.com
LEGO Ninjago Cabins, Hotel LEGOLAND, Bilund, Denmark
If you've ever had to explain to a tearful, LEGO-loving offspring that it's simply not possible to build an actual house entirely from LEGO, you'll love these next rooms, which can be found in Hotel LEGOLAND in Bilund, Denmark. Inspired by the Lego Ninjago product line, the hotel rooms are actually (according to LEGO, at least) secret training rooms for LEGO ninjas in training.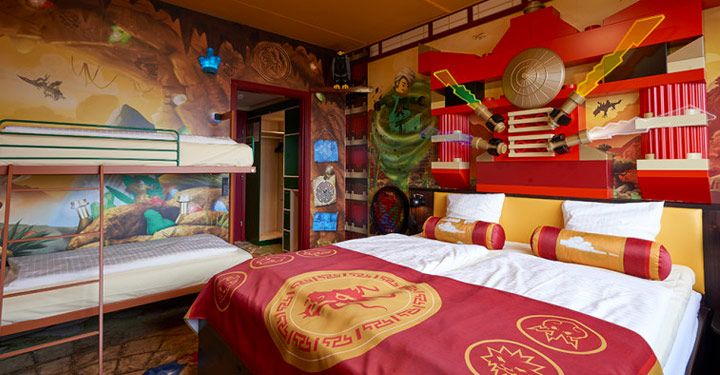 Most of the furnishings – from the plant pots on the windowsill to the bedside lights – have been made from LEGO blocks, and there are huge boxes of the plastic bricks to play with. Other benefits include access to LEGO-filled playrooms and early access to the LEGOLAND theme park. From £350 per night legoland.dk
From £350 per night
legoland.dk
The London EDITION, London, UK
Families who book the London EDITION's Family Style package get two connecting rooms, one of which contains a London-themed tent for younger guests to sleep in.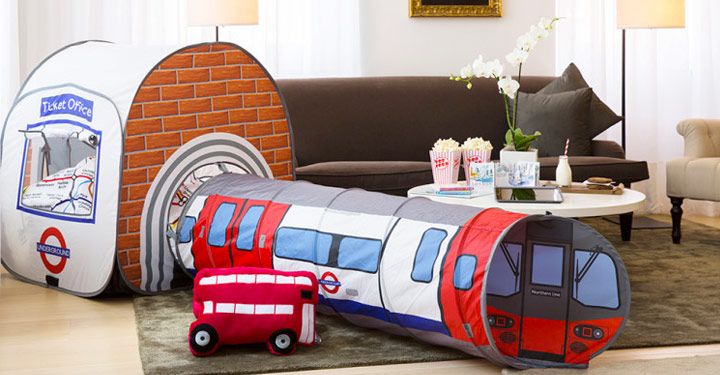 Also included are treats for the children, a kids' city guide to London and movies on tap.
From £695 per night
editionhotels.com
KidSuites, Holiday Inn Resort Phuket, Thailand
Check your darlings into one of the family-friendly rooms at the Holiday Inn Resort Phuket and those swaying palm trees and sandy beaches will suddenly look rather boring.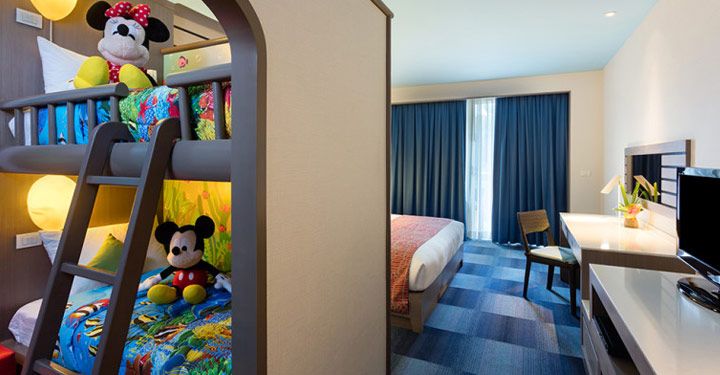 In fact, you'll struggle to drag them outside. Inside the brightly-coloured KidSuites are bunk beds, toy boxes and televisions with DVD players and games consoles. Opt for a Family Suite and you'll find pirate or ocean-themed rooms filled with games consoles, bean bags, cuddly toys and turtle-shaped beds.
From £144 per night
phuket.holidayinnresorts.com
Despicable Me suites, Loews Portofino Bay Hotel at Universal Orlando, US
Book one of these Despicable Me-themed suites and you'll discover missile-shaped beds, Minion-themed wallpaper and doors resembling the airlock-style entrance to Gru's laboratory. Ideal for younger children, the super-sized suites cover 650 square feet and are only accessible via the connecting adult's room.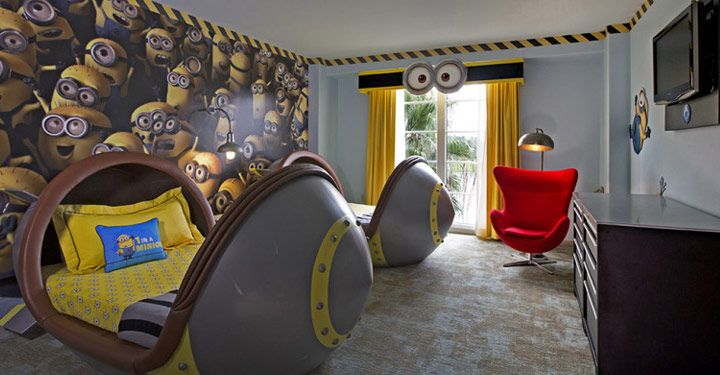 And when it's time to rise and shine, you can make the morning a little less painful by requesting a wake-up call from a range of Universal characters, including Transformer Optimus Prime, who will instruct your little ones to "rise with me now".
From £331 per night
universalorlando.com
Have a comment or question about this article? You can contact us on Twitter or Facebook.
Sign up. Be inspired. Travel.
Subscribe now for hand-picked holiday deals, inspiration and the latest travel tips, straight to your inbox.