Wild rides: Three awesome Canadian road trips
We hit the road on three very different drives that reveal the sheer magnificence of Canada's landscape, with routes through forests, over mountains and along the very different east and west coasts.
What all these adventures have in common, though, are spectacular scenery and the freedom of the open road, writes Alf Alderson.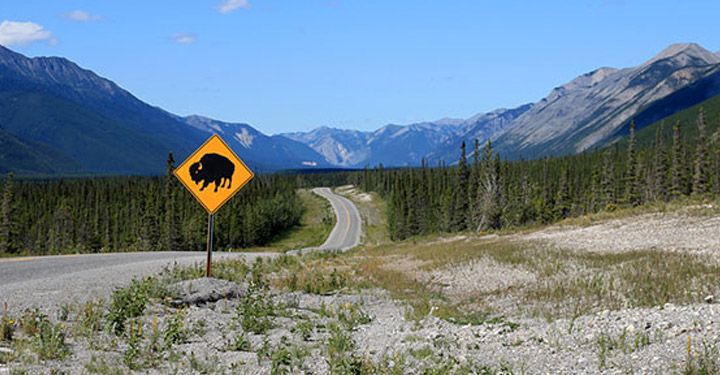 Traffic lights, traffic jams and roundabouts are more or less non-existent outside urban areas, allowing you to hit the cruise control button, turn on your favourite sounds, sit back and just drive.
Big surf, giant trees
Nanaimo to Tofino, British Columbia
Departing from the city of Nanaimo on the east coast of Vancouver Island, you head north on Highway 9 then west on the much smaller and more exotically named Pacific Rim Highway, taking you into ever deeper forests where the Douglas firs are among the largest in the world.
Take time to stop off at Cathedral Grove in MacMillan Provincial Park, on the shores of Cameron Lake, where you'll find a rare remnant of an ancient Douglas fir ecosystem that includes trees as old as 800 years.
Their great age means they're also great in size – up to 250ft high and 29ft in circumference.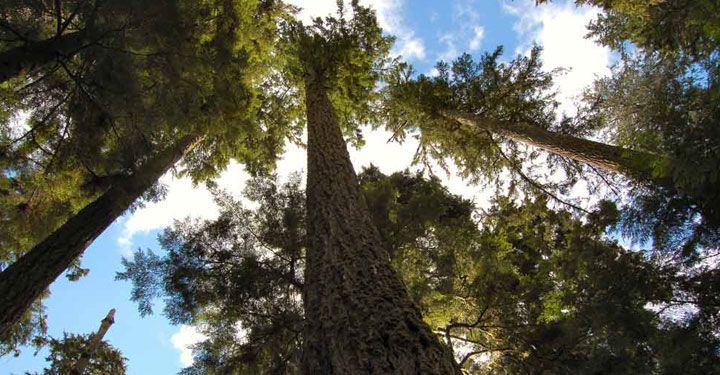 You continue along the quiet Pacific Rim Highway through the working town of Port Alberni, past the deep blue waters of Sproat and Kennedy Lakes, dense forests rising to high mountains on either side, until you eventually descend towards the sparkling Pacific Ocean.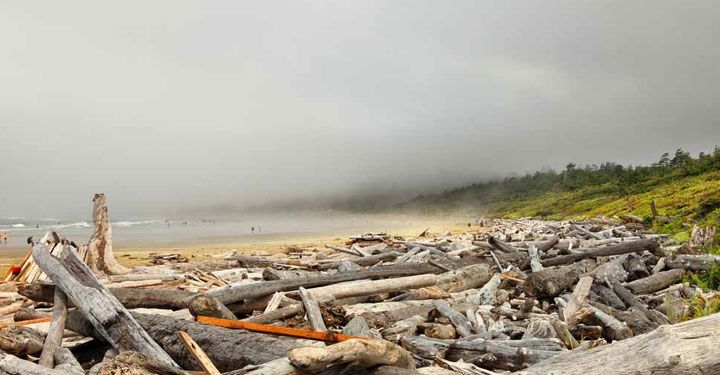 Turn right and drive up the coast to the hippy enclave cum eco-resort of Tofino. There's no doubting the place gets some impressive waves – note the huge piles of driftwood along the beaches and the road signs warning of tsunamis!
This is true wilderness Canada – you may see killer whales offshore, and wolf, bear and cougar prints sometimes dot the beaches, yet you can easily reach the region in a day from the city of Vancouver.
Note that you'll have to return to Nanaimo the way you came – there's no other option.
The ferry from Horseshoe Bay north of Vancouver to Nanaimo takes just under two hours.
MORE: 10 classic road trip mistakes
Celtic, Gaelic and music galore

Halifax to Cape Breton Island, Nova Scotia
Give yourself two or three days to make the most of this circuit from Halifax north to the fishing town of Chéticamp, then round to Sydney and back. That's if you can get away from Halifax in the first place.
For not only is the town historically and culturally fascinating (see Fort George on Citadel Hill, the Maritime Museum of the Atlantic or the Pier 21 immigration museum, for example) there's always top quality live music going down somewhere –
if not a full on festival such as the Atlantic Film Festival(events throughout the year) and the Atlantic Fringe Festival (late August/early September).
Heading north-east from Halifax towards Truro you'll eventually hit the shores of the mighty Gulf of St Lawrence, before coming to the town of Antigonish where you'll find street signs in Gaelic as well as English, a reference to the region's early colonisers. The town also has the largest annual Highland Games outside Scotland, held in July.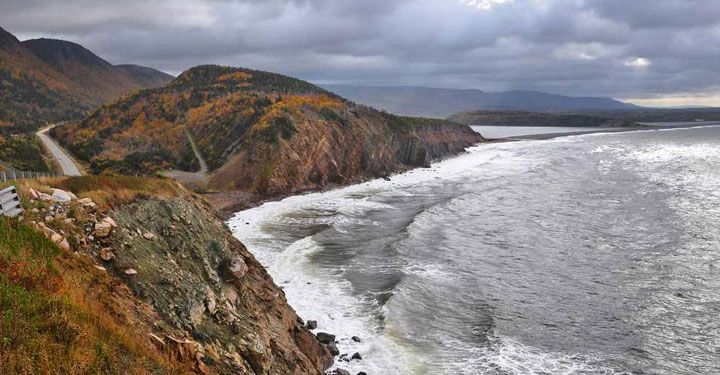 After crossing on to Cape Breton Island, you encounter a unique mix of Celtic and Acadian (French settler) culture, with Scottish flags fluttering in the sea breeze in Inverness and French tricolours to be seen further north in Chéticamp, where French is the first language.
Look out for the slightly eerie scarecrow museum on the roadside just outside Chéticamp, then maybe head off for a walk in the Cape Breton Highlands National Park on the spectacular Skyline Trail (where you may well spot moose).
Then return to your car and loop north around the Cabot Trail, one of the world's great drives with the ocean on one side (look out for more whales) and wild hills and pine forests on the other.
From here it's south down to Sydney, followed by the long drive back to Halifax.
MORE: Eight unforgettable US road trips

Ski smorgasbord
The Powder Highway, British Columbia
The Powder Highway is a loop that takes you through magnificent Rocky Mountain landscapes via a mouth-watering selection of wintersports locations including eight ski resorts plus heli-skiing, cat-skiing (off-piste skiing reached by a lorry-sized snowcat vehicle) and backcountry skiing terrain.
As a skier or snowboarder, your biggest problem will be deciding where to stop off. But let's say you pick up your hire car in Calgary and head west to the resort of Fernie for your first stop.
Here you'll find a selection of bowls filled to the brim with fluffy BC powder where you can ski yourself into oblivion before a night out in the funky, same-named town down in the valley.
Oh, and there's the option of cat-skiing at nearby Island Lake Lodge if Fernie's generally quiet slopes really are too busy for you.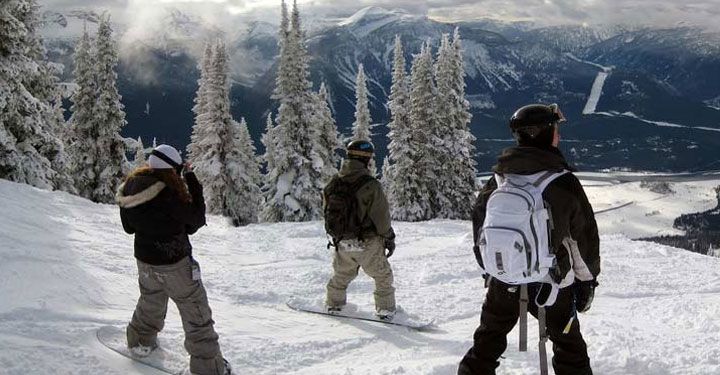 From here head east on Highway 3 for the 200-mile drive through forested highlands to Red Mountain (with perhaps a short detour to the downhome little resort of Kimberley).
The simply named Red is one of the fastest growing and most stylish ski resorts in North America. It's renowned for its tree skiing and deep powder and even has cat-skiing for $10 Canadian (a little over £5.50) a ride.
Next stop is Revelstoke Mountain Resort to the north – another 175 miles through landscapes beloved of mountain men and women, moose and bears.
Revelstoke is unique in North America in offering piste, backcountry, cat skiing and heliskiing all from one base; and it also has the biggest vertical drop, at a quad-killing 1,713-metres.
From here you head east, back to Calgary – but it would be a shame to miss out on Kicking Horse Resort en route, since you pass right by it.
And take time to stop off in Banff, too – a more spectacularly located mountain town would be hard to find.
MORE: Seven Aussie road trips you'll remember for a lifetime
Pack snow tires and plenty of fuel: Canada's rules of the road
Obtain an International Driving Permit before you go. You can get this from the AA, Green Flag or RAC. This is the accepted licence in Canada when hiring a car there.
Take out full insurance.
Remember you'll be driving on the left in Canada, so start off slowly and take your time to get used to being on the "wrong" side of the road.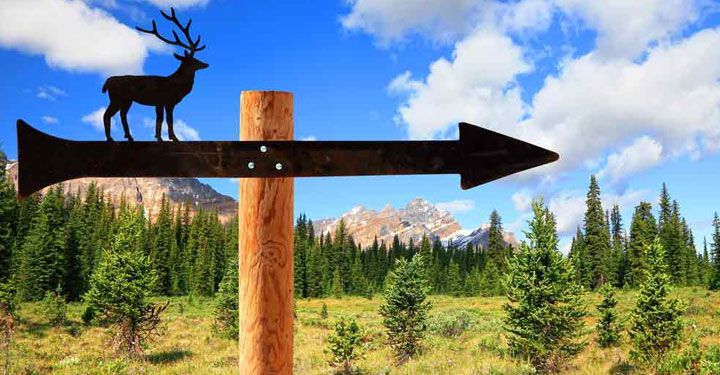 Essential packing on a winter Canadian road trip. In general speed limits are 100kph (62mph) on open roads and 50kph in urban areas. Each province has a points systems in place if you get caught speeding, and don't even think about drinking and driving. You'll get points on your licence, as well as a fine.

Remember that the speed signs are in kilometres, not miles.
Outside urban areas distances between fuel stations can be big, so always ensure you have enough fuel in your tank.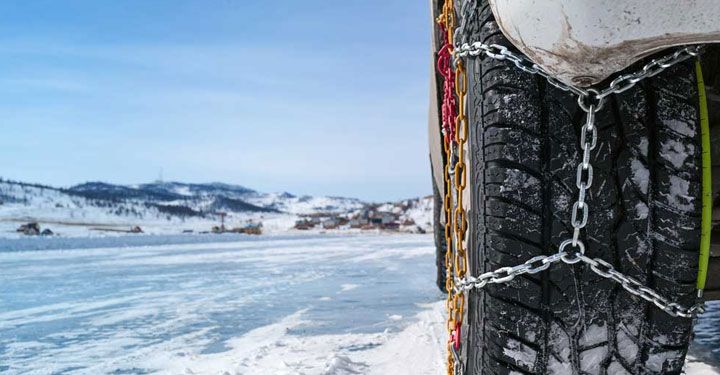 In winter you'll need winter tyres and snow chains (arrange them with the rental company before you go). Four-wheel drive makes a sensible option. Drive more slowly on snow covered roads and keep an eye out for wild animals whatever the time of year.
The Nanaimo to Tofino section of this article has been updated from the original version
Have a comment or question about this article? You can contact us on Twitter or Facebook.