Unusual Holiday Recommendations
Our unusual holiday recommendations
It's easy to get stuck in a holiday rut and visit the same place year in, year out. However, maybe this year you are looking for somewhere different to explore that is off the tourist track.
We asked the team at TravelSupermarket for their recommendations…
Les Roberts: Jerusalem and Bethlehem
Although it sounds like a religious pilgrimage, it was actually my 21st birthday present and the actual holiday was a trip to Eilat on the Red Sea coast. But when the opportunity arose to take a trip to Jerusalem via the Dead Sea and Bethlehem 'while we were out there' it seemed like one that was too good to pass up.
And so it proved as Jerusalem is simply one of the most breath-taking cities I have ever visited, not because it's a particularly beautiful city (quite the opposite as I remember) but for its sheer diversity of cultures and religions – the orthodox Jews at the Wailing Wall and the Muslim quarter meat markets (where it seems nothing is thrown away) are two things that stick in the mind.
The trip to Bethlehem involved a bus ride into Palestine, whose ruinous landscape tells you all you need to know of the troubles there, and the birthplace of Jesus appeared to be in a cave rather than a manger, so maybe something was lost in translation.
The trip out there involved a visit to the Dead Sea, which has a very strange atmosphere and the water is thick like oil, while the trip back involved a flight on what can only be described as a milk float with wings.
This part of the holiday definitely took me out of my comfort zone but remains one of the most memorable trips of my life and I would recommend it to anyone (foreign office recommendations permitting, obviously).
Bob Atkinson: North Korea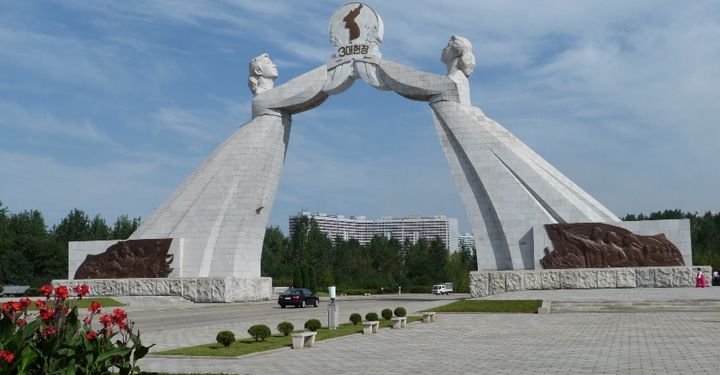 In September of last year I travelled to North Korea. Not your average destination for Brits and not the easiest of countries to either book or travel to. The only real way to get into the country is to go on an organised tour which I did through Regent Holidays. I picked their Classic Tour which started from Beijing with a flight into this secretive and closed off nation. I have to say it was one of the strangest experiences of my life.
It's not a destination that is geared up for holidaymakers and tourists in the way that neighbouring China has become (a country I have travelled to many times). Everything is organised and you are escorted wherever you go. It's not possible to leave your hotel to just wander and discover as you would in so many other places, so there is an element of control that you feel which we are just not accustomed to as travellers.
However, if you can deal with this lack of 'freedom' then it is a rewarding country to visit. You get to see the major sights in Pyongyang such as The Memorial Palace with its mausoleum for President Kim Il Sung, as well as extraordinary architecture across the capital such as the unfinished Ryugyong Hotel which resembles a space rocket ready to launch. You will visit the border crossing with South Korea at Panmunjom and the Koreo Museum at Kaesong, The Friendship Exhibition containing thousands of gifts to the nation from overseas and Nampo for its hot springs and the huge West Sea barrage.
Forget your bikini, you're not going to be sunbathing, but you will get so see some beautiful and relatively unspoilt scenery, learn some of the ideology and beliefs that power this country and try some of the local food and drink, much of it spicy. And if you are yearning for retail heaven and entertainment then your journey ends back in Beijing after a 24 hour rail journey. And Beijing is such a contrast to Pyongyang you will be back to normal in no time at all after your North Korean discovery.
Cathy Toogood: Ghana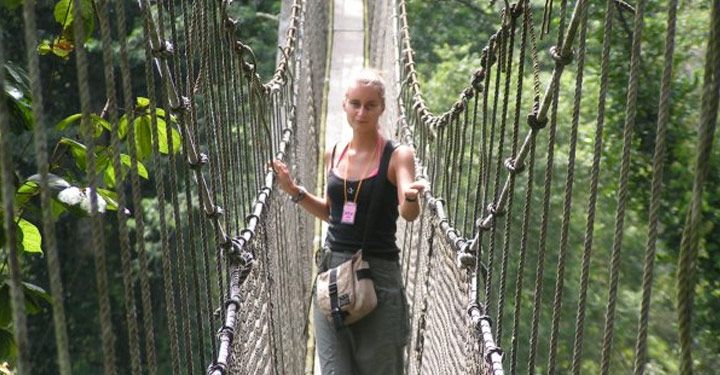 If you want a holiday including sun, sand and a safari but without the crowds, I'd recommend a trip to Ghana where I lived in 2005.
The capital city Accra may be noisy and dusty but it's also full of friendliness, energy and a good range of accommodation whether you're looking for a luxurious beach-side retreat or a bargain bed for the night. And there's so much to see in the west African country whether you want to learn about the slave trade at the castles in the nearby cities of Elmina and Cape Coast, spot wildlife in the north of the country in Mole National Park or walk above the rainforest on rope bridges in Kakum National Park.
Bob Atkinson: Gran Canaria
Something I enjoy doing is getting a car rental wherever possible to get and about, especially when staying in a beach resort. Otherwise it's too easy just to get into a routine of get up, go to the beach, bake all day, go out to eat and drink and sleep before repeating all over again the following day.
A recent trip to Grana Canaria is a case in point. Within half an hour of leaving the big resort areas of Maspalomas you can reach the mountains of the interior and be heading out to the dramatic and unspoilt West Coast.
Here lies stunning scenery, deep ravines and high rocky ridges, forests and small pueblos. If you really want to you can stay up in the mountains for a couple of nights, well away from the bright lights and noise of the resorts and in a completely different atmosphere. This kind of experience can be repeated in any of the Spanish islands, Cyprus, the beaches bordering the Med in Spain, France, Italy and Greece as well as Turkey. And piecing together your own flights, accommodation and car rental is easy with a good guide book or online information to give you a steer.
With cities I now really enjoy finding somewhere not on the A list. Places like Bilbao, Ljubljana and Bratislava are great examples where you can visit the city and combine it up with trips out of town for everything from exploring the Rioja wine area, to white water rafting or walking or to explore the Slovakian mountains – all easily done from cities such as those. It just requires a little internet research and then comparing flights and hotels to get a great deal as well as a great new experience.
And this year I have been deliberately trying to do trips that are different to my norm, such as travelling up the west coast of Australia or heading off to Central America later this year. I even spent a day cruising the Swedish archipelago outside Stockholm as a fantastic antidote to the big city.
Laura Swire: Mount Kilimanjaro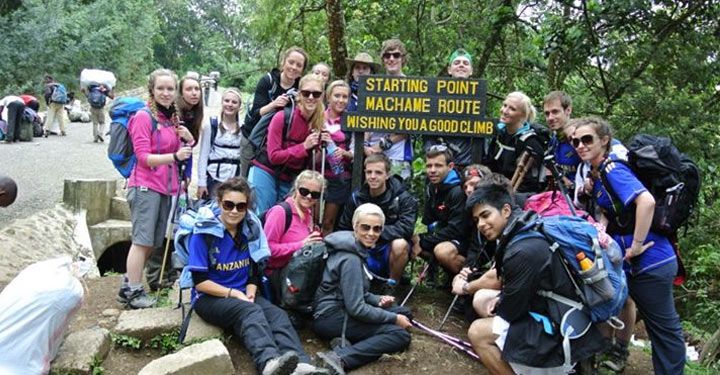 My most unusual holiday was a trip to Africa, where I climbed the world's tallest free-standing mountain – Kilimanjaro.
Arriving in Kenya and being transferred from the airport left me speechless. I had barely holidayed outside of Europe, so I felt like I had been thrown onto an authentic safari, which was something I'd never experienced. Seeing an enormous giraffe on the side of the road in its own habitat is something I will never forget, nor the herd of zebras roaming around, as we journeyed to the foot of the mountain.
I'd recommend anyone giving climbing Kilimanjaro an attempt. It's the most difficult thing I have ever done, but the bond you make with the people you climb with is amazing. You are a team and everyone motivates each other to keep going. The views are incredible and the experience is once in a lifetime.
It's definitely the most unique holiday I have ever been on and a week in beautiful Zanzibar after my climb was well deserved. It rounded off a mixed holiday of adventure and absolute relaxation.
David Wilcox: Kosgoda Sea Turtle Conservation Project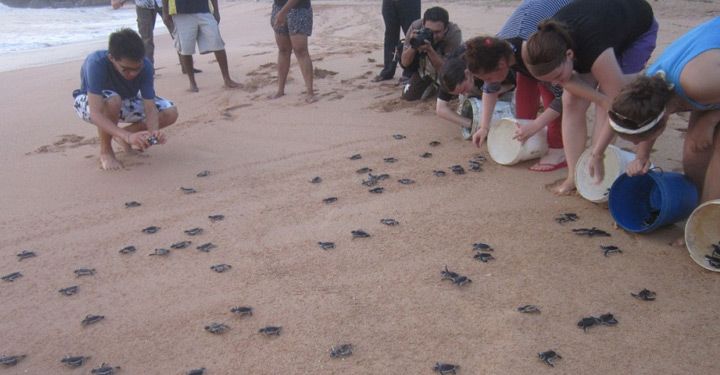 About a year after the tsunami hit in 2004, I visited the Kosgoda Sea Turtle Conservation Project in Sri Lanka. Whilst it was still in the process of recovering from the devastation caused by the tsunami, it was amazing to see the passion that the project workers had for the turtles' welfare.
After spending some time looking around the sanctuary at the variety of turtles housed at the project, many of which had been injured and wouldn't survive in the wild, we left and returned later that night to release about a hundred baby turtles into the ocean.
It was a pretty unforgettable experience, one that I would definitely recommend to others!
Jody Oakes: Romania
The most unusual holiday I think I've ever been on was when I was about nine years old. My mum decided she'd had enough of travelling to the usual tourist destinations and announced that this year, we were going to Romania. With a screwed up face I asked why – it wasn't a place people went to, it was a place I'd seen on TV, rife with poverty and children in orphanages. "I'll be bored", there won't be anything to do", to which my mother replied "Shut up, that's where we're going."
It didn't start well and I'll never forget the plane journey. My seat belt detached from its fittings when I tried to fasten it (the air hostess just shrugged and walked off when we told her), the food was of a lower standard then usual and the thing shook like hell for the whole journey – I genuinely thought it was going to fall out of the sky!
We eventually arrived at the hotel, it was clean and tidy and the staff couldn't have been nicer. Romania was still very much a developing country at the time, but it had one of the most beautiful beaches I've even seen and there was also a flea market not far from the hotel which was great. It was full of hand carved trinkets, from toys to chess boards (which I still have to this day) and all sold for pennies – and I mean pennies.
You were encouraged to barter the price of everything , and as a cheeky nine year old, I was in my element and felt like a millionaire. There was loads to see and do, from the scary home of Dracula, Transylvania, to horse riding along the beach – something my dad didn't approve of. I'd been riding for about two years and every holiday we went on had to consist of horse riding, with Romania being no different. Across the road from the hotel was what I can only describe as a gypsy riding school with loads of horses. After a lot of begging, my dad eventually gave in and I was plonked on a massive 17hh mare, and off I went with my poor dad chasing behind me on a little fat horse. He had never ridden in his life and was a bit scared – the image of my dad trotting will stay with me for the rest of my life – he couldn't walk for a week after that!
After getting increasingly fed up with the only thing on the hotel menu being 'pork and smash', my parents found a five star hotel to go to as a treat. It was fantastic, in a beautiful hotel called The Rex and was where I first tasted frogs legs. The whole bill came to about £30 and we were treated like royalty.
The holiday wasn't without its dramas either, as one night my accident-prone sister slipped in the bathroom of the hotel room and split her foot open on a sharp floor tile. My mum was worried as knew she'd have to go to hospital, but the treatment was second to none and the hospital was spotless. The hotel insisted on paying for the treatment, but my dad gave the hospital a donation.
I could go on and on about that holiday and the funny things we saw and did. I still don't know the reason why my mum chose Romania and we've never been back since, but I have to say it was one amazing experience and a very beautiful country.
Charlotte McCulloch: Singapore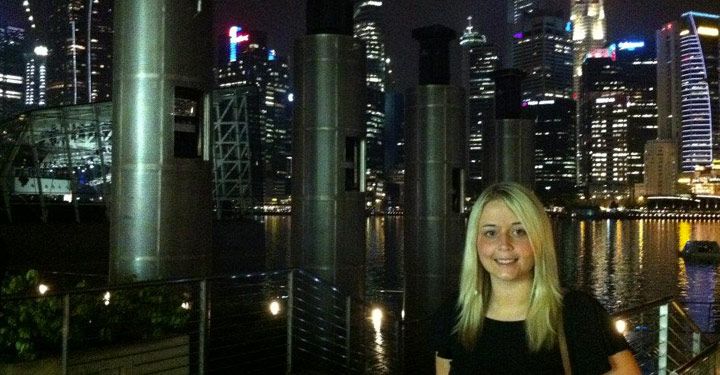 My unusual holiday destination is Singapore. Whilst it may not seem that unusual a choice, most people only visit this unique city as a stopover when travelling from the UK to long haul destinations such as Australia or New Zealand. I think Singapore has enough to see and do to be a holiday destination in its own right and has more than enough to keep you occupied for a week or two, from its world class shopping to stunning beaches. I might be a little bit biased as I lived here when I was growing up but for me Singapore is a must visit holiday destination.
Gareth Morris: Bowen, Australia
Most people who travel through Northern Queensland don't usually bother with Bowen. Sat between Townsville and Mackay this small farming community doesn't tend to feature on many Oz itineraries. But after being holed up there for two months picking fruit for my second year visa, I developed a soft spot for the place.
With no more than three or four saloon style bars in the whole town, Bowen is no party capital. But with its dry, tropical climate and eight palm-fringed, coral lined beaches, Bowen is as good as anywhere in Oz for sun and outdoor activities.
Baz Luhrman brought a touch of Hollywood to the town in 2007 when he chose Bowen to double as 1930s Darwin in his wartime flick "Australia". Tons of red outback sand was brushed across the wide streets, with locals and visiting backpackers included as extras. The film's legacy remains in a fine example of the irreverent Aussie humour; the 'Bowenwood' sign placed on a hilltop overlooking the town.
If it's a toss-up between Airlie Beach or Bowen, go to Airlie Beach. But as stop off to build up some working days towards your visa, I found nowhere better.
Have a comment or question about this article? You can contact us on Twitter or Facebook.
Sign up. Be inspired. Travel.
Subscribe now for hand-picked holiday deals, inspiration and the latest travel tips, straight to your inbox.