Why I'm now a holiday park convert
When you're on holiday with a toddler, the simple things in life suddenly become more important: sleep, stress-free meal times, and activities that put a smile on everyone's face. And that's why, for the first time in my adult life, I decided that a holiday park was the place for our family summer holiday. We'd never been on a campsite with our one-year-old before, so I was slightly nervous – but here's why I'd recommend it.


We enjoyed la dolce vita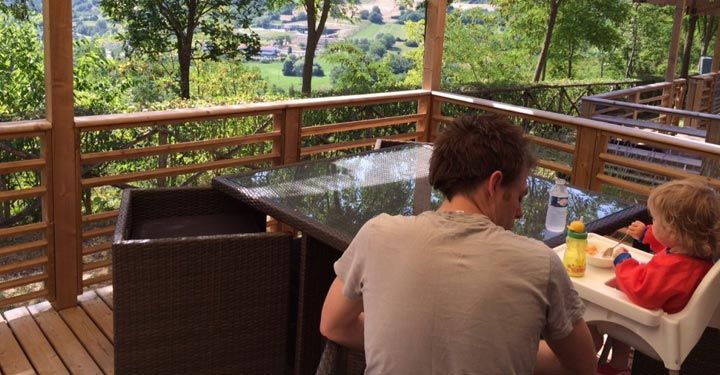 I'm a sucker for all things Italian, so my safety net when venturing into new holiday territory was to choose the backdrop of Umbria, with its lush green mountain landscapes, rainbow of wildflowers and pretty hill-top villages.
And what better country for a toddler (and her dad!) than one where pizza, pasta and ice-cream were readily available, complemented by lashings of milk slurped through a straw?
Our holiday parc, Il Collaccio, was set in Monti Sibillini National Park and was far enough away from tourist crowds to feel like an escape from reality, but close enough to civilisation to pick up any essentials we needed.
As a city-dwelling family, we all enjoyed drinking in the silence of the hills as the sun came up and set for the night, and we were wide-eyed as we watched fireflies in the evenings.


We had plenty of space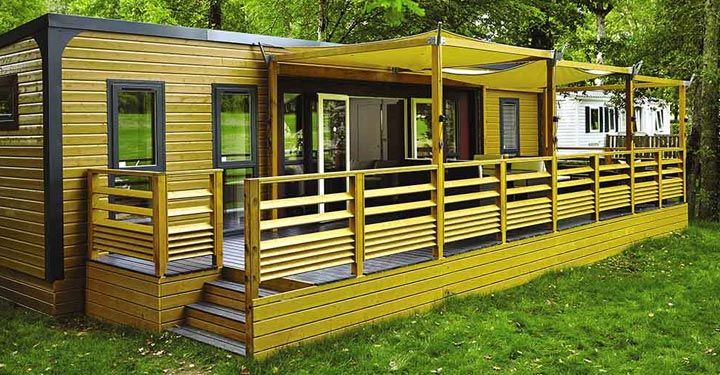 Camping and personal space tend not to go together – same goes for travelling light and toddlers. But we tried out one of Eurocamp's Aspect mobile homes on our trip and were impressed by the thought that had clearly been given to making the most of the space available.
The white, bright interior had an open-plan kitchen and living area and there was a surprising amount of storage, with cupboards everywhere and box frames around mirrors for extra bits and bobs to perch on.
The decking to the front of our home doubled our space and allowed us to enjoy more of the great outdoors – little May burned off lots of energy kicking her ball around within the enclosed fence while we enjoyed dining alfresco.
And our view from this outside area was of a pretty green valley rather than the campsite, giving the sense of our own holiday world.


We weren't roughing it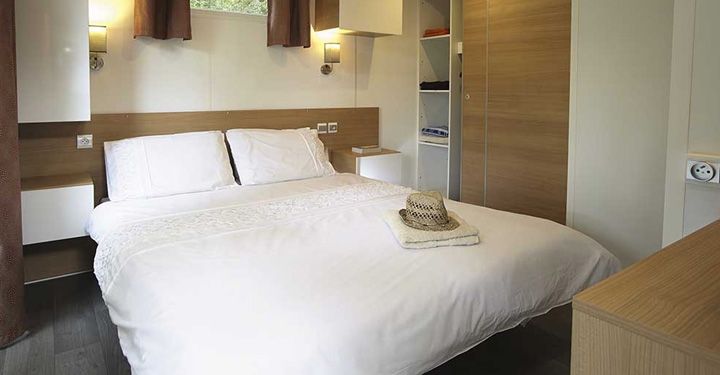 I'm quite a happy camper and have braved plenty of communal facilities in my time. But the thought of having no running water of our own with a sticky toddler to deal with wasn't my idea of a relaxing getaway.
So, when we turned up to a fully-equipped home with a dishwasher, microwave and all of the baby equipment you could need (including a baby bath), I felt mightily relieved – and maybe even a little bit spoilt.
And cooling down at night with air-con and sleeping in proper beds without a sleeping bag in sight were welcome after our non-stop busy days.


There was plenty to do…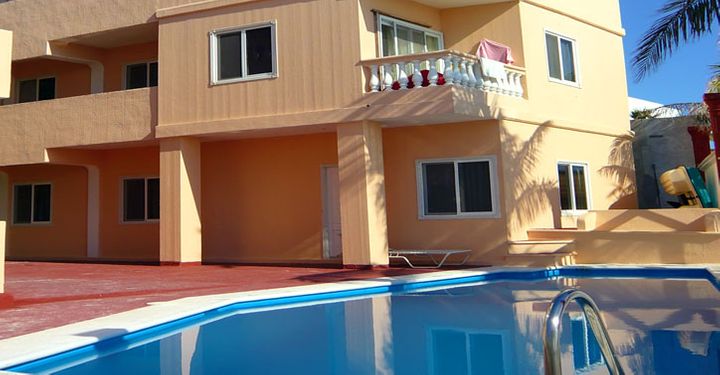 "Swimming pool, mummy" were the first words we heard most mornings, so having the choice of four to splash in – plus a playground – was a dream for our little one. She discovered that she could float with armbands and that deckchairs gobble you up if you rock in them too enthusiastically, while we rediscovered how fun splashing around in the water can be and how bad we look in swimming hats.
And, while I've always dreaded pools where the average age is five, it was quite liberating being surrounded by a crowd who didn't bat an eyelid at our excited child singing the Hokey Cokey at the top of her lungs.
There were lots of facilities we didn't take advantage of too – despite being assured that the white-water rafting could be tailored to a one-year-old's needs.


…but we weren't trapped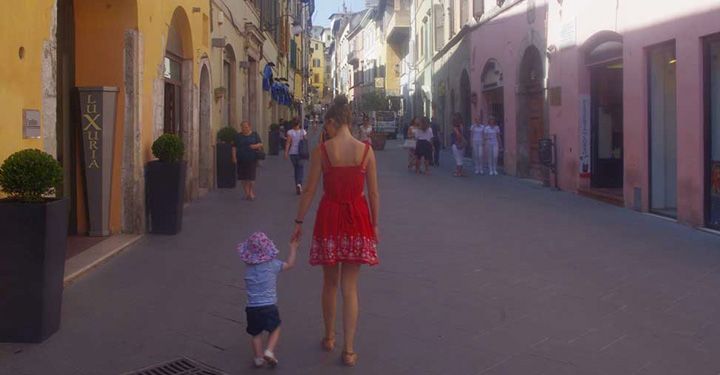 Afternoons in the pool were a cooling reward for exploring the surrounding area all morning – and Umbria was bursting with crowd-free attractions including the man-made Marmore Waterfalls, which one moment are soaking you as you take a closer look at their powerful force and the next are a sorry trickle after they've been turned off.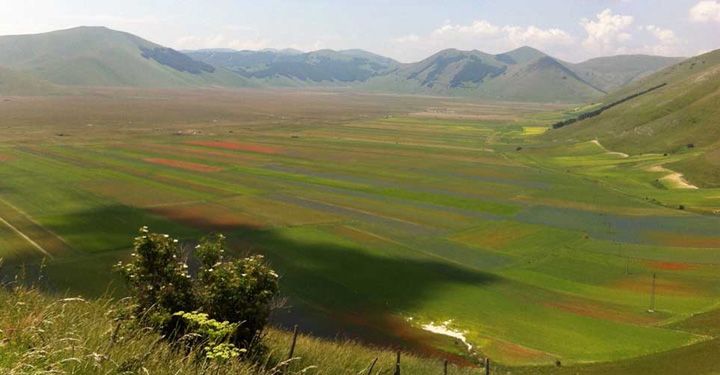 Peering down at the surreal Piano Grande from the small town of Castelluccio was a personal highlight. Despite feeling like we'd stepped onto the set of a wild west movie, the town was full of eateries serving deliciously garlicky lentil soup with stunning views of the flower-filled valley below.


We dined like kings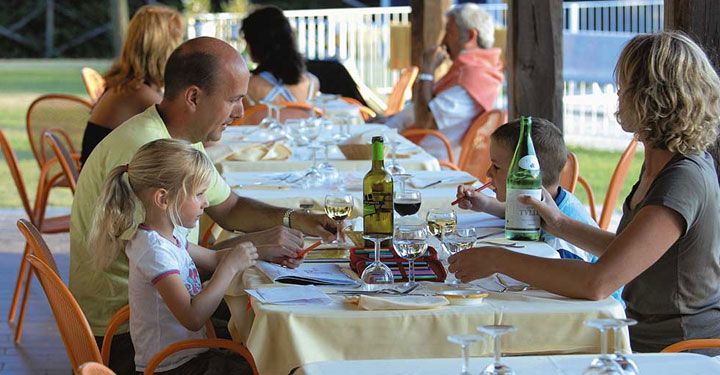 And the soup was just one of the many mouthwatering dishes we devoured while we were away. The campsite had a surprisingly good and inexpensive restaurant which meant our good intentions about self-catering every evening went out of the window.
Not much beats watching your child enjoy a meal – especially when it's a truffle pizza stolen from her dad's plate. Set up with families in mind, half portions of everything were on offer to suit smaller appetites, and the friendly staff made us feel right at home.
So, going back to my original holiday wish list… thanks to the holiday park formula we slept well after being outside all day, meal times were a pleasure and we have memories that still make us chuckle. What more could we ask for?


Have a comment or question about this article? You can contact us on Twitter or Facebook.