Revealed! Why you should visit New Orleans now

March 1, 2018
New Orleans turns the tender age of 300 this year and, in a city famed for its parties, you can bet the celebrations won't be low key, writes Megan Hill.
One of the Unites States' most diverse and intriguing cities, the Big Easy is set for a year of revelry in recognition of its deep history, cultural roots and unique spirit. There will be festivals, parades and the odd fais do-do (dance party) celebrating everything from New Orleans' distinctive Cajun cuisine to its rich jazz heritage.

And with British Airways recently opening up new flights direct from the UK - at under 10 hours flying time, New Orleans is closer than Las Vegas - it's never been easier to visit this fascinating southern American city.
Take a trip down the Bayou with us and discover this Cajun cracker for yourself in 2018.
Take a stroll through the city's historic heart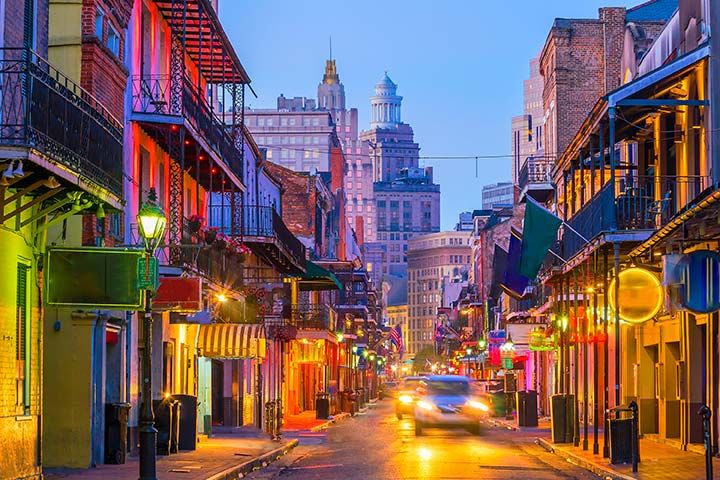 The French Quarter is the perfect place to soak up the flavour of the city. This is New Orleans' original neighbourhood, and it has buzzed with culture and commerce for the entirety of its 300 years. Tour the streets on foot and take in the Spanish- and French-influenced architecture. In Jackson Square, street performers and artists will keep you entertained just steps from the historic St. Louis Cathedral (615 Pere Antoine Alley; +1 504-525-9585) and the Cabildo (701 Chartres St; +1 504-568-8975), where the Louisiana Purchase was signed. It's now home to a museum of Louisiana's history.
Touting the French Quarter solo is easy, but should you prefer a guide who can offer you a little more insight and history, there are a couple of good options: Friends of the Cabildo give two-hour tours for $15, no reservations required. And Free Tours on Foot has a "name your own price" option (reservations required), leaving from Jackson Square.
Stretching for six miles toward Uptown New Orleans, Magazine Street is chock full of galleries, vintage shops, bars, and restaurants. It's also a lovely place for a stroll, with New Orleans' classic, colourful shotgun houses on display.
When night falls, venture over to Frenchmen Street, home to a dense collection of some of the city's best music venues and night clubs — and that's saying something in a city that prides itself on its wild nightlife. Clubs like the Spotted Cat (623 Frenchmen St; +1 504-943-3887), d.b.a. (618 Frenchmen St; +1 504-942-3731), and Snug Harbor (626 Frenchmen St; +1 504-949-0696) are good bets for authentic live music.

The Mississippi River is an indelible part of New Orleans' geography and history. One of the best ways to see it is by riverboat cruise on a vessel like the Steamboat Natchez or Paddlewheeler Creole Queen.
Another quirk of New Orleans is its above-ground tombs, which are packed into its cemeteries, or "Cities of the Dead". Tour either Lafayette Cemetery No. 1 in the Garden District or St. Louis Cemetery No. 1 on Basin Street; the latter is home to the offering-laden grave of Voodoo Queen Marie Laveau. St. Louis Cemetery No. 1 tours are available with a guide and should be booked in advance.
Gumbo, po' boys and Ramos Gin Fizzes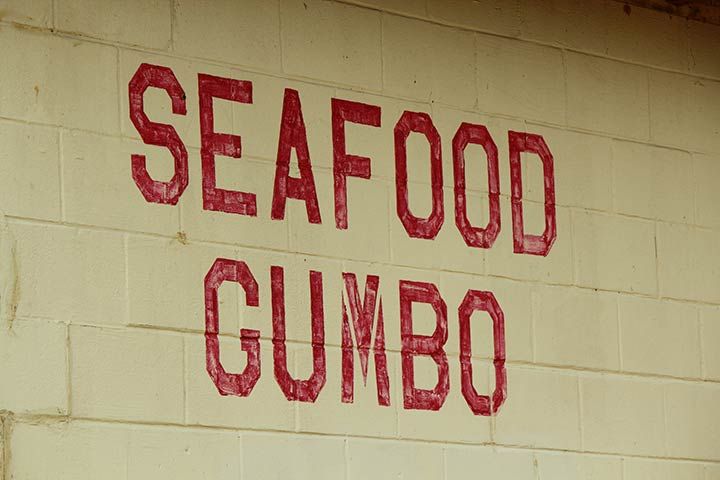 New Orleans' dining scene continues to be one of the most exciting in the world. The menus here are influenced by New Orleans' place as a crossroads of cultures, with Cajun, Creole, French, Italian and Spanish influences.
Don't leave without trying these classic dishes: deep-fried doughnuts topped with powdered sugar known as beignets; gumbo, the rich, complex stews of Creole origin; snowballs, the syrup-flavored desserts of finely-shaved ice; po' boys, sandwiches of roast beef, fried shrimp, and other fillings stuffed into French bread; and banh mi sandwiches from New Orleans' Vietnamese community. There are dozens of other dishes featuring fresh Gulf seafood, from shrimp to oysters to crab and more.
On the booze front, many a bar will happily ply you with everything from frozen daiquiris to speciality cocktails — several of which were invented right in this city. They all go down easy in the Big Easy.
And because there's no open container law, you can request any beverage to go, as long as it's carried in plastic, not glass. Best bets include Old Absinthe House's (240 Bourbon St; +1 504-523-3181) 200-year-old digs; The Sazerac Bar (130 Roosevelt Way; +1 504-648-1200), where legendary politicians came to cut deals over Ramos Gin Fizzes; the Carousel Bar and Lounge (214 Royal St; +1 504-523-3341), immortalized in Ernest Hemingway's writings, and The Columns Hotel (3811 St Charles Ave; +1 504-899-9308), where a mint julep on the porch pairs with views of the streetcar rumbling by under ancient oak trees.
Keepin' it cheap in the Big Easy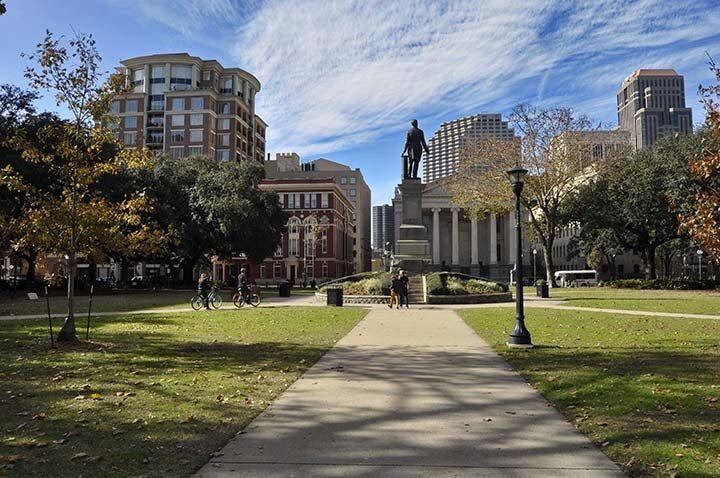 Compared to other US cities, New Orleans goes easy on the bank balance. Sure, you can stumble upon a high-end meal or spend big on a night on the town, but budget-conscious travellers won't feel left out.
The city's best public parks, Audubon Park and City Park, are free to stroll. Both are enormous, with massive oak trees arching over the walkways. New Orleans' network of classic streetcars cost mere pocket change to ride, and their throwback charm makes them both practical and fun to ride.
Dozens of festivals pack the calendar in New Orleans, and many of them are free or low-cost ways to experience the city's culture and music. The annual Jazz and Heritage Festival draws big name performers and hefty ticket prices, but other options like the Louisiana Cajun-Zydeco Festival in June, French Quarter Festival in April, and the Satchmo Summer Fest in August are free.
Every Wednesday evening in the spring, the Young Leadership Council sponsors free concerts in Lafayette Square. Local acts perform from a range of styles while food trucks lining the perimeter of the park serve snacks and full meals.
Mardi Gras madness, free music and literary greats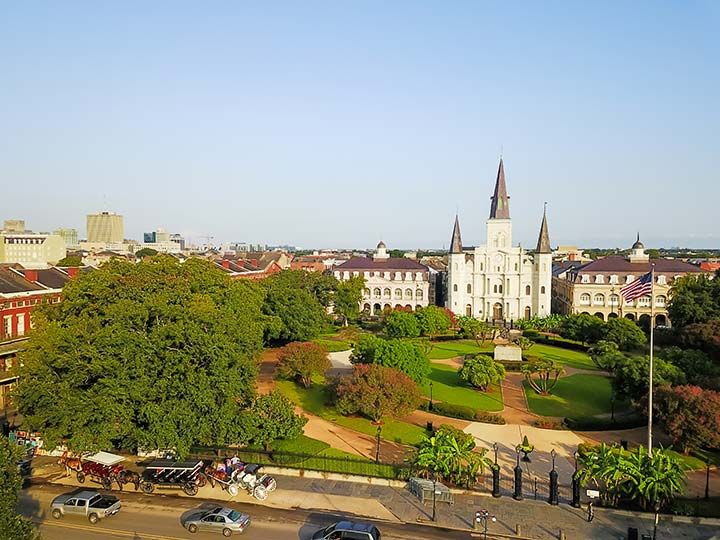 New Orleans' biggest party, the annual Mardi Gras celebration held in the spring, is one massive free festival. Parades take place on public streets leading up to the Fat Tuesday culmination; all are free to attend. Weekend parades and those on Mardi Gras Day involve cookouts and sidewalk revelry for hours; just come prepared with food and drink.
Music buffs can learn about the history of the genre at the New Orleans Jazz National Historical Park in the French Quarter. There are free exhibits and no-cost live performances almost every day. For a bit of cultural oddity, peruse the New Orleans Pharmacy Museum, the site of the nation's first licensed apothecary. The chance to gaze at antiquated medical equipment and real voodoo potions will set you back only $5.
Dozens of famous writers have graced New Orleans' streets, and their homes are worth a pilgrimage for literary buffs: Tennessee Williams (722 Toulouse), William Faulkner (624 Pirate's Alley), Truman Capote (711 Royal), Thornton Wilder (623 Bourbon), Walker Percy (1820 Milan) and Anne Rice (1239 First). Some are occupied and cannot be toured without permission, but others, like the Faulkner House, is open to the public — it operates as a book store.
Have a comment or question about this article? You can contact us on Twitter or Facebook.