Worlds Most Amazing Hot Air Balloon Trips
Pic-Article: The World's Most Amazing Hot Air Balloon Trips

Post written by Dave Holcroft
It's exhilarating enough floating high above the ground in a wicker basket with only a gas burner breaking the silence, but hovering over some of the world's most stunning scenery can make the difference between a great day out and a once in a lifetime voyage. We've compiled a list of 10 stunning locations around the world where a ride in a hot air balloon is possibly the most rewarding way to experience the landscape around you….unless you can think of any others?
London Town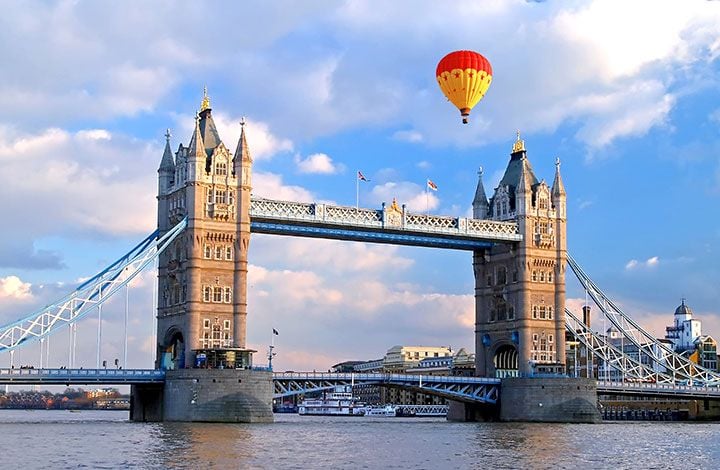 Starting close to home, there are a wealth of of sights to spot in the nations capital. The iconic River Thames (made famous by Eastenders) is the longest river in England. Its source is a small Gloucestershire field and the river flows for 135 miles through the heart of London. Sitting beside the river is one of London's more modern landmarks, the London Eye which offers tourists a panoramic view of the city – although clearly a hot air balloon goes one better. A notable landmark and often a point of reference for many lost London tourists is 30 St Mary Axe better known as the 'Gherkin'. It was voted the most admired building in the world in 2006 and at 180m tall you could almost touch it from the basket of an hot air balloon! Another easy spot from a trip in a hot air balloon over London should be the ornate gardens of Buckingham Palace, home of the British Monarchy. The 39 acres of greenery reflect an oasis of calm in a very busy capital city. Expect to pay approximately £185 – available from http://www.adventureballoons.co.uk
Yangshao County, Guilin Province, China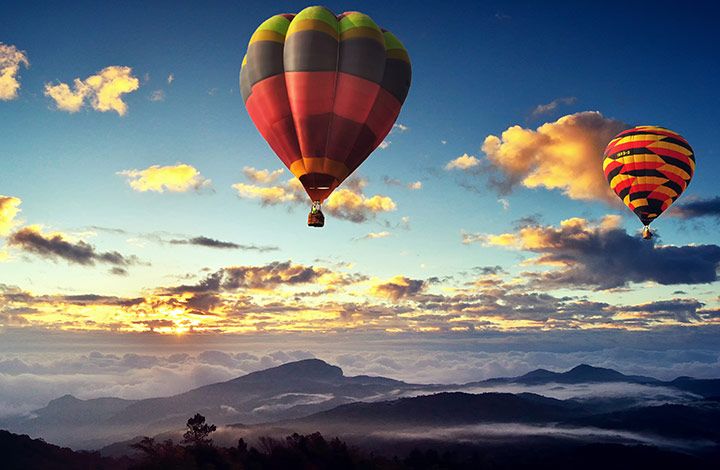 The scenery of Yangshao features on the Chinese 20 Yuan note and it's easy to see why it was chosen! From high above Yangshao County, you can see the Li River cutting through the dramatic limestone karst landscape. The scenery here is very similar to Halong Bay, Vietnam, which was the setting for an epic chase scene in Ian Fleming's Bond film 'Tomorrow Never Dies'. One spot from your basket may be a huge hill in the area that looks like and elephant drinking through its trunk, unsurprisingly its called Elephant Trunk Hill! Around 70,000 limestone karst towers populate the area making it a world renowned rock climbing wonderland. A hot air balloon flight here is relatively cheap, costing approximately 700 RmB (£66).
Namib Desert, Namibia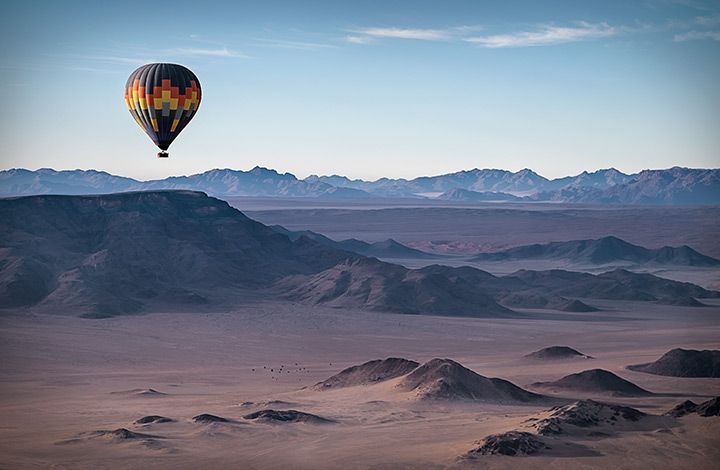 The local Nama people named the desert 'Namib' which means 'vast', at 31,200 sq miles I can understand why. The Namib desert is the oldest in the world as it is thought to be around 55 million years old. May to September is the best time to visit, with November to March seeing some areas closed due to excessively high temperatures! Moisture laden fog (not rain) drifting 62 miles inland provides water for a wide array of animals including spotted hyenas, springboks, jackals, snakes, lizards and the spiral horned oryx – many of which you can hopefully see from your basket. This incredible experience doesn't come cheap however, costing in the region of N$3950 (£357). Available from http://www.namibian.org
Canterbury Plains, New Zealand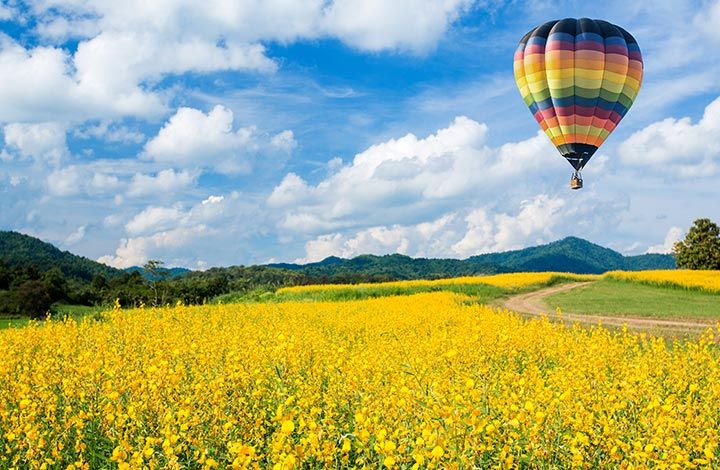 The Canterbury Plains begin just outside Christchurch, New Zealand's second city, which has a population of 350,000. The Banks Peninsula provides a tranquil escape from the hustle and bustle of Christchurch, with the little village of Akaroa the departure point for swimming with the rare hector dolphins. The Southern Alps run down the spine of New Zealand's South Island with Aoraki or Mt Cook topping the peaks at 3,754m. On a clear day it's likely you'll be able to make this out from an elevated hot air balloon. Expect to pay in the region of £157. Available here http://www.viator.com
Serengeti National Park, Tanzania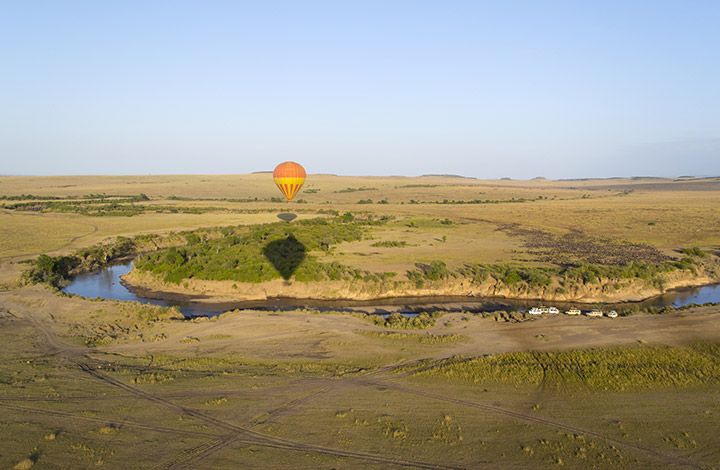 Serengeti actually translates from the Maasai language – 'Seren' meaning endless and 'get' meaning plains. The Serengeti is huge – the region covers the Serengeti National Park itself, the Ngorongoro Conservation Area, Maswa Game Reserve, the Loliondo, Grumeti and Ikorongo Controlled Areas and the Maasai Mara National Reserve over the border in Kenya and nearly 100,000 tourists visit the Serengeti each year. One of the most incredible sites you could hope to see that can surely only be appreciated from your elevated position is the spectacular wildebeest migration – approximately 1.5 million wildebeest (or gnu) make the journey north west following the rains, closely followed by the predatory big cats! Balloon flights cost around £315 from http://www.balloonsafaris.com/
Cappadocia, Turkey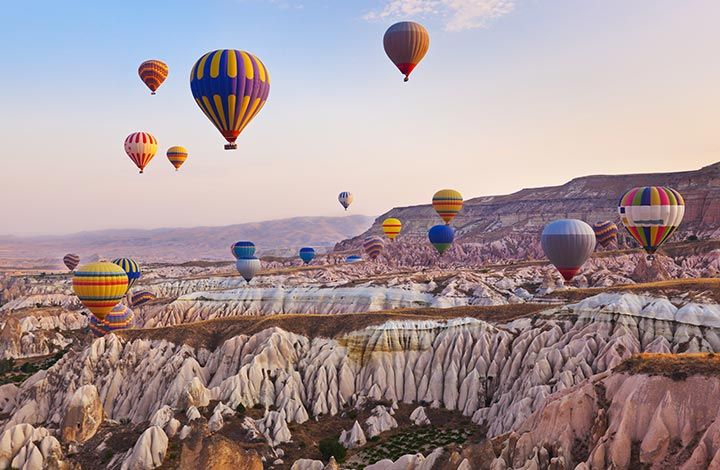 Cappadocia is an eerie landscape. Volcanic rock from the nearby Erciyesdagi volcano has cooled and eroded of centuries to form the strange towers and cones you can see in the picture above. Pilgrims to the area carved underground cave dwellings into the soft rock in the 4th century, creating a network of tunnels and rooms. Derinkuyu is the biggest of the underground cities, at a depth of 85m over 8 levels it is a labyrinth of cavernous halls, limestone corridors and tiny cubby holes and could accommodate up to 50,000 people back in the 7th and 8th Century. Floating over in a hot air balloon is a great way to see this this bizarre scenery. Trips cost approximately €160 (£137) from http://www.goremeballoons.com
Mt Blanc & The Alps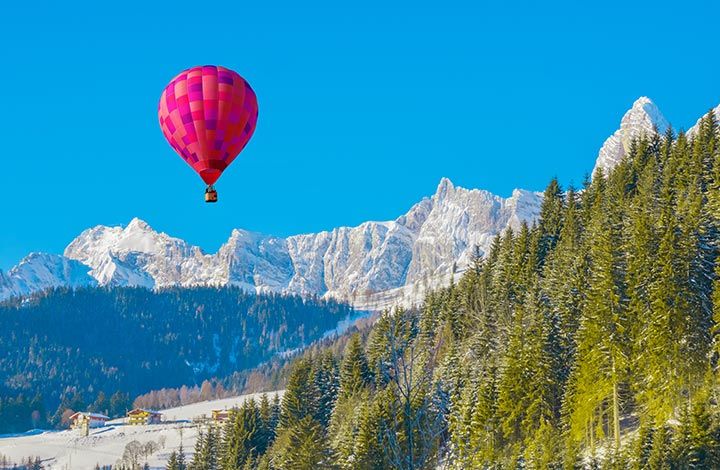 A hot air balloon is definitely the more casual way to take in the vista's from the top of Europe's highest mountain. The peak of Mont Blanc, which looms over the rest of the Alps at an elevation of 4,810m, was first conquered on August 8th, 1786 by Jacques Balmat and Michel-Gabriel Paccard. Now over 20,000 climbers reach the summit each year – you should definitely be able to see climbers ascending the mountain as you float on by. There are now two portable toilets close to the summit to cater for skiers and climbers and at 4,260m, it is definitely a 'loo with a view' and almost certainly the highest toilets in Europe! Prices for a balloon flight are around €260 (£223) from http://www.alpes-montgolfiere.fr
Maasai Mara, Kenya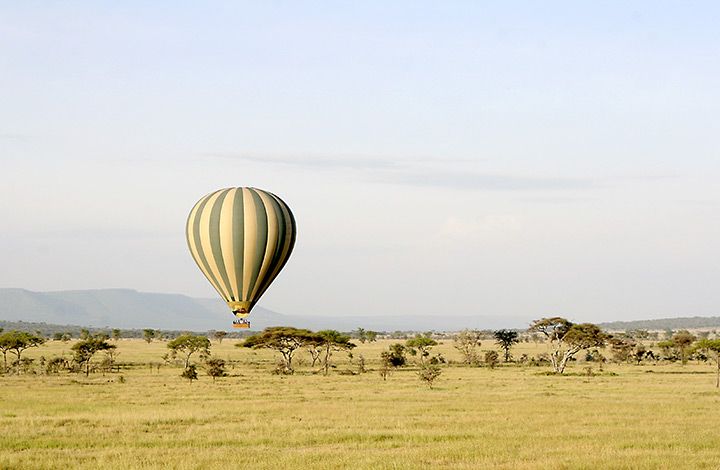 From the comfort and safety of an hot air balloon you should be able to see a handful of the estimated 500 lions that prowl the Mara…and if you're lucky one of the white rhinos that are now so worryingly endangered. The dry season of July to October is the best time to visit, when the big 5 are much easier to spot (that's lion, cheetah, elephant, rhino and buffalo by the way!). A Maasai warrior is always judged on the amount of cattle and children he owns as cattle are crucial to Maasai culture as the Mara plains aren't conducive to agriculture hence the importance of herding livestock. It is thought they have lived on the Mara for the last 300 years. Expect to pay around $445 (£281) for this trip from http://www.africanmeccasafaris.com
Tuscany, Italy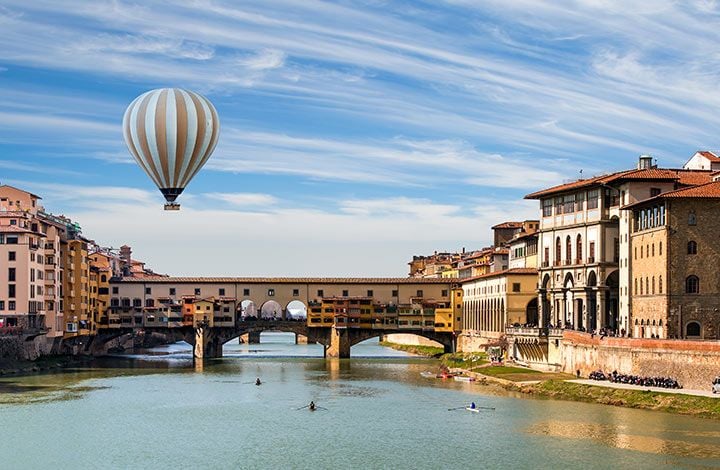 Floating over Tuscany in a hot air balloon will expose you to some fantastic views of countless chianti producing vineyards and olive groves. Tuscany is very hilly, in fact nearly 75% of the 9,000 sq miles of Tuscan landscape is made up of sparsely populated, lush, green hills. Be sure to take a camera! Florence is the capital of Tuscany and known as the birthplace of the Italian Renaissance art movement so fine Arts students would find a trip to Florence very educational indeed. There are galleries packed with work from influential artists such as Botticelli, Michelangelo and Da Vinci. Tuscan balloon trips cost around €240 (£205) from http://www.balloonintuscany.com
Have a comment or question about this article? You can contact us on Twitter or Facebook.
Sign up. Be inspired. Travel.
Subscribe now for hand-picked holiday deals, inspiration and the latest travel tips, straight to your inbox.