Surfing in the UK – expert advice for beginners

Despite our island's long coastline, surfing probably isn't the first thing that comes to mind when you think of Great Britain. However, environmental charity Surfers Against Sewage estimates there are 500,000 regular surfers in the country – and after a wave of recent interest, thousands more are eager to get into the water to catch their first break.
So, with staycations at an all-time high this year and the sunny weather sticking around, it's a great time to get surfing in the UK. But where do you start?
We caught up with a couple of experts to find out what it means to surf and to glean some essential tips for beginners.
Start with lessons, but don't go overboard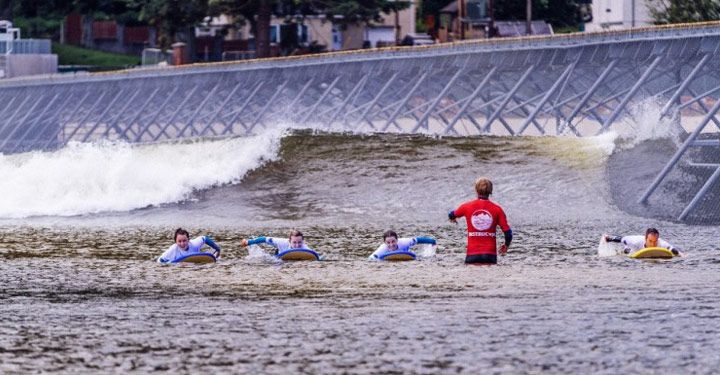 Andy Ainscough, managing director at Surf Snowdonia, first discovered surfing as a child during his family's regular holidays to Cornwall. A Manchester native, he was starved of the coast at home, so when the six-week school holidays came around each year he would pack in as much surfing as possible.
Once he learned to drive, Andy would travel for hours to the east and west coasts of England, searching for his next wave. These days he surfs five times a week at Surf Snowdonia, the artificial wave pool he runs in north Wales. Running a business that's set up to support beginners, he knows only too well how important the basics are.
"Definitely start with lessons – otherwise you might learn bad habits. I'd say two is a good place to start. Try one, see how you get on, then come back and work on the things you learned in the first one," says Andy.
Although lessons are important as an introduction to surfing, Andy believes, however, that you don't need constant tuition to improve. "At some point you need to get out in the water and learn by experience. Once you've tried the real thing, you can come back for another lesson and try to rectify your mistakes."
Patience is key – take time to learn the essentials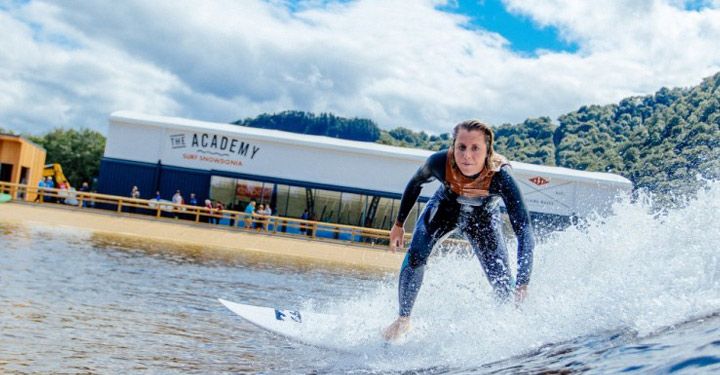 Almost everyone who gets in the water wants to stand up and catch their first wave as soon as possible, but there are several key skills a beginner needs to learn first in order to surf safely.
"Learning to wipe out is crucial," explains Andy. "Lots of people want to stand up straight away and learn to turn, but there's so much more to surfing than that. Turtle rolling, duck diving, paddling, wiping out properly* – these are the skills we teach people that they can use out in the sea."
Tim Hunt, a 15-year veteran of the waves who is project co-ordinator at The Wave Project, agrees with this philosophy.
Tim says: "Patience is key – [surfing] takes a long time to learn. If you're at it regularly it can take a year of getting smashed around, but that's all part of the fun. You need to accept that you're not going to be able to do it immediately."
Get the right equipment and be honest about your skill level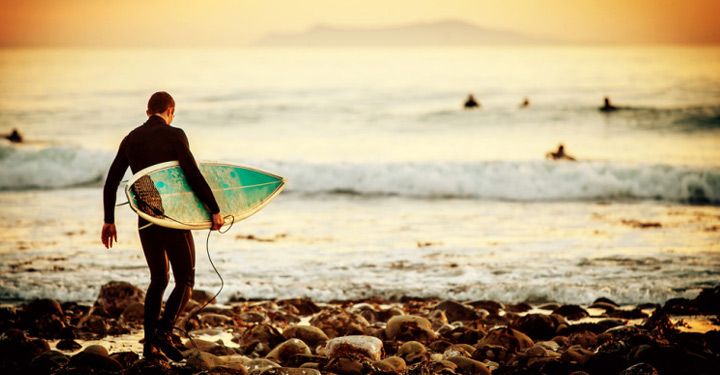 Surfing's beauty lies in its simplicity. As far as gear goes, you don't need a lot more than a wetsuit, a surfboard and a towel before you're ready to go. But although there isn't much equipment to actually buy, what you get in relation to your skill level is absolutely crucial.
"Be honest about your ability," Tim advises. "Some people like to claim they are better than they are, but this can lead to problems with your gear. Most commonly, people can often get the wrong type of board, which can be unsafe.
"Once you have a few practice lessons under your belt, speak to your local surf shop and ask them for advice so that you can get the equipment that suits you and your skill level."
Andy agrees, saying: "You need a board that's appropriate for your level. People can try to go too small, too soon and they struggle to catch waves, which is frustrating." For beginners, Andy recommends a larger, foam board, but he stresses that it's important to wait until you've had a few lessons before you buy your own.
He adds that the leash – the rope that connects you to your board – needs to be in good condition as well. "People underappreciate this, but that leash connects you to the board and is essentially your buoyancy aid."
Additionally, make sure your wetsuit is of good quality – if you buy a cheap one, you're likely to suffer as a result. "There's nothing worse than getting cold ten minutes in when the waves are great," says Andy.
Considering this is Britain and not the Bahamas, a decent wetsuit should probably be high on your list of purchases – don't skimp on the important stuff!
Safety first – don't try too much, too soon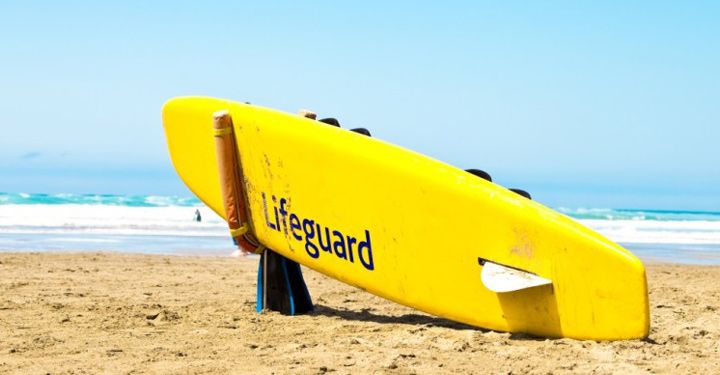 Although surfing is all about having fun and enjoying yourself, the sea can be incredibly unpredictable, so safety is a huge factor for surfers, especially beginners.
One of Andy's key safety tips is never to surf alone. "Get someone to go to the beach with you to keep an eye on how you are doing. Tell them how long you'll be in the water, but be specific. If you don't tell someone an exact time, they have no idea whether you're intending to be out for 30 minutes or two hours."
Andy has made mistake of being too vague before, leaving his on-shore girlfriend wondering if he was OK. Paddling back in hours later, he discovered he was not in the good books.
"When you're a black dot on the horizon, they aren't sure whether you're fine or if it's time to call the coastguard," he says.
Being honest with yourself about your level of ability is also very important, adds Tim.
"When you turn up at the beach, ask for advice from lifeguards about the conditions and be careful not to jump into surf that's too big and too advanced for you."
Being a confident swimmer and respecting the water are both also essential to surfing safely.
Look for a spot close to home where you can learn safely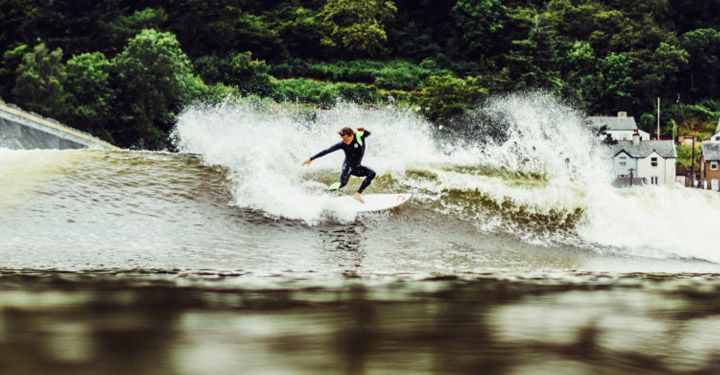 Being an island, we have hundreds of top spots along the coast, and with artificial surfing outfits such as Surf Snowdonia starting to grow in popularity it's easier than ever to catch a wave – even if you live miles from the sea.
"When you come to us, you get so many waves in a session – you might not get that in the ocean. You can get coaching, and science comes into it as well. Here, we can watch the wave you caught on playback and help you learn from your mistakes and improve your technique," Andy explains.
"I think it helps people get over that initial hurdle of learning a little quicker as you're getting in the sea with experience under your belt already."
Tim, who lives and works in Newquay, one of the UK's premier surfing towns, suggests a few schools in the area that he has worked with in the past:
Have fun and keep it social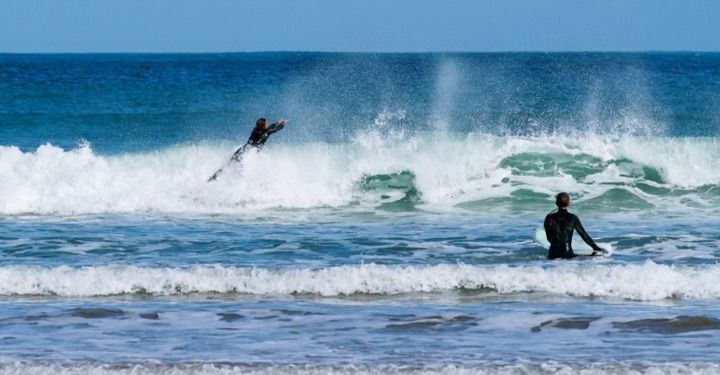 Surfing is a very social sport and both Andy and Tim highlighted this as one of its biggest plus-points.
"If you can, surf with friends. It makes you try harder, you push each other and it's safer," says Andy.
Tim adds that, for him, the best part of surfing is loading up in the van, getting together with friends, packing a picnic and heading out for a day of surfing.
"Just get in there and get wet. It's all about having fun and getting in the water, whether it's for exercise or just getting out of the house," he says.
"It's the most addictive sport out there. I do it every day and I've been surfing for 15 years now – it never gets boring. The better you get, the more fun it is."
More important tips
Always check the weather. If the forecast is bad, water conditions can become treacherous very quickly. As well as checking out the general weather forecast, take a look at special surfing sites like Surf Forecast for up-to-date information.
Adhere to surf etiquette. Experienced surfers are very protective of their local territory, so try to be respectful of this when you surf. A few easy tips: one person to a wave, don't hijack someone else's wave, and don't paddle through an area where people are already surfing; paddle around and take your place in the line-up (the area just outside the breaking waves where surfers wait for the next wave.)
Learn the lingo. As a cultural movement, surfing has its own dialect with several surf-specific words. Make sure you know the difference between a wipe out and a duck dive by learning some surfer jargonbefore you hit the waves.
*'Duck diving' is the process of paddling under an oncoming wave. 'Turtle rolling' is a technique that allows you to manoeuvre a long board out of the way of a breaking wave. 'Wiping out' is essential falling off your board during a wave.
Have a comment or question about this article? You can contact us on Twitter or Facebook.