Winter warmers! Where's hot right now?
The mercury has dropped, the thick socks are out and your commute time has almost doubled due to bad weather. All of which can only mean one thing: time for a cheeky winter sun escape.
And, although the UK is currently battling with weather warnings, there are plenty of places all over the world enjoying endless sunny days and warm weather.
Some sunny spots are a short flight away, while others require more of an investment in time. But, one thing all these places have in common is glorious, get the factor 50 on, weather. So. come on, get ready to trade the anti-freeze for a calming sea breeze.


Thailand
Max daytime temperature in February: 33C (Bangkok)
Average sunshine hours per day: 9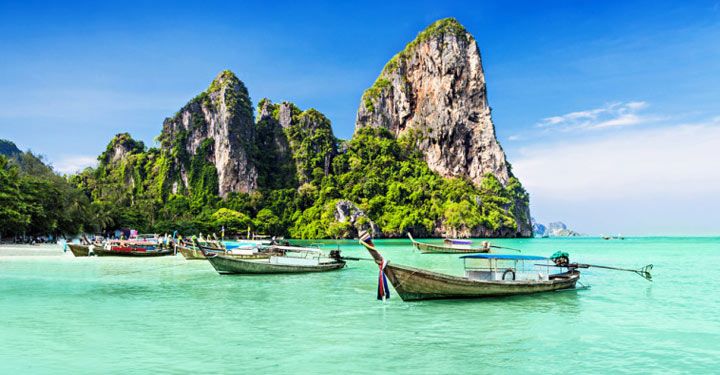 Clear blue water, long, idyllic swathes of sand and enough tropical islands to satisfy even the pickiest beach bum, Thailand ticks pretty much every box you could have for a winter escape. Oh, and did we mention temperatures of up to 33C in February?
Islands Ko Chang and Ko Samui have become incredibly popular with Brits looking for a taste of paradise, with crystal clear waters and white-sand beaches the norm, while resorts such as Phuket offer everything you could want out of a beach holiday with an exotic twist.
Although flights take around 11-13 hours from the UK, the cost of living in Thailand makes the journey more than worth it (according to the Post Office Worldwide Holiday Costs Barometer 2016, a bottle of local beer costs around £1.50 and a large bottle of mineral water around 52p).
Canary Islands
Max daytime temperature in February: 19C (Santa Cruz de Tenerife)
Average sunshine hours per day: 7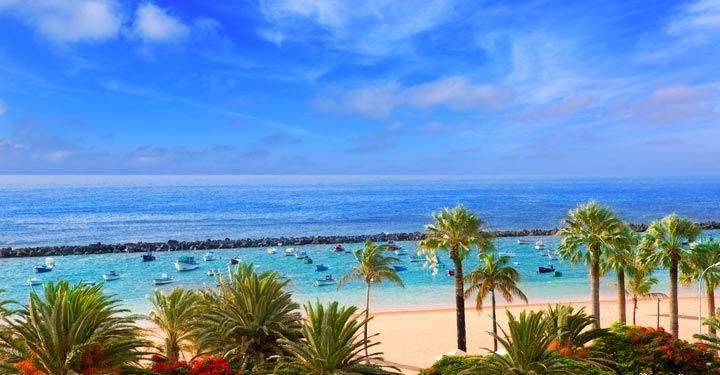 Around a mere four hours away from the UK, the Canary Islands are a firm favourite for a quick and easy winter escape. The big four islands of Tenerife, Gran Canaria, Lanzarote and Fuerteventura are packed with bustling beach resorts, as well as quieter, calmer bays where you can unwind in the sun.
But it's not just the miles of coastline that make the Canaries a great place for winter sun, their unique volcanic terrain is ideal for hiking and exploring too. Lanzarote's Timanfaya National Park, Tenerife's Mount Teide and Gran Canaria's Dunas de Maspalomas are the perfect alternative to the day on the beach – ­if you can drag yourself away, that is.
As February marks the end of the winter season, temperatures are lower than the rest of the year, but you'll still be able to walk around in a T-shirt. And it's carnival time with Tenerife's carnaval currently in full swing.
Compare holidays to the Canary Islands

Cape Verde
Max daytime temperature in February: 25C (Espargos, Sal)
Average sunshine hours per day: 7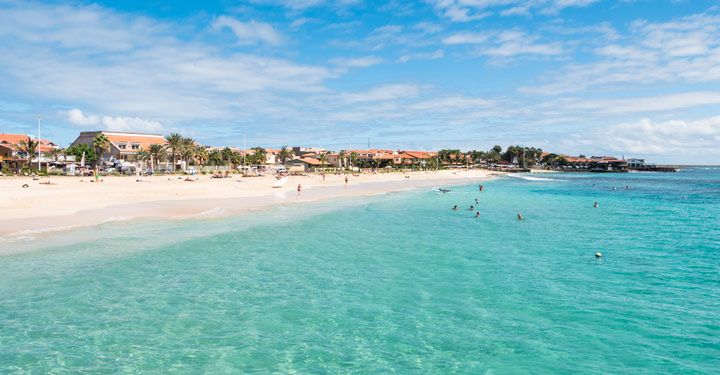 Still largely under the radar for Brits, the Cape Verde Islands offer Caribbean quality beaches around six hours away by plane.
The sensational white-sand beaches of Sal and Boa Vista are worth the trip alone, but it's the archipelago's fascinating mix of cultures (African, Portuguese and Brazilian) that really tends to captivate holiday goers. The Sao Vicente beach carnival, which takes place during February, is the perfect place to see colourful Cape Verdean festivities and the archipelago's vibrant musical heritage up close and personal – just make sure you're ready to party.
With plenty of holiday options to pick from, Cape Verde is ideal for a winter escape. Don't just stick to the beach though as beyond the sand there's plenty of stunning volcanic scenery to explore too. Cape Verde's highest peak, Mount Fogo, is one of the most popular climbs in the archipelago.
Compare holidays to Cape Verde


Gambia
Max daytime temperature in February: 34C (Banjul)
Average sunshine hours per day: 9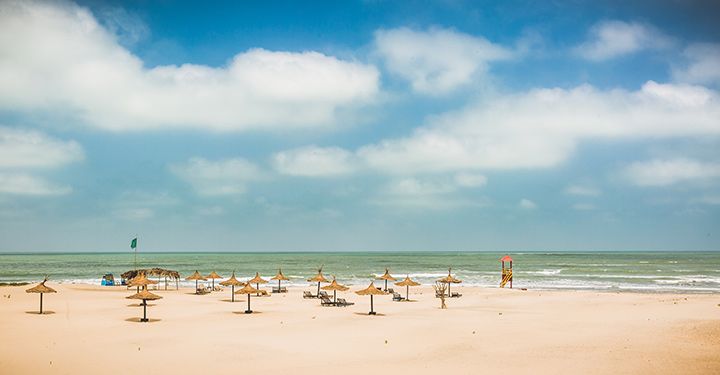 A short skip across the Atlantic from the Cape Verde islands are the charming shores of Gambia, one of Africa's smallest countries.
During February the weather is practically guaranteed to be perfect, with rainfall averaging at around 1mm and temperatures reaching 34C.
While the Gambia has beaches to rival anything in the Canaries or the Caribbean, it's the West African culture that really makes it a standout alternative to your usual beach breaks. A stroll through Banjul's busy Albert Street market will give you a real taste of Africa – get ready to haggle.
And at only around a six-hour flight away, it's well within distance for a last-minute sun escape.
Cuba
Max daytime temperature in February: 26C (Havana)
Average sunshine hours per day: 7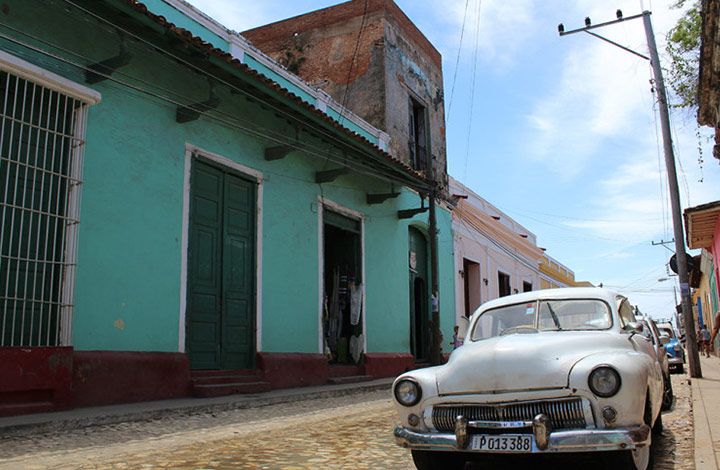 Cuba welcomed record-breaking numbers of tourists to its pristine shores last year, and 2016 looks set to follow suit. With the US looking poised to open up direct flights and ferries sooner rather than later, the time to go is very much now.
Luckily for you, Cuba is a year-round destination, with the temperatures in February hovering nicely around the 20C mark, and peaking at around 26C. The likes of Havana and Santiago show off the best of Cuba's cultural side, while the beaches of Varadero and Cayo Coco are the places to sink in the sand and daydream.
And if you didn't have enough reasons to visit already, Havana will be hosting the Festival Habanos at the end of February: a celebration of Cuba's most famous export, the Cuban cigar.
With direct flights, it will only take you nine hours to arrive in Havana from the UK. You'll be sipping Cuba Libres in no time.
Dubai
Max daytime temperature in February: 25C
Average sunshine hours per day: 8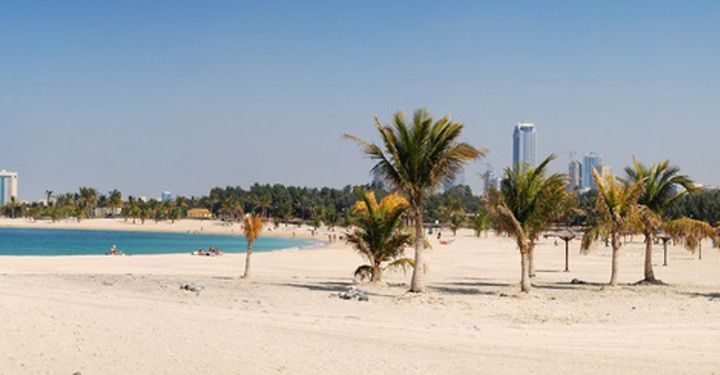 When the weather outside is frightful here in the UK, you can pretty much guarantee it will be scorching in Dubai. In fact, the desert city state gets so hot during the summer (April to October) that it can almost be unbearable.
February then, when the temperature is in the mid twenties, is the perfect time to visit. And besides the vitamin D boost you'll get, you certainly won't get bored with everything from adventure activities in the desert to lazy beach days by the sea on offer.
And despite its glitzy image, the city actually has plenty of culture too down on the banks of the Dubai Creek and the old quarter.
Australia
Max daytime temperature in February: 26C (Sydney)
Average sunshine hours per day: 7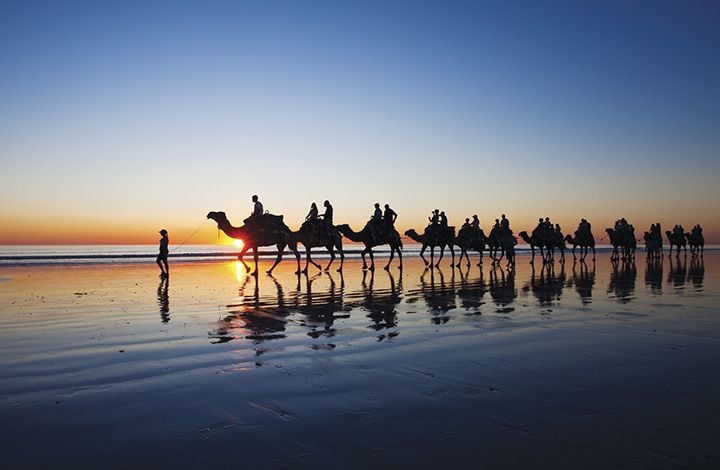 While we're languishing in the depths of winter, Australia is enjoying a long, blissful summer.
It's not uncommon for the thermometer to reach the 30s Down Under. Luckily, the Aussies are well equipped to deal with such heat; usually this involves a cooler full of beer and a trip to the nearest beach, of which there are many.
Sydney, famous for its bridge and Opera House, is surrounded by stunning sand, from expat favourite Bondi to pine-lined surf spot Manly. Meanwhile, up on Queensland's east coast the Whitsunday Islands, Frasier Island and Byron Bay show just why so many Brits make the long-trip to Oz – and why so many more end up staying.
Morocco
Max daytime temperature in February: 20C (Marrakech)
Average sunshine hours per day: 7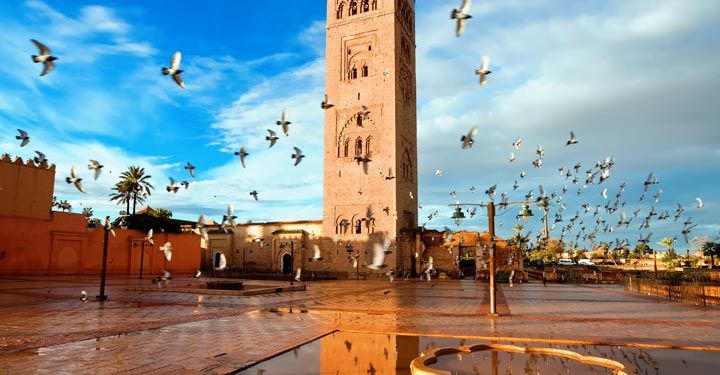 Morocco's varied landscape makes is a very popular choice with Brits looking to escape the winter chill back home.
Agadir and Essaouira are perfect for breaks on the coast, while the fascinating cities of Marrakech, Fes and Rabat allow you to bargain hunt in the country's famous souks. Inland, you'll find rugged mountains and vast deserts to explore. High temperatures in February can reach the 20s, while the evenings are a little cooler.
For a real taste of Moroccan culture, head to Marrakech in February when the city hosts the annual Dakka Marrakchia Festival. Focusing on the North African nation's traditional music (expect lots of percussion and singing), the festival is a loud, extravagant window into the heritage of Morocco.
Have a comment or question about this article? You can contact us on Twitter or Facebook.