Bag A Bargain 7 European City Breaks For 99 Or Less
Bag a bargain! 7 European city breaks for £99 or less
With Christmas long gone and summer still a shimmering spot on the horizon, we've arrived at that strange point in the year – a kind of holiday limbo.
The big question is do you stick or twist? A quick break now would be oh-so tempting, but there's the big break in the summer to save for too. If only you didn't have to break the bank to travel!
Well, the good news is you don't. We've scoured the internet for a host of incredible spring city break destinations that savvy travellers can visit for less than £99 ­– so, all that's left to do is grab your passport and get ready to recharge guilt-free.


1. Oslo, Norway
How much? £87.42pp
When? April 12-14, 2016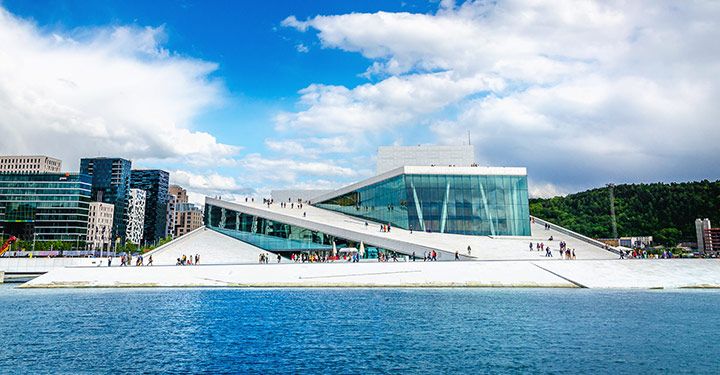 At around two hours and twenty minutes flying time from London, Olso is perfectly placed for a quick city getaway. The Norwegian capital combines outdoor activities with world-class museums and lively Scandinavian nightlife to offer up something a little different to your usual city-break options.
Discover the city's fascinating history at the Oslo City Museum (Frognerveien 67, 0266 Oslo, Norway, +47 23 28 41 70) or the world's largest collection of Edward Munch works at the Munch Museum before taking in Oslo's eclectic bar and foodie scene in the evening – treat your tastebuds to finnbiff, a hearty reindeer stew.
For the great outdoors, Oslo Summer Park (Tryvannsveien 64, 0791 Oslo, Norway, +47 22 14 36 10) offers epic, tree-top climbing and zip lining fun, while the Oslo Winter Park (Tryvannsveien 64, 0791 Oslo, Norway, +47 22 14 36 10) offers near-city centre skiing (it may be open in April, weather permitting) – how's that for a city break with a difference?
What's the deal? When we looked, we found two-night breaks departing on April 12 from just £87.42pp. Flights were £39.68pp with Ryanair from London Stansted and accommodation cost £47.74pp (£95.48) based on a stay in the centrally-located Anker Hostel.
2. Budapest, Hungary
How much? £94.50
When? April 12-14, 2016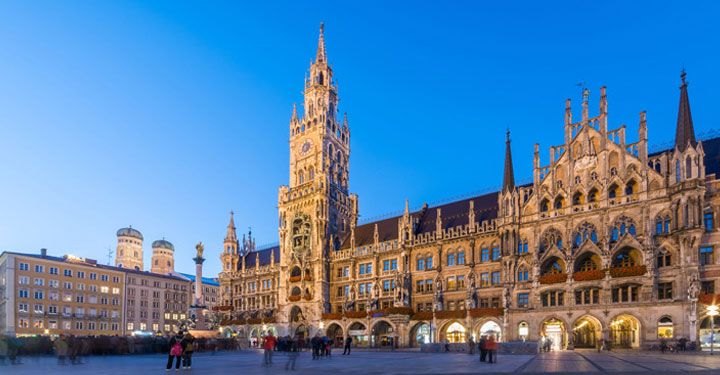 This city break bargain is made even sweeter by the fact that Budapest is a cheap destination once you arrive, regularly coming top in best-value lists such as the Post Office's City Costs Barometer.
The city, split in two by the majestic Danube, is known for the stunning architecture of buildings such as the Royal Palace and Parliament, its relaxing outdoor public baths and an intriguing political history – nowhere highlights this better than the House of Terror Museum (Budapest, Andrássy út 60, 1062 Hungary, +36 1 374 2600).
Within the historic Buda area of the city you'll find quaint cobbled streets and charming cafes and restaurants. Over in the more modern Pest part of the city you'll find Andrássy Avenue, one of Budapest's key shopping streets, and St Stephen's Basilica, one of the grandest churches in Hungary.
What's the deal? When we looked, we found two-night breaks departing on April 12 from just £94.50pp. Flights were £46.98pp with Wizz Air from London Luton and accommodation cost £47.52pp (£95.03) staying on a self-catering basis at the well-reviewed and centrally-located Gozsdu Court Apartments.
3. Porto, Portugal
How much? £86.91
When? April 19-21, 2016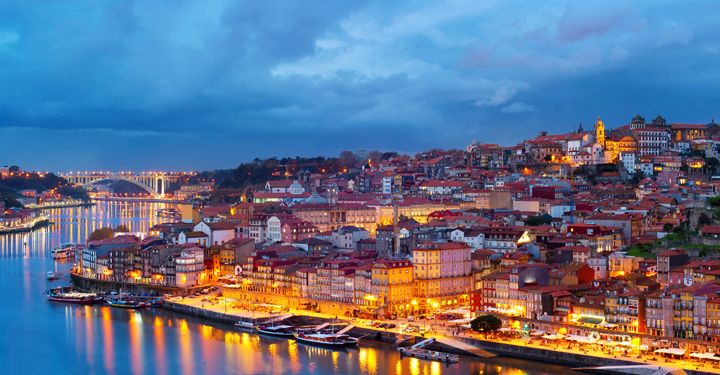 A charming city that combines medieval flavours with cutting-edge architecture, plenty of Porto's appeal lies in the aesthetics; don't be fooled though, this city is much more than just a pretty face.
For a real feel of the past, Porto's UNESCO World Heritage Site, the Ribeira district, can't be beaten. Here you can stroll through winding cobbled streets discovering the city's history, before taking a cruise along the city's main artery and life line, the River Douro.
Sticking with the nautical theme, spend your evenings down on the riverfront, quaffing the city's signature drink, port, and admiring Porto's skyline as the boats sail lazily by – who said romance can't be cheap?
What's the deal? When we looked, we found two-night breaks departing on April 19 from just £86.91pp. Flights were £52.98pp from Manchester with easyJet and accommodation cost £33.93pp (£67.85) in the three-star HF Tuela Porto Hotel on a room-only basis.
4. Madrid, Spain
How much? £91.68pp
When? April 13-15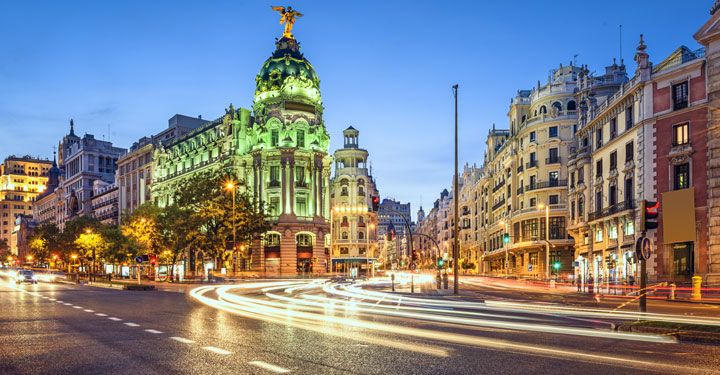 Known for its pulsating nightlife, Madrid is the ideal destination for a getaway filled with a few late nights. There's a party for everyone in the city that never stops, with the popular Huertas neighbourhood crammed full of bars, clubs and restaurants, bohemian Malasana catering for more alternative types and the colourful Chueca with gay-friendly bars and clubs.
Once you've shaken off your hangover, explore a different side to the city during the day. At the Museo del Prado (Paseo del Prado, s/n, 28014, +34 913 30 28 00) you'll find works from greats including Goya, El Greco and Rubens, while the city's many parks and open spaces (be sure to head to Buen Retiro park) make for great places to blow off last night's cobwebs before you do it all again come 9pm.
For the ultimate combination of drama and theatre, take the time to visit Estadio Santiago Bernabeu (Av de Concha Espina, 1, 28036) for a Real Madrid game and discover the one thing the people of Madrid revere more highly than a good night out: football.
What's the deal? When we looked, we found city breaks to Madrid from just £91.68pp. Flights were £53.28pp from Birmingham with easyJet and accommodation was £38.40pp (£76.80) staying in the three-star Flat5Madrid on a self-catering basis.
5. Warsaw, Poland
How much? £98.98
When? April 12-14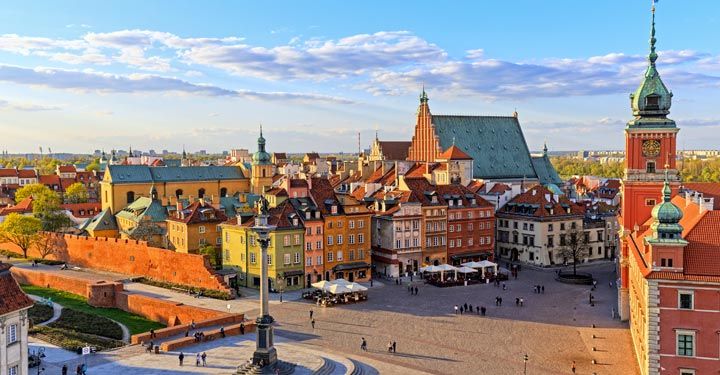 The Polish capital has bags of history up its sleeve with world-class attractions such as the interactive Warsaw Uprising Museum (Grzybowska 79; +48 22 539 79 05) and the Fryderyk Chopin (Okólnik 1, Warszawa, Poland +48 22 441 62 51) Museum offering a glimpse into the Warsaw's impressive yet tragic past.
But don't let the enormity of the city's history get you down too much: spend your evening winding your way through the Old Town's cobbled streets or go bar hopping through the Secret Garden's Pavilion bars (close to Smolna) where the beer is cheap and the bars border on the bizarre.
For those who like a breath of fresh air, Lazienki Park is the perfect place for a spring stroll, while the Old Town Market Square allows you the chance to see the heart of reconstructed Warsaw – the city was almost flattened by bombing during WWII and had to be completely rebuilt.
What's the deal? When we looked, we found two-night breaks from just £98.98pp. Flights were £66.98pp from Liverpool with Wizz Air and accommodation was just £32pp (£64) at the central AAA Stay Nowy Swiat on a room-only basis.
6. Amsterdam, The Netherlands
How much? £97.32pp
When? April 12-14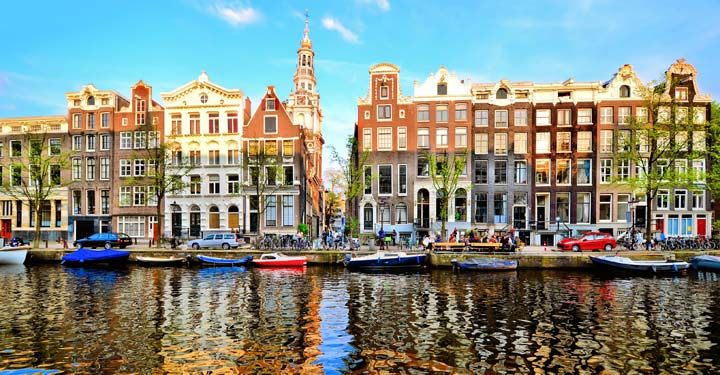 The enigmatic Dutch capital needs little introduction: Amsterdam's combination of pretty canals, notorious nightlife and eclectic art galleries have made it a top city break spot for years.
A place of complete contrasts, by day you can marvel at the touching story of Anne Frank while night brings the city's infamous Red Light District to life. And whether you spend your time appreciating original Rembrandts or sampling Amsterdam's unique café culture, you're sure to find something exciting here.
Spring is the ideal time to visit the Netherlands as the country's signature flower, the tulip, comes into bloom. The Keukenhof Gardens (an hour and a half's train ride from Amsterdam) is probably the best place to see these colourful bulbs spark into life.
What's the deal? When we looked, we found two-night breaks from just £97.32pp. Flights were £43.98pp from London Southend with easyJet and accommodation was £53.34pp (£106.68) in the Hans Brinker Hotel on a bed and breakfast basis.
Find cheap Amsterdam city breaks

7. Milan, Italy
How much? £87.56pp
When? April 10-12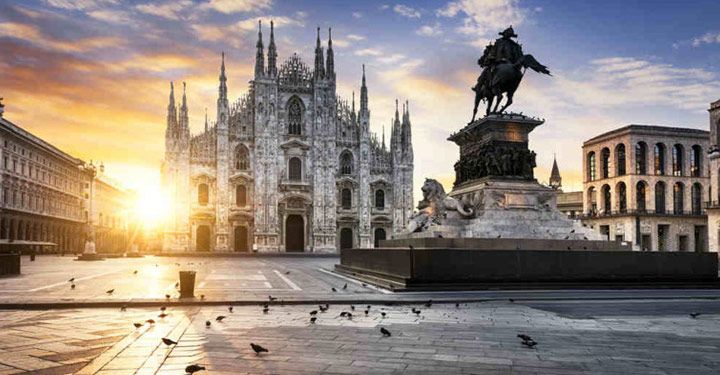 Often overshadowed by Italian superstar cities such as Venice, Rome and Florence, Milan is not a city to underestimate.
And the city has plenty of attractions that more than rival its more glamorous southern cousins. The awe-inspiring Duomo cathedral (be sure to climb the steps to the roof for stunning vistas of the city) and Galleria Vittorio Emanuele II shopping centre are architectural masterpieces, while Da Vinci's Last Supper is a must for culture vultures.
The lanes and alleys that veer off from Milan's impressive central square, Piazza del Duomo, are filled with bars and restaurants (Nerino Dieci Trattoria – Via Nerino, 10, 20123 Milano, Italy, +39 02 3983 1019 – is one to try if you manage to get a table!), but down in Navigli, Milan's bohemian-style canal district, you'll find a mix of live music, trendy cocktail bars and traditional trattorias.
What's the deal? When we looked, two-night breaks departing on April 10 were just £87.56pp. Flights were £44.58pp from Manchester (to Milan Bergamo) with Ryanair (Bergamo airport is around 45km from Milan itself) and accommodation was £42.98pp (£85.97) at the two-star Hotel Astrid on a bed and breakfast basis.
Please note: All prices were correct at the time of writing (February 26, 2016) and are subject to change and availability. All prices are per person and are based on two adults travelling. Prices consist of flights and hotels booked through separate providers.

Have a comment or question about this article? You can contact us on Twitter or Facebook.
Sign up. Be inspired. Travel.
Subscribe now for hand-picked holiday deals, inspiration and the latest travel tips, straight to your inbox.