6 romantic holidays for the perfect Valentine's Day gift
February 7, 2020
The most romantic day of the year is nearly upon us and, if you've yet to buy your significant other a gift, we're here to help. You could earn yourself some serious brownie points by whisking your loved one away for a couple of nights – and you don't need to spend a fortune to impress.
This year, Valentine's Day is the last day of term for many UK schools. So, a money-saving tip from us: avoid travelling on Valentine's Day itself or during the week directly after it as prices are likely to be higher (and you may be surrounded by kids). In fact, our recent research shows that you could save, on average, 30% on the price of a short city break by travelling two weeks later.
To help you avoid a last-minute panic, we've found six fantastic romantic getaways, from a sustainable jaunt in Paris to a five-star escape in Vilnius without a hefty price tag.
*All deal pricing below is accurate as of February 7, 2020. Prices are subject to change. Deals are subject to the partners' T&Cs.

1. Paris by train: 2 nights from £214pp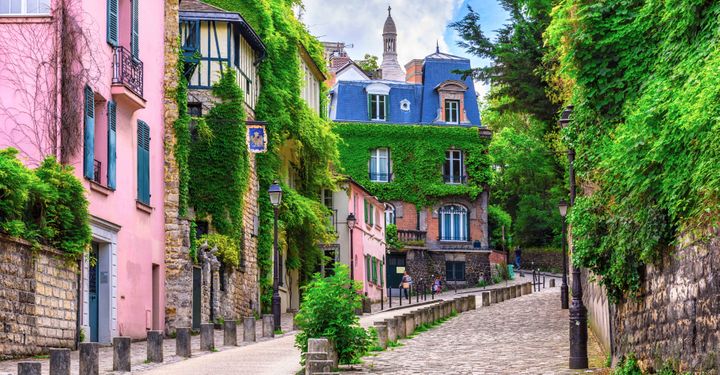 Can you make much more of a romantic gesture than booking a break in Paris, the City of Love? A big bonus to getaways in the French capital is that regular trains run there from London, making it an attractive option if your other half is looking to travel more sustainably this year.
Less than two-and-a-half hours after boarding in St Pancras, you could be walking out of Paris Gare du Nord, ready to stroll hand-in-hand by the River Seine, sip champagne in a cosy bar, and amble around cobbled Montmartre before gazing out over the sprawling city from the Sacré-Cœur. And, despite its reputation for being pricey, it's possible to do Paris on a budget (for example, try swapping a day at the museums for one in the city's parks).
When we looked, we found Eurostar services from £36.50pp each way, departing on March 3 and returning on March 5, with hotels on TravelSupermarket from just £34pp.
For romance, we like the look of Hotel Henriette, a boutique hotel with a flower-filled garden. It's just a short walk from the Latin Quarter and, at the time of writing, costs £110pp for two nights from March 3-5.


2. Boat trips and bellinis in Venice: 2 nights from £85pp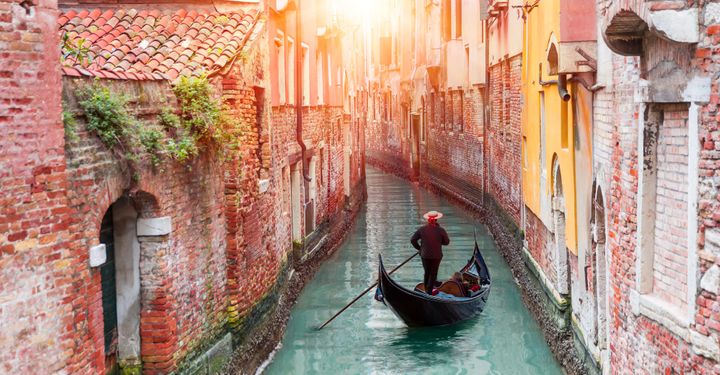 You'll be hard pressed to find a more romantic setting than this city on water, with enchanting squares, gondola trips and buzzing bars galore. Even better, early March is a lovely time to visit Venice as the crowds of Carnival will have dispersed (2020's Carnival is held February 8-25) and temperatures start to creep into double figures again.
It's possible to visit Venice without breaking the bank, too. There's free art all around the city in its historic churches and you can swap a pricey gondola trip for a ride on a traghetto (a gondola without its decorative trimmings). When it comes to meal times, fill up on Venice's version of tapas, cicchetti.
When we looked, we found two-night Venice city breaks with flights from Manchester and accommodation in the three-star Villa delle Palme hotel on the Venice Lido from just £85pp departing on March 3. For a real treat, there were deals with accommodation in the five-star boutique hotel, Sina Centurion Palace from just £218pp on the same dates from Manchester.


3. Make a statement in New York: 5 nights from £402pp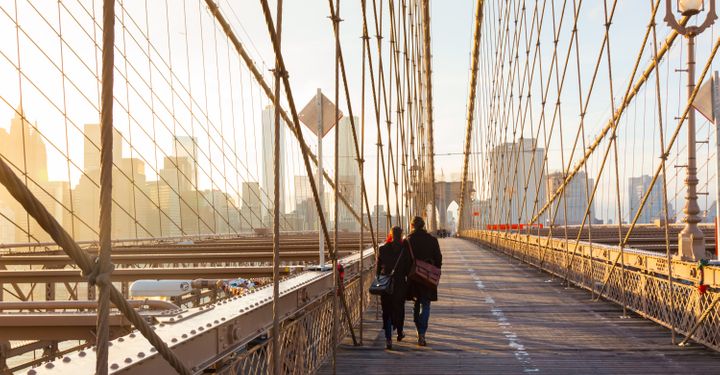 If you're looking to make a big impression this Valentine's Day, consider surprising your partner with a trip to the Big Apple. And it doesn't have to be all bright lights and excitement – you can slip away from its crowded streets to walk along the elevated High Line park or get lost in the sprawling Central Park. Alternatively, take in some incredible views of the city together from the free Staten Island Ferry.
When we looked, we found a selection of five-night New York deals departing London on March 18 from just £407pp. If you'd like to really spoil your other half, there were five-night deals from Heathrow with a stay in the five-star The Wagner hotel from £557pp, while prices from other UK airports such as Manchester and Birmingham started at £504pp and £590pp, respectively for five-night breaks.
Impress your partner on your trip with your savvy knowledge of the best free things to do in New York and learn how to visit NYC like a local with tips from New Yorker Meryl Pearlstein.


4. A spa-themed mini-break in Bath: 2 nights from £100pp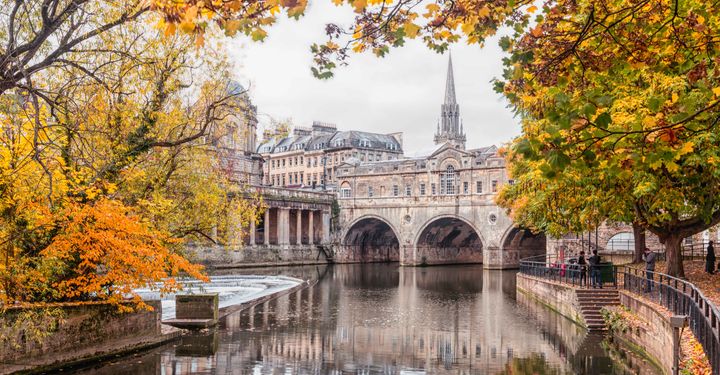 Beautiful Bath is a charming place to escape for a romantic city break; you can admire its elegant Georgian buildings, dress up as your favourite character from Pride and Prejudice in The Jane Austin Centre, and stroll in the hills near the city centre on the Bath Skyline walk.
For a special treat, visit the Thermae Bath Spa with your loved one. A twilight spa session could be a romantic option as it includes a three-hour spa session, a meal and a drink.
When we looked for escapes at the beginning of March, we found hotel deals from £47.50pp for two nights from March 1. Apsley House Hotel, originally built as a country home by The Duke of Wellington, had rooms from £100 a night. Its luxurious, individually styled bedrooms and lounge with grand piano are sure to impress your Valentine.


5. A little luxury in Vilnius: 3 nights from £172pp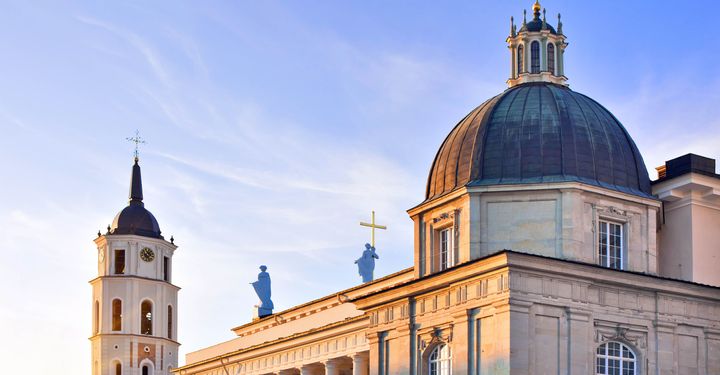 It's up to you whether you confess how little you spent on this luxurious city break with accommodation in the five-star Relais & Chateaux Stikliai Hotel. In Vilnius' old town, Stikliai Hotel has a fabulous restaurant under a glass dome, a swimming pool and a spa. When we looked, we found a deal with three nights' accommodation on a bed and breakfast basis here, plus flights from London Southend, from just £174pp departing on March 7.
As for Vilnius itself, we've tipped it as a city to watch in 2020 – we saw searches to Lithuania as a whole surge by 71% in 2019 on TravelSupermarket. It's a budget traveller's dream, with excellent value places to eat such as its Halės Market, while romantics can explore the winding lanes of its old town and admire the panoramic view from its castle.
Plus, who can forget its tourist board's 2018 campaign marketing it as 'the G-spot of Europe'…


6. A slice of New York in Manchester: 2 nights from £80pp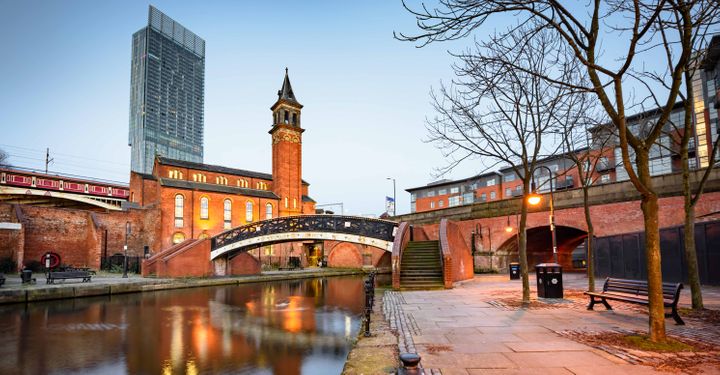 Think differently this Valentine's Day and whisk your other half to a northern city that is currently making a big impression. On a trip to Manchester you can enjoy its thriving restaurant scene – the city received its first Michelin star in more than 40 years in 2019 for Mana in Ancoats – and some seriously exciting new hotels.
Hotel Brooklyn, a design-led hotel that plays homage to the New York borough of the same name, is set to launch on Valentine's Day itself and, leading up to its opening, there are some tempting offers available. For example, when we looked, there were rooms available from £80 a night in early March (March 5-7), plus there are special rates from £99 a night up until its launch.
Outside of the hotel, romantic activities in Manchester include exploring the beautiful neo-Gothic John Rylands Library, enjoying a (free) lunchtime concert at Chetham's School of Music, drinking cocktails with a vertigo-inducing view at Cloud 23 bar, and perhaps enjoying a river cruise before a romantic meal.


Have a comment or question about this article? You can contact us on Twitter or Facebook.