Looking for a room close to all the action? Here's a selection that should have you covered.
Cheaper options
Generator Hostel Dublin
This quirky hostel in Dublin's lively Smithfield neighbourhood offers budget accommodation and a convenient base to explore Ireland's spirited capital. Crucially, it's within staggering distance from the Old Jameson Distillery, Temple Bar and the Guinness Storehouse. Other key features include free wi-fi, a bar, 24-hour reception and a cafe.
Staycity Aparthotels Saint Augustine Street
The perfect compromise between price and flexibility, Staycity Aparthotels offer an affordable option for families that want to see Dublin at their own pace. Spacious rooms include a kitchenette, dining room and modern bathrooms. The Saint Augustine Street location is convenient and served by good transport links.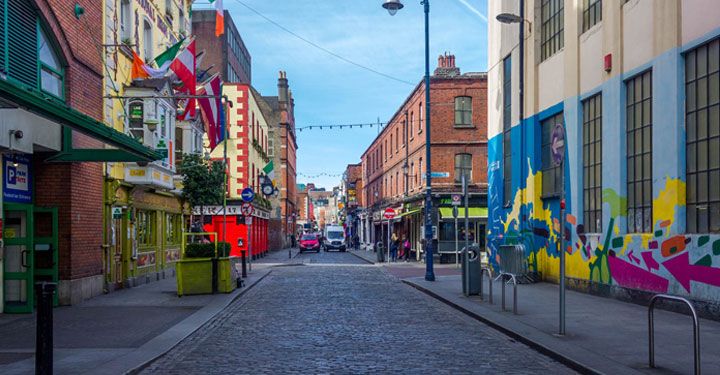 If you're looking for luxury...
The Merrion Hotel, Dublin
Grand and lavish, The Merrion Hotel is a slice of supreme luxury in the heart of vibrant Dublin. If you're looking for a special few days with the other half, the Merrion, with its classy decor, bright rooms, onsite spa and 2 Michelin-star restaurant, is up there among the city's best five-star hotels.
The Westbury Hotel
Elegance personified, the Westbury Hotel combines luxury and style to provide a classy five-star stay in the Irish capital. The chic rooms have been crafted with luxe in mind, from the locally-sourced bed linen to the marble bathrooms. Enjoy the hotel's restaurant, ballroom, roof terrace and beauty centre.
If you've left it to the last-minute...
The Fleet Street Hotel
Located in Temple Bar, you won't get much closer to the Dublin action than The Fleet Street Hotel. Besides its convenient location, the hotel has plenty of room options, ranging from economy to suite, with bed and breakfast also available. Key features include free wi-fi, 24-hour reception and free coffee in the lobby.