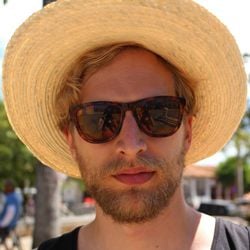 Based in Milan, born in Yorkshire, my first memory of travel was a holiday to Yugoslavia when I was three. Being three, I can't remember much, but the feeling of being somewhere unusual has stuck with me since.
At the tender age of 22, I set out on a journey across South America. It was here I made that startling discovery that travelling without any cares or worries was quite brilliant. So much so that when I came back to the real world, I immediately applied for a working holiday visa and fled to Australia for a further year – although picking fruit in 40-degree-heat and selling Viagra over the phone probably don't top many travel bucket lists. Since then, I've been lucky enough to turn travel into a job.
For TravelSupermarket, I enjoy writing about new places that I think readers will enjoy, such as Slovenia, San Sebastian or Cape Verde, and helping customers with the more complicated side of travel – flight compensation, luggage allowances and the like. I also write for a number of other travel magazines and websites, including Suitcase Magazine, the Culture Trip and LoveExploring.
For travel stuff, and a few non-travel ramblings, follow me on Twitter @joeytyson27 or visit my website joeytysonwrites.com.