The African Caribbean: Sun, sand and "no stress" in Cape Verde
May 14, 2018
By Joey Tyson

A relentless gale whips in off the Atlantic, chopping up the surf and firing spray onto the beach. Out on the water, dozens of huge, brightly-coloured kites dart among each other, tearing the surfers who wield them through the waves at high speed. More kitesurfers ready themselves on the white sand, preparing to pit themselves against the elements.
It's a sight that Cape Verde is becoming famous for, with enthusiasts flocking there to enjoy the guaranteed surf. But if you're not a kitesurfer – and let's be honest, most people aren't – chances are you won't have heard of these diverse islands, dubbed by some as "the African Caribbean".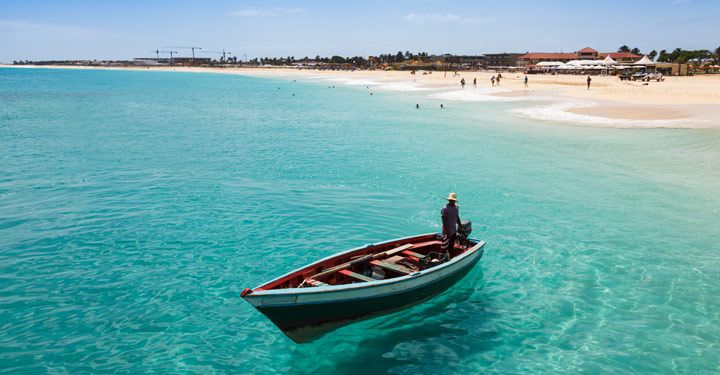 Clustered together over 500km off the coast of West Africa, the Cape Verde islands (Cabo Verde to the locals) are an exotic mish-mash of African and Portuguese culture. Explorers from Italy and Portugal stumbled across the islands way back in 1456, colonising the previously uninhabited archipelago.
This colonial history, combined with the islands' sumptuous beaches and laid-back creole way of life, is probably where the "African Caribbean" tag materialised – that and the fact that it sounds great in a marketing brochure.
The truth is, though, billing Cape Verde as a budget Caribbean destination doesn't really do it justice – these islands have bags of charm, friendly people and a fascinating culture of their own. Not only that, holidays here cost less than they do to the Caribbean and it's only a six-hour flight from the UK. No wonder it's quickly becoming one of our most searched destinations.


Beach, please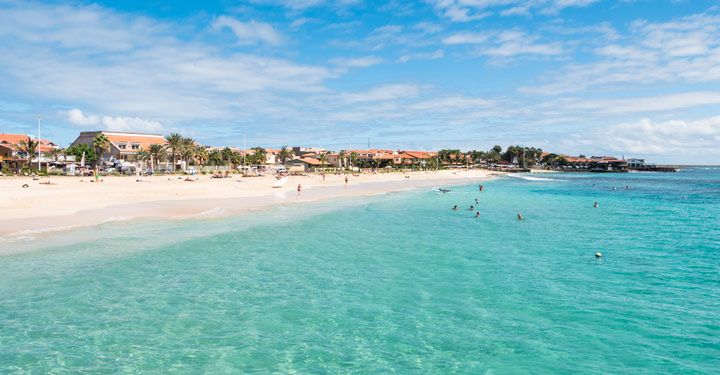 Sal, the base of my stay and gateway to the rest of Cape Verde, is renowned for its white-sand beaches, and has become the nation's flagship island for tourism, with new hotel developments rapidly popping up on its pristine coast. I'd already heard so much about Sal's beaches, but there's only so much you can read about sand – I had to see if they lived up to the hype.
Fortunately the little island didn't let me down. Sal's southern tip is lined with long, sweeping beaches, the type that just seem to keep going in either direction, lapped by the mild waters of the Atlantic. The best-known, which runs alongside the colourful town of Santa Maria, is probably the most idyllic.
Cafés and restaurants selling morning-fresh sea food back right onto the beach, while fishermen cast off from a wooden jetty. Strolling along the beachfront, a young man passes by selling caps adorned with the Cape Verdean mantra "no stress". I plonk myself on the sand and enjoy the soft ocean breeze – no stress indeed.
The appeal of Cape Verde is summed up in those two words; you can enjoy it however you like, with no pressure. Whether you're after a week laying out in the sun, or a week learning to windsurf or kitesurf, there's plenty going on to ensure a memorable holiday.


Sun, sand, sharks and salt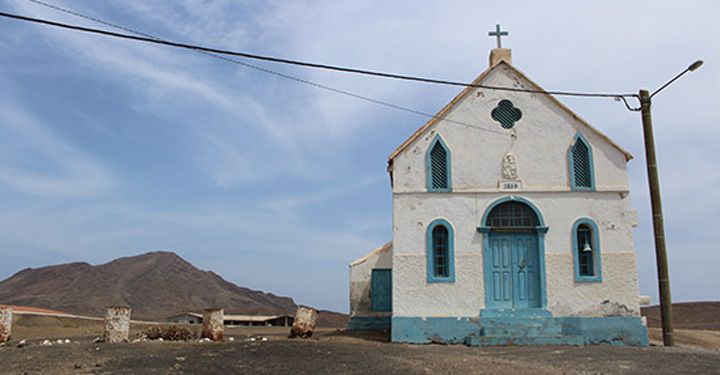 The next day my guide Jose collects me from the hotel to show me what Sal's Mars-like interior holds. The Pedra Lume salt mine is our first stop.
As we pull up to the entrance, a gleaming white-washed Church – the first Catholic Church in Sal – stands out in stark contrast to the surrounding red earth. Behind it, long-defunct cable-car pylons loom. The scene feels slightly post-apocalyptic, and very different to the beach.
The Mad Max vibes continue into the mine, a huge crater-like space that was once responsible for providing Brazil and West Africa with salt. The pools here are saltier than the Dead Sea, so it's impossible to sink. I dive in and put this theory to the test – even after a few days of all-inclusive over-indulgence, amazingly I'm still floating.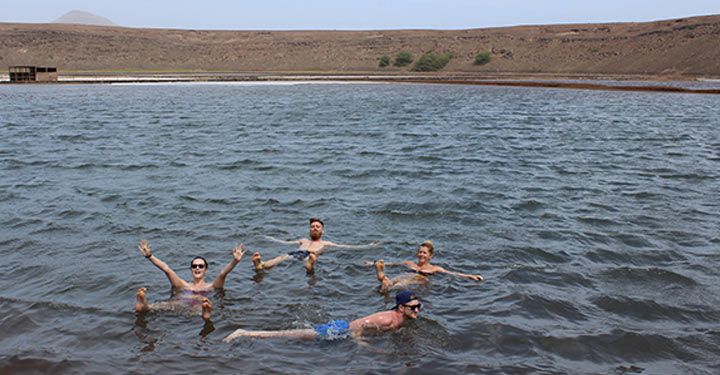 Our next stop is Shark's Bay, a unique example of Cape Verde's biodiversity. Piling out of the van, I'm given some rubber shoes to put on – not to stop hungry sharks nibbling on toes, as Jose jokes, but to make the walk out over the rocky shallows easier.
The water rises until I'm in knee deep, and the promise of seeing a wild shark spurs me on faster than I probably should be going. Suddenly, sleek and graceful, the ominous black silhouette of a fin slices through the choppy water just metres away from me.
Soon another joins in, then a few more. Before I know it, 10 or more sharks, some up to eight feet long, are thrashing around in the water around us. In other circumstances, I might not be too keen to share the water with a group of sharks, but I'm reliably informed by Jose that they won't be remotely interested in us – which thankfully turns out to be the case!
In addition to the lemon sharks, the waters around Cape Verde are teeming with marine life, with whales, turtles and dolphins taking turns to visit the islands throughout the year. The clear waters make for excellent conditions for divers and snorkellers, and excursions into the ocean are easily set up from Santa Maria.
Finally, it's time for us to head back to the beach to try some kitesurfing – the winds are a bit too strong for us beginners to take straight to the sea, so we have a go at flying the kites on the beach. Even with these smaller kites the power is tremendous, and it takes a few trial runs and spectacular crashes before I can properly control it.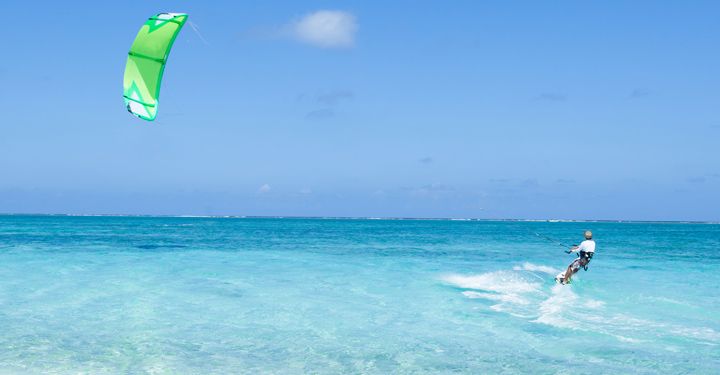 Shacks line the beach, offering lessons, gear hire and refreshments. Our instructor, Mattias, reckons it takes about a week of lessons to get the hang of kitesurfing properly, but he's adamant that once someone has mastered the art in Cape Verde, they can surf pretty much anywhere. His place, Mitu & Djo Kite School, offers lessons to people of all abilities.
In the evening, I head back down to Santa Maria. The town's main street is packed with people, spilling out of bars onto the pedestrianised road, drinks in hand. Locals and tourists casually sip cocktails, while the sounds of a live band drifts out from nearby Buddy Bar. It's simple, relaxed and unpretentious, just like Cape Verde.
Destination information
Sal is just one of 10 islands, and, along with Boa Vista, it is one of the easiest to get to. For those seeking package holidays, Cape Verde's combo of beaches, water sports, and excursions make it an ideal destination for a relaxing or active break in the sun.
Island-hopping can be easily arranged through The Cape Verde Experience, an excursion specialist which serves the island, although there are also ferries and short flights that connect the larger islands.
The main currency of the country is the Cape Verdean escudo, but euros are widely accepted.
You will require a visa but this can be arranged at the airport on arrival. Some specialist operators will arrange this for you in advance. Your passport should be valid for the duration of your stay.
Best time to go
Cape Verde is hot all year round, and temperatures rarely drop below 20C on the popular islands of Sal and Boa Vista. September and October are the wettest and hottest months, with high temperatures of around 30C. Most Brits head to Cape Verde between November and February, and May and July.


Have a comment or question about this article? You can contact us on Twitter or Facebook.