How early should I get to the airport?
Updated June 28, 2023
Published July 29, 2019
No one likes a mad dash through the airport, but spend too long airside and your holiday budget is bound to take a hit.
While the rule of thumb is to be at the airport at least two hours before a short-haul flight and three hours before a long-haul departure, there are plenty of things you can do to streamline – and speed up – your airport experience.
From time-saving airport tips to the recommended arrival times for the UK's most popular airports, our guide will get you to the airport on time – and not a minute sooner.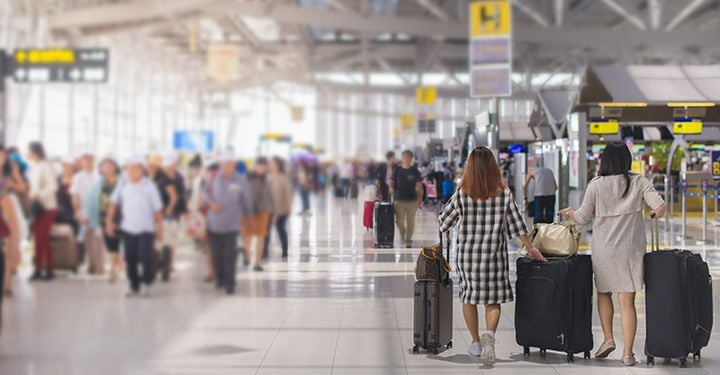 How early should I get to the airport for a short-haul flight?
Airlines generally advise that you should get to the airport at least two hours before your short-haul international flight – but if you need to check in at the desk or drop off bags, consider getting there earlier, especially if you're travelling in peak times.
Flying domestically? Ninety minutes before your departure time should be enough time to sail through security and grab a quick snack without feeling the stress.
How early should I get to the airport for a long-haul flight?
Three is the magic number for long-haul flights. Airlines generally recommend getting to the airport at least three hours before your flight time because international flights (and their larger planes) tend to have longer queues at check-in and security to account for the greater number of passengers.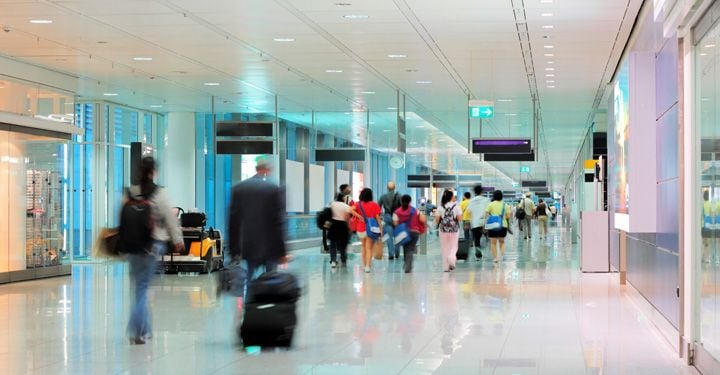 How long before a flight should I get to the airport in the UK?
While knowing the general suggested arrival times for airports is a good benchmark for planning, you should always check your airline's guidance to check how early you need to be at the airport prior to departure.
We've rounded up 15 of the UK's most popular airports' recommended arrival times to give you a helping hand.
London Heathrow
Planning to check in at the airport? Heathrow recommends arriving at the check-in and bag drop desks three hours before your departure time. For flights within the UK and Europe, two hours will be plenty of time to cruise through the terminal.
London Gatwick
Gatwick asks you to arrive at least two hours before your flight to go through the check-in and security processes. However, check-in opens four and three hours before long-haul and European flights, respectively. For UK and Ireland flights, check-in opens two hours before scheduled departures.
London Luton
Those leaving from Luton should make a note of boarding gate closing times – it's an even 30 minutes across all flights.
That leaves you with a solid hour and thirty minutes to get through the pre-flight process, as check-in and bag drop desks generally open two hours before scheduled departure times.
London Stansted
Your Stansted send-off requires you to allow at least two hours before going through security, so take advantage of your airline's online check-in or arrive earlier to do this at the desk.
For more specific advice, Stansted advises you to check your airline's guidelines well in advance of your departure day.
London Southend
For flights departing from Southend, it's best to check your airline's instructions. Boarding gates can close between 30 and 40 minutes before scheduled departure time.
The general rule for Southend, however, is to allow at least two hours before your flight if you need to check-in or drop off bags at the desk.
Manchester
How early you should arrive at Manchester can vary quite dramatically between airlines, and many leave the decision-making up to you.
For example, Jet2 allows travellers to check in at the desk three-and-a-half hours before your flight's departure. If you've checked in online and are only travelling with hand luggage, Jet2 says you can speed through the process in just 90 minutes.
The airport itself generally recommends that you allow two hours to go through security after check in, but following your airline's guidelines here will see you through safely.
Birmingham
You can be hanging out at Birmingham airport for up to four hours if you like to travel with extra time on your hands!
Again, you should always check your airline's instructions but at Birmingham, check-in opens four hours before your international flight and between two and three hours for your domestic and European flights.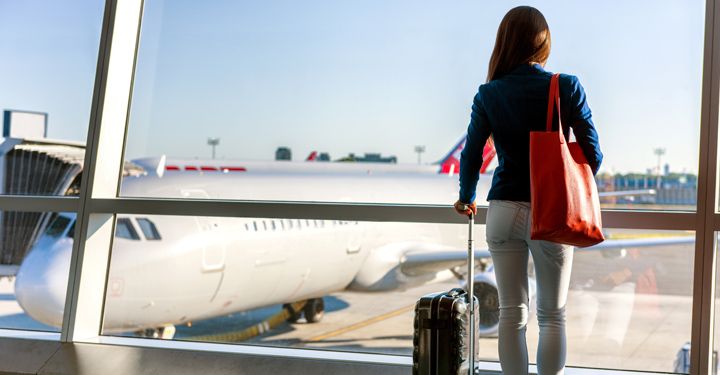 Glasgow
Going from Glasgow? Check-in desks will open anywhere between four hours and ninety minutes before a flight's departure time.
Rule of thumb here is to allow three hours before an international flight, two before a European flight and ninety minutes before a domestic flight. You can always check what time your airline's check-in desk will open at Glasgow airport here.
East Midlands
Jet2 and TUI ask travellers from East Midlands airport to begin the check-in and security process three hours before your flight's departure time.
All other airlines ask you to leave a two-hour buffer to get you through check-in and security.
Newcastle
If you've scored an amazing package holiday deal, Newcastle airport suggests you arrive at the airport three hours before your charter flight to ensure a smooth, stress-free process. DIY holidaymakers travelling on a scheduled flight, meanwhile, can stroll through two hours before the departure time.
Check-in times can vary airline by airline, however, so it's always recommended to base your decisions on your carrier guidelines.
Edinburgh
Most carriers flying from Edinburgh airport cut off check-in 30 to 40 minutes before boarding, and gates can close as little as 15 minutes before the scheduled departure time.
To make sure you get through the pre-flight process smoothly, you should be prepared to check in three hours before an international flight and two hours before all other flights.
Leeds Bradford
Between two and three hours is enough time to get through the checkpoints at Leeds Bradford.
They recommend this regardless of whether you have checked in online or plan to do this at the desks, so use your discretion!
Belfast International Airport
Check-in desks at Belfast International Airport open two hours before most domestic flights' scheduled departure time. For international flights, you should aim to start your check-in process three hours before you are scheduled to fly.
Though it is a relatively small airport, they urge people to stick to these guidelines over peak travel time and especially in the busy summer months.
Liverpool
Two hours before you fly should be enough to work your way through the checkpoints at Liverpool John Lennon Airport, though your airline may advise differently so check your booking before you leave!
Cardiff
Cardiff suggests travellers arrive at the airport four hours before an international flight and two hours before a short-haul flight (four hours or less) within the UK or Europe.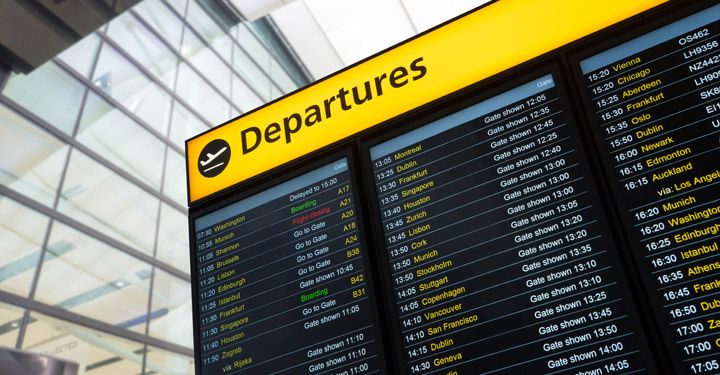 9 important factors that will influence your airport arrival time
1. Can you check-in online?
Online check-in and carrying hand luggage only can shave minutes off your time at the airport as you can skip straight to security in most cases. Airlines such as easyJet and Jet2 open online check-in as early as 28 days before your flight, so you can get this ticked off your travel checklist well in advance.
2. Do you have bags to check?
If you need to check baggage, there's often a separate desk or self-drop-off points for your airline. Self-check kiosks are usually the quickest option, but bear in mind that not all airlines offer these, and queues for bag drops can be long.
3. When does your airline ask you to be at the airport?
Though the rule of thumb is two hours before you fly, some airlines ask you to arrive at the airport a lot earlier or later than the airport guidelines. Always check your booking confirmation for guidance.
4. When are you travelling to the airport?
The time of year and day can have major influences on how much time you may have to spend at the airport.
Peak summer holiday season and school holidays are likely to be far busier than in winter, for example. Consider whether you will have to battle hundreds of other half-term holidaymakers or long-weekend warriors to get through the queues and make sure to factor this into your schedule.
Outside of peak holiday seasons, you may also have to consider frequent corporate flyers. Some of the busiest times can be early weekday mornings!
5. How are you planning to get to the airport?
Things outside your control, such as an accident or peak-hour traffic, can add precious time to your airport journey. Checking the traffic conditions well before you leave may help mitigate the risks of running late, but if you're worried, add an extra hour to your travel time.
Similarly, pre-booking your airport parking will not only save you money but will guarantee you a spot on the day, saving you valuable minutes. If you're travelling by rail, be across any planned strikes and keep an eye out for delays.
6. How big is the airport you're travelling out of?
If you're not familiar with an airport, research its size. Some sprawling airports can see you walking upwards of ten minutes from security to your gate. It mightn't sound like much, but if you're unfamiliar with the airport, it could be the difference between missing and making your flight.
7. How many people are travelling with you?
Will you have to organise passports, boarding passes and luggage for your family of five or are you travelling solo? Getting your group through the gate can take some time, especially if you're navigating a busy airport with five carry-on suitcases and three antsy kids!
8. Are you entitled to skip the queues?
If you're loyal to an airline's frequent flyer program, your mileage status could see you move to a much shorter queue, and the same applies to those travelling business or first-class.
Alternatively, you can significantly decrease your time in queues by purchasing VIP Fast Track passes. In UK airports, they can start from as little as £3 per person!
9. What's in your hand luggage?
Hand luggage rules state you can only carry liquids under 100ml and that they all must neatly fit into a clear, one-litre plastic bag.
Though most airports will provide these bags for free, you can easily save time by reusing one from your last holiday – not only will pre-packing save you time, but it's better for the environment too!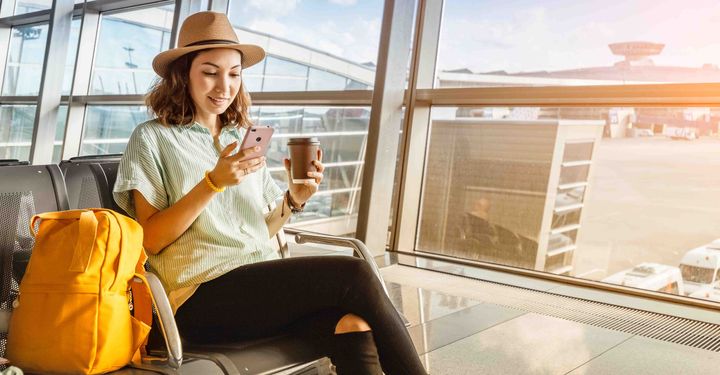 Top tips to save time at the airport
Verify your departure time online
Double check your flight information before leaving for the airport. Make sure to note all timings such as check-in, boarding and departure time.
Print your boarding pass at home
If you can check in online and can print or download your boarding pass, you can sail straight through to security once you arrive at the airport – providing you have no bags to check.
Get the airline app
Downloading your airline's app can be a real timesaver at the airport. Not only can you get real-time flight updates, but you can also check-in through the app and have all your booking details and boarding passes to hand.
Check your luggage specifications
Whether you're travelling with just hand luggage or with checked-in bags too, make sure all your luggage meets your airline's size and weight specifications for your flight to save time repacking at the airport or facing hefty fees at the desk.
Additionally, make sure you have no prohibited items in your hand luggage that could cause delays at security.
Consider an airport lounge
If you like to allow time at the airport to eat before you fly, an airport lounge may help save you time, and can be surprisingly good value.
Most airport lounges start from just £30 per person and offer unlimited buffet-style food and drinks (including alcohol), so you don't have to worry about long wait times at restaurants or queuing for your pre-flight pint.


Have a comment or question about this article? You can contact us on Twitter or Facebook.