Updated January 30, 2023
Published August 16, 2018
Tempted by Turkey? With gorgeous, sunny beaches, excellent shopping and fascinating sites galore, it's almost impossible not to be. Here's where to find your perfect slice, whether you're a first-time visitor or a long-time fan looking to discover somewhere new.


Antalya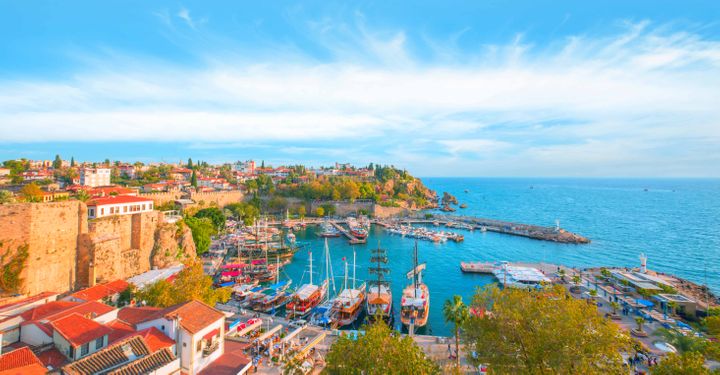 If you're looking for huge sandy beaches, plenty of sunshine, exciting activities and ancient ruins that would impress even Indiana Jones, look to Turkey's Mediterranean coast. This part of Turkey is great for families, with superb sandy beaches and lots of activities for all ages.
Head to Antalya, one of Turkey's largest cities, and you'll find sophisticated shopping and excellent restaurants here, especially in the old Kaleici district, as well as lively clubs around the old harbour. Antalya's best beaches are at Lara, midway between the city centre and the airport, and Konyaalti, south of the centre.
At Belek, about 29km (18 miles) east of the airport, you'll find miles of sand lined with opulent hotels and all-inclusive resorts with vast pools and spas offering the ultimate pampering experiences.

Further east, Side is a picturesque old town huddled around a quaint harbour and dotted with Greek and Roman ruins.
Days out from Antalya
The Roman theatre at Aspendos, less than an hour from Antalya and around 18km (11 miles) from Belek, is awe-inspiring – built around 170 AD, it could seat more than 15,000 people. The region's other key archaeological site is Perge, 16km (10 miles) east of Antalya, where a forest of columns marks the site of a 3,000-year-old city. For white-water thrills and spills, take a raft trip down the Köprülü Canyon.* From Kemer, south of Antalya, you can ride the Olympos Teleferik cable car to the 2,365m (7,759ft) summit of Tahtalı Dağı (Mount Olympos) for a stunning view.


Bodrum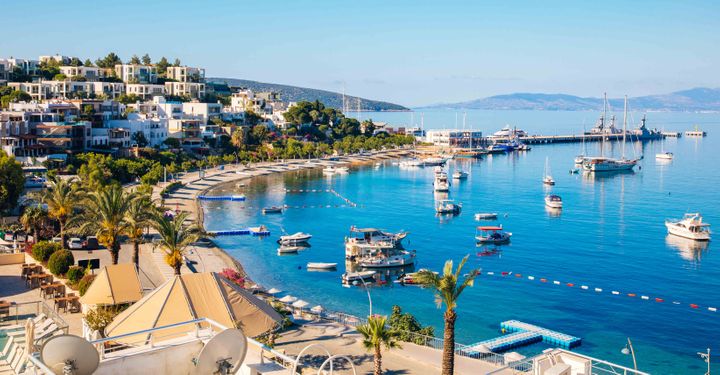 Bodrum hits the spot with the right mix of sightseeing, shopping, sea and sunshine. Its standout landmark is the medieval Castle of St Peter – built by the Knights of St John, it's now a museum of underwater archaeology, filled with treasures from ancient shipwrecks. Cumhuriyet Caddesi is a mile-long neon-lit strip lined with bars and clubs, and you'll find plenty of massive dance venues to boogie the night away.
Bodrum's old quarter is a great place to shop and haggle for suspiciously cheap 'replika' (that is, fake) designer shoes, accessories, headphones and sunglasses, and with the pound strong against the Turkish lira, there are plenty of bargains to be had.
Bodrum's town beach is no great shakes, so if it's sun and sand you're looking for, stay at Gumbet, about 4km (2.3 miles) from Bodrum's city centre. A few kilometres further along the Bodrum peninsula, Bitez is great for windsurfing and watersports.
Days out from Bodrum
Take a boat trip across the Gulf of Gokova to ride a dromedary at 'Camel Bay' or swim in hot springs at Kara Ada. Go on a four-wheel-drive safari* into the hills and forests of the Bodrum peninsula, or hire a car to visit the awesome ruins at Aphrodisias, one of Turkey's most impressive ancient sites.


Dalyan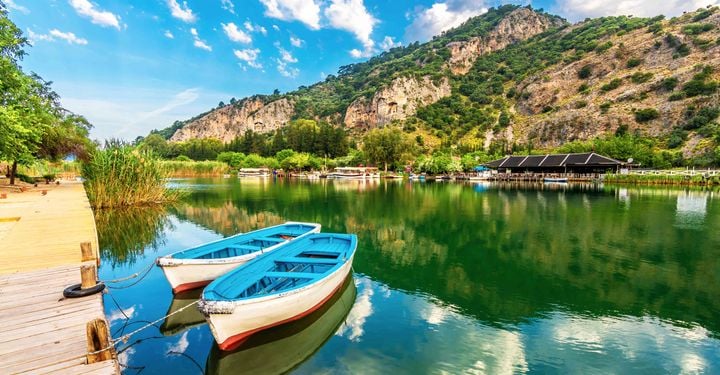 Dalyan couldn't be more different from Turkey's other resorts if it tried. For a start, it's not by the sea – though one of Turkey's most spectacular and untouched beaches is only a short boat trip away. This laidback riverside village is hard to beat if you're looking for peace and quiet. There are no big hotels or rowdy clubs here; nightlife is an after-dinner drink by the jade-green river, while admiring the elegant royal tombs (floodlit at night) that are carved into the cliffs opposite.
The sea is only a few kilometres away, and wooden boats ferry visitors to the vast beach at Iztuzu through a reed-filled river delta. On the way, you'll see kingfishers, egrets and other birdlife, and in summer you're likely to spot the big loggerhead turtles that lay their eggs at Iztuzu. To protect the turtles, hotel development is banned from this 5km (3-mile) swathe of sand, but you'll find a handful of café-bars next to the jetty at the west end of the beach, where you can also rent sun-loungers and umbrellas.
Days out from Dalyan
Take a boat trip up the river to Lake Koycegiz, swim, then eat a fish barbecue onboard before visiting the Sultaniye Kaplicalari hot springs on the way back to town. You can also visit the ruins of Kaunos, where you'll find the remains of Roman temples and amphitheatres perched above the channels and lagoons of the delta.


Fethiye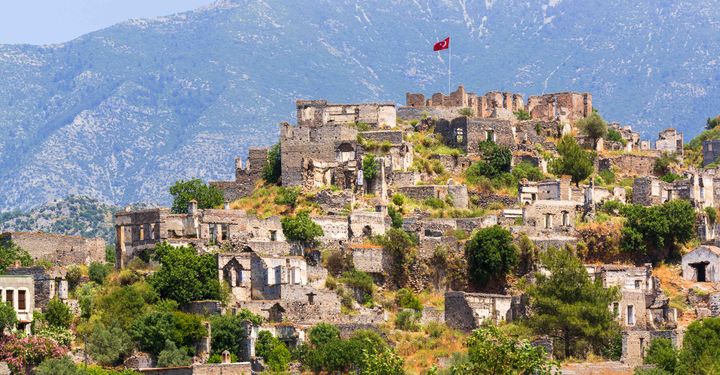 Fethiye is as authentically Turkish as it gets – it's even more popular with holidaying Turks than with foreign visitors. That said, Calis Beach, around 3km (1.7 miles) north of town, attracts a multi-national clientele. It's lined with hotels, restaurants and bars and there are plenty of watersports available here too.
In town, you'll find a picturesque bazaar area around Hamam Sokak, filled with shops selling made-to-measure leatherwear, aromatic spices, colourful ceramics, Turkish delight and many dried fruit and nuts. There are some fab old-school restaurants here too, serving fresh fish from the seafood market.
Days out from Fethiye
Fethiye stands on a wide, sheltered gulf dotted with verdant islets, and the '12 Islands' boat trip* round the bay is a must. You can also take longer trips along the fabled Turquoise Coast to Patara, a vast, deserted sweep of sand beside the half-buried ruins of an ancient Roman city. A visit to Kayakoy, a ghost village with a hidden history, is another favourite time-trip.


Marmaris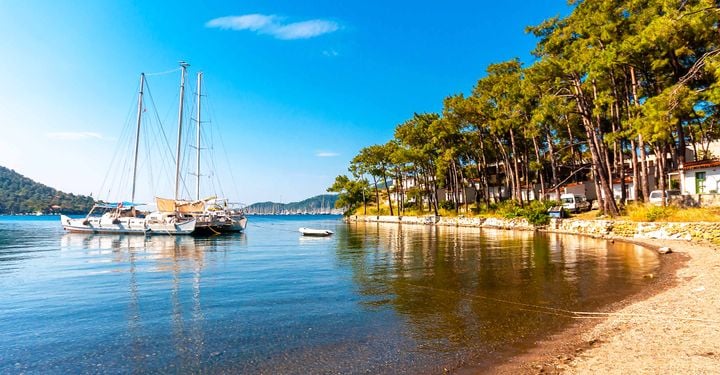 If you're looking for a resort with a great location and a fantastic choice of pubs, clubs and restaurants, look no further than Marmaris. Set on a splendid bay beneath forested hills, this resort bustles day and night – heritage and culture are not high on the agenda here, but good times are.
Marmaris' market and shopping area, the Karsi, is rammed with shops selling bargain beachwear, leather accessories and convincing designer gear and accessories. 'Bar Street' is solid with 'English' and 'Irish' pubs, curry restaurants, pizza joints and raucous clubs. Wooden sailing boats moor along the pretty waterfront, Barbaros Caddesi, while sleek yachts bob in the upscale marina, opposite the miniature Ottoman castle.
Hundreds more bars and restaurants line the Uzunyali beach strip, west of the old town, where you'll also find watersports of all kinds, from banana rides to parascending. If you're looking for somewhere a bit more chilled, stay at Icmeler, around 8km (5 miles) from central Marmaris, or Turunc, still further down the Datca peninsula, which points west from Marmaris into the Aegean Sea.
Days out from Marmaris
Take a boat trip to tiny Sedir Adasi ('Cleopatra's Island'), explore the ruins of ancient Kedreia, ride in the hills, or hop on a high-speed ferry to the Greek island of Rhodes (bring your passport) and its spectacular medieval city.


Olu Deniz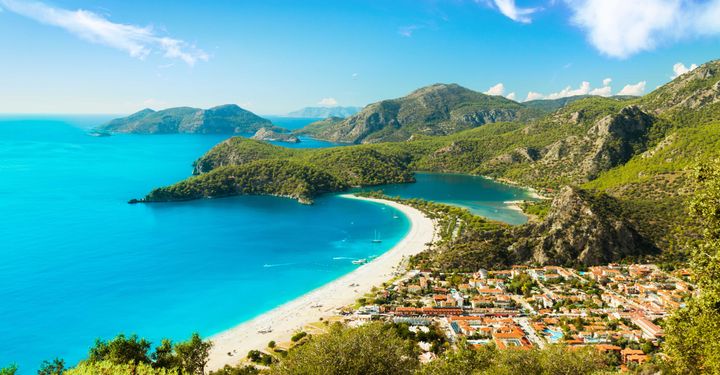 Olu Deniz is the Turkish coast's ultimate icon – a calm, blue lagoon sheltered from the sea by a crescent beach and overlooked by limestone crags cloaked in lush forests. The scenery is spectacular, and the cloudless sky overhead is often filled with the brightly-coloured wings of hang gliders spiralling down from nearby Mount Babadağ to land right in the centre of town.
There are sandy beaches around the lagoon, while long, pebbly Belcekiz beach, lined with hotels, café-bars and restaurants, offers a great choice of watersports, from water-skiing and banana rides to kayaking and windsurfing. Olu Deniz is purpose-built for tourism, and there are plenty of places to eat and drink along the streets inland from the beach, though nightlife is more low-key than in spots like Bodrum or Marmaris.
Perched in the hills about a mile from Olu Deniz and its beaches, Hisaronu has more hotels, restaurants and bars and there are shuttle buses to whisk you to the beach.
Days out from Olu Deniz and Hisaronu
Take a boat trip along the coast to visit 'Butterfly Valley'*, where thousands of brightly-coloured tiger moths flutter around a deep, cool canyon, visit the Blue Cave and St Nicholas Island, or squeeze into a dolmus minibus for a day's shopping in Fethiye, which is about 15km (10 miles) away.


* If a link has an * by it, that means it is an affiliated link. If you use these links, we may earn a small commission when you make a purchase through links on our site at no additional cost to you. For more details on how we make money at TravelSupermarket, visit our About Us page.


Have a comment or question about this article? You can contact us on Twitter or Facebook.