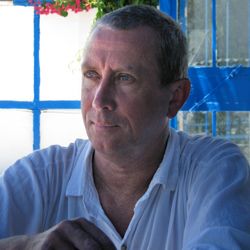 I spent five happy student summers bumming around Europe and the Mediterranean, from Marrakech to the foothills of Mount Ararat by way of France, Spain, Portugal, Greece and the Balkans travelling by bus, train, thumb and rust-bucket ferryboat. I still claim the world record for the fastest hitchhiking journey from Athens to Edinburgh – just under 2,500 miles (4000km) in four and a half days. Beat that.
I slept on Greek island beaches, in olive groves, in an Austrian hay barn (big mistake for an allergy sufferer) and, on one memorable occasion, a chicken shed in Yugoslavia.
Edinburgh University sent me on my way with a history degree and no career plans. Journalism – a profession that requires no more skills than a way with words and certain rat-like cunning – beckoned. I got lucky. After two years learning the ropes at local newspapers, I moved to London and landed a gig with a travel industry newspaper that flew me around the world on expenses for the next ten years. To keep myself from taking first-class flights and five-star hotels for granted, I spent my holidays island-hopping around the Aegean on the cheap.
Going freelance let me go off-piste to destinations like Myanmar, Ethiopia, Sulawesi and Ladakh before they joined the mainstream.
These days, I favour destinations closer to home. I love the cities of Spain and Italy, the country villages of France – and, of course, the wilds of my native Scotland. My latest fave raves – cities I'd never visited before – include Marseille, the funkiest city in France, Bologna, where I loved the food scene, and Oporto. I do like fluffy bathrobe and a room with a view, so I enjoy my work reviewing some of Europe's classiest boutique hotels for The Hotel Guru and Telegraph Travel – but yes, I do check my privilege, and I'm as happy (or even happier) in a simple village guesthouse as in the gilded cage of a posh resort.