Where to go in Greece
Updated March 27, 2023
Published January 28, 2021
Holidays in Greece are as enticing as they are diverse. All age groups, budgets and interests are catered to here; beach bums, families looking for toddler-friendly resorts, adventure-seekers and loved-up couples will all find holiday experiences to remember on the shores of the Aegean, among mainland mountains and the ruins of ancient civilisations, and on lively city streets.
Can't decide where to start? Here's where to go in Greece – for whatever kind of holiday you're after.


Best for sun worshippers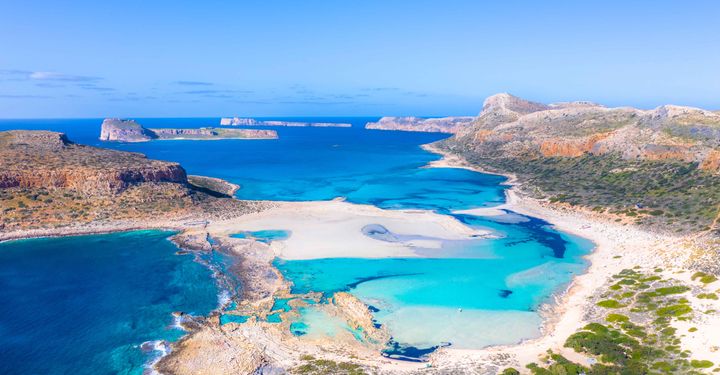 From tiny coves where turquoise water kisses white pebbles to miles-long stretches of golden sands, Greece's portfolio of beaches is the most varied in Europe – maybe even in the world.
If you're desperate for a blast of spring sunshine or want to squeeze the last few drops of heat out of summer, Crete and Rhodes are top picks. Summer comes early to their long, sandy beaches, where you can still swim and sunbathe well into October. On the white-pebble, blue-sea beaches of the Pelion peninsula, halfway between Athens and Thessaloniki, you can even imagine you're in the tropics.
If you're looking for an all-over tan, you'll find beaches where naturism is tolerated at Super Paradise Beach on Mykonos and Little Banana Beach near Koukounaries on Skiathos. Don't forget the sunblock.


Best for families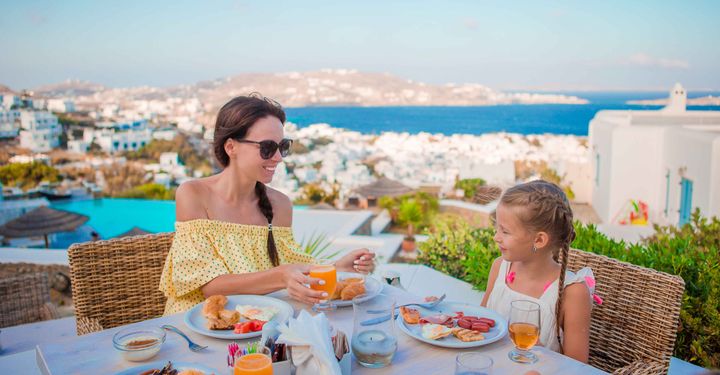 Greece is one of the Med's most family-friendly holiday destinations, and you'll find something to please kids of all ages in both island and mainland resorts.
For the fly-and-flop treatment, Skiathos is a top pick. Within an hour of touching down, families can be swimming and paddling at Koukounaries, a huge sweep of fine yellow sand that slopes gently into warm shallow water – perfect for smaller children. On Kos, the small, relaxed resort of Kefalos, set on sandy Kamari Beach, is another good option for families, and the airport is only 20 minutes away.
Mums and dads seeking a moment's peace from holiday parenting will find resort hotels with kids' clubs and activity centres on most of the bigger islands. Expect offerings such as those at Sani Resort in Halkidiki, which has multiple pools and a packed portfolio of family activities ranging from soccer and tennis coaching to scuba sailing and mountain biking – all in addition to its enviable private beaches.
Going all-inclusive can make it easier for families to do the Greek islands on a budget, so it's worth checking out properties such as the Grecotel Marine Palace on Crete, with its own aquapark, five pools and eleven bars and restaurants.


Best for couples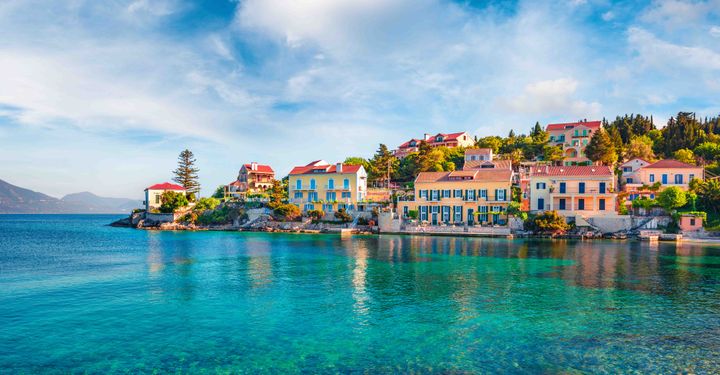 Greece's islands and mainland coasts are dotted with perfect romantic hideaways. Stroll hand in hand along the sands of Mykonos at Ornos – only a mile from Chora, the island capital – where couples can find boutique hotels that offer perks such as fluffy bathrobes, in-room massages, poolside yoga classes and more.
It's all about the most romantic sunset view in Greece at gorgeous boutique cocoons at Oia and Imerovigli, gazing out over the deep blue caldera of Santorini. Like Santorini, Lindos on Rhodes is a seductively postcard-pretty place with a pick of pampering places to stay, including the adults-only Lindos Blu.
For somewhere a bit more low-key, hop on a ferry from Rhodes to tiny Symi, less than an hour away, with a quayside lined with colourful old houses. On Kefalonia, chic and colourful Fiskardo is a place for couples who prefer café society and good food to loud nightlife, and you can rent a motorboat to discover your own hidden beaches.


Best for party animals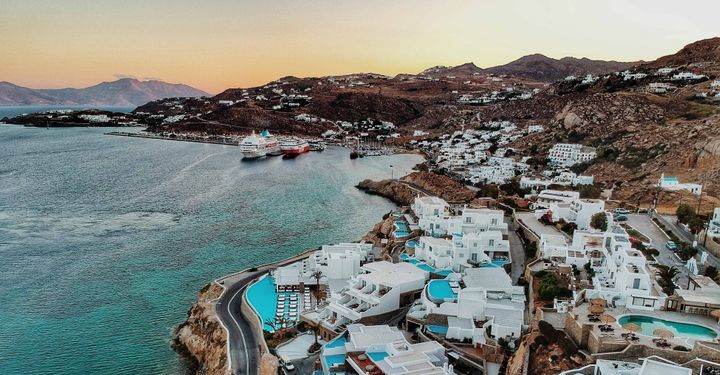 Greece's party resorts are the stuff of legend, so if you prefer to dance 'til dawn, you'll be spoilt for choice here. Mykonos certainly lives up to its reputation (Paradise Beach is a top venue), though resorts on other islands, such Kavos on Corfu, Laganas on Zakynthos and the infamously lively Malia and Hersonissos in Crete, don't back down from bringing the party.
Check out local nightlife hubs such as Naked Zante for the latest news from Greece's party islands.


Best for foodies and wine-lovers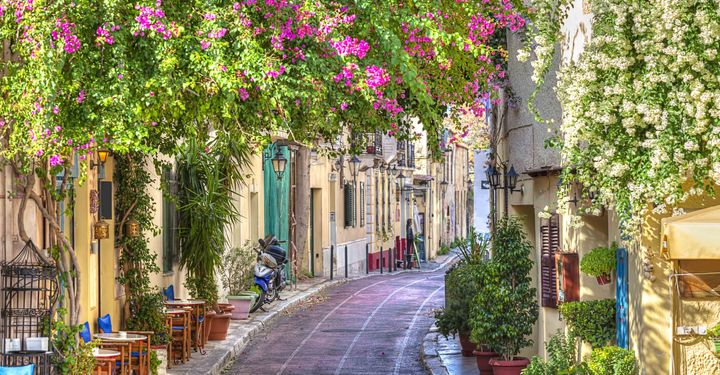 If you're a foodie, Mykonos is the island to aim for, with a clutch of fine-dining restaurants serving sophisticated Mediterranean-fusion cuisine in its picturesque island capital. On the mainland, savour Greek street food like bougatsa – crunchy custard pie - and discover the multiple delights of mezedes – Greece's version of tapas – in old market neighbourhoods on a walking tour with Athens Walking Tours or in Thessaloniki with Eat and Walk.
For a special occasion, treat yourselves at one of the capital's Michelin-acclaimed eateries, such as Spondi. Athenians also head to port town Rafina, just outside Athens, to dine at quayside restaurants – it's just a 15-minute cab ride from the airport, so ideal for a final slap-up meal before your flight home.
Attica, the region around Athens, is where most of Greece's famous retsina wine is produced – but there are so many more vintages to discover on the mainland and in the islands. Visit the Boutari wineries in Crete and Santorini, or the Rombola winery on Kefalonia to sample distinctive wines made from unique grape varieties. An hour's drive from Thessaloniki, the vineyards of Naoussa, where Boutari also has a winery, are noted for world-class red wines.


Best for history buffs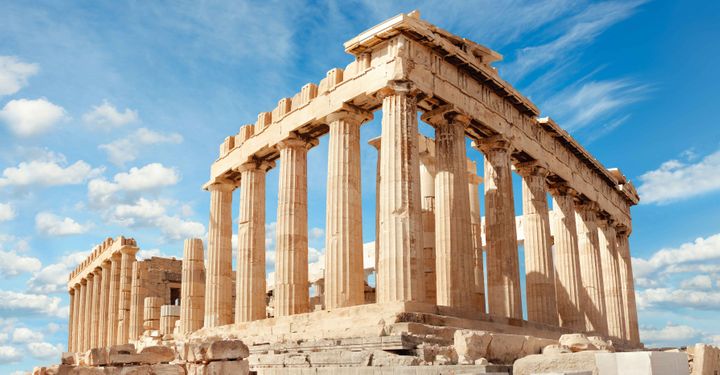 Ancient history buffs are spoilt for choice in the cradle of Europe's oldest civilisations. You could spend a lifetime exploring the sites of mainland Greece, but a long weekend gives you time to explore the must-sees of Athens: the iconic Parthenon atop the Acropolis, and below it the columns of the Roman forum and ancient Agora, hub of classical-era Athens. The National Archaeological Museum is crammed with fascinating finds from archaeological digs all over Greece.

Hire a car in Athens and take in the nearby temples and stadiums of ancient Delphi and Olympia, the hilltop citadel at Mycenae (home of semi-mythical King Agamemnon) and the once-magnificent Roman capital at Corinth. Thessaloniki has its own collection of Roman remains, and gorgeous gold and silver treasures from tombs of Macedonian kings.
Crete offers the best of the past and present, combining sun and sand with a collection of antiquities spanning more than 4,500 years, from the colourfully restored Palace of Knossos to the Roman and Byzantine ruins of Gortys, on the island's south coast.


Best for adventure seekers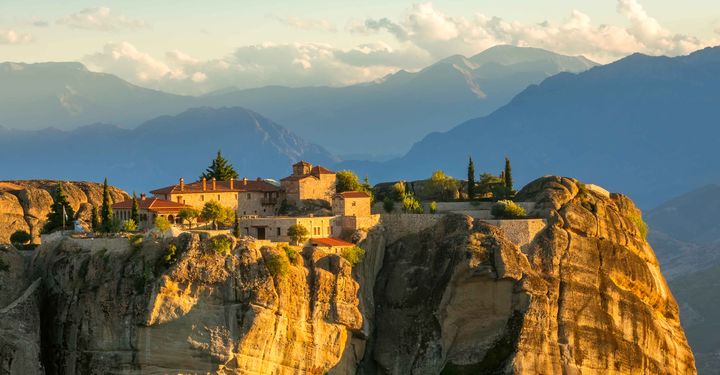 Beneath the waves or high above, Greece has something to satisfy adventure-seekers of all kinds. Kos' north coast, between Mastichari and Tingaki is a favourite among both windsurfers and kitesurfers.
For diving, try Corfu. It has some of the best dive sites in Europe, close to resorts like Messonghi, Paleokastritsa and Kassiopi. Off Alonissos (close to Skiathos), the National Marine Park is the largest in Europe, and divers can explore the wreck of a 425BC merchant ship lying amid thousands of earthenware wine jugs on the seabed at Greece's first underwater museum, which opened in 2020.
On the mainland, the amazing rock pinnacles of the Meteora offer more spectacular challenges for climbers.


Best for street life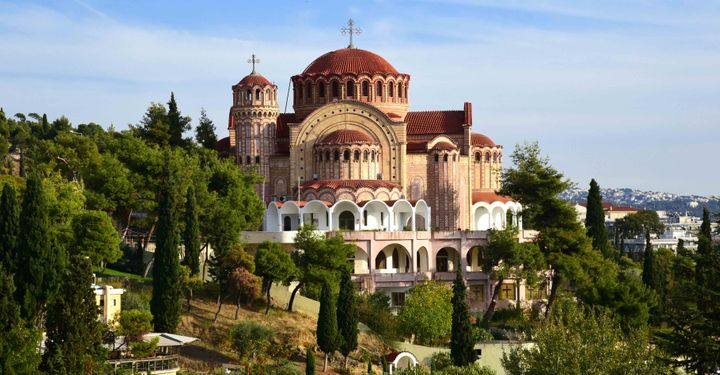 Athens is easy to get to all year round – and it buzzes virtually 24/7. After a day shopping in the Aladdin's Cave of the old flea market district, watch the sun set over the Acropolis from a hip rooftop bar in funky Monastiraki. Then, get away from the touristy hotbed of Plaka to discover bars and clubs in up-and-coming neighbourhoods where hip young Athenians hang out, such as Psiri, Metaxourgio and notorious Exarchia, favoured by squatters, students, artists and anarchists. Most Athenians don't even think about going out for the night until around 9pm, and most nightspots stay open until 2am or later.
In Thessaloniki, Greece's second largest city, café society focuses on the Leoforos Nikis waterfront while the old Ladadika warehouse district is now crammed with bars, clubs and restaurants.


Have a comment or question about this article? You can contact us on Twitter or Facebook.