11 Things To Do In Kefalonia
11 things to do in Kefalonia

June 13, 2019
The bluest seas in Greece (and that's saying a lot) surround the steep white cliffs and sandy beaches that ring Kefalonia's rugged shoreline.
But there's more to this fantastic island than beach life. The highest peak in the Ionian Islands, Mt Ainos, beckons adventurers; there are vast caves to explore; great vineyards to visit; horses and bikes to ride; and breathtaking experiences to be had, both in the island's skies and beneath its waters.
1. Go riding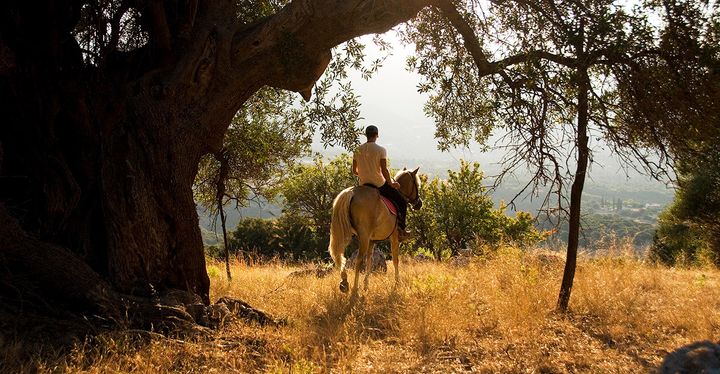 Discover the lush and verdant charms of Kefalonia's rural hinterland – a patchwork of vineyards, lemon and orange trees, and olive groves – on horseback. Bavarian Riding Stables at Sami, on the east coast, has well-groomed, well-bred German mounts for hire. Take a half-day picnic trip, or if you're feeling more adventurous a 2-3 camping trip in the hills or a seven-day trail trip around Kefalonia's wild west.
Donkey Trekking Kefalonia offers 2-5 hour trips along old mill and forest trails to visit caves and ruined villages at walking pace. Kids (and small adults) can ride, making this a super family experience, but if you're over 8 stone (50kg) you'll have to walk – though you'll still have a friendly moke to carry all your kit.
2. Sample fine wines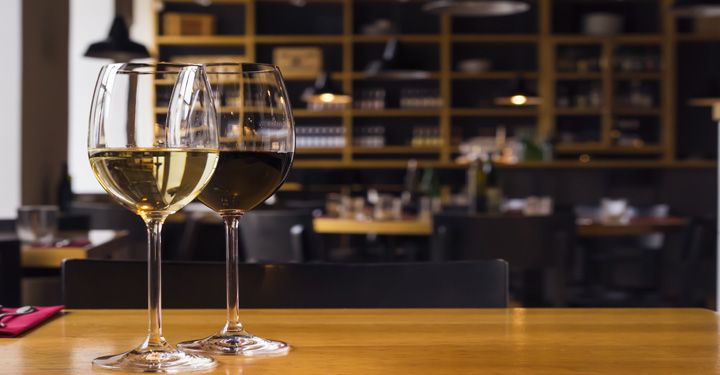 If you thought Greek wine was all about cheap and cheerful retsina, a visit one of the vineyards that flourish on the lower slopes of Mt Ainos will adjust your attitude. On Kefalonia, you can sample some of the finest red and white wines in the Greek islands.
The biggest and best known of Kefalonia's wineries is Robola (Kefalonia 281 00; +30 2671 086301), 20 minutes from Kefalonia's capital, Argostoli. Don't miss Gentilini, where the VIP tour includes tastings of fabulous vintages, or Domaine Foivos, where you can sip unique Rhapsody Amphora, aged for two years at the bottom of Lixouri Bay, and a list of luscious dessert wines.
3. Hit the beach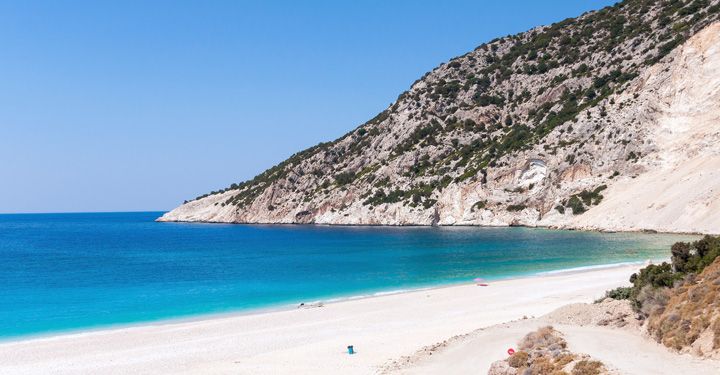 Kefalonia's northwest coast is pure, unfiltered drama and Mirtos, beneath towering white cliffs, is the island's must-see beach. Getting to this strip of pure white sand by land is tricky (the narrow switchback road is downright scary) so take a boat from the pretty little resorts of Assos or Fiskardo.
For the full array of watersports, from water-skiing to windsurfing, the best bets are Makrigialos, near Argostoli and Lourdas and Skala, further along the south coast.
4. Go underground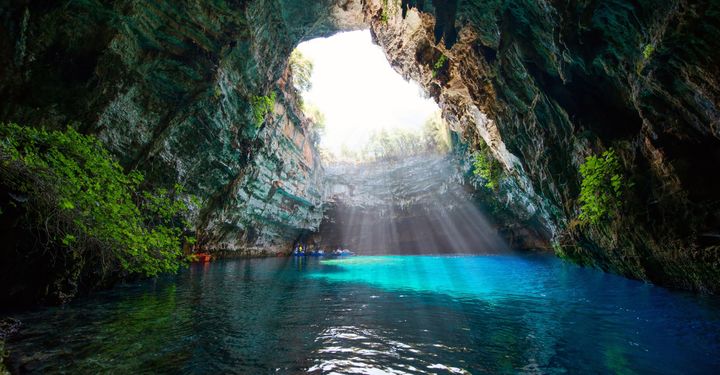 Kefalonia's limestone bedrock is riddled with caves and grottos carved over millennia by flowing water. Many are still being explored, but two amazing caverns can be visited. Small rowing boats take you through the Melissani Cave, a vast limestone grotto where a deep blue pool seems to glow with its own inner light.
Meanwhile Drogarati, a vast space filled with weird rock formations, would make a perfect dragon's den. Book guided visits with Kefalonia Travel or your tour operator.
5. Climb a mountain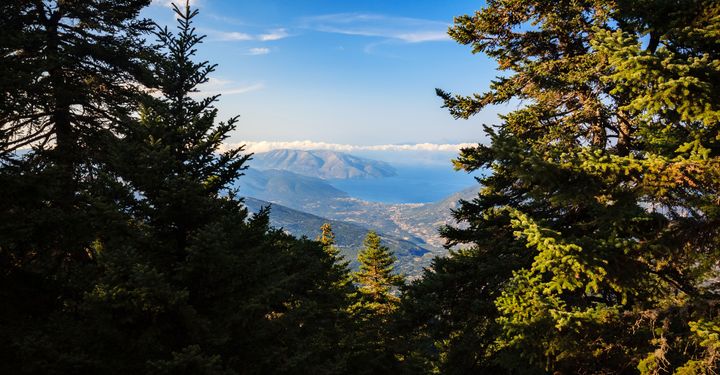 The view from 1,628-metre Mt Ainos, surrounded by 3,000 hectares of serene national park, is awesome. With Kefalonia and its neighbouring islands spread out below you and the mountains of the Peloponnese mainland on the eastern horizon, you'll definitely feel it was worth the effort.
Waymarked walking trails start from the Ainos Environmental Centre and range from easy-going 90-minute strolls to longer hikes of around five hours. You'll need good footwear, sunscreen and plenty of water. For the same view without breaking a sweat, cheat: you can now drive to within 20 minutes of Megas Soros, the highest point of the mountain.
6. Go island hopping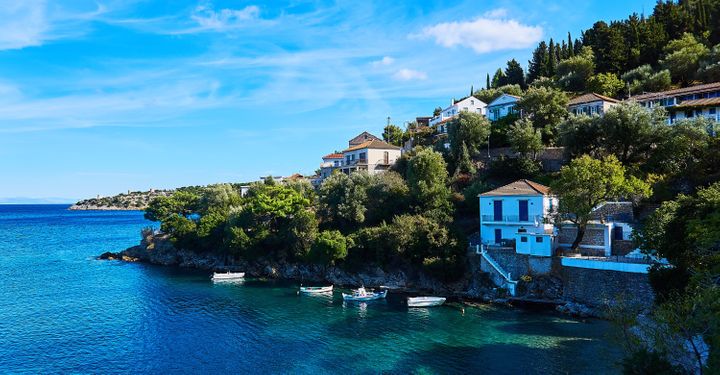 Kefalonia's tiny neighbour, Ithaki (home of Trojan War hero Odysseus) lies tantalisingly close.
To make the day trip, hop on a ferry from Sami – it only takes half an hour, so you have plenty of time to wander around its tiny main village, Vathy.
Set on a narrow fjord-like bay filled with yachts, it's the ideal place to enjoy a leisurely seafood lunch by the harbour before sailing home.
7. Get on your bike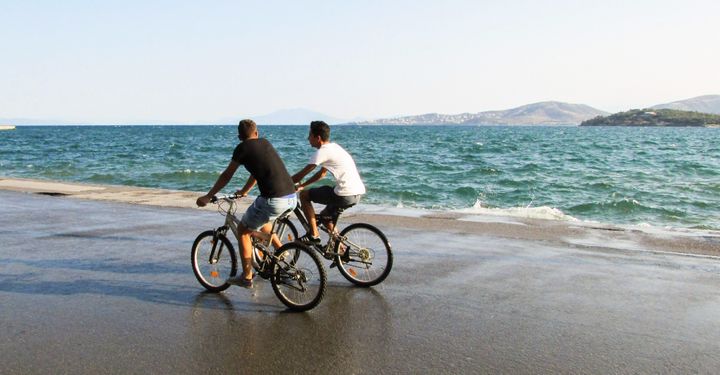 Kefalonia's varied terrain makes it a paradise for cyclists. If you're looking for challenging off-road routes through mountain forests where wild ponies roam, you'll find them in the foothills of the Ainos massif.
For less energetic riders, or families with kids in tow, there are easier rides through vineyards and olive groves or along beaches where you can stop for a cooling dip and a picnic. Ainos Bicycles rents bikes in Argostoli, while Ionian Ebike rents electric-boosted bikes from its bases in Sami and Fiskardo.
8. Drive off-road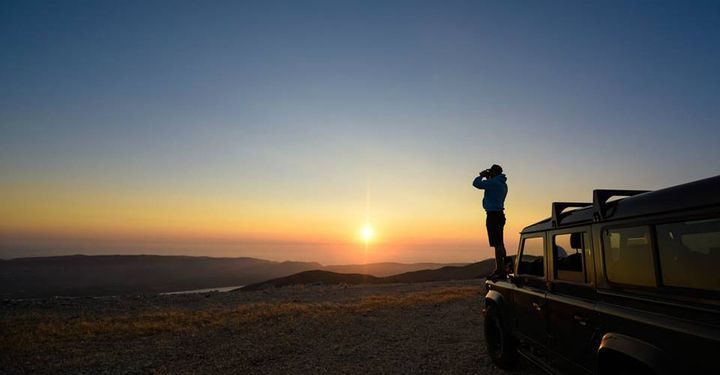 Join a quad buggy convoy or take a Land Rover safari with Outdoor Kefalonia to get off-road on mule tracks and forest trails in the Mt Ainos National Park.
You can visit its twin peaks, and discover a ghost village that has been deserted since an earthquake rocked the island in 1953, before taking a break on the beach at Livathos.
9. Explore underwater wrecks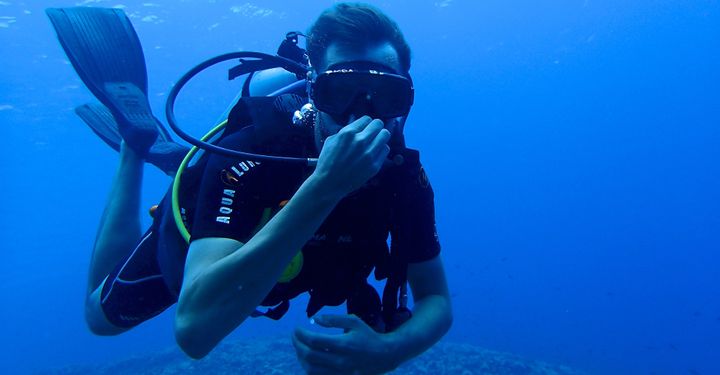 With superb underwater visibility (up to 40 metres), the waters around Kefalonia are filled with incredible dive sites, including the wreckage of an RAF Beaufighter shot down in World War II.
You'll also find shipwrecks, vast seagrass meadows, and multiple wall and cave dives. There are PADI-certified dive centres at most resorts, including Fiskardo Divers.
10. Take to the air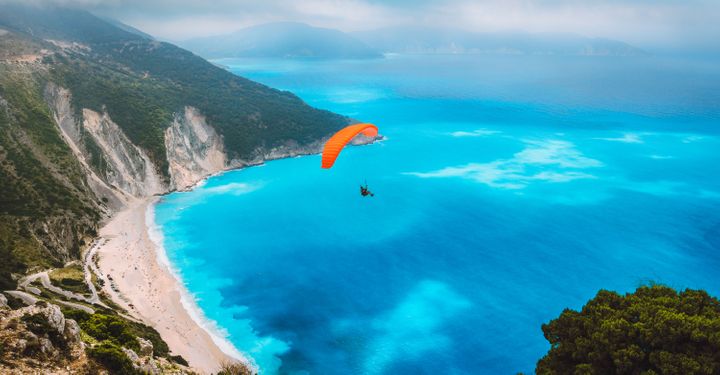 Take to the air with a tandem paragliding or paramotor flight above Kefalonia's spectacular hinterland and coastline with No Borders Paragliding (77 Papastratou Street, Agrinio, 30100; +30 6973778973).
Taking off from the cliffs high above Myrtos, paragliders spiral gently over the sparkling waters of the bay before touching town on the white sand beach.
11. Make a pilgrimage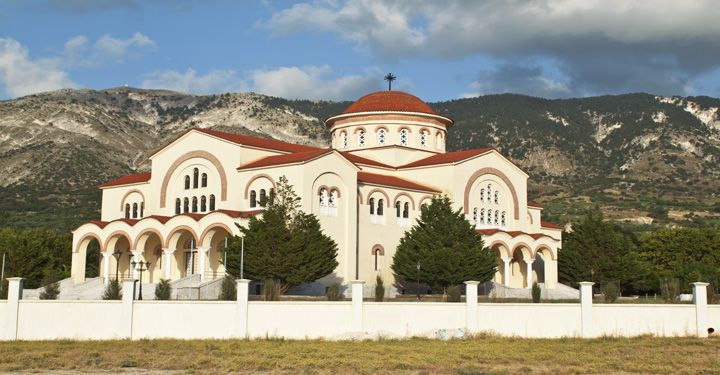 Visit the tomb of Saint Gerasimos at Moni Agiou Gerasimou monastery in the Omala Valley, around 15km from Argostoli.
Its centrepiece is the glorious chapel, lavishly encrusted with gilt panels, and surrounded by fresco-covered walls.
Gerasimos died in 1579, but his body, said to be miraculously preserved ever since, lies in a velvet-draped glass coffin that sits on his tomb. It's displayed on his feast day (August 16), and on other holy occasions.

Have a comment or question about this article? You can contact us on Twitter or Facebook.