October 13, 2022
A stunning island of rugged mountains and unspoilt fishing villages, Kefalonia is a beautiful mishmash of a Greek isle. From the beautiful beaches of Lassi and Lourdas to the towering peak of Mt Ainos, you'll find relaxation and adventure are never too far apart on the largest Ionian Island.
To make sure your Kefalonia holiday packs a punch without breaking the bank, we've put together the ultimate guide, including epic free activities, budget-friendly hotels and top tips for dining out on the cheap.
*All prices quoted correct as of October 13, 2022. Please note prices can fluctuate daily and may appear differently on provider site for this reason. Deals are subject to the partners' T&Cs.
Where to stay in Kefalonia on a budget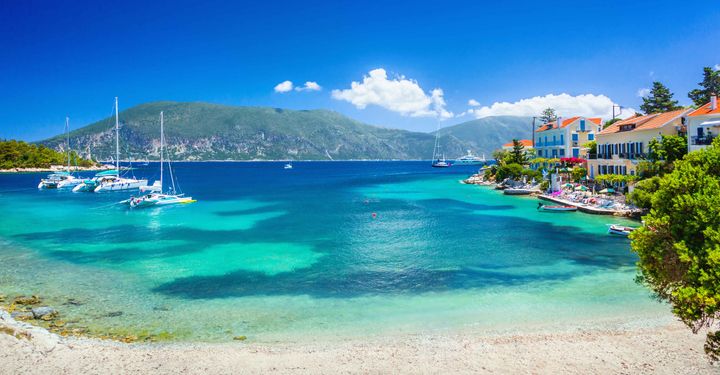 Kefalonia has a massive range of accommodation options, from small independent hotels and apartments to bigger all-inclusive resorts. As a result, there's plenty of choice for budget travellers.
For some of the cheapest accommodation on the island, head away from the major resorts and inland to the hills. Here, you'll find affordable apartments and villas with great sea views and spacious gardens, but you will need a car to get around.
If you prefer to stay close to the beach, as well as bars and restaurants, there are plenty of cheap hotels in resorts such as Skala, Fiskardo and Lassi. There are also plenty of package holiday deals to the island, which can often work out cheaper when it comes to accommodation. For example, a week's stay with flights included can cost under £300 per person in May 2023.
Where to eat in Kefalonia on a budget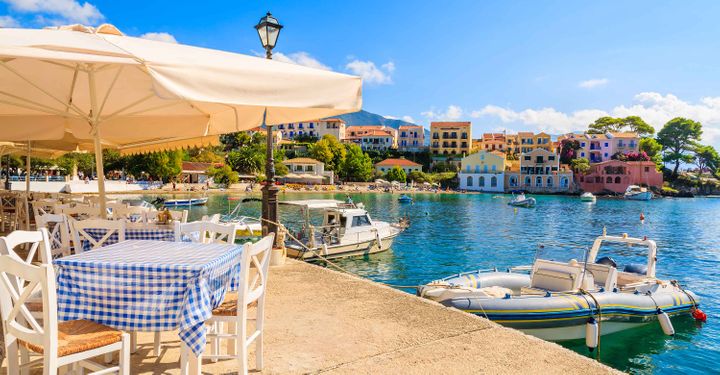 When it comes to eating on the cheap in Kefalonia, there's only one rule you need to remember: local is always best. And with delicious dishes such as moussaka, lamb koftas, tzatziki, Greek salad, and fresh seafood on the menu, why wouldn't you eat with the locals? You'll find charming little tavernas in every resort or village in Kefalonia, such as El Greco in Argostoli and Apostolis in Skala.
When you're out and about during the day – either at the beach or exploring one of Kefalonia's beautiful coastal towns – grab a gyros on the go for a cheap lunch. Or, pack a picnic made from goodies bought at one of the many supermarkets on the island.
Craving food from home? You'll always find a restaurant with pizza or burgers on the menu. In bigger resorts such as Skala and Lassi, you'll find loads of international food on offer, too.
What to do in Kefalonia on a budget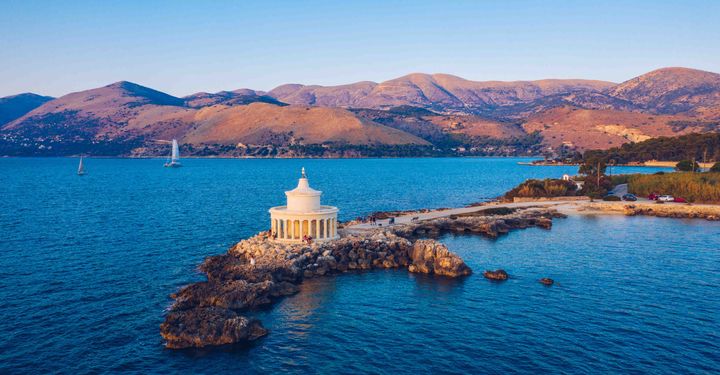 Kefalonia's beautiful landscapes provide the perfect backdrop for plenty of free fun, whether you're after a scenic mountain hike, coastal snorkelling, or a day on the beach.
Beaches, of course, come as standard, and you'll find spectacular shores all around the island. Make a beeline for Myrtos Beach if you're looking for somewhere stunning and secluded, Xi Beach if you want a safe spot for the family, or Makris Gialos Beach for every type of watersport under the sun.
If you're hoping to stay active, try a day hiking in Kefalonia's rugged beauty. For a combination of coastal and mountain walking, take on the Cypress Trail in Fiskardo, the Enos Trail up to Mount Ainos, and the Antisamos Beach to Koutsoupia Beach walk.
For culture lovers, there's plenty of history too. The Lighthouse of Saint Theodori, the Sacred Monastery of Agios Gerasimos, and the Ancient Acropolis in Sami are all free to visit and provide a taste of Kefalonia's rich ancient heritage.
How to get around Kefalonia on a budget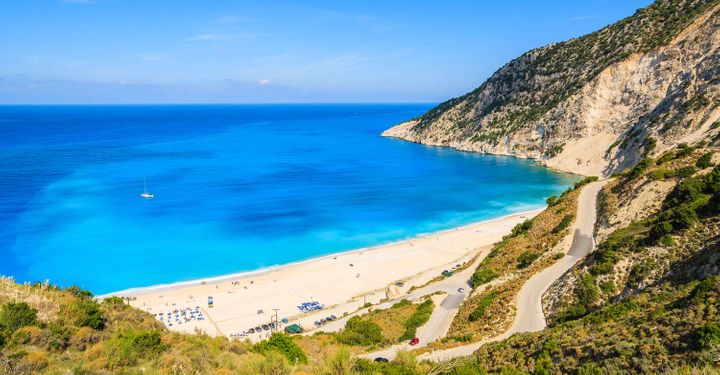 To see as much of the island as possible, you might want to hire a car during your Kefalonia holiday. With a car, you'll be able to visit remote beaches, hidden caves or hiking trails, which is what a Kefalonia holiday is all about. Just remember to book early and compare a range of options to find the cheapest car hire in Kefalonia.
If your holiday plans are more about basking on the beach, consider staying in a resort where everything is in easy walking distance. Great options include Svoronata and Lassi on the southwest coast, Skala on the southeast, and Fiskardo in the far north.
And if you're hoping for the best of both worlds – lots of relaxing, but some exploring too – Kefalonia's buses might be the best option. Buses run daily and are pretty reliable, if less frequent than on many other Greek islands. With routes connecting many of the major towns and resorts, as well as the capital Argostoli, the airport, and some of the island's beaches, you'll have plenty of scope for exploration. For exact routes and prices, check the timetables.
Insider tips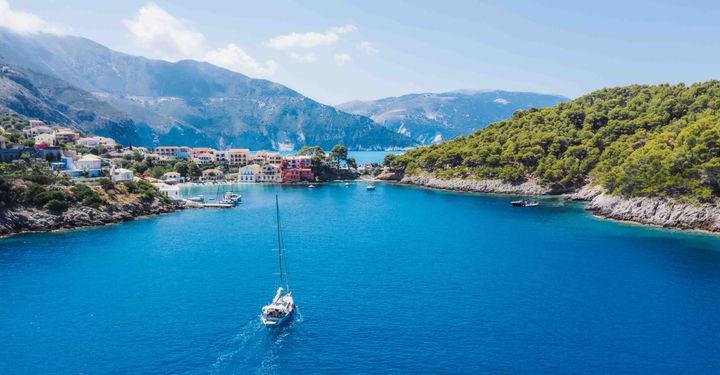 For a fun and memorable way to see more of the island, rent a scooter bike for as little as €16 a day. Use it to beach hop between remote shores, or just to head to a different resort for the day.
Explore Kefalonia from the water by hiring a boat. If you're travelling as a bigger group, the cost of hiring your own boat is usually very similar to the cost of organised boat trip tickets, but it means you have far more freedom to explore at your leisure. Plus, for a smaller boat you don't need a special licence.
If you're planning to do lots of hiking, visit before or after the summer holiday rush, when prices are cheaper and temperatures slightly cooler.
Many of the beaches in Kefalonia aren't naturally shaded, so buy your own umbrella at the start of the holiday or factor the cost of renting one into your budget.

Have a comment or question about this article? You can contact us on Twitter or Facebook.