The Greek Islands Youve Never Heard Of But Should Really Visit
The Greek islands you've never heard of but should really visit
Updated July 13, 2022

Published August 21, 2018
By Jeanette Parkin
Where could be better than Greece – a nation of mythology and ancient wonders – to make new island discoveries? This land of natural beauty and time-honoured culture is ripe for exploration. But you don't need to prepare for some sort of Victorian expedition, because holidays to the most unfamiliar and undeveloped islands are just clicks away. Discover these seven treasures of the Greek seas on your next island holiday in the sun.


1. Alonissos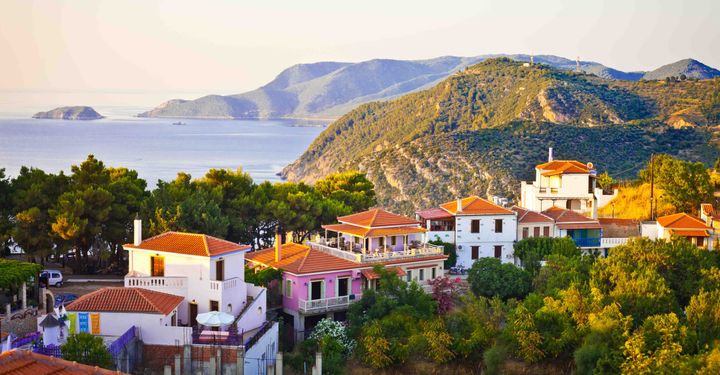 The island of Alonissos is an Aegean Sea neighbour of better known Skiathos and Skopelos, which are still riding the crest of a tourism wave following the filming of Mamma Mia!
On Alonissos, where sugar-cube homes climb impossibly from steep forested slopes, the soundtrack is provided not by Benny and Björn, but by the rhythmic clink of yacht rigging in Patitiri and the splash of toes into warm turquoise waters.
Larger than Skiathos and shaped like a cricket bat, Alonissos has an abundance of inviting coves and long stretches of open shoreline, where crystalline waters lap the pebbles. The best beaches on Alonissos are Agios Dimitrios, Leftos Gialos, and Tzorti Gialo.
With walks through the green land, stays in eco-conscious accommodation, and swims in protected Marine Park waters, where Mediterranean monk seals thrive, to holiday in Alonissos is to take a step away from the modern world and reconnect with nature.


2. Halki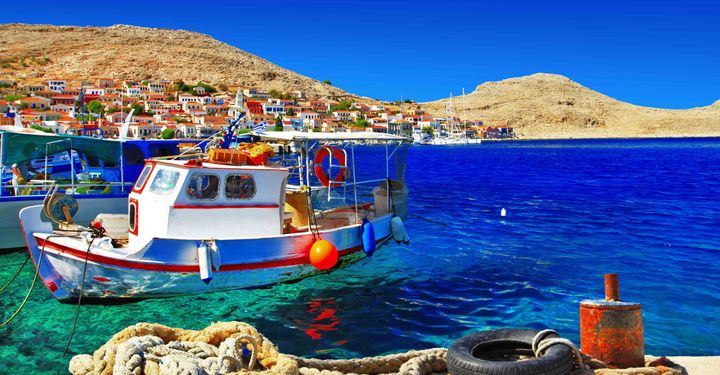 It appears to be a mere pebble's throw across the jewel-like blues of the Aegean, yet the tiny island of Halki is a world away from neighbouring Rhodes, located way off in the sun-baked south-eastern corner of Greece.
As soon as you step off the ferry from Rhodes, you'll know that Halki is somewhere rather special. If some Greek towns appear to be a smattering of sugar cubes, the harbour of Halki looks like the contents of a pastel-coloured bag of sweets – all candyfloss pinks, jellybean yellows and the bluest of bon bons. Coupled with the bright paint of the fishing boats and the splashes of neon bougainvillea on taverna rooftops, it's a sweet greeting to this otherwise blank canvas of barren, rocky slopes.
Take a moment to simply listen, noting the lack of car engines humming; be prepare to walk in these parts. Luckily, the best beaches – Pondamos, Kania and Ftenagia – are within walking distance of the harbour-side settlement.
This is traditional, delicious, beautiful Greece at its best.


3. Symi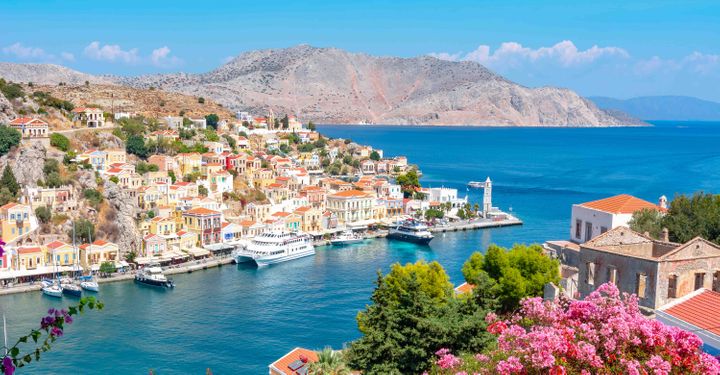 Another near neighbour of Rhodes, in the Dodecanese group of islands, Symi makes sure that first appearances count too, with a harbour akin to that of Halki but on a larger scale, with more spicy cinnamon, caraway and turmeric shades on walls and rooftops.
Yialos harbour is a snoozy kind of place, popular with couples, foodies and those who need nothing more from a holiday than pleasant beaches, picturesque walks, lazy days by the shore and delectable local cuisine. The harbour pulsates with life when day-trippers step off the boats, but it is yours again come evening.
The coastline of mountainous Symi twists and turns, carving out bay after bay of bleached pebbles and bath-like waters. Many are accessible only by boat.
Herb-scented walks around Symi can deliver you to historic attractions, such as Roman mosaics, catacombs and the Holy Monastery of the Archangel Michael Panormitis.


4. Paxos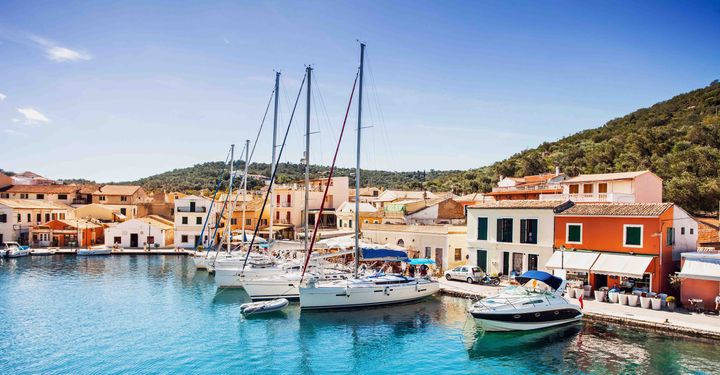 It is to the west of the Greek mainland we travel now, where the Ionian Islands pepper the seas, some 60-odd miles below the heel of Italy. Corfu, Kefalonia and Zakynthos bring holidaymakers to this part of Greece, where dreamy images of white beaches and dazzling aquamarine seas are conjured. In Paxos, it's all yours, minus the bustle of the bigger islands.
Verdant hills and candle-white cliffs provide postcard-perfect backdrops to the beaches, which include pebbly stretches around the main villages of Gaios, Loggos and Lakka. The only sandy beach on Paxos is Mongonissi, in the south. For more beaches of white sand and even smaller crowds, hop across to the nearby island of Antipaxos on one of the frequent boats.
Back on Paxos, where the sounds and smells of traditional olive pressing and cheese making fill the air, pack a picnic of local specialities for your day's adventure. You can buy those delicious cheeses and olives alongside fresh bread, local wine, tomatoes, peaches and honey.


5. Samos
If you enjoy a spot of hiking, sandwiched between the more comfortable pursuits of wine tasting and relaxing on the beach, the island of Samos could be for you.
The slopes of its mountainous interior are home to lush vineyards, where the island's grapes soak up every generous ray of the sun. They plump up on the vine, fat and juicy, and produce the sweet Muscat wines for which Samos is famed. Head to the gorgeous inland village of Vourliotes, enveloped by pines, vines and olive groves, and sample a delicious Muscat alongside an unhurried lunch.
Day trips to Kusadasi in Turkey are possible – Samos is just a mile off the Turkish coastline, though there's plenty to keep you on Samos for a week or two.
The beaches, naturally, are the main attraction. Check out Potami, Kokari, Psili Ammos and Pythagorion – named after Pythagoras, the philosopher, born on Samos some 2,500 years ago (storyteller Aesop is also linked to the island).


6. Kalymnos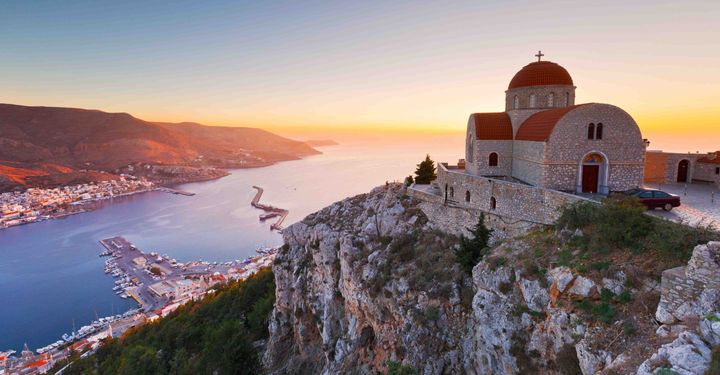 Rugged and barren at first inspection – with peaks and cliff faces that attract hardy climbers from all over the world, the Greek isle of Kalymnos has a softer side, where herb- and citrus-fragranced valleys teem with honey-making bees.
Its heritage, too, is a blend of hard and soft: there are sculptures at every turn and hand-harvested sea sponges plucked from the waters, which continue to support the island's economy. Pothia, the capital and ferry port, is the place to find both the famed waving mermaid and sea-sponge sellers.
Holidays in Kalymnos, as on most Greek isles, revolve around days spent at the edge of the sea, listening to the gently tumbling tide and savouring the sunshine.
Here in Kalymnos, close to Kos and Bodrum, in Turkey, the Aegean washes onto beaches of sand and pebbles. Myrties, Kantouni and Massouri are popular island beaches, while Pothia's town beaches are also pretty, with plenty of tavernas close by for lunchtime shade or straight-off-the-beach dinner.


7. Lesbos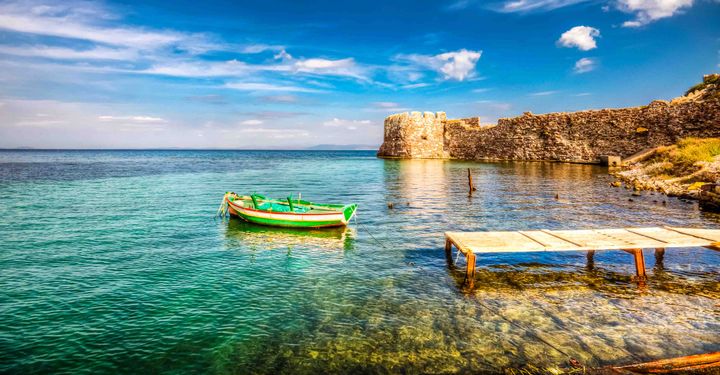 The island you are most likely to have heard of (whether you know it as Lesbos or Lesvos), holidaymakers are often surprised to discover that Lesbos is the third-largest island in Greece. Its size and popularity as a tourist destination, however, have not resulted in a building boom or resorts stacked high to open tourist floodgates.
No. Lesbos is an island of deep-rooted traditions. It is an island of punchy anise-flavoured ouzo. An island of the everyday comings and goings of ordinary Greek folk, who are fiercely proud of their home, its history, its heritage, and its unique pace of life.
Holidays in Lesbos then, allow you to drink it all in (take some water with that ouzo, mind) while relaxing on the island's beaches or tucking into Greek salad in a lively little taverna.
There are more tourist attractions on Lesbos than the other Greek islands mentioned here. You can try watersports and scuba diving, book catamaran or glass-bottomed boat trips, or enjoy the architecture of the capital Mytilene. Venture into the peaceful hinterland, however, and Lesbos is a carpet of fig, pine, blossom and wild flowers, a playground of biking and hiking trails, a place to really get away from it all.


Have a comment or question about this article? You can contact us on Twitter or Facebook.