Secret Greece: A guide to Alonissos, Skiathos' sister island

August 13, 2020
By Heidi Fuller-love
With its traditional tavernas, lush scenery, picturesque villages and vast marine park, Alonissos is an ideal hideaway if you want a big slice of authentic Greek lifestyle without the crowds.
Often overlooked for sister island Skopelos where feel-good movie Mamma Mia! was filmed, this remote island in the northern Sporades is reached via Skiathos – and like all the best trips to paradise, you need a boat to get there.

Why go to Alonissos?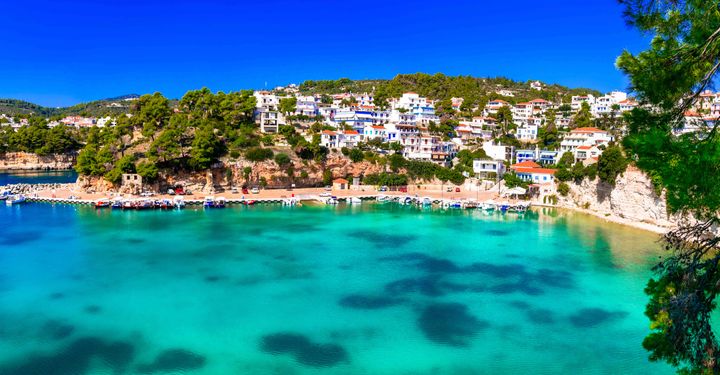 This lush and lovely island is like a time capsule of the Seventies, and you'll step back in time when you step off the boat in the tiny fishing port.
Then, you can lounge on near-deserted beaches where rare Mediterranean monk seals come to frolic, and wander a web of magical hiking trails through dense pine forest and silvered olive groves. History buff? The Minoans settled here back in the 16th century BC, so there's tons of historical sites to explore too.
Best places to stay in Alonissos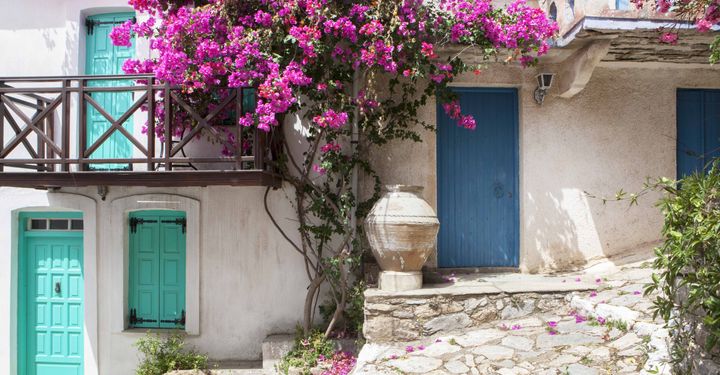 Don't expect many luxury options on Alonissos; there are plenty of clean, comfortable rooms to rent along the silky sand beach of Rousoum Yialos.
If you're seeking a more peaceful hideaway make a beeline for Infinity 180, a boutique hideaway in the mountain village of Milia, or head for Alonissos' far-flung Marpounta peninsula and listen to waves pounding on the rocks from your clifftop room at Marpunta Village.
Best things to do in Alonissos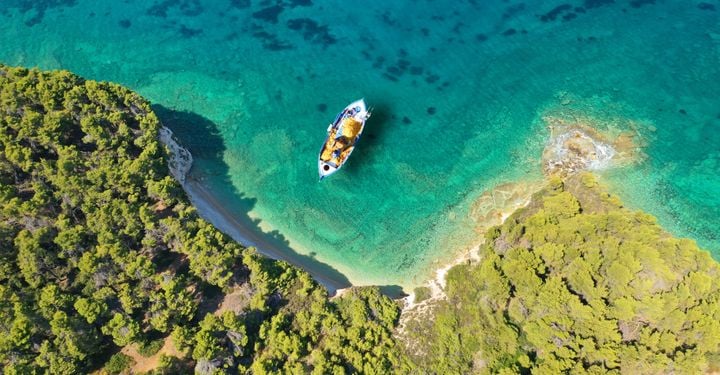 Alonissos is brimming with things to do, whether you enjoy spending a day sea-side or strapping on your hiking boots.
Head out on a cruise
Alonissos bathes in the pristine waters of The Northern Sporades' National Marine Park and the best way to discover this vast reserve's uninhabited islands, hidden coves and rare wildlife is on a cruise.
Aboard the 'Planitis' traditional wooden trehantiri boat, you'll explore nearby Gioura, home to the endemic long-horned goat and a glittering cave where The Cyclops in Homer's Odyssey is said to have lived, and then visit Kyra Panagia, a tiny atoll whose 16th-century monastery and church belong to the autonomous Orthodox monastery of Mount Athos.
There are frequent stop-offs to plunge into that dazzling turquoise sea so look out for some of the marine wildlife – ranging from dolphins, to turtles and rare Mediterranean monks seals – that inhabit the mirror-clear waters of this vast reserve.
Dive into the 'Parthenon of Shipwrecks'
Certified divers will be thrilled to visit Greece's first underwater museum lying in 30m of shimmering water near the uninhabited isle of Peristera.
Dubbed 'The Parthenon of Shipwrecks' because of the number of ancient vessels that have floundered in these dangerous waters, exhibits include the remains of a 5th-century merchant ship and its cargo of several thousand wine amphorae.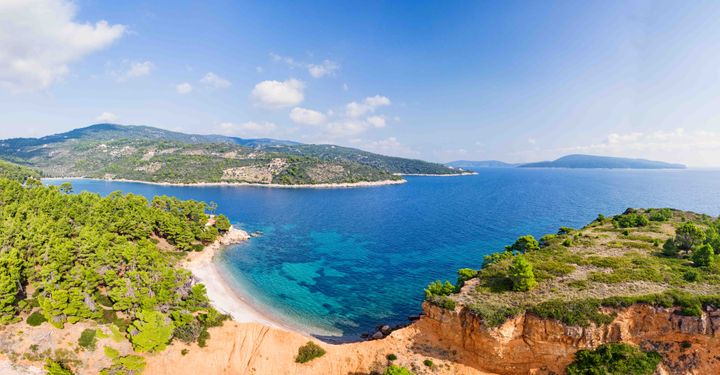 Get a health cure
Renowned since ancient times for its abundance of health-giving herbs, a walk through Alonissos' herb-scented hills is a tonic in itself.
But, if you'd like to learn more about the island's deep-rooted folk medicine tradition why not take a class at The International Academy of Homeopathy? Run by world-acclaimed classical homeopath Professor George Vithoulkas, this one is located in the picturesque mountain village of Milia.
Hike to a site
Alonissos is a magnet for hikers who come here to follow a labyrinth of way-marked trails fanning out from the island's ancient capital Hora, topped by its mediaeval castle.
You can stride across the island's densely forested spine to visit high-flung Agios Konstantinos church in the traditional village of Arapides; hike along dusty trails to discover remote beaches near Leftos Gialos or clamber through the wild and rugged Kastania Gorge, with professional guides from local company Alonissos Holidays.
Laze on a secluded beach
Locals say Alonissos has a beautiful beach for every day of the year and there are certainly plenty to choose from. With its deep blue waters framed by rust-red cliffs and fringed by dusky golden sands Kokkinokastros is perfect for sun-worshippers, whilst Agios Dimitrios' bone-white pebbles and azure waters are ideal for snorkelling fans.
If you really want to get off-the-beaten-track head for Kalami and Kefala, two shell-strewn beaches that can only be reached by boat.
Best places to eat in Alonissos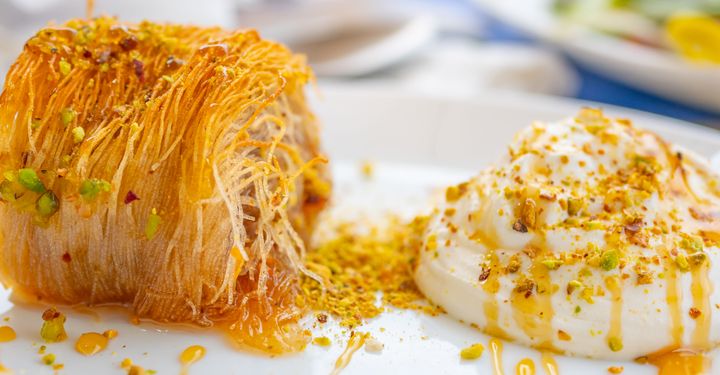 In addition to home-grown vegetables and hand-harvested olive oil, food specialities on this remote Sporades Island range from kakavia fish soup to crisp and sugary doughnut-like fouskakia.
This food-loving atoll is renowned for snail-shaped feta pies called strifti, and the best place to try some is at family-run taverna Tassia in the bijou fishing port of Steni Valla.
For the island's traditional desserts – including succulently rich cinnamon-dusted galatopita milk pie and honey-drizzled filo pastry dish kataifi – head to Hayiati, a rustic café with spectacular views at the top if Hora town.
You can also buy sticky marzipan treat amigdalota, spiced almond and semolina stuffed pie hamalia (known as 'the joyous dessert' because they are usually offered at weddings) and many other local treats at the shop of the Women's Association of Alonissos in Patitiri.
When to go to Alonissos
For the best deals – or if you really want to have the island to yourself – visit Alonissos in May or mid-September, but don't expect everything to be open. The summer months of July and August are busier, but Alonissos is rarely crowded.
How do you get to Alonissos?
You have a couple of options to get to Alonissos. From Athens, you can hire a car or take the bus to Volos on the mainland, and then take a ferry (or faster hydrofoil) to Alonissos.
Alternatively, get a direct flight to Skiathos or Skopelos. From here, ferries make the trip to Alonissos in one-and-a-half hours. Some hotels (including Marpunta) will also arrange for you to make the trip in a traditional kaiki boat, so make sure to ask.
Have a comment or question about this article? You can contact us on Twitter or Facebook.