Updated 5 April, 2023
Published July 28, 2021
Easy-to-reach Greek islands such as Mykonos, Santorini, Corfu, Kos and Kefalonia tend to pull in the big tourist crowds (for good reason, of course). But for a much slower pace of life, head for the lesser-known islands nearby.
While in high season, harbour villages on these isles can be rammed with day-trippers, most of them stay just long enough for lunch before heading homeward. They don't know what they're missing. Stay longer to discover quiet beaches, olive-covered hillsides, age-old castles and monasteries, romantic boutique hotels and budget-friendly guesthouses.
We've picked some of our favourites – they're all no more than 90 minutes by boat from their better-known neighbours.
*Check ferry schedules and book tickets at www.aferry.com or www.gtp.gr. Schedules vary seasonally, with fewer crossings outside summer season.


From Rhodes
Symi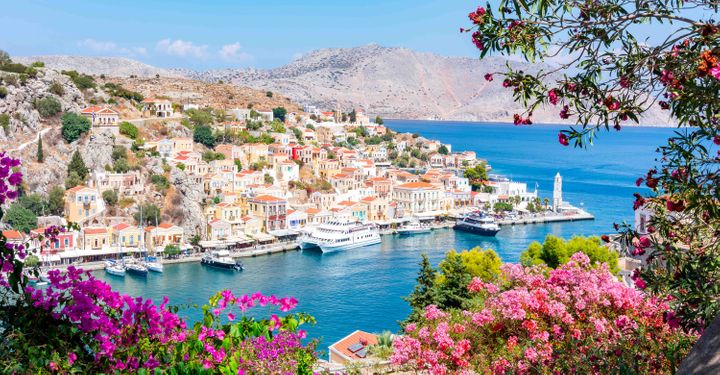 Mansions painted in ice-cream colours line the quayside at Yialos, the only village of any size on Symi. It gets busy on summer afternoons, when excursion boats discharge troops of trippers from Rhodes, but in the evening, it's peacefully romantic – perfect for couples – and you'll find a number of chic boutique hotels to hole up in here.
During the day, ditch the day-trippers and hire a boat to take you to small sandy beaches like Pedi and Emborio. You can also make a pilgrimage to the grandiose 18th-century Monastery of the Archangel Michael at Panormitis.
How to get to Symi from Rhodes: There's at least one morning departure daily from Rhodes Town. The journey time is between 50 and 90 minutes.


Chalki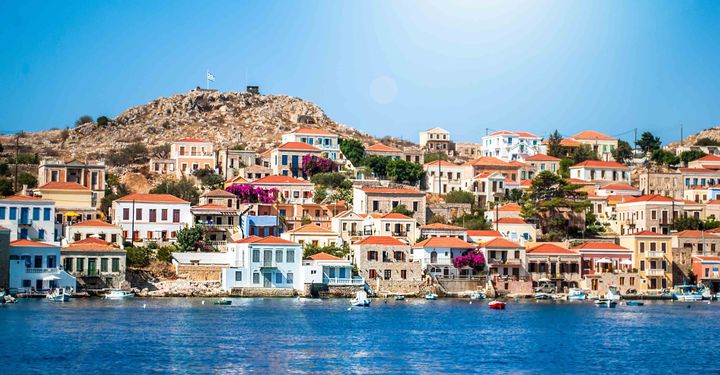 There's blissfully little to do on Chalki (Halki), an island where donkeys and goats outnumber cars. The Knights of St John, who ruled this part of the world from their magnificent fortress on Rhodes until Suleiman the Magnificent booted them out in 1522, built the miniature castle that stands on a hilltop above Emborio, the only village on Chalki. You can slog up to the castle and the ghost village of Palio Chorio for a view across to Rhodes and even – on a clear day – the mountains of Crete.
You can then take your pick from lazing on pebbly beaches, watching the fishing boats puttering around the harbour, and enjoying laidback evenings in quayside tavernas.
For families, there's a range of accommodation from self-catering apartments to classy restored townhouses in and around Emborio.
How to get to Chalki from Rhodes: There are daily morning departures from Kamiros Skala (near the airport), and the journey takes around 35 minutes. The trip from Rhodes Town is longer at 3 hours and 45 minutes.


From Mykonos
Tinos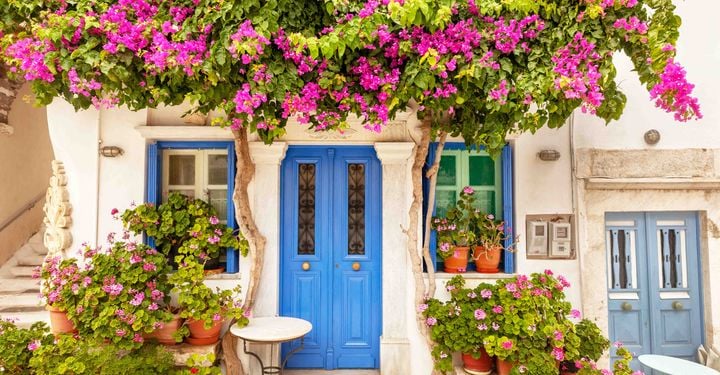 Tinos is Greece's 'holy island'. It's home to an Orthodox icon credited with healing powers, housed within the grandiose Panagia Evangelistria church that dominates main village Chora. On the holy days of March 25 and August 15, it attracts hordes of believers from all over Greece hoping for a miracle cure. The devout shuffle on their knees from the quayside to the church high above.
Tinos isn't all about incense and kneeling, though. For walkers, there's a hinterland criss-crossed by ancient cobbled donkey trails and dotted with tiny churches, windmills and whitewashed Venetian dovecotes. Head to the south coast to find gently shelving, family-friendly sand beaches at Agios Sostis and Agios Ioannis. For somewhere more windswept and perfect for windsurfers, go north to Kolymbithra.
Small guesthouses and self-catering studios in Chora offer good value for budget-conscious couples outside of mid-March to Greek Easter and mid-August, when Tinos is rammed with pilgrims. Dodge those weeks, and there are deals to be had.
How to get to Tinos from Mykonos: It's a short 20- to 35-minute trip from Mykonos to Tinos, and there are multiple daily sailings throughout the week.


From Santorini
Therasia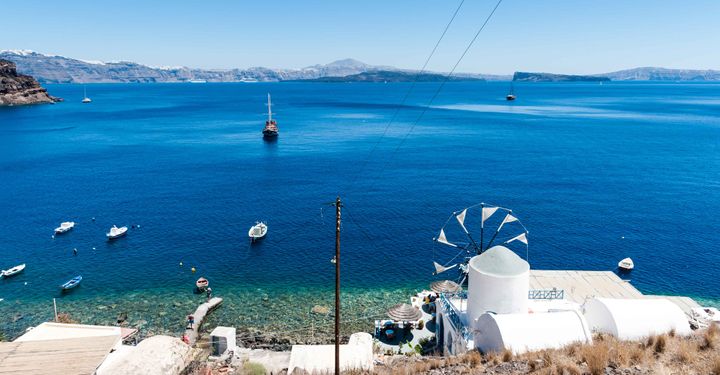 As your ferry chugs across the cliff-ringed expanse of deep blue sea between Santorini and Therasia, picture the big bang that blasted the islands apart around 3,500 years ago. That epic event wrecked Europe's earliest civilisation – but hey, it created the most photogenic scenery in the Aegean. Therasia is only a mile or so from Santorini's two ports, but the journey takes you back to a time before charter flights and giant cruise ships reached the Aegean.
Home to fewer than 300 people, Therasia is Santorini in miniature, with little blue-domed chapels and wedding-cake churches adorned with geometric red and yellow patterns, and ghost villages like Agrilia that have not yet been gentrified into holiday homes or boutique hotels. Every square metre of hillside has been terraced into tiny fields where donkeys graze, and in spring, it's ablaze with wildflowers. This really is an island for those looking for the quiet life. Head to the Agia Eirini, with its black-sand beach, to swim and snorkel in dazzlingly clear water, or explore on foot or with a rented e-bike.
There are just a few tavernas in the two harbour villages of Korfos and Riva. At lunchtime, most of them are busy with day-trippers from Santorini, but in the evening they're much more peaceful. Accommodation is limited to just a few simple but friendly guesthouses and village rooms in Manolas, the main village – unless you have deep enough pockets for a stay at Perivolas Hideaway, a super-deluxe cocoon with just four seaside suites that are favoured by stars and oligarchs.
How to get to Therasia from Santorini: There are several boats daily from both Athinios and Ammoudi on Santorini. The journey will take between 30 and 45 minutes.


From Kefalonia
Ithaca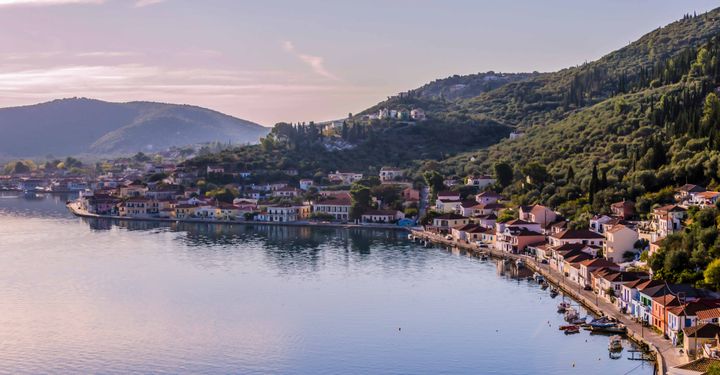 When you pull in to Piso Aetos, you may wonder why you came to Ithaca. The island's port is little more than a jetty and a ticket office.
But hop into your waiting taxi (book ahead) to discover postcard-pretty Vathi. Built around a fabulous fjord-like harbour and just a five-minute ride away, this was the home of Homer's hero Odysseus – and you can see why he was so reluctant to leave for the war against distant Troy. You'll find a scattering of boutique hotels in restored old mansions around the harbour, as well as good-value self-catering apartments.
If your budget will stretch to it, head to Aphales, on the north coast of Ithaca and the lush, eco-friendly Levendis Estate, where four luxury cottages share a pool. Ithaca's beaches are pebbly, and if you're staying in Vathi you'll need to hop on a water-taxi or rent a scooter to reach them. The best are around Kioni, a tiny village with a handful of simple places to stay, set on a crescent bay.
How to get to Ithaca from Kefalonia: There are at least two - three, thirty-minute ferries daily from Sami on Kefalonia.


Meganisi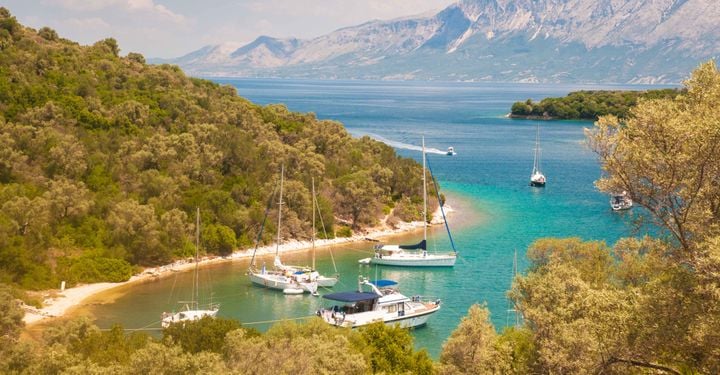 Skorpios, one of the very few privately owned Greek isles, was the hideaway of flamboyant shipping millionaire Aristotle Onassis. Now owned by Russian plutocrat Ekaterina Rybolovlev, it's strictly off limits to casual visitors. But you don't have to be an oligarch to share the turquoise waters of this stretch of the Ionian Sea.
Meganisi means 'big island' but a visit shows someone had a sense of humour – this tadpole-shaped isle is only around 12km from end to end and 1km across at its widest. Miniature beaches – perfect for family picnics – are dotted around its coastline, and at Spilia you can swim in the glowing blue waters of Greece's second-largest sea-cave.
You'll have a handful of good accommodation choices here: there are some super villas with pools scattered around the island and small family-run hotels and self-catering apartments in Vathi and Spartochori, Meganisi's harbour villages.
How to get to Meganisi from Kefalonia: It takes around 60-90 minutes from Fiskardo on Kefalonia to reach Meganisi. There's at least one sailing daily.


From Kos
Nisyros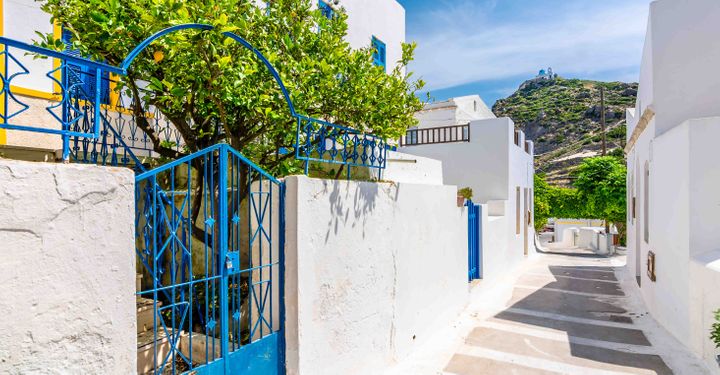 Looking at Nisyros from Kardamaina on Kos, you wouldn't guess that it hides one of the weirdest island landscapes. Like Santorini, it's a volcano island, and when it blew its top in 1422, the explosion created a 2km-wide inner caldera where sulphurous fumes drift from pools of bubbling mud.
It would make a perfect backdrop for an episode of Doctor Who, except for the quintessentially Greek villages clinging to the crater rim. One to watch (and visit before the crowds) is Emporios. With its cool boutique apartments in old village houses, it could very well be the next Oia, the Santorini spot that went from ghost village to icon in the 1990s.
If you prefer somewhere with quayside tavernas where you can watch ferries and fishing boats come and go, you'll find affordable places to stay and one or two hotels with pools around Mandraki, the island's main village. As for beaches, you'll find a long stretch of dark volcanic sand not far away at Pali.
How to get to Nisyros from Kos: There are at approximately four sailings weekly from Kos Town (75-90 minutes) and two from Kardamaina (50 minutes), operating on week days.


Pserimos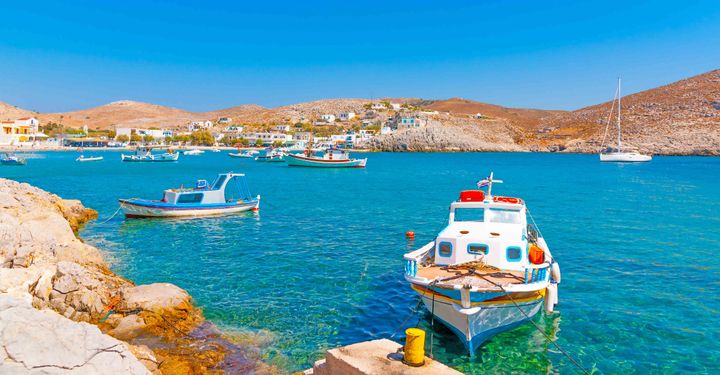 Looking for adventure, excitement, luxury and wild nights out? You're on the wrong island. But if your idea of Hellenic heaven is basking on a tiny beach all day and chilling with amiable locals in a village taverna after dark, Pserimos is for you.
The long sandy beach at Avlaki – the island's only village – fills up with day-trippers from Kos on summer days, but a 30-minute walk brings you to smaller beaches like Grafiotissa, Marathonda and Vathy. The down side is that you'll need to bring a picnic and plenty of water – the only tavernas are in Avlaki, where you'll also find small guesthouses and rooms to rent.
Pserimos isn't for everyone, but for couples content with each other's company, it's close to perfect.
How to get to Pserimos from Kos: It's only a 20-minute hop from Mastihari on Kos, though there can be as little as 3 sailings per week.


From Corfu
Paxos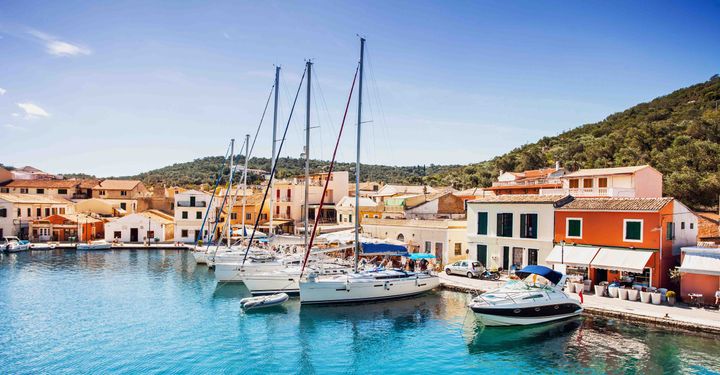 Most of Greece's tinier islands are less than verdant. Not Paxos, which is cloaked in the silvery-grey foliage of 300,000 olive trees, making it perfect for ramblers.
It's not just one for walkers, though: well-heeled yachties like the perfect natural harbour at Gaios, where about half of Paxos' 2,400 people live and there's some surprisingly upscale dining. Families with active teens should head to Lakka, with its long, sheltered pebbly beach and reliable winds that make it one of Greece's top spots for novice windsurfers.
As for where to stay, you'll find villas to suit most group sizes and budgets around Lakka and nearby Longos, the prettiest village on the island, set on a mirror-calm natural harbour.
How to get to Paxos from Corfu: Leave from Lefkimi on Corfu and you'll be in Paxos in 45 minutes. There are at least three daily sailings to choose from.


Have a comment or question about this article? You can contact us on Twitter or Facebook.