Revealed! How to do the Greek islands with kids

By Cathy Toogood
With a collection of dolls and teddies lined up next to her on our kitchen floor, my two-year-old regularly declares that she's off to Paxos on a "boat". She tells me she'll swim in the sea when she gets there, catch a fish and then eat ice cream. Praise indeed for a memorable holiday.
But how did we make a trip exploring three Greek islands with a two-year-old in tow enjoyable and relaxing? Here's how to get the basics right…
How to choose your islands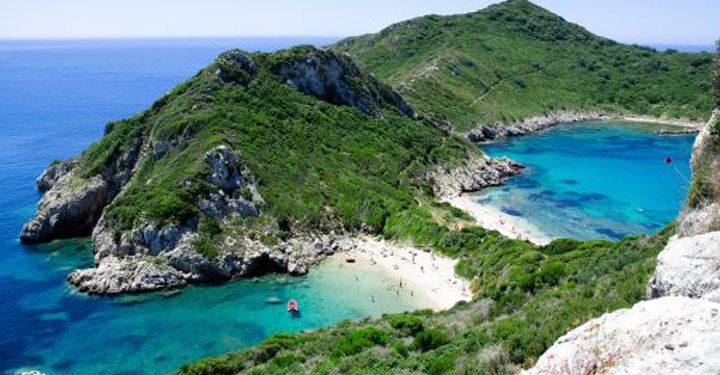 There are more than 6,000 Greek islands, so narrowing down options can be tricky. Before you start looking for a deal, think about what's important to you and your family.
We plumped for the Ionian Islands due to their slightly cooler climate, green vegetation and wide choice of resorts and activities. Corfu was our starting point as there were convenient flights and family-friendly accommodation options galore, while Paxos and Antipaxos were the perfect contrasts for a complete escape from the stresses of modern life, being accessible only by boat.
Where to stay with kids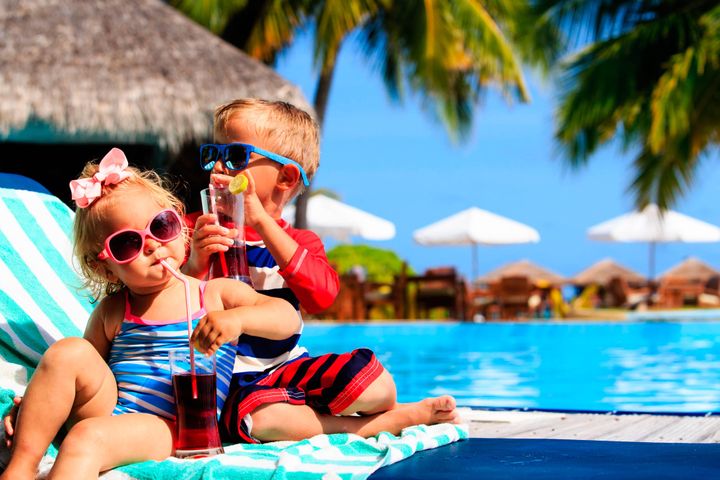 Getting the right accommodation is crucial to ensuring a relaxing family break. Must-haves for us include a separate sleeping and living area so we can have some wind-down time once our toddler is asleep, easy access to a local shop for essentials such as milk and water, and child-friendly activities nearby.
Make a list of essentials for your family to help you whittle down your options.
We hit gold on Corfu with a stay in a two-bedroom apartment at the Delfino Blu Boutique Hotel in the northern resort of Agios Stefanos. It combined all of the luxuries of a hotel – linen changes, a breakfast buffet and a top-notch restaurant – with the freedom and space of an apartment. Plus it was set on a beach with shallow waters, perfect for children, and had a baby pool the ideal depth for a two-year-old.
We combined this with a stay in an apartment in the centre of cosmopolitan Corfu Town to experience two sides of the island.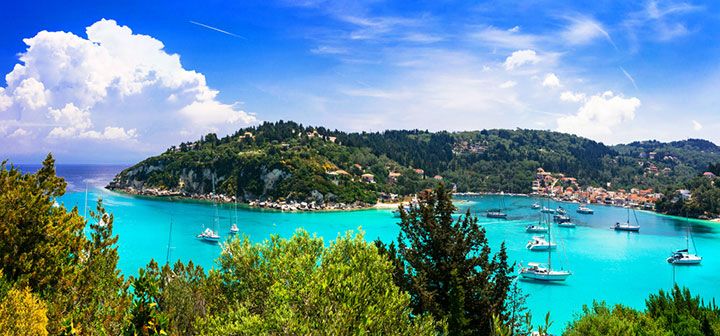 On Paxos, we started off with a stay in the northern resort of Lakka in Meropi Apartment, rented through Paxos Magic Holidays. Overlooking Harami Beach, the showstopper for this apartment was its view of the bay and yachts below, but we also enjoyed our own sense of space and feeling like we were in the middle of nowhere despite being a five-minute walk from the beach.
We complemented our stay in sleepy Lakka with a couple of nights in the island's capital, Gaios, in Paxos Club Resort. Again we chose an apartment (called a family suite) with a separate living and sleeping area and enjoyed waking up to a buffet breakfast and the option of a saltwater pool after a hot day exploring.
Where to eat with kids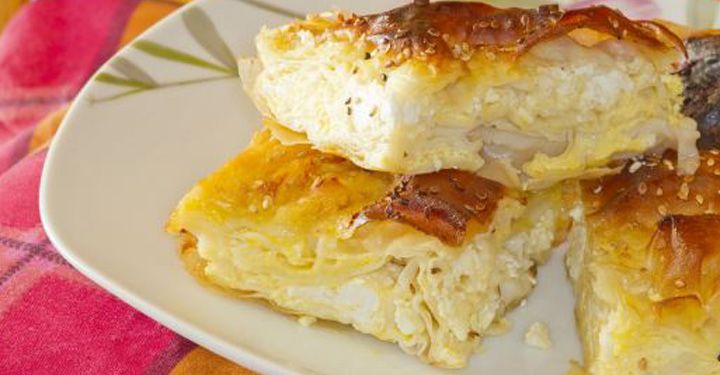 Greek food is great for little ones as mezze provides the opportunity to try lots of new dishes at once, while even the swankiest of restaurants welcomes children like royalty.
Try gigantes (butter beans in tomato sauce), soutzoukakia (meatballs in tomato sauce) and tiropitakia (feta cheese pies) for less adventurous palates, then move on to fresh fish galore, local sausages and stuffed vegetables. If all else fails, most restaurants will happily whip up a simple pasta dish too.
On Paxos we enjoyed eating in harbour-front restaurants, and our toddler was entertained for hours watching fish swimming in the crystal-clear waters next to our table. However, the waterfront can be a pricey location on many islands, so look for options a couple of streets back if budget is a priority.
In Corfu Town, consider an early-evening drink or meal in the Parisian-style arches of The Liston. While the food might not be the best you'll eat on your holiday, it's a great spot for those with active children as it's next to an English Cricket pitch, Spianada Square, where local kids run around.
What to do with kids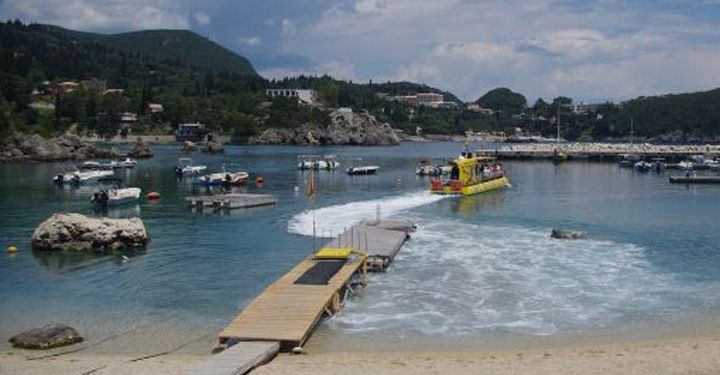 Not many children will fail to be impressed with sunny days on the beaches of the Greek islands, where sandcastle competitions, wave jumping and splashing in the sea can easily pass day after day.
But for parents who want to explore their surroundings too, options include glass-bottomed boat trips to see what's under the sea (on Corfu, try the Yellow Submarine in Paleokastritsa), hiring your own boat to explore, and road trips to discover quiet bays and yachts aplenty.
Whatever your perfect holiday ingredients include, Corfu will present day trip options for every family type from splash and squeal-filled days at waterparks such as Aqualand to lazy days of people-watching in the yacht-filled bays.
Paxos, by contrast, is just seven miles long and charms you into its relaxed way of life. Trips to explore the villages of Loggos and Lakka are musts, as is a walk around the harbour of the capital, Gaios.
A real highlight for our family on Paxos was a water-taxi trip to the even smaller island of Antipaxos. Described to us by a local as "the Caribbean in Greece", expectations were set high and were matched by powdery-soft white sands lapped by topaz-blue sea.
How to get around with kids
If you'd like to explore beyond your resort, a hire car is a family must-have. While there are local buses and taxis, a car gives families the freedom to travel at their own pace with all of the paraphernalia needed for day trips.
Boats are a more exciting way to explore, whether you hire your own or jump on a water taxi.
If you'd like to hop between Corfu and Paxos, there are regular ferries from Corfu's New Port. We took a foot-passenger ferry with Kamelia Lines on the 'Despina' boat (from £15pp one way) which took one hour and 45 minutes. The newer Christa passenger ferry takes one hour and 10 minutes. There are also regular car ferries that take between four and five hours between the islands.
My top tips for parents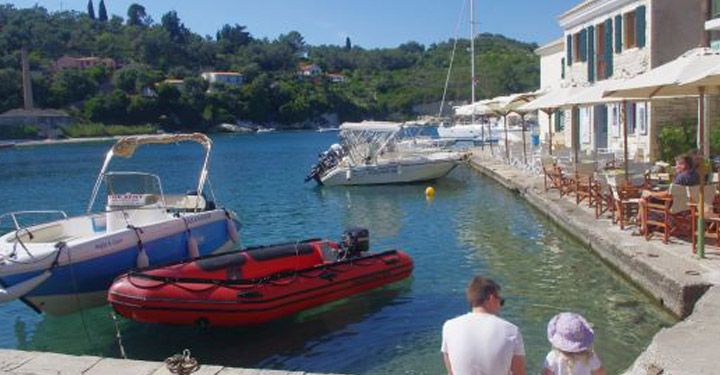 Adapt to your new time zone – while we were away, we used the two-hour time difference to our advantage. We stuck to times as if we were in the UK and just shifted everything two hours later – it meant we could eat out later without disrupting our toddler's normal bedtime routine and got lots of lie-ins.
Enjoy taking life slower – children aren't easily rushed, so don't try to hurry them along. Instead, enjoy the pace change from adults-only holidays – it might actually force you to relax more.
Have fun! Travelling with children makes you look for a different type of activity to break up the day. So instead of mourning your lack of quiet time on the lounger, embrace a sandcastle-building competition or a wave-jumping spree instead.
Compare family holidays in Greece
For more information on what to see and do in Greece, take a look at visitgreece.gr
Have a comment or question about this article? You can contact us on Twitter or Facebook.