The best cheap Greek islands for a budget holiday
May 27, 2023
Looking for a Greek island holiday where your extras won't break the bank? Steer clear of tiny islands such as Mykonos and Santorini, which are swamped with visitors in summer and rely on imported goods to meet tourist demand.
Instead, seek bargains on bigger isles, ones that are just as much set up for year-round residents as they are visitors. It means you can easily follow the locals to shop at open-air laiki agora markets and in big-brand supermarkets instead of 'mini-markets' (look out for the familiar blue and yellow Lidl logo, Carrefour, or outlets of the big Greek chain Vassilopoulos), or swap your hire car for better and more frequent bus services.
From Corfu to Kos, make your money go further in these cheap Greek islands.
*All prices quoted correct as May 27, 2023. Please note prices can fluctuate daily and may appear differently on provider site for this reason. Prices based upon two adults departing from London. Deals are subject to the partners' T&Cs.


1. Corfu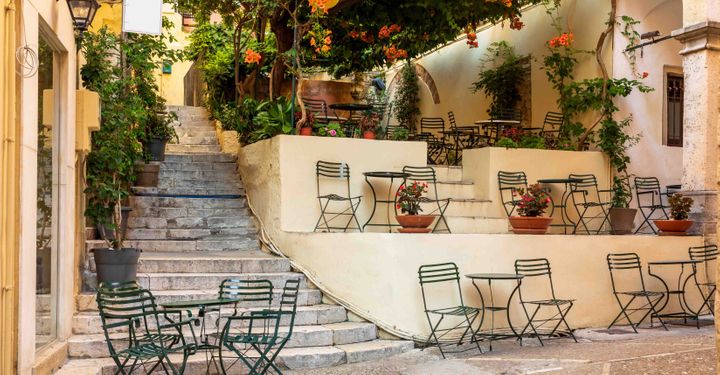 Corfu has done its best to live up to its 'cheap and cheerful' reputation ever since the 1960s, and it's still wonderfully affordable in 2023. In fact, this year's Post Office Travel Barometer ranked it among the five best-value European destinations (ahead of Majorca, but trailing Bulgaria, the Algarve, Costa del Sol and Paphos), based on a shopping basket of popular holiday items.
Corfu's smartest and costliest resort areas are around Kassiopi at the island's northeast tip, while hillsides above Nissaki are millionaire villa territory. For bargains, try Benitses, south of Corfu Town, or Corfu's popular resorts of Gouvia, Dassia and Ypsos, which merge into a cheerful strip of hotels, restaurants and bars. Families looking for a cheap deal should seek out a hotel or self-catering apartment in Sidari or Roda, two laidback, almost-merged resorts on the north coast.
All are within easy reach of Corfu Town and its attractions using frequent Blue Bus services. For fresh produce, visit the smartly renovated covered market at Lochagou Spiridos Vlaikou in Corfu Town, a couple of blocks from the main Blue Bus city terminus or for supermarket shopping there are two Lidl outlets on the outskirts of town. Green Bus services connect Corfu Town with villages further afield. If you want a hire car, it will set you back from £171 for a week (June 14 – 21 with Holiday Autos).
Your deal: Compare Corfu holidays from £304pp for 7 nights. Flights departing London on Monday, June 19


2. Crete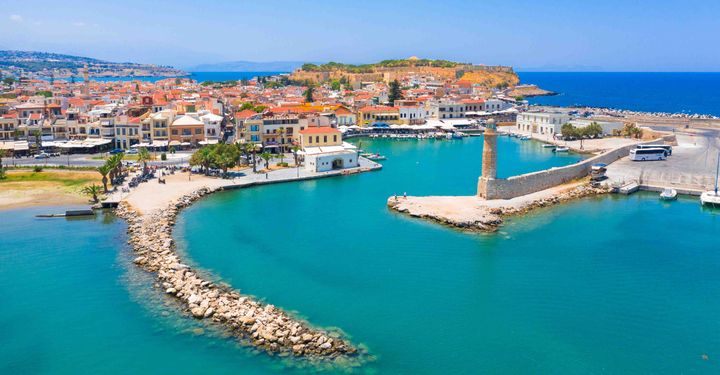 Crete can be very expensive indeed – the ultra-luxury hotels around Elounda are some of the poshest in Greece – but there are still plenty of affordable options if you know where to look.
Start with the chain of resorts that stretch west from Heraklion's airport through Gouves, Malia, Stalis and Sissi. There are smaller hotels and self-catering apartments that offer bargain breaks in this pretty chunk of the north coast. It's party central, particularly Malia, so expect 'happy hours' that stretch for a lot longer than 60 minutes and international DJs host club nights into the small hours. For somewhere quieter, Georgioupoli, between Chania and Rethymnon is perfect for families with a miles-long sandy beach lapped by calm water.
Keep it cheap by following the locals to laiki agora markets in cities including Heraklion, Rethymnon and Chania, where you'll also find big supermarkets under familiar names. A good bus service runs along Crete's north coast highway, making it easy to shop and sightsee in and around Heraklion, Chania and Rethymnon, but a car to explore more of Greece's biggest island will only set you back around £125 a week.
Your deal: Compare Crete holidays from £301pp for 7 nights. Flights departing London on Monday, June 19


3. Rhodes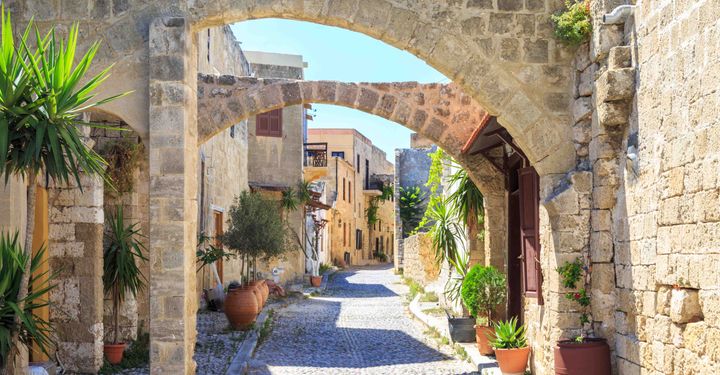 Rhodes' Old Town is spectacular but its busy port, which welcomes tons of cruise ship passengers a day, tends to drive up the prices at bars and cafés. The neighbouring New Town is the cheaper option – it's home to locals including a large student body, and you'll find affordable hotels and places to eat and drink here.
Out of town, postcard pretty Lindos can get overcrowded and overpriced. There are few bargains here, but you'll find a cheaper accommodation and nightlife scene in Faliraki (9 miles from town), which has shaken off its reputation for booze-fuelled high jinks and smartened itself up. Trianda, on the north coast, with its unpretentious, village-like feel and long sand-and-pebble beach, is another good pick for affordable accommodation and inexpensive eating and drinking. It's a 20-minute ride from town and only 15 minutes from the airport.
For holiday basics, there are big Vassilopoulos supermarkets on the southern outskirts of town, and a laiki agora market just off Leoforos Kallitheas (south of the town centre) every Wednesday and Saturday. The island has a good bus service that links Rhodes Town with most of the main resorts in around half an hour, so unless you're staying a remote villa you won't really need a car. If you do, car hire in Rhodes is some of the cheapest in the Greek islands, with a week's rental costing from £100.
Your deal: Compare Rhodes holidays from £249pp for 7 nights. Flights departing London on Tuesday, June 20


4. Kos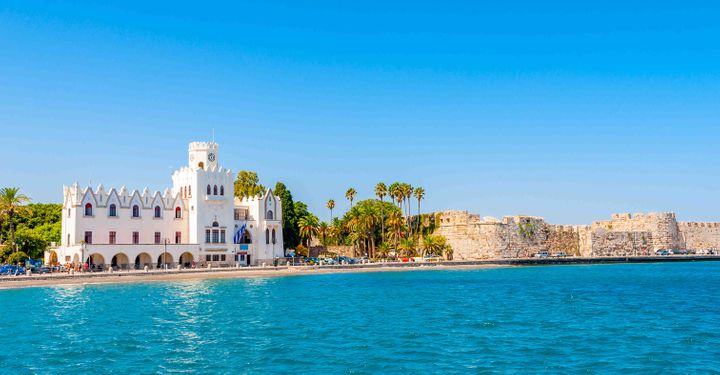 Like an active holiday? Kos claims to be Greece's most bike-friendly island, with miles of car-free cycle trails linking Kos Town with outlying resorts and plenty of bike rental outfits offering bikes and e-bikes for all ages. If a car is an absolute must, it will cost from £130.
You'll find affordable smaller hotels and self-catering accommodation in the island's biggest resort, Kardamaina, on the south coast. Marmari and Tigkaki are favourite windsurfing destinations, and there's affordable self-catering accommodation close to the mile-long sandy beach, complementing a handful of all-inclusive properties. For families, the small, relaxed resort of Kefalos – set on calm, sandy Kamari Beach near the western tip of Kos – is another good option for families, and the airport is only 20 minutes away.
Shopping-wise, if you're looking for better prices and more choice than small resort supermarkets offer, you'll need to head for Kos Town, the only large community on the island, or Kardamaina, which has a handful of mid-sized supermarkets, including a Carrefour.
Your deal: Compare Kos holidays from £283pp for 7 nights. Flights departing London on Monday, June 19


5. Zakynthos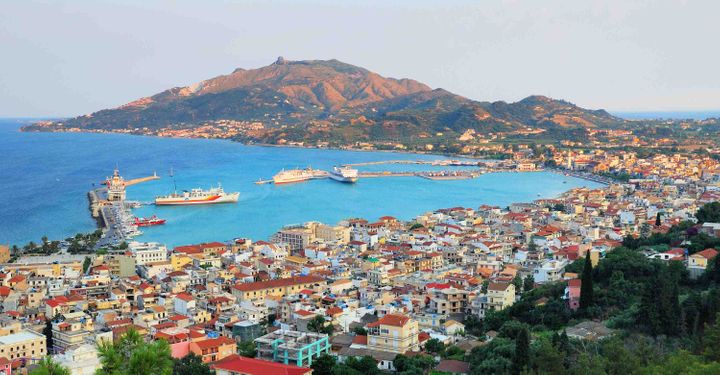 Just a stone's throw from the airport, Zakynthos' (also known as Zante) best-known resort, Laganas, is a byword for cheap booze and noisy nightlife. If cut-price cocktails are your thing, this is the place for you.
If you're looking for somewhere a bit less raucous, Tsilivi and Alykes on the north coast of the island are a good bet for affordable hotels and apartments – although their beaches don't quite match up to Laganas Bay's eight miles of golden sand.
A car isn't essential on the island as there's a good bus service and none of the main tourist resorts are more than ten miles from Zakynthos Town. But if you're up for exploring more of the island – or just want to stock up at the supermarket or the island capital's farmer market, with its great choice of local delicacies, it could be a good bet. A one-week rental costs from £138.
Your deal: Compare Zakynthos (Zante) holidays from £312pp for 7 nights. Flights departing London on Tuesday, June 20


*Please note that all car hire prices are based on a one-week rental in June with Holiday Autos and were correct at the time of writing. Prices are subject to change.

Have a comment or question about this article? You can contact us on Twitter or Facebook.