7 of the best resorts in Corfu
Updated May 25, 2023
Published October 7, 2021
With so many brilliant resorts to choose from, it can be tricky to pick a place to stay on your Corfu holiday. The good news is there's a spot to suit almost everyone on this lovely island, whether you're looking for family-friendly beaches, cheap places to stay, bouncing nightlife or unspoiled seaside villages.
Save time planning your holiday and check out our pick of the best resorts in Corfu, from sleepy villages such as Arillas to pumping party towns like Kavos.


1. Sidari: Best for families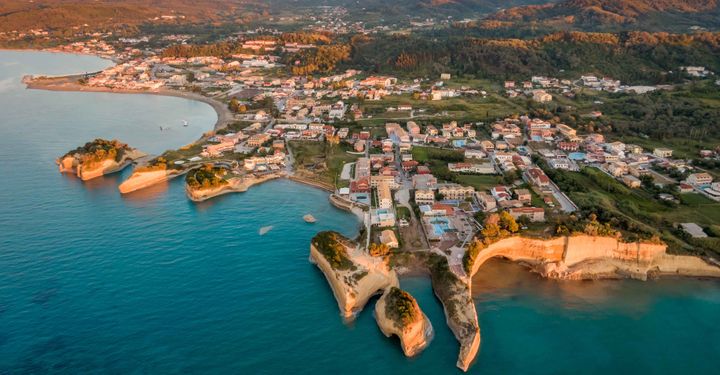 If you're travelling with kids and need a holiday base that has easy access to everything you need, Sidari is a great choice. This beachside resort is one of the most popular in Corfu and it offers a huge range of accommodation options, from all-inclusive resorts to self-catering villas. The same goes for its bars and restaurants, which include local tavernas, fussy-eater-friendly burger bars and more.
You won't be short of things to keep the kids entertained here, with the popular Aqualand waterpark around an hour's drive away and the famous Canal D'Amour right on your doorstep. Of course, you can't go wrong with a beach day, and handily Sidari has three. The main Blue Flag beach is a long stretch of sand and shingle that slopes gently into brilliant blue water – ideal for kiddies to splash around in.
As for where to stay, Akron Seascape Hotel, perched beside Canal D' Amour Beach, has a number of modern facilities to keep all the family happy, including swim-up pool rooms, an al fresco bar and a kids playground. Stemma Hotel offers both stylish suites and self-catering style rooms set around a generous pool complex, while family-friendly Jimmy's Apartments is a popular choice for laidback self-catering stays and is just a 15-minute stroll from Sidari's main beach.


2. Kassiopi: Best for couples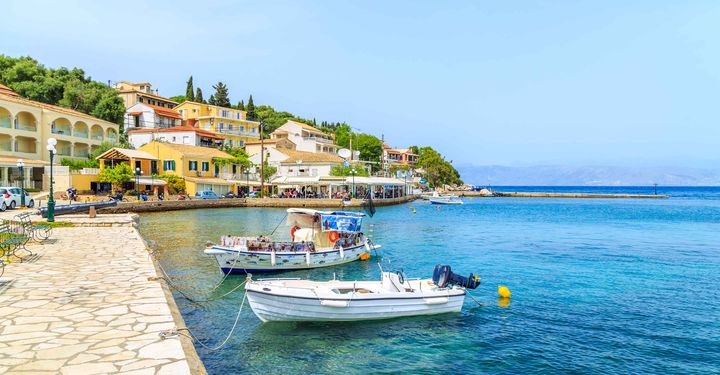 Sitting somewhere between traditional fishing village and lively resort, unspoiled Kassiopi is ideal for couples. The resort is on the lesser-known northeast coast and is centred around a pretty harbour with a great selection of bars, cafes and restaurants for romantic meals overlooking the water.
When you're not indulging in good food and wine, make a beeline for the nearby beaches, such as Avlaki and Kerasia, where you'll find pebbly shores and traditional beachside tavernas. For days out, take a boat trip around Corfu's pristine coast, or hike up to the village's clifftop Byzantine castle.
After a day of exploring, retreat to Melina Bay Boutique Hotel for waterfront views in your modern and stylish room. If you're seeking more relaxed accommodation just a few minutes walk from Kassiopi's amenities, Solaris has excellent self-catering apartments and studios, centred around two freshwater swimming pools. Alternatively, hunker down in a cosy apartment at the warm and welcoming Frosini Gardens, complete with fully-equipped kitchens.


3. Ipsos: Best for travellers on a budget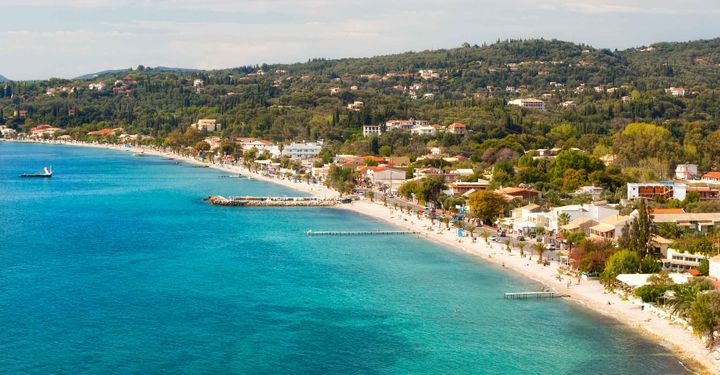 Once the nightlife capital of Corfu, Ipsos (Ypsos) has quietened down in recent years. As a result of its partying heyday, there are still lots of cheap bars and restaurants along the waterfront, and accommodation is super affordable too.
With a long pebbly beach to lay your towel on and calm turquoise water to swim in, you won't need to spend a penny to have a good time during the day. But if you're looking to mix things up, Corfu Town is just a 20-minute drive away, and there is a regular and cheap bus to get you there. In the capital, you'll find plenty of free sights, including the spectacular Old and New Venetian Fortresses. Feeling peckish? Pick up a gyros for just a couple of euros.
You'll find several accommodation options dotted along Ipsos' beachfront, including Hotel Yannis Corfu. Further south, Margarita Apartments offers traditional rooms with fantastic on-site facilities, including a fabulous pool, bar and restaurant. For quieter stays, family-run Dominoes Hotel is snugly tucked further inland, but is still just a five-minute walk from the beach.


4. Kavos: Best for those looking for good nightlife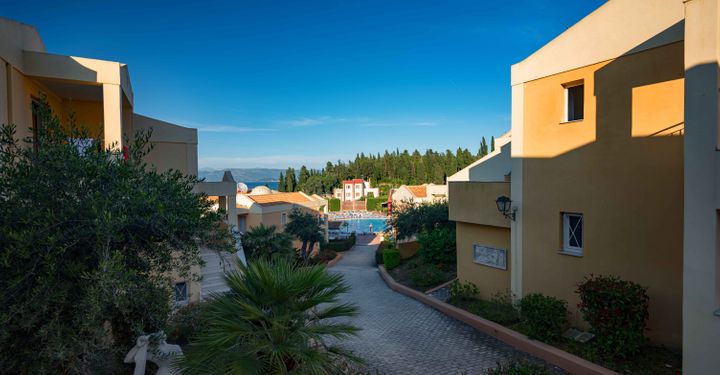 If all-night parties and cocktails on the beach are what you're looking for in a Corfu holiday, Kavos is your spot. The undisputed party resort of the island is unashamedly full on, with a seemingly endless supply of bars, clubs and happy hours. During the day, sweat out your hangover on Kavos' beautiful 2km (1.2 miles) long, sandy beach. If you can peel yourself away from the sun-lounger, you'll find watersports aplenty, too.
To really go all out, take a boat cruise out into the crystal-clear Ionian and party at sea. Back on dry land, beach bars ramp up the music for happy hour as the sun starts to fade and the party atmosphere continues along the main strip until morning.
Keep the good vibes going around the pool bar at Oula Maisonettes, located just a ten-minute stroll from the restaurants and shops of the strip. Families will love the huge pool and green gardens of Olympion Village Hotel. Or for those seeking a little luxury, stay at Ekati Mare Boutique Resort for chic rooms, enviable balcony views and even better signature cocktails. You'll find it ten minutes from Kavos Beach.


5. Dassia: Best for culture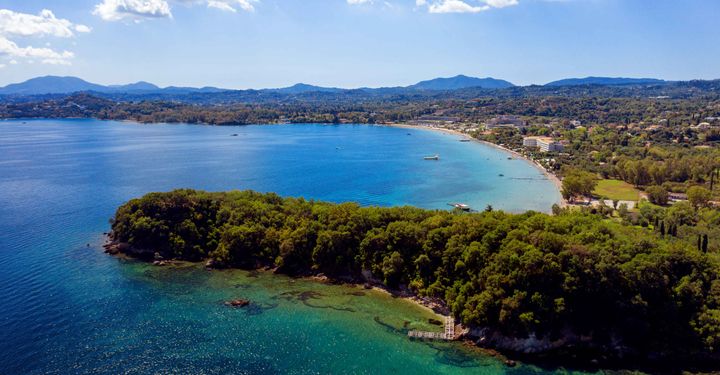 As the closest major resort to Corfu Town, Dassia is a great base if you're looking to combine a beach break with some culture. The resort itself is relatively small, but still has a good selection of local tavernas, luxury hotels, and bars. There is a lovely Blue Flag pebble beach right in town that's fringed by pine and olive trees and offers watersports and boat hire. In the evenings, the resort comes alive as residents come out to eat.
To get to nearby Corfu Town, hop in a taxi and you'll be wandering the narrow, cobbled streets in just 20 minutes. Look out for elegant Venetian architecture, cute little cafes, and boutiques selling souvenirs and locally produced goods. Make sure you don't miss the two huge fortresses that guard the city on either side – to the east, the Old Venetian Fortress, and the new one to the west.
Make your stay in Dassia special at Grecotel Lux Me Daphnila Bay. This luxury hotel spills down a verdant hillside overlooking the bay and includes six restaurants, seven tennis courts and three pools. If you prefer to be in the heart of the action, TRYP by Wyndham Corfu Dassia is just a stone's throw from Dassia Beach, while Elea Beach Hotel is the go-to for laidback all-inclusive escapes right on the waterfront.


6. Arillas: Best for those looking for a quieter place to stay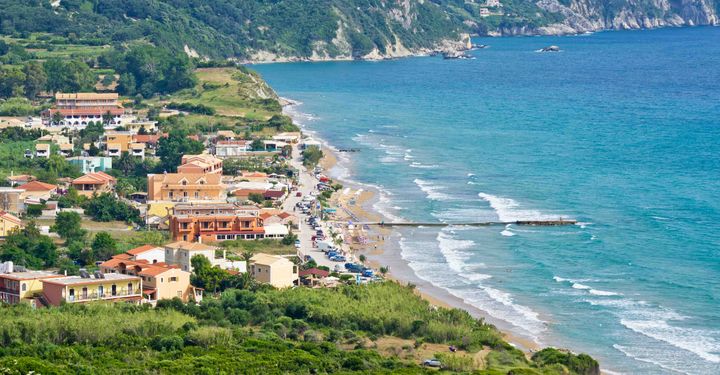 Arillas is the ideal resort if you're looking for a more off-the-beaten-track beach base. This north-western resort remains blissfully sleepy, with enough tavernas to try a new one every night, but few bars and not a nightclub in sight.
The resort's beach is long and wide, with golden sand and pine-clad cliffs protecting it from the wind on either side. The shallow, sheltered water is perfect for younger kids and you won't find any watersports or loud music, so you can sit back and relax in peace on one of the beach's for-hire sun-loungers. If you do want a little more activity, Arillas is just a ten-minute drive along the coast from busier Agios Georgios North, so you can enjoy the best of both worlds.
If you're looking for a home away from home in Arillas, Mathraki Studios is the perfect base. Soak up sea views from your studio balcony and tuck into delicious snacks at the pool-side bar and grill. Towards the beachfront, Hotel Marina is a prime spot to watch the sun set over Arillas Beach, or take a sandy-toed stroll down the beach to Mirage Studios – its friendly and low-key atmosphere is a win with families.


7. Agios Georgios North: Best all-rounder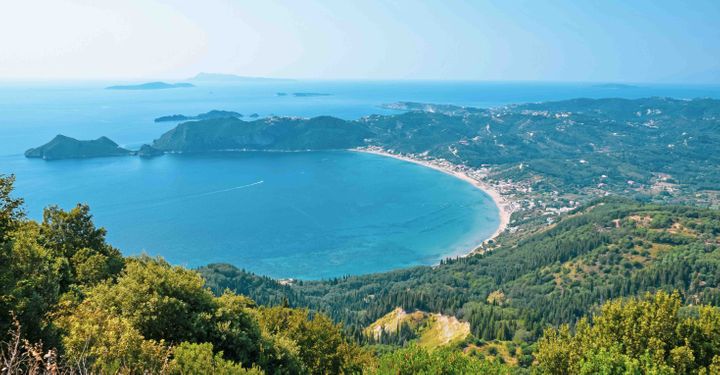 With its wide crescent-shaped beach, stunning forest scenery, and wealth of bars and restaurants, Agios Georgios North is a real crowd pleaser for a Corfu beach holiday. For a start, Agios Georgios Pagon Beach is one of the island's best, with soft golden sand and calm, clear water. There are also plenty of sun-loungers and watersports on offer, too.
Away from the shore, the village is small but pretty, with most of the bars and restaurants running along the back of the beach, so you can enjoy spectacular sea and sunset views as you dine. As you step even further away from the water, you'll find fragrant forests ideal for hiking.
Agios Georgios North's resorts are equally well-rounded with adults-only stays such as San Georgio Hotel and family-friendly pads like Hotel Costas Golden Beach, which has a fabulous pool that overlooks the sea and is just a few minutes' walk from the town's shops, restaurants and bars. There's a handful of basic all-inclusive resorts here too, including Porto Demo Hotel.


Have a comment or question about this article? You can contact us on Twitter or Facebook.