10 of the best things to do in Corfu
November 2, 2021
With its calm turquoise waters, swathes of green cypress trees, and harbours full of bright fishing boats, Corfu is a real kaleidoscope of colours. Like the rest of the Greek islands, it is renowned for its beautiful beaches and laidback coastal resorts, but there's something about the rugged, leafy landscape and wealth of ancient history that makes Corfu extra special.
To help you plan your very own Greek odyssey, we've rounded up the best things to do on a Corfu holiday.


1. Wander through the UNESCO-protected Old Town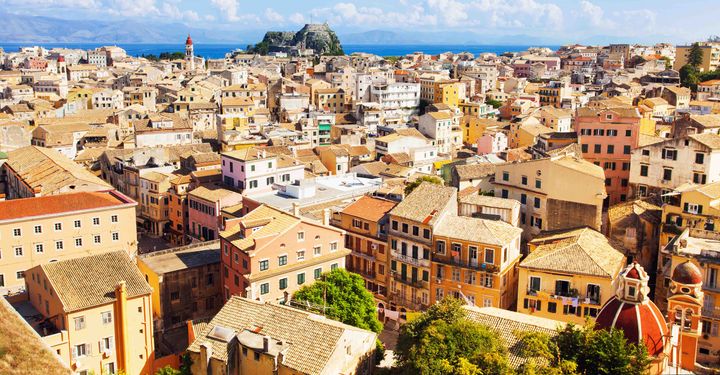 Corfu's picturesque Old Town is a hotchpotch of different architectural styles, with medieval churches, elegant Venetian townhouses and Parisian-style squares shaded by leafy olive trees. Officially called Kerkyra, the charming, UNESCO-recognised Old Town is also part of the island's capital, with loads of shops, restaurants, and landmarks (such as the Old and New Fortresses) to discover.


2. Hike the scenic Corfu Trail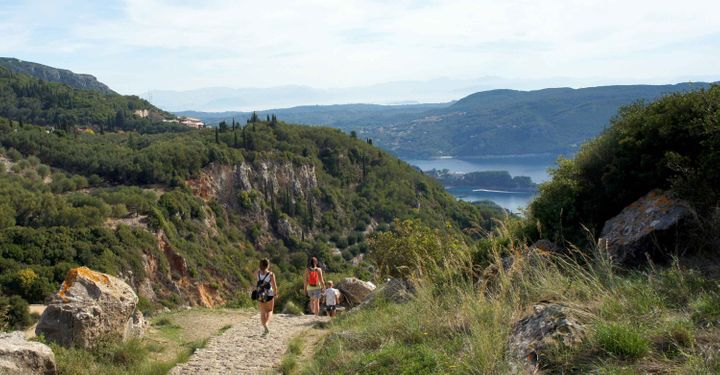 Zigzagging some 220km (137 miles) across the island, the Corfu Trail offers spectacular sea views and an opportunity to really experience the breathtaking landscapes that make Corfu so beautiful.
Walking the whole trail takes at least eight days, so you'd need to be a serious hiker to tackle this one, but you could also choose a stretch of the trail to complete over the course of one action-packed day. As you walk, you'll pass cobalt lagoons, golden beaches, ancient monasteries, and fragrant olive groves. Tranquillity and glorious Greek sunshine are all but guaranteed.


3. Rent a boat and cruise the Med for the day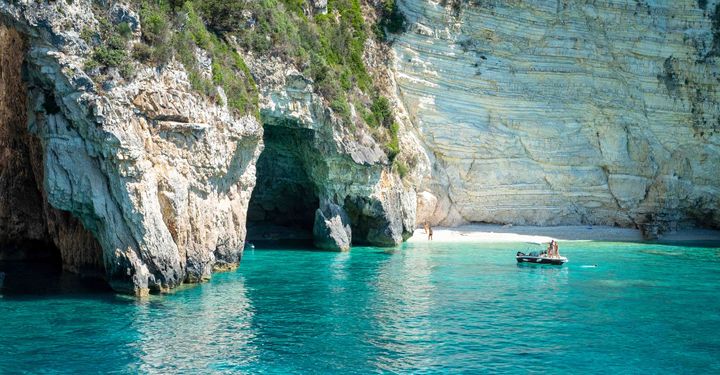 If you want to see as much of Corfu as possible, hiring a boat is the best way to do it. You'll be able to travel around the island and moor up at various locations en route. Picture the scene: hidden caves and beaches you can only access by boat, diving into the sea without another soul around, and cruising through open water, the wind in your hair. Many of the resorts in Corfu have boats for hire, and you usually don't need a specific licence, so you can get on the water with relative ease.


4. Relish the tranquillity at Vlacherna Monastery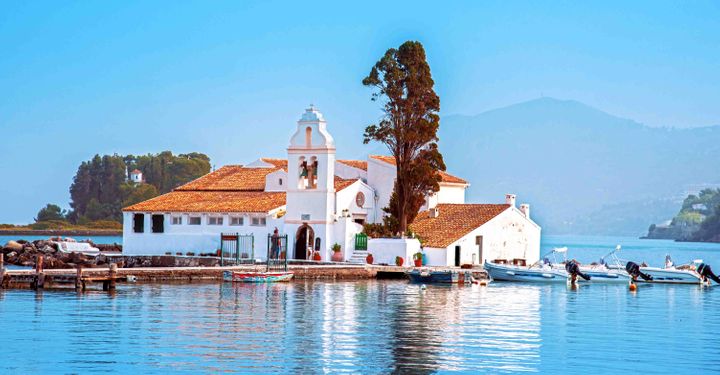 Vlacherna Monastery is one of those classic Corfu sights that you'll find on postcards sold across the island, and for good reason. Set on its own tiny island just off the coast of the Kanoni Peninsula, the centuries-old building is a magical sight, with crisp whitewashed walls, a striking terracotta roof and a pretty bell tower. Throw in the turquoise water lapping the shore and a tall tree towering over the roof, and you've got one of the most iconic views in Corfu.


5. Sample the local produce at an olive grove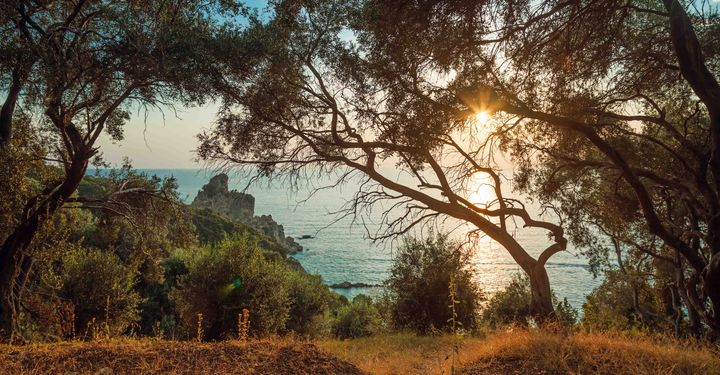 Greek food is famously flavourful and fresh, and that's in no small part down to the lashings of olive oil used in many traditional Greek dishes. During your Corfu holiday, get to grips with the good stuff on a fun and informative olive oil tasting and tour.
There are lots of good tours available across the island, and most will include a visit to an olive grove, a tour of the grove's mill, a lesson in how the production works, before finishing up with a tasting. If you're looking for souvenirs to take home, you could even buy a few bottles to go.


6. Relax on one of Corfu's many beaches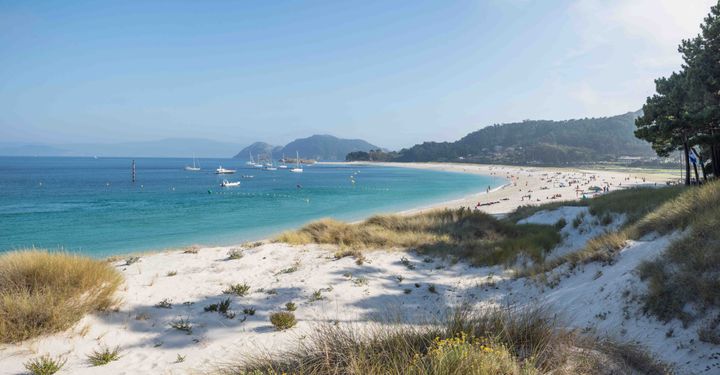 From the long sandy shores of Roda to the many sheltered bays at Paleokastritsa, and the pretty pebbles in Avlaki, Corfu's beaches are as diverse as they are numerous. All the major resorts have fantastic sunbathing spots, many of which are also Blue Flag so you can rest easy with kids in tow.
Depending on your beach preferences, you can opt for one with watersports, bars and restaurants aplenty, or choose a more secluded and scenic bay that's all about the views. Even better, try a different beach every day!


7. Make a splash at Aqualand Waterpark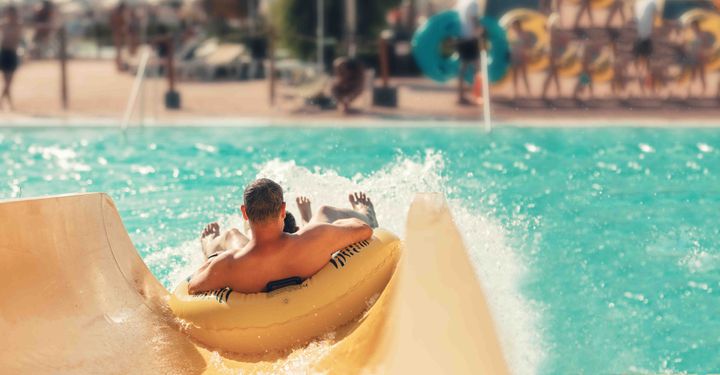 You'll find Corfu's Aqualand waterpark, one of the best and biggest waterparks in Europe, right in the centre of the island. Pack your sun cream and swimwear and hit the slides, pools, lazy river, jacuzzis and more, for a laughter-filled day of splashing around in the sun.
There are areas to suit visitors of all ages, so tiny tots will have just as much fun as daredevil teens. Plus, there are plenty of areas to just relax if that's more your style. One day not enough? Get a popular two-day pass for some extra aqua-action.


8. Take in the views at Angelokastro Castle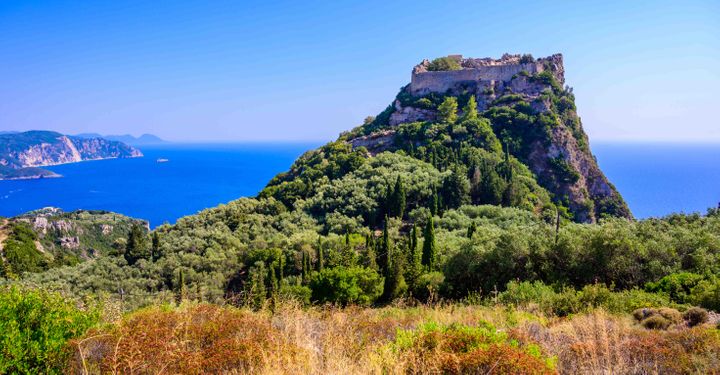 Perched perilously high on the summit of the tallest peak on Corfu's north shore, Angelokastro Castle is a feat to behold. This epic Byzantine masterpiece dates back to at least the 13th-century, though its exact origin is somewhat unknown, which only adds to the mystique of the place.
If you want to visit the castle, come prepared with comfy shoes and water, as there is only one way up – a steep set of steps, rising 305m (100ft) above sea level. The uninterrupted views from the top will make all the effort worthwhile.


9. Visit the Old and New Venetian Fortresses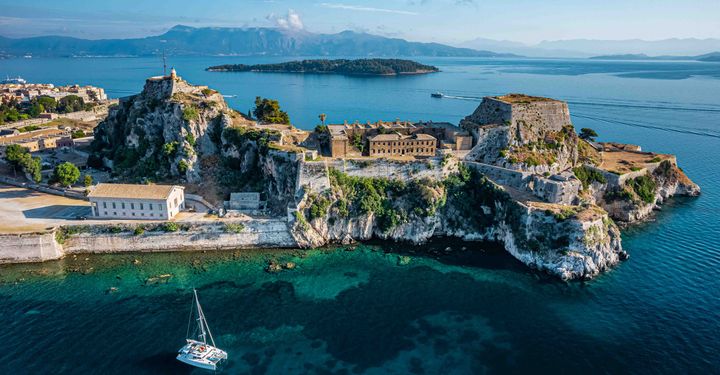 Corfu's Old Town is flanked on either side by two of the island's must-see sights – the Old Fortress and the New Fortress. To the east of the town, the Old Fortress sits on a rocky little islet off the coast, and was built during the Byzantine era. Meanwhile, on the west side of town, the not-so-new New Fortress is an imposing 16th-century Venetian epic.
Both of the fortresses make great viewpoints for the city, with each one acting as a little taster of Corfu's diverse history.


10. Swim in the Canal d'Amour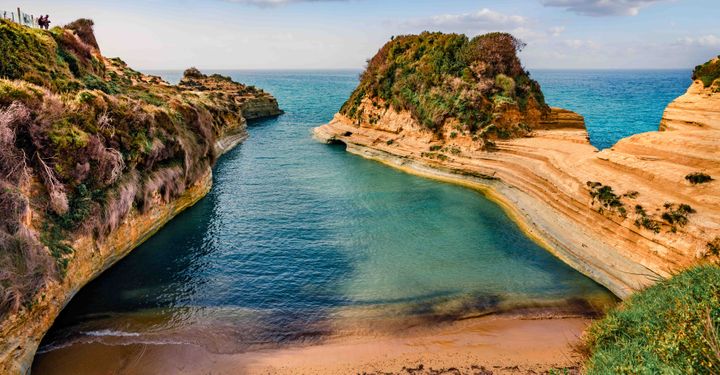 As the name suggests, the Canal d'Amour (Canal of Love) is one of the most romantic spots in Corfu. Found just outside of Sidari, on the north coast, this pretty sandstone canal is shrouded in legends of love. So, if you're travelling with your significant other, take a dip in the shaded waters and you'll be lucky in love forever more – or so the legend says.
While you're in Sidari, pay a visit to one of the lovely beaches in the area too, and then stay to watch the sunset. It's arguably even more romantic than the Canal d'Amour itself!


Have a comment or question about this article? You can contact us on Twitter or Facebook.