October 7, 2021
Clear, sparkling waters and reliably warm, sunny weather make Corfu an appealing choice for a summer holiday. Add a beautiful coastline punctuated with quiet coves surrounded by cypress trees and long sandy shores lined with tavernas and watersports facilities, and a Corfu holiday easily becomes a top choice for a beach break.
While some of the most beautiful spots are tough to get to without your own wheels (car hire could be a good option here), there are plenty of easy-to-access beaches close to Corfu's best resorts. To give you a bit of holiday inspiration, here's our pick of the best beaches in Corfu.


1. Paleokastritsa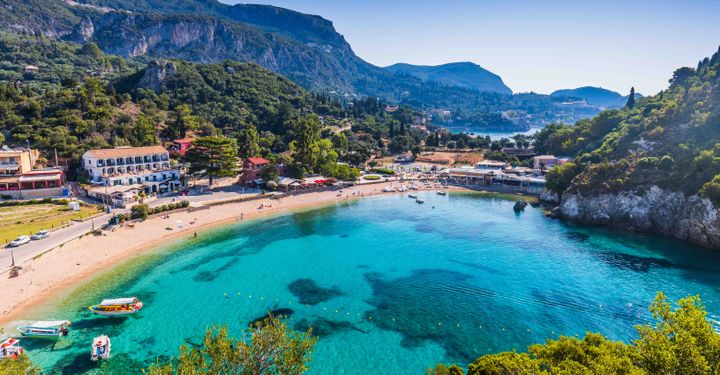 One of Corfu's more popular resorts, Paleokastritsa (on the northwest coast) is home to six beautiful bays. The geography here is hilly and lush, so each of the beaches is backed by sloping, olive tree-clad cliffs that contrast the brilliant turquoise water and stone-coloured shores.
The beaches on this part of the island are a mix of sand and pebbles, and there are plenty of facilities and activities on offer nearby – such as diving shops and beachside tavernas.


2. Agios Gordios Beach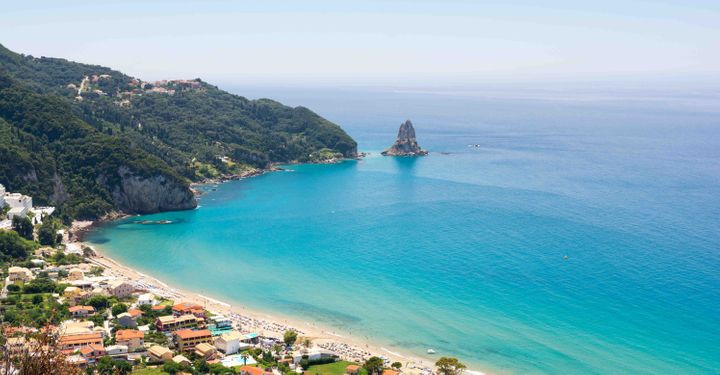 If you're looking to choose just one beach as your Corfu holiday base, Agios Gordios, on the west coast, is a brilliant option. The long, horseshoe-shaped bay is particularly scenic, with thick forested cliffs surrounding the beach, and the impressive Ortholithi rock formation keeping lookout from the water. With a sandy shore lined with restaurants, shops, bars and watersports facilities, everything you'll need for a day at the beach is just a short stroll away.


3. Rovinia Beach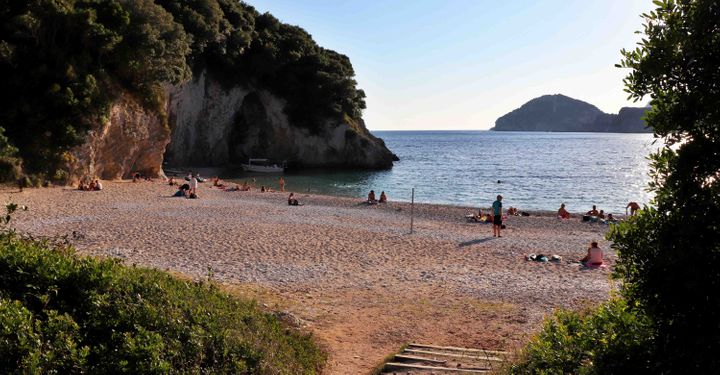 If you're feeling active, earn your lazy day of sunbathing by hiking to beautiful Rovinia Beach from the nearby village of Liapades. This is one of the more unspoiled and secluded beaches in Corfu, so don't expect any restaurants and facilities – aside from a floating bar, which often moors up just off-shore! Instead, spend your day relaxing, cooling off in the calm, clear water and admiring the dramatic white cliffs that tower over the pebbles.


4. Marathias Beach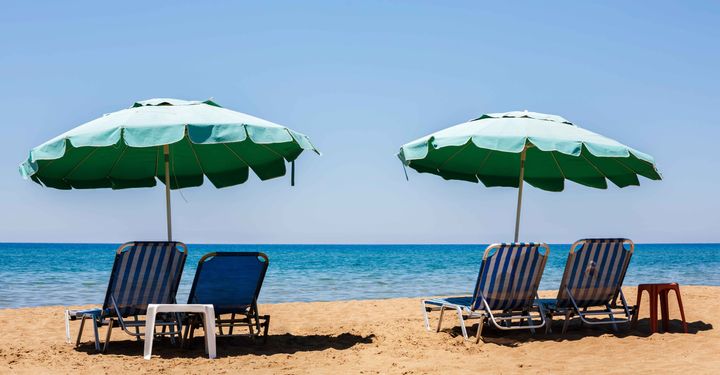 If it's soft golden sand and calm water you're after, you can't go wrong with Marathias Beach. This Blue Flag beach is long and wide, with plenty of sun-loungers and umbrellas, as well as open space for kids play in.
If you're looking for lunch spots and ice cream shops, you'll find plenty of options, but as you head further down the beach it becomes much quieter and less touristy. Stroll along to enjoy the far-reaching sea views in peace.


5. Kerasia Beach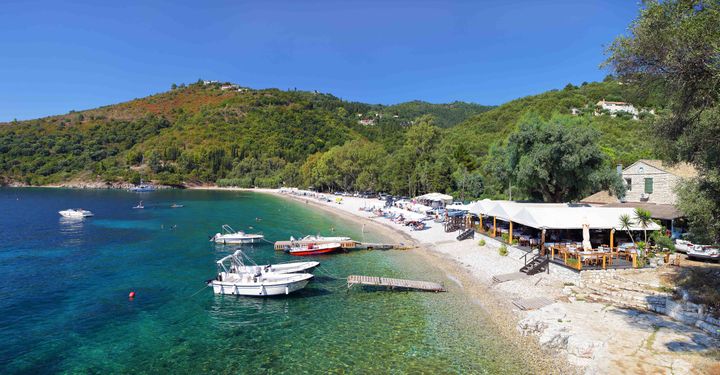 With fragrant pine and olive trees lining its white pebbly shore and little boats bobbing in the clear blue water, Kerasia Beach is easily one of the loveliest beaches in Corfu. Despite being relatively close to the popular resort of Kassiopi, this little beach keeps a low profile, sitting at the bottom of a steep side road, where you won't find many other tourists.
With just a smattering of sun-loungers and a traditional taverna for lunch, Kerasia is an idyllic spot to with a typically laidback Greek vibe.


6. Glyfada Beach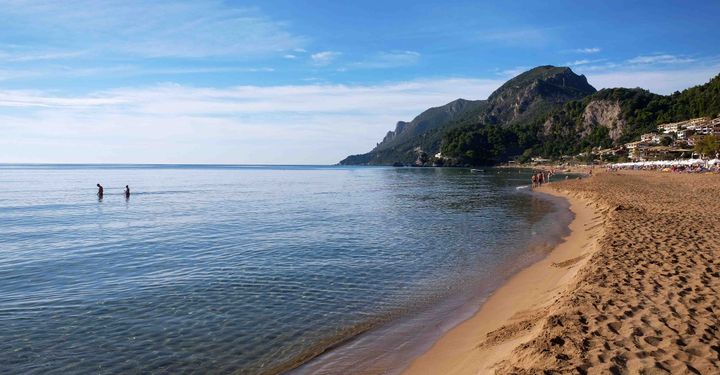 Just a 30-minute from Corfu Town, Glyfada Beach is one of the most popular beaches in Corfu. Thankfully it's also one of the largest, with a wide sandy shoreline that stretches out across the island's west coast.
With soft, golden sand and safe, shallow waters, it's a great spot for families. There are several bars, restaurants and hotels nearby too, making this a great all-rounder. Either side, you'll find the smaller beaches of Kontogialos and Mirtiotissa, too.


7. Issos Beach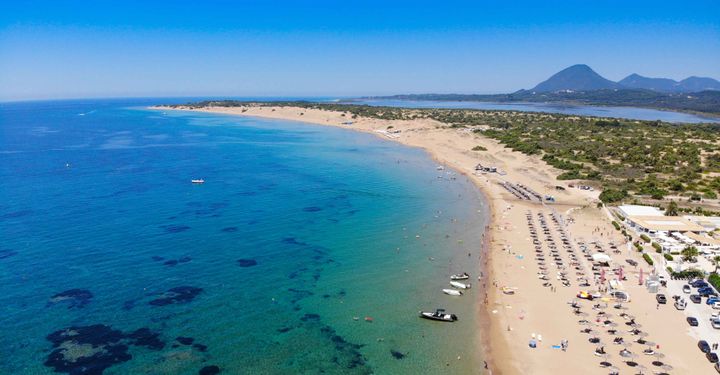 Rolling dunes and soft golden sand define Issos Beach, another of Corfu's prettiest beaches. The wide arch of sand curves around the southwest of the beautiful Korission Lagoon, so there is brilliant blue water on both sides of the sand dunes – cool cobalt colours in the lagoon and sparkling cyan in the sea.
While the beach may appear wonderfully wild and untamed in parts, there's a lifeguard station, sun-loungers and umbrellas for hire, and a watersports centre. If you want to try windsurfing or kitesurfing, this is the place to give it a go.


8. Loggas Beach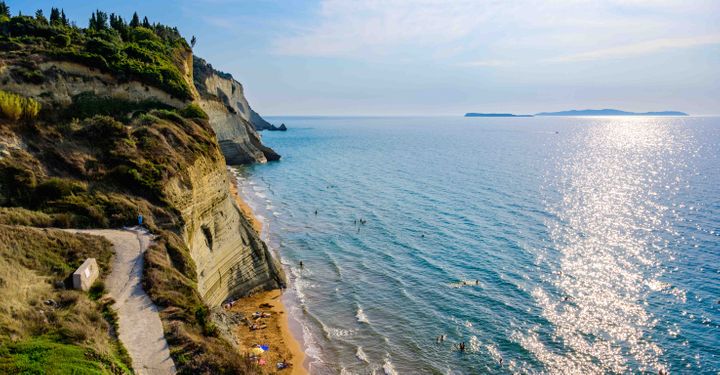 Steep stairs lead down to Loggas Beach, a narrow strip of sand sheltered by towering chalk cliffs on Corfu's northwest coast. The tree-topped cliffs are the main attraction here and they are best admired from the sea, so make sure you take a swim out into the turquoise Ionion Sea for a proper view.
There aren't any facilities or sun-loungers, so come prepared with a picnic and towels and stay until dusk – the beach enjoys some of the best sunset views on the island.


9. Kavos Beach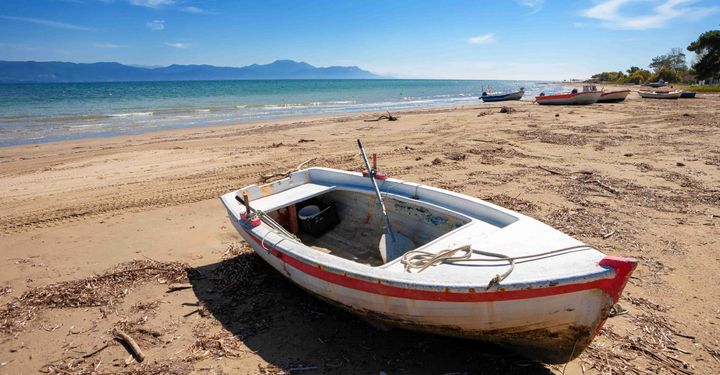 By day, Kavos Beach is full of families and tourists enjoying the shallow waters and long sandy beach. By night, it becomes the go-to party beach destination in Corfu, with many of the bars that line the shore staying open until the small hours.
Kavos Beach is ideal if you want easy access to the usual beachside facilities, from restaurants and bars to shops and sun-loungers – it's got the lot. If you're an adrenaline junkie and love your watersports, almost anything you can think of (from banana boats to jet-skis) is on offer here too.


10. Arillas Beach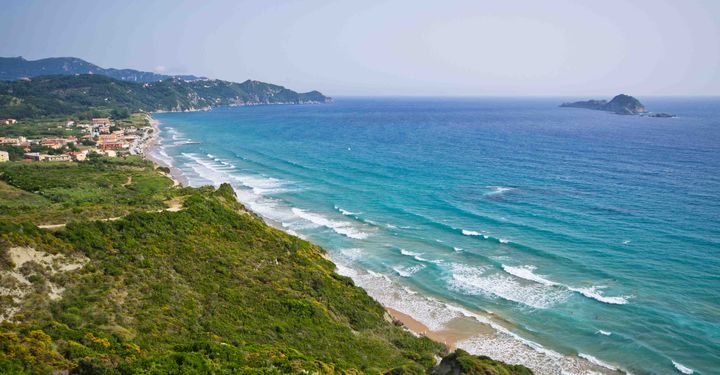 Nestled between two small peninsulas on Corfu's northwest coast, Arillas Beach is sheltered from the wind by lush, tree-lined cliffs which makes it a great family beach choice. The water is shallow and calm, and the golden sand stretches for around 2km (1.2 miles), so there is plenty of space to spread out, build sandcastles and splash around in the sea.
Compared to some of the other sandy beaches in Corfu, Arillas is quieter and a little more remote, but there are still lots of lovely tavernas and bars nearby too.


Have a comment or question about this article? You can contact us on Twitter or Facebook.