March 23, 2021
Whether you're looking for chic or charming, our guide to some of Kefalonia's best resort towns and villages will help you find your perfect match.


Best places to stay in Kefalonia for couples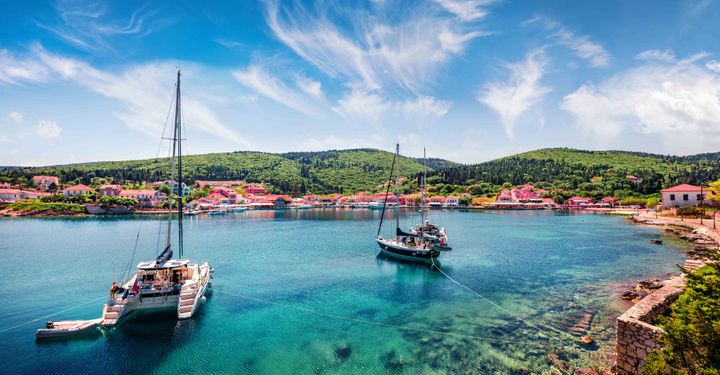 Fiskardo
Near the north tip of the island, Fiskardo is one of Kefalonia's most chic resorts. It escaped the worst of the 1953 earthquake, and the neo-classical houses along its crescent harbour (a favourite with yachties) have been prettily restored and painted in pastel colours.
The village also has the island's best restaurants and an array of places to stay, ranging from villas to boutique hotels offering luxury suites. This is a spot property for couples who enjoy being in the heart of a village resort with a cosmopolitan clientele and prefer café society and fine dining to noisy nightlife.
While there are no big sandy beaches nearby (which means no big family hotels), there is a tiny beach at one end of the harbour and lovely clear bays lined with white pebbles at Foki and Emplisi, within walking distance. Better still, you can rent motorboats to discover your own private coves.
Lourdas
Couples looking for a lively small resort that combines low-key charm with a big beach and lots of places to eat and drink need look no further than Lourdas.
Sometimes called Lourdata, this village on Kefalonia's south coast has all you could want for a laidback holiday. The scenery is romantic, with the forested slopes of Mount Ainos as a backdrop and cypress trees and olive groves all around. The south-facing Blue Flag beach is some 2km (1.3 miles) long, and for most of its length, it's lined with umbrellas, sun-loungers and tavernas.
If you get itchy feet, you can rent a car to visit Argostoli, 15km from Lourdas, drive to the summit of Mount Ainos, highest peak in the Ionian Islands, or explore the picturesque ruins of a Venetian fortress at Kastro. Nightlife at Lourdas is low-key, centring on an old-style village square lined with café-bars, some with live music.


Best places to stay in Kefalonia for families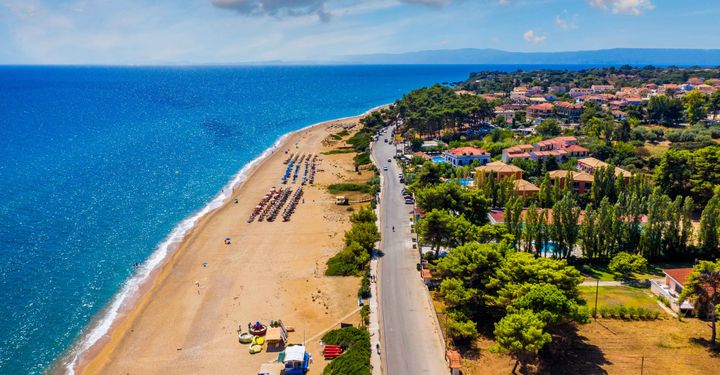 Skala
Three kilometres (two miles) of soft white sand and pebbles are the major attraction of Kefalonia's biggest purpose-built family resort. Skala sits close to the island's southern tip, so its long and lovely beach is sheltered, and its shallow waters are suitable for smaller family members. That said, families with more adventurous and active teens on board will find plenty of watersports to help keep them entertained, ranging from water-skiing and windsurfing to parascending. Most accommodation in Skala is in medium-sized, family-friendly hotels with pools.
The village has grown to accommodate the annual influx of summer visitors, with plenty of bars, cafés and mini-markets to cater to family needs, but it still retains its local character. It's surrounded by lemon orchards and olive groves, and for an adventurous day out families can join a four-wheel drive convoy or ride horses and donkeys on the wooded slopes of Mount Ainos, the island's highest peak.
Lassi
Just a couple of miles from the centre of Argostoli, Lassi has super sandy beaches and lots of great places to eat and drink. Because it's virtually a seaside suburb of Kefalonia's laidback island capital, you'll find all the everyday family needs catered for in local stores.
More excitingly, you'll find the full assortment of watersports here, including PADI scuba courses for teens, and the clear, shallow waters of the nearby rocky coves at Gradakia are a fabulous place for kids with masks and snorkels to discover an undersea world full of weird and wonderful sea creatures. For mums and dads, there are lots of laidback places to eat and drink. The airport is only 8km (5 miles) from the resort.


Best places to stay in Kefalonia for traditional Greece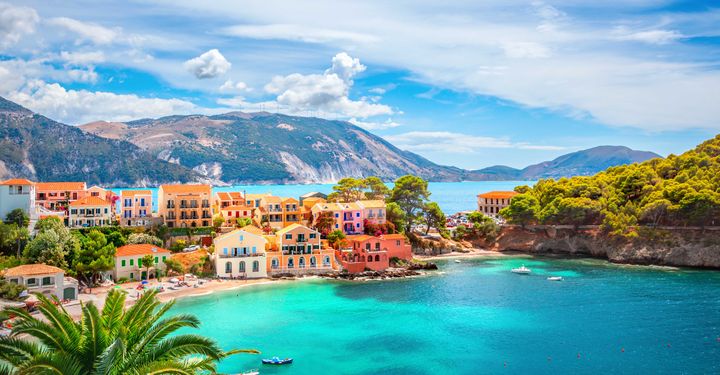 Assos
It's hard to believe that this peaceful little seaside village of gaily-painted houses built around a crescent harbour was once one of the most important settlements in Kefalonia. But the deep blue bay on which it stands is sheltered from the open sea by a steep, pine covered crag that creates a perfect natural anchorage, so it was prized be the island's Venetian rulers, who built a massive hilltop fortress to defend it.
It was less knocked about by the 1953 earthquake than many of Kefalonia's villages, and its traditional Ionian houses, painted in ice-cream pink, yellow, green and blue shades, have kept their traditional character or have been prettily restored.
Off the beaten track, it has only a pocket-sized beach, so has also evaded big-time tourism development and accommodation is in a handful of small boutique hotels and family-run guesthouses. Not far away is Myrtos, the island's most gorgeous beach, which is much easier to reach by boat from Assos than by road.
Argostoli
Kefalonia's capital is the place to stay if you're looking for a taste of traditional Greek island life, both old and new. Spic-and-span Venetian-style buildings line the town's car-free main shopping street, Lithostroto, and its central square Plateia Valianou, where you're likely to be entertained by the music of mandolin and guitar players while you dine.
The town owes its grid-pattern of streets to Venetian planners, but the British were here too, and you can still stroll across the 950m-long bridge that Victorian engineers constructed between Argostoli and Drapano, on the other side of the bay. There are hotels (some of them in restored historic buildings) in the town itself, while beach life starts at Lassi, only a couple of miles from the town centre.


Best places to stay in Kefalonia for activities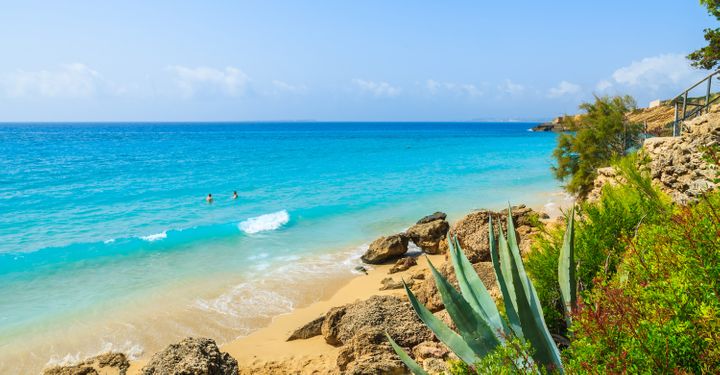 Lassi
Just outside Argostoli, Kefalonia's capital, Lassi is Kefalonia's top location for watersports and scuba enthusiasts. Pirate Divers Club can take you on dives over and around wrecks like the Christine Lome, walls, caves and canyons around Kefalonia's coasts, including night dives. The PADI-certified dive centre also offers scuba lessons for beginners in the hotel's pool.
When you're not diving, nearby coves around Gradakia are great for shallow-water snorkelling, with an assortment of smaller sea life including the occasional octopus. Lassi beach offers powered and unpowered watersports including windsurfing, water-skiing and parascending. For après-scuba relaxation, Lassi is a lively resort with plenty of bars and tavernas and Argostoli has its own authentically Greek café and nightlife scene.
Sami
Sami, on Kefalonia's east coast, is the island's main ferry port. It's also where they shot Captain Corelli's Mandolin, the 1994 movie that helped to put Kefalonia on the map. You'll still see images of stars Penelope Cruz and Nicholas Cage around town, but the film sets that were built to evoke Kefalonia in the 1940s were dismantled long ago. It's a lively and authentically Greek town, and the perfect base for activities including horseback trips among the vineyards and olive groves of Kefalonia's hinterland, or for the more adventurous, longer riding and camping journeys.
Nearby, you can plunge into the underworld at two amazing caverns. Drogarati, a vast space filled with weird rock formations, has perfect acoustics that make it a natural concert hall. The Melissani Cave, which can only be explored in small rowing boats, is a vast limestone grotto where a deep blue pool seems to glow with its own inner light.


Have a comment or question about this article? You can contact us on Twitter or Facebook.