August 16, 2023
When it comes to beaches, Turkey has it all. You'll find full-service Mediterranean resorts lined with ultra-luxury all-inclusive hotels and beach clubs, family-friendly Aegean bays, blue lagoons and fabulously undeveloped miles-long strands where endangered sea turtles nest. We've picked nine of the best.


1. Blue Lagoon, Olu Deniz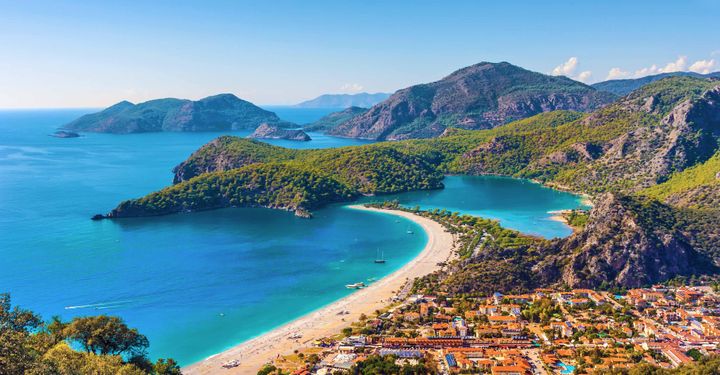 A teardrop-shaped sandy beach set on a turquoise lagoon beneath steep pine-clad slopes, Olu Deniz's Blue Lagoon must be the most Instagrammed spot in Turkey.
Behind pebbly Belcekiz beach, the small resort has plenty of bars, restaurants and places to stay and there's an even bigger choice in Hisaronu, high above the beach but easy to get to with frequent shuttle buses.
Look up, and you'll see a flock of rainbow-winged parasails spiralling down from the peaks above to land right on the waterfront. At beach level, activities range from snorkelling and kayaking to jet-skiing and windsurfing.


2. Lara Beach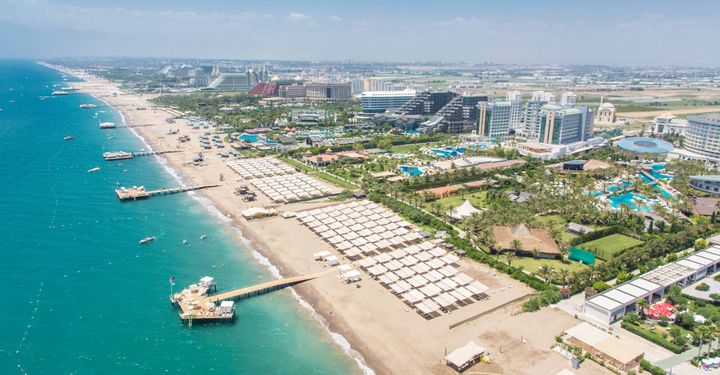 On the outskirts of Antalya, Lara Beach rivals anywhere in the Med. It's the biggest and liveliest beach resort in Turkey, with fine hotels, all-inclusive resorts, 8km (5 miles) of yellow sand, and watersports including kitesurfing, waterskiing and parascending.
Lara is just 12km (8 miles) from Antalya's international airport, so the short transfer time is a plus for families with younger kids. Kaleici, Antalya's picturesque old quarter, plus upscale shopping and a historic harbour surrounded by bars and restaurants are 20-30 minutes away by bus or tram.
There's some serious nightlife nearby too, and a super choice of day trips to natural and historic wonders.


3. Patara Beach, Kas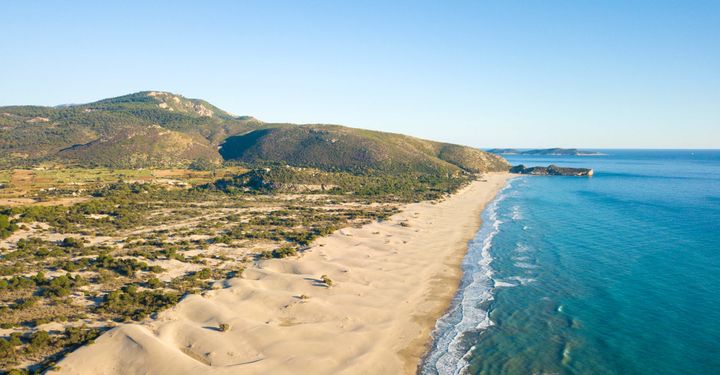 It's well worth the 20-minute drive from postcard-pretty Kalkan to discover the longest sandy beach in Turkey. The first thing that crosses your mind when you first set eyes on Patara is: where are all the hotels? Amazingly, there aren't any.
Patara, and the dunes and woods behind the beach, are part of a huge nature reserve, designated to protect the endangered loggerhead turtles that nest here. With 20km (12 miles) of soft yellow sand and water as clear as vodka, this is beachcomber heaven. There's one simple café-restaurant where you can rent loungers and umbrellas, and the arches and walls of an ancient Roman city lie half-buried among sand dunes.
There are a few basic guesthouses at Patara village, around a mile from the beach. You'll find a bigger and better choice in Kalkan.


4. Iztuzu Beach, Dalyan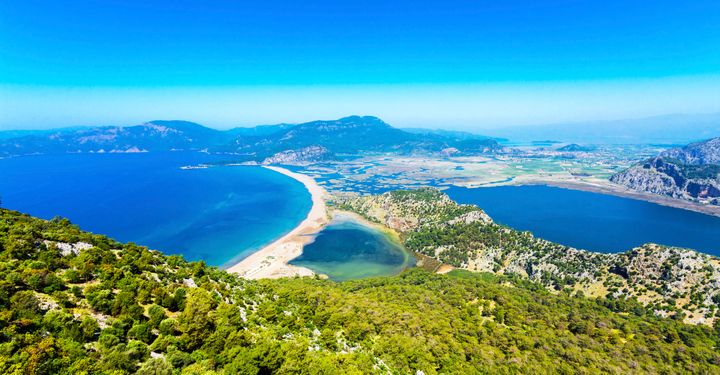 Like Patara, Iztuzu was saved from massive development in the nick of time by a huge international campaign to protect the endangered loggerhead turtles that lay their eggs here.
Getting to this long sandy beach is a fun 30-minute boat trip from laidback Dalyan (where you'll find a great choice of places to stay, eat and drink), down a river that winds through vast reed beds, beneath cliffs carved with the columns of ancient tombs – all very Indiana Jones.
On arrival, you'll find just one café-restaurant with plentiful loungers under straw umbrellas – and nothing else except for 4.5km (almost 3 miles) of sand and blue water. Swerve the 'turtle-spotting' boat rides that in fact harass and disturb visiting mama turtles.


5. Belek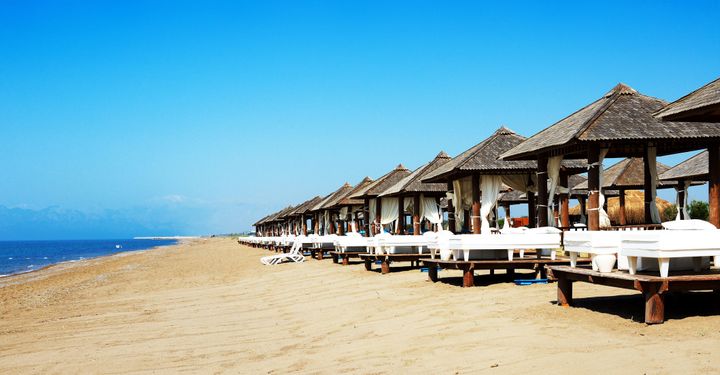 Want to bend it like Beckham, bring out your inner WAG or tee off for a round of world class golf? Belek is for you.
Unlike most Turkish resorts, it was planned from the start as an international-standard beach and sports destination, with a climate not unlike Portugal's Algarve. Top Turkish and international soccer clubs train here, and the resort boasts more than a dozen golf courses laid out by some of golf's leading architects. Tennis is big too, and hotels offer top-level coaching for kids and grown-ups.
But it's the beach that is the star of the show – miles and miles of sand stretch off east and west of the resort, all lined with loungers and every watersport you could wish for. For a change of pace and a spot of culture, the outstanding Roman theatre at Aspendos is nearby, and there's shopping and dining in Side, a 45-minute drive away.


6. Side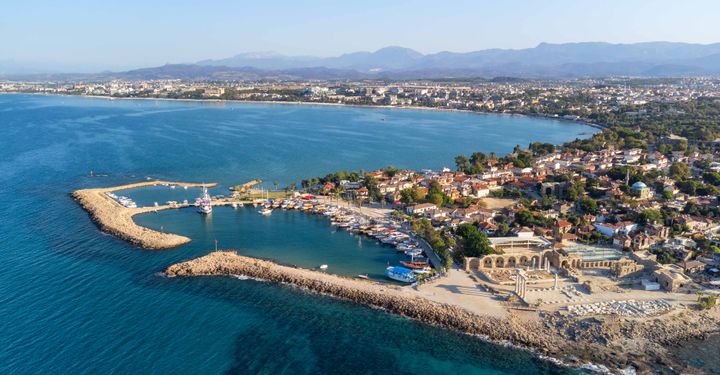 If you're looking for long stretches of yellow sand, clear blue water, the full range of watersports and good-value hotels with pools, look no further. Side (say 'Shee-day') is a budget-friendly family charmer – not just for mums, dads and tots, but for teens and older family members too.
Beaches are supervised by lifeguards, so safe for younger children, and are wheelchair accessible. They're on both eastern and western shores of the peninsula that Side sits on, so you'll find sheltered waters whichever way the breeze is blowing.
Meanwhile, the old town is a pleasing maze of mainly traffic-free streets filled with restaurants and shops and dotted with fascinating Roman-era ruins.


7. Çıralı Beach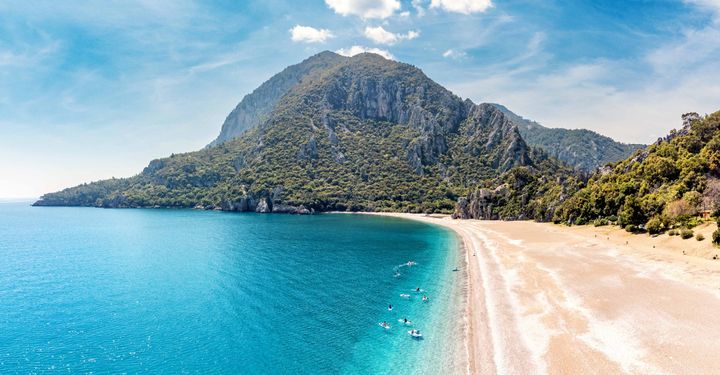 Çıralı Beach, a 3km (2 miles) sand and pebble stretch, is the top attraction beneath the forest-covered hillsides south of Antalya – and considering Turkey's biggest resort hub is just an hour's drive away, this gorgeous strand is deliciously unspoiled.
There aren't any huge hotels here as it's part of a protected forest area and archaeological site, but there are plenty of smaller stays that will please couples and families with younger kids. Cafes and restaurants line the beach, all serving great Turkish dishes alongside pasta and pizza.
At the south end of the beach lie the ruins of the ancient Greek settlement of Olympus, half-hidden among reedy freshwater lagoons. Çirali's unique natural wonder is the Yanartaş ('Burning Rock'), known to the ancient world as the Chimaera, where ever-burning flames fed by natural gas flicker mysteriously on the rugged hillside. They're near invisible in daylight, so go after sunset to be properly astounded.


8. Damlataş and Kleopatra Beach, Alanya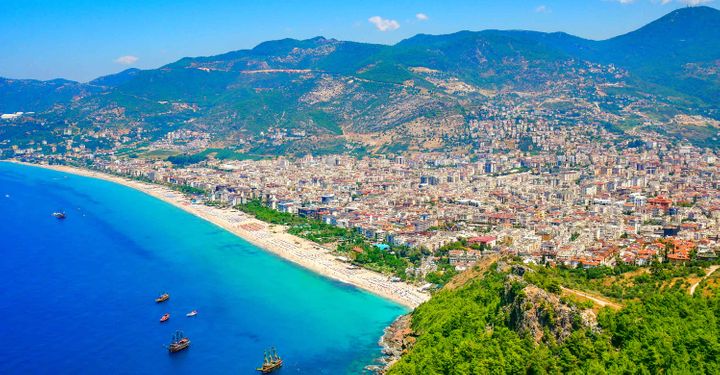 Some 2.5km (1.5 miles) of sand, pebbles and clear water sweep westward from the promontory that Alanya's medieval castle stands on. Damlataş, the stretch closest to the town centre, merges seamlessly with even sandier Kleopatra Beach, where you'll find rides, slides and pools for all ages at the vast Alanya Aquapark.
Alanya is a city of more than 110,000, so you'll find plenty of urban appeal away from the beach, too. Shopping, dining and nightlife with a distinctively Turkish flavour (yes, belly dancers and whirling dervishes) can all be on the agenda, as can sights like the hilltop Kalesi castle and the hexagonal Kililkule (Red Tower), a 13th-century fortress that guards the harbour.
For fun days out, party 'pirate boats' sail from Alanya's harbour in summer.


9. İçmeler Beach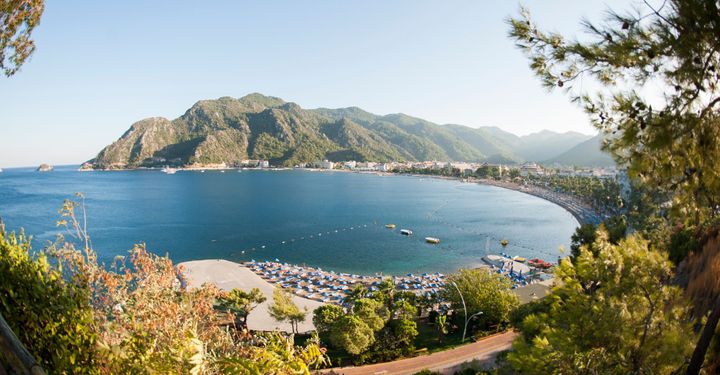 A hop and a skip from the bright lights of Marmaris, İçmeler is the top pick of the beaches of the Bozburun peninsula, with a long curve of white sand on a turquoise and ultramarine bay surrounded by wooded hills and sheltered by uninhabited Keci Adasi (Goat Island).
A beach this fabulous could never escape development, and in high season İçmeler is far from uncrowded. On the plus side, there are loungers and umbrellas aplenty, multiple beach bars and all the usual watersports. For shopping and nightlife, you can hop on a water taxi to Marmaris.


Have a comment or question about this article? You can contact us on Twitter or Facebook.