August 18, 2023
With its idyllic beaches, dramatic coastline and endless leisure opportunities, it's no surprise the Algarve is one of the most popular holiday spots in Europe. And while it may be famous for golden sands, sprawling resorts and stunning golf courses, there's much more to Portugal's southern gem than fly-and-flop holidays.

Beyond its popular hotels and perfect fairways, there's an abundance of hidden coves, a smattering of history and a diverse gastronomic scene that makes eating out a joy.
Whether you're after a lively city break in Faro or a beach holiday in Albufeira, here's how to visit the Algarve without going over budget.


Where to stay on a budget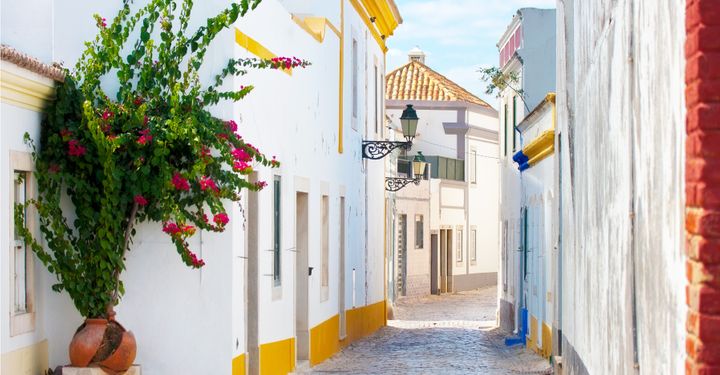 Four-star Falesia Hotel is right in the heart of lively Albufeira and offers a quiet, adults-only retreat at really reasonable prices. You'll have no problem finding ways to fill your days – there's two tennis courts, two pools and a spa, as well as free shuttle buses to Falesia Beach.
For families, the modern apartments at The Patio Suite Hotel, just outside Albufeira, are highly rated and well priced, and there's the option to go all-inclusive if you want to splurge. Daily free shuttle services will drop you off at the beach or Vilamoura town.
Outside the popular resorts, the eastern Algarve has plenty of choice for a budget break. For a cheery Portuguese stay, choose the Hotel Sol Algarve in Faro. The rooms are functional, but have everything you need, including air conditioning and free wi-fi. While the hotel doesn't have a pool, it makes up for this with its bargain prices and convenient location.
To the west, end-of-the-world Sagres is a quiet pick with great surfing beaches on your doorstep. Stay at the Sagres Time Apartments, where your pad will have a well-equipped kitchen and balcony, and the helpful staff can arrange surf lessons, in addition to activities such as windsurfing, horseback riding and dolphin-spotting tours.


What to eat on a budget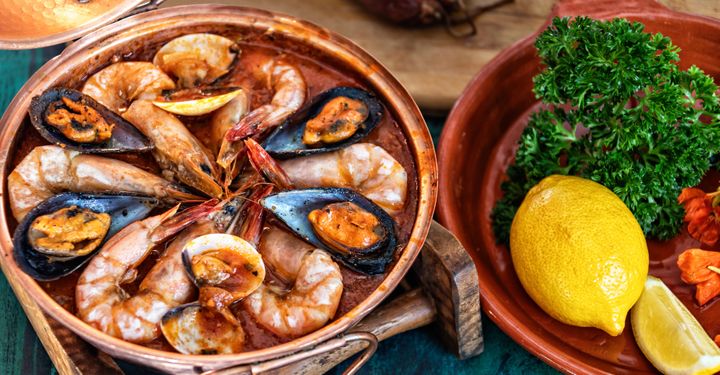 Fresh fish is a way of life in the Algarve. Some of the region's most popular resorts started out as humble fishing villages and many still are today. Though shellfish and seafood dishes are usually among the priciest meals on the menu, that doesn't mean you have to break the bank to enjoy it.
The Algarve's signature dish cataplana – which is actually the name of the eighth-century, dome-shaped pan it's cooked in – is a must try for any seafood lover visiting Portugal this year. A rich fish and shellfish stew, the cataplana is prepared for around 40 minutes as the ingredients simmer and infuse. The portions are often hearty and very filling, and will easily feed two. Have a big lunch and forgo the starters to save on your bill.
For a truly authentic Portuguese experience, try seafood specialists Cantinho. You'll find it nestled away in Faro's charming Cidade Velha (Old Town) just behind the Arco do Repouso. Although prices can fluctuate, a cataplana for two and a couple of small cervejas (beers) shouldn't set you back more than €50 (£42).
It's no secret that the Algarve's major towns have long since sold out in favour of mass tourism – that's half the appeal. As a result of this though, it can be pricey to eat out close to the major resorts' centres, beaches and old towns. To keep it cheap, explore further away from the main tourist hubs and keep your eyes peeled for small, family-run restaurants and set menus.


What to do on a budget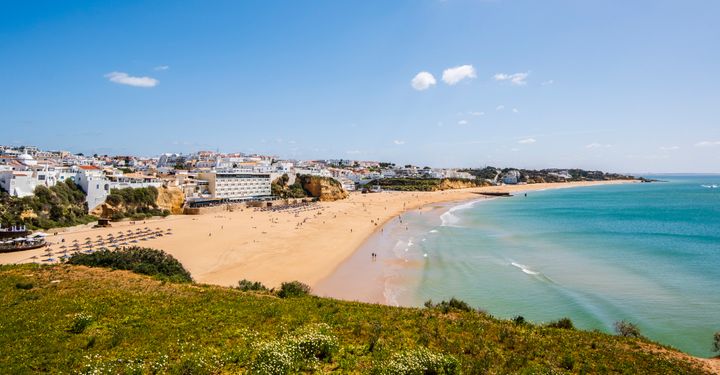 Beaches are the Algarve's bread and butter. From small, secluded bays to long, lively expanses of sand, the coastline meets every beach lounging need. And the best bit about a day on the beach? It can be absolutely free!
Regarded as the best beach in Faro, Praia de Faro Beach is a short bus journey away from the city centre. If you are staying in a more central part of the Algarve, such as Albufeira, try Praia da Galé for its azure waters and golden sandy beaches, or Praia dos Pescadores (Fisherman's Beach), right in front of Albufeira's old town.
Aside from the sand, one of the Algarve's most impressive features is its architecture. Over the centuries, Moorish, gothic, baroque and Renaissance styles have come together marvellously to create some truly fantastic buildings. Find them in Faro's old town, which has a beautiful old cathedral and neo-gothic gate arches, or in Albufeira's winding, mosaicked old town streets.
Olhão, meanwhile, offers a glimpse of Portugal's Moorish past, with many of the houses built according to traditional Islamic designs – expect fantastic terraces, intricate tile patterns and ornate fixtures and mouldings.
If you have a car, head out to Europe's southwesternmost point at Cabo de São Vicente in time for sunset. Parking is free at Sagres Lighthouse and the views are spectacular.


How to get around on a budget
Buses and trains regularly connect the major resorts and are cheap to use. You can buy a three-day tourist pass with Vamus to get unlimited access to the network for €35 (or seven days for €46), which includes the airport bus. Vamus also offers a discounted prepaid card for up to 50% off all your trips. It's best to buy tickets at the station, online or via the app beforehand, but if you are planning to buy on the bus make sure you have change at the ready.
It's possible to drive across the Algarve (east to west) in under two hours, so car hire might be the best option if you're looking to explore off the beaten track. If you do, trade the coast for lush forests and mountains and head inland to Monchique. A world away from the hustle and bustle of the major resorts, this little town in the hills is known for its potent Medronho liqueur – just make sure you decide on the designated driver before you go!
In terms of getting from the airport, Faro is the main gateway to the Algarve and from here you can arrange a shuttle service to most of the region's key resorts. While these shuttles are far from pricey, you can also opt for the DIY bus approach, according to your preference.


Insider tips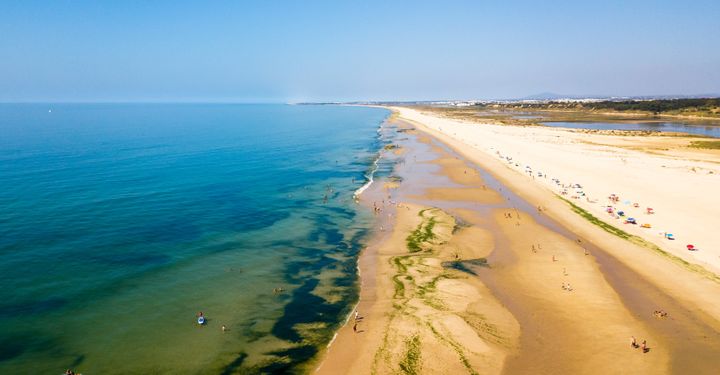 Towards the end of September and early October things tend to quieten down a bit across the Algarve, but the temperature still hovers around the low 20s with highs up to 25C. If you don't fancy battling for a space on the beach, this might be the ideal time for you to visit. It's also possible to pick up cheaper deals on hotels and flights at this time of year.
For a cheap day out to a lovely, quiet beach head to the Ilha Deserta: a privately owned island that buffers the Ria Formosa Natural Park from the power of the Atlantic. All you'll find here in terms of civilization is the Estaminé eco-restaurant and a few fishermen's huts. The real draw though is not the restaurant – which can be quite pricey, so perhaps stick to a picnic – it's the isolated beach. Lapped by rolling waves, this gem at Portugal's southern tip is the ideal place to escape and get away from life's worries. Two sun-loungers and an umbrella will set you back €25 for the day here, so if your budget is tight, take a beach towel.
The Animaris tour company runs a number of ferry shuttles to the island every day, which you can take for €10 return. Nature lovers may want to pay an extra €25 to learn about the flora and fauna of the park, but if you're just after a day on the beach, stick to the cheaper fare. Arrange boat tours from Faro or book online.