Why Porto Santo should be your next beach holiday
July 14, 2021
You may not have heard of Porto Santo. Not many people have, although most know of Madeira, its larger neighbour. But those who have discovered Portugal's 'Golden Island' – so-called for its treeless hills and wheat and barley fields that shimmer as they ripen under year-round sun – often come back again and again.
Sun worshippers, golfers and watersports enthusiasts all find plenty to please on Madeira's petite but charming neighbour. Here's why you should join them.


You're almost guaranteed a spot on the beach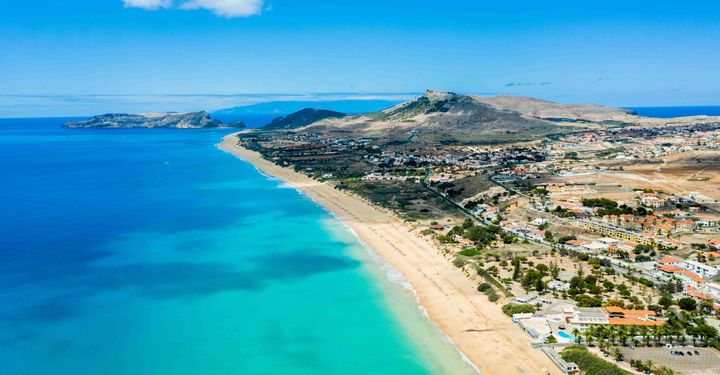 If your idea of paradise is a soaking up the warmth on a sun-lounger with a vista of golden sand and blue ocean, you've come to the right place. Porto Santo shares its big sister's mellow climate (if anything, it's a smidge hotter and sunnier), and its beach is as fabulous as any strand in the better-known Algarve – and a good deal less crowded.
The 9km-long (5.6-mile) beach extends almost all the way along the south coast, catering to all types of sun-seeker. Speed freaks will find jet-ski rental and waterskiing outfits, and windsurfing, kite-surfing, stand-up paddleboarding (SUP) are also on offer for active sorts. For the sort of tan that shows no bikini lines, you'll find naturist-friendly stretches a little further from Vila Baleira.
Below the surface, scuba aficionados will find more than 20 dive sites around Porto Santo, some no more than 20 minutes from the shore. The Madeirense, scuttled in 2000, has become a wonderful wreck dive with spectacular visibility, haunted by giant grouper and moray eels and patrolled by shoals of trevally, barracuda, tuna and snapper. At a depth of just under 34m (111ft), it's within reach of open water divers.


The island – and beyond – can be explored in one visit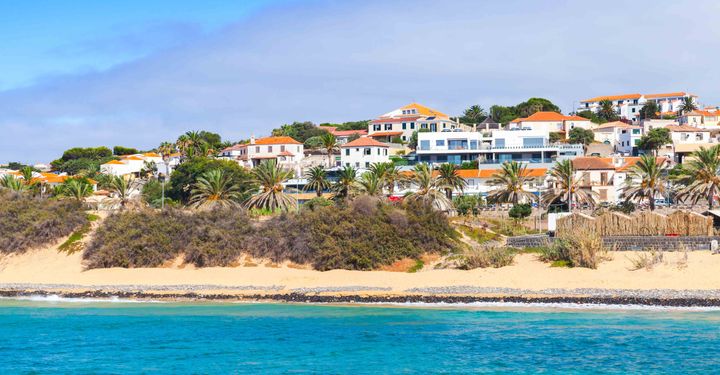 Porto Santo is less than 11km (7 miles) from end to end and no more than 6km (3.7 miles) wide, so it's not surprising that no-one set foot on this speck on the map until 1418, when two Portuguese navigators, blown off course by a storm, found safe haven in a sheltered bay where Vila Baleira now stands.
Most of Porto Santo's 5,000 people live in this dinky island capital. Built around a cobbled square, it's a sleepy place of red-roofed houses, mostly traffic-free streets, and cafés in the shade. There's not all that much to do here, so consider hiring a car or bike for a little island exploration – it's no more than a 30-minute drive from one end to the other, so you can really see a lot in one day. Gorgeous vistas can be found right across the island at viewpoints such as Miradouro da Portela no Porto Santo in the north and Miradouro das Flores on the southern tip.
Further afield and tantalisingly close to Porto Santo's shores – almost within swimming distance – lie half a dozen tiny, uninhabited islets. On a boat trip to Ilhéu da Cal and Ilhéu de Ferro, you've a good chance of spotting painted, bottlenose and common dolphins and just maybe sperm whales.


There's adventure around every corner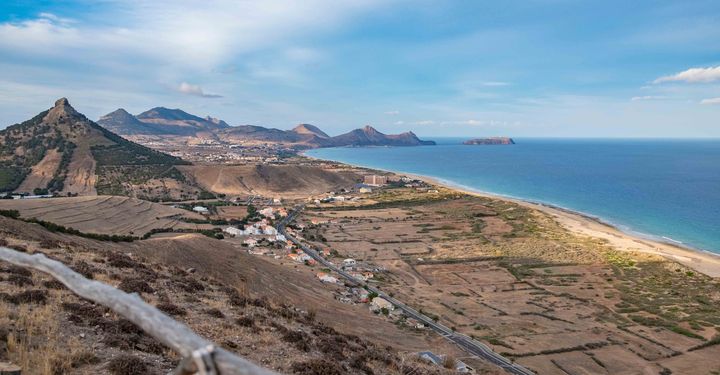 Unlike misty, forest-cloaked Madeira, there's hardly a tree in sight on the rocky slopes of Porto Santo's arid hinterland. Instead, sparse vegetation, nibbled down to roots by the island's once-rampant rabbits, and clumps of cactus and prickly pear make Porto Santo feel like something close to a desert island.
You can see it up close on a four-wheel-drive excursion. Drives take you through some of the most surreal geology you'll ever see, from erosion-cratered limestone ravines to the weird cliffs of Pico de Ana Ferreira that look like the fossilised organ pipes of some long-lost, titanic Atlantean civilisation. Keep your camera charged for snaps that will make pals back home think you've taken a trip to Mars.
Porto Santo isn't all bone dry though. There are splashes of greenery along the walking trail that leads to Pico Branco, the second highest peak on Porto Santo. When you reach the 420m summit, you'll be rewarded by fantastic, giddying views over the seemingly infinite blue Atlantic. On a clear day, you can see all the way to Madeira and the far-off Ilhas Desertas.


You can practice your putt in stunning surroundings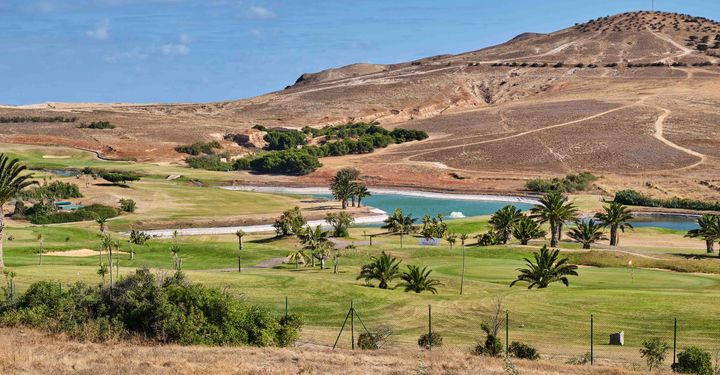 For more greenery, make for the golf course. Porto Santo Golfe, designed by Seve Ballesteros, looks vividly verdant compared with the barren slopes that surround it. Stretching halfway across the island, the emerald oasis is made even more paradisiacal by a chain of small lakes connected by a trickling stream to create a series of water hazards.
For a full day's play, golfers can take on the 18-hole circuit, which combines the South Course – a classic fairway with lakes and bunkers – and the North Course, set high along the clifftops with views of the Atlantic. Don't have a day to spare? The nine-hole 'Pitch and Putt' course is ideal for perfecting your swing.


You can sample food unique to the island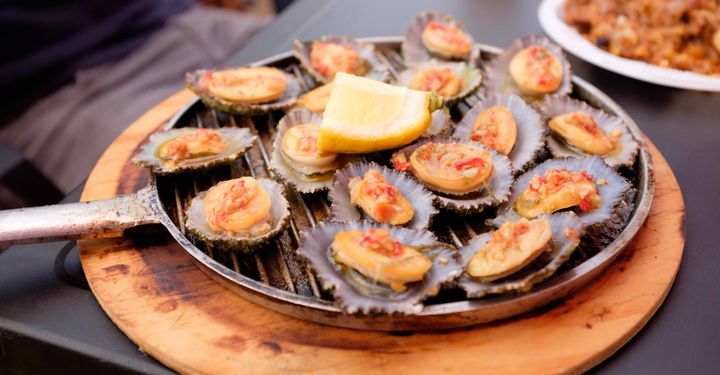 Seafood dominates the menu in Porto Santo's beach restaurants. Caldeirada, a rich seafood stew, and lapas (limpets) grilled in butter are local fishy favourites, and the catch of the day ranges from grilled espada (swordfish) to sea bream and mullet.
Meat offerings include kebab-like espetada: cubes of beef grilled on bay-wood skewers and often served with hot bolo do caco, a crusty round loaf baked on a hot stone that's unique to Porto Santo.
Also unique to Porto Santo is lambeca – ice cream in a home-made cone that comes in a wild assortment of flavours. It was created in the 1950s to use whatever fruit was plentiful, so you'll find combinations like peach and pineapple, orange and banana, and biscuit and coffee. You'll find Lambecas, the sorveteria (ice-cream stand) where this treat was invented on Rua Dr. Nuno Silvestre Teixeira in the centre of Vila Baleira – but prepared to queue for your cornet.
And to drink? The wine list is dominated by wines shipped in from nearby Madeira and mainland Portugal, but Porto Santo winery J. Santos makes dessert wines and quaffable medium-dry whites from Listrão and Caracol grapes grown on the island.


When is the best time to go to Porto Santo?
Serious sun-seekers and beach bums will like Porto Santo in summer (June to October) when daytime temperatures can reach 32C or even higher. Golfers will find good accommodation deals and perfect golfing weather in winter, when daytime temperatures on the greens hover around 15C – perfect for teeing off and getting a tan too.
As well as the summer influx of foreign visitors, Madeirans like to visit Porto Santo for a bit of beach time so accommodation prices peak in June to August. If you're child-free and can steer clear of school holidays, try September and October for better deals.


How do I get to Porto Santo?
For summer 2021, TUI offers holiday packages with direct flights from London Gatwick. Alternatively, you can fly from the UK to Funchal on Madeira and hop on a puddle-jumper flight that gets you to Porto Santo in 15 minutes. Porto Santo Line sails daily between Funchal and Vila Baleira. With luck, you may even spot dolphins from the deck of the ferry Lobo Marinho.


Have a comment or question about this article? You can contact us on Twitter or Facebook.