April 9, 2021


From vast stretches of golden sand swept by hypnotic Atlantic rollers to lagoon islets off Mediterranean shores, Portugal's long and lovely mainland coastline offers a seemingly endless plethora of beaches to dream about. Throw far-flung, sub-tropical island outposts into the mix, and beach-lovers can find sun-kissed sand between their toes all year round.


1. Praia Dona Ana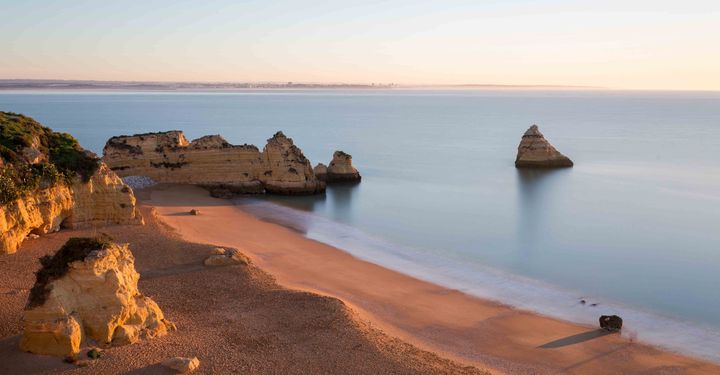 With its golden sand, clear water that shades from palest turquoise to deep ultramarine, and cliffs and offshore crags of sun-bleached limestone, Praia Dona Ana is an Algarve icon, so photogenic that it's a favourite setting for fashion shoots – and, of course, a favourite too with Instagram junkies.
It's around 30 minutes' walk west of Lagos, so in peak season you certainly won't be alone here – but it's still perhaps the Algarve's single most impressive beach.


2. Ilha de Tavira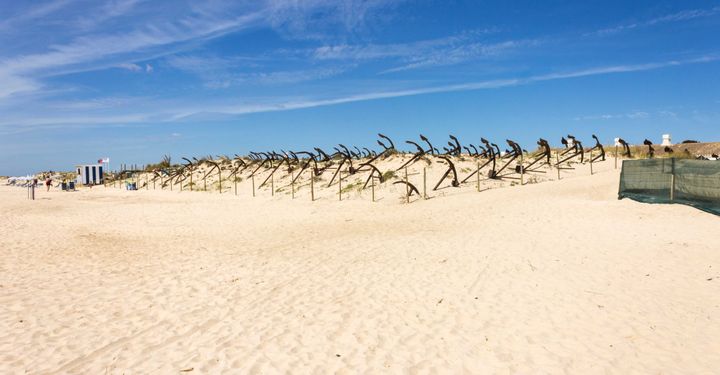 Powder-white and shell-strewn, the beaches on Ilha de Tavira – the long, thin sandbar at the mouth of Rio Gilao, which flows through the unspoilt town of Tavira – are some of Portugal's dreamiest.
There's a shuttle ferry between the island and Quatro Aguas, five minutes from the town centre, or you can walk across a long footbridge from Pedras d'El Rei village, just down the road from Tavira (look out for spoonbills and storks wading in the shallows at low tide).
Once there, walk a few hundred yards along a wooden boardwalk (there are no cars on Ilha de Tavira) across the island to discover a huddle of seafood shacks and a south-facing strand that stretches 11km (almost 9 miles) from east to west. If you're in search of an all-over tan, you'll find a designated naturist stretches at Praia do Homem Nú or Praia Naturista.


3. Praia de Odeceixe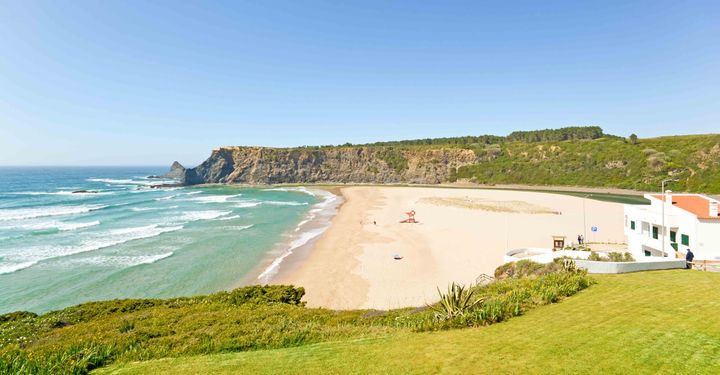 To get away from the crowded beaches around bustling Portimao, Lagos and Albufeira, head north to this sandy headland at the mouth of the Rio de Seixe, not far downriver from the quaint village of Odeceixe (there's a mini train that shuttles back and forth from the village square in summer if you don't feel like walking).
Compared with the Algarve's southern beaches, it's uncrowded even in peak summer season, and sunsets are spectacular.


4. Praia de Bordeira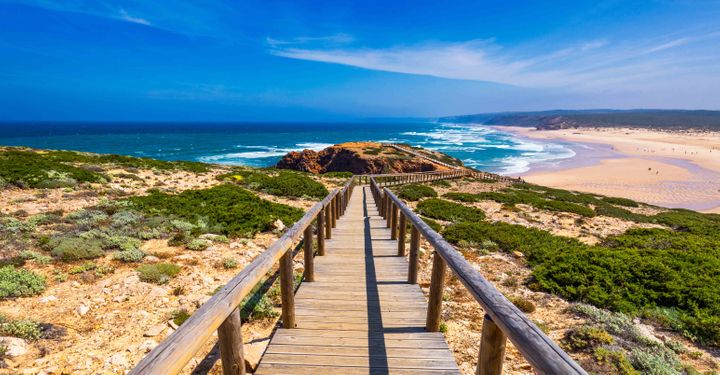 On the southern edge of the Algarve's Parque Natural do Costa Vicentina – an amazing stretch of Atlantic coastline that stretches more than 100km (62 miles) from the Algarve to Alentejo – is the pristine Praia de Bordeira.
Largely untouched by development (you'll need to bring a picnic for a day here), the 3km (1.8-mile) stretch, can be reached via a long boardwalk. At the fork, head right for the beach, or left for a viewpoint overlooking the Atlantic.
Surfers love Praia de Bordeira's deceptively gentle rollers, but it's a fabulous strand for beachcombers and shell-gatherers too.


5. Portinho da Arrábida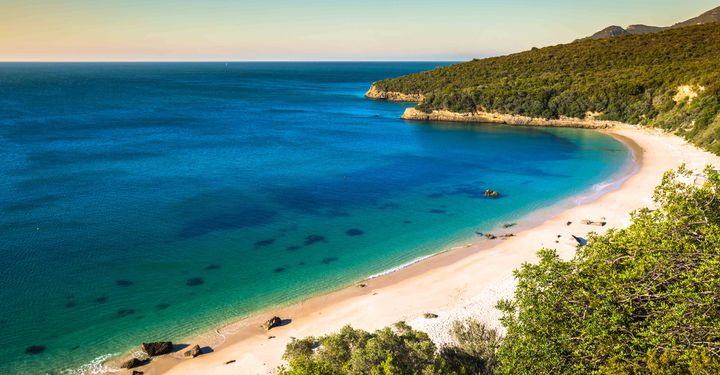 Cross the wide Rio Tejo (Tagus) and head south from the elegant streets of Lisbon to discover a little gem of a beach that is well loved by locals – but almost unknown to visitors to Portugal's capital city.
You'll need a rental car to get to Portinho da Arrábida (allow an hour for the 47km/29-mile journey) but once there you'll be rewarded by warm, clear waters lapping a sandy beach next to pretty former fishing harbour with a handful of seafood restaurants.


6. Praia do Moledo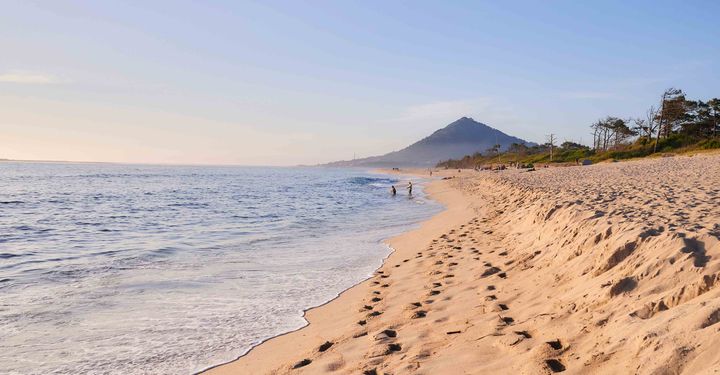 Portugal's best-known beaches lie on the country's southern shores. But if you're looking for sun-kissed, tranquil strands beneath lush green hillsides, head north of Porto to the gorgeous Minho coast.
The pick of the bunch here is Praia do Moledo, close to the mouth of the Rio Minho that forms Portugal's border with Spain. Set among the fragrant pines and eucalyptus trees of the Camarido National Forest, around 94km (58 miles) north of Porto, this is a world far apart from the crammed sands of the Algarve.


7. Porto Santo, Madeira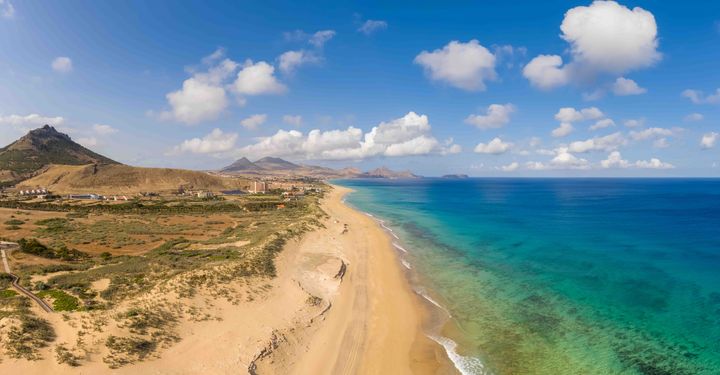 Temperatures rarely fall below the mid-20s in sub-tropical Madeira, so it's ideal for a dreamy beach holiday even when Britain is in the grip of winter.
Sadly, Madeira has few sandy beaches of its own (though it does have some lovely manmade lidos and natural sea pools). But just a short island-hop away (by air or sea), its tiny neighbour Porto Santo boasts a 9km (6-mile) stretch of fine, gently shelving golden sand that stretches most of the way along the island's south coast.
If you tire of dreaming in the sun, watersports on offer here include water-skiing, windsurfing and kitesurfing.


Have a comment or question about this article? You can contact us on Twitter or Facebook.