Hotels in Amsterdam's city-centre canal belt mean one thing: waking up to waterside views.
Steeped in the atmosphere of the Dutch Golden Age, you'll find characterful places to stay here, from cosy three-star B&Bs to grand five-star hotels. Family hotels are also in abundance at the water's edge.
Nothing beats an early morning wander around the canals before the city springs into life and the tourists descend.
Cheap options
Flying Pig Amsterdam Downtown
The epitome of true Amsterdam style, the Flying Pig Downtown hostel is the ideal base for seeing one of Europe's most intriguing cities on a budget. At its heart, it's a party hostel, so expect plenty of socialising in the bar! Breakfast, bed linen and wi-fi are included in the price.
Jupiter Hotel Amsterdam
This charming family-run hotel is located in a 19th-century townhouse on a quiet street in Amsterdam's leafy western suburb Oud-West. It's close to the sprawling Vondelpark, which regularly features theatre, and is ideal for those looking for an affordable three-star option in the city.
Or you could spice things here up by forgoing a cheap hotel in the city centre and renting a traditional houseboat instead.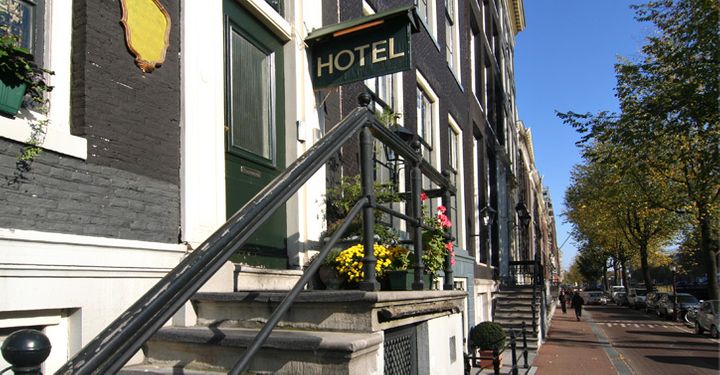 Staying with the family
Amsterdam ID Aparthotel
Spacious yet stylish, Amsterdam ID Aparthotel offers convenient accommodation for families visiting the city. Located in Westpoort, the hotel is served by good transport links to the centre. Rooms feature a well-equipped kitchenette, in-room dining area, a refrigerator and a coffee maker as well as free wi-fi.
If you're looking for a last-minute option
Hotel CC
Central Hotel CC is all about location, location, location. Situated bang in the centre of Amsterdam, you're close to the city's major sights, including Anne Frank House. Just a three-minute walk from Central station, it's a convenient option for a last-minute Amsterdam city break. Features include complimentary wi-fi, flat-screen TVs and tea and coffee making facilities.
If money is no object...
NH Collection Amsterdam Grand Hotel Krasnapolsky
A splendid five-star hotel located in Amsterdam's historic centre, the Grand Hotel Krasnapolsky is among the best luxury hotels in the city. The rooms are elegant and tasteful and feature offer complimentary wi-fi, flat-screen TVs and minibars. Its convenient location means you're just a few minutes' walk from major attractions such as Anne Frank House and the Rijksmuseum.