Balearics vs Canaries - which islands are better?
December 1, 2022
Spain's archipelagos have a lot in common. Lounger-lined beaches? Check! Tasty tapas? Yep! Holidays to suit all interests? Obviously! But does one group come up trumps? We put the Balearic and Canary islands head to head to find out. Let the battle begin!


The number of islands
The Mediterranean Balearics are made up of four islands: Majorca, Menorca, Ibiza and Formentera. Each has its own character and charm and, Majorca and Ibiza particularly, are among the most visited destinations in Europe.
The Canary Islands are in the Atlantic, west of Africa. Tenerife, Lanzarote, Gran Canaria and Fuerteventura are the best-known, but the archipelago is actually made up of seven main islands including La Palma, La Gomera and El Hierro. In addition, there are five smaller islands, including La Graciosa, which is rarely visited by tourists.


The beaches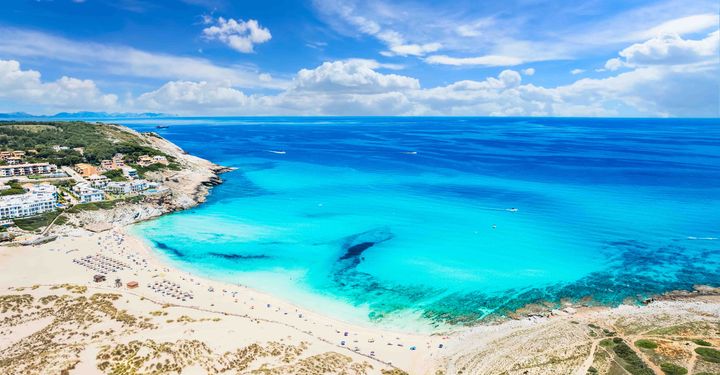 One thing is certain: both the Balearics and the Canaries are beach heaven, packed with everything from resort-backed sands all the way through to small crowd-free coves. Whether you're a family, a group or just a couple looking for some time out, there's somewhere for you.
So, how do you narrow it down? The Balearics have a mix of gold- and white-sand beaches dotted along its stunning coastline. Its island of Formentera even evokes the Caribbean, with soft sands sloping gently into the turquoise Med.
The Canaries also boast golden beaches, whether it's in the imported Sarahan sand at Tenerife's Playa de Las Vistas, or Gran Canaria's epic Maspalomas dunes. You'll also find tons of dramatic black-sand beaches in the Canaries – a result of the islands' volcanic origins.
Of course, it's not just their good looks that draw holidaymakers to their beaches. The Blue Flag award recognises their quality too. It's granted some 80 beaches the status for high water quality, excellent safety and access for visitors, and educational opportunities, such as signs informing visitors about local ecosystems.
As of 2022, the Balearics have 30 Blue Flag beaches in total, including well-known destinations such as Playa de Muro on Majorca, Cala Llenya near Santa Eulalia on Ibiza and Cala Galdana on Menorca.
The Canaries have 50 currently in play, including Playa del Inglés on Gran Canaria, Playa del Duque in Adeje on Tenerife, Morro Jable on Fuerteventura and Los Pocillos on Lanzarote.


The weather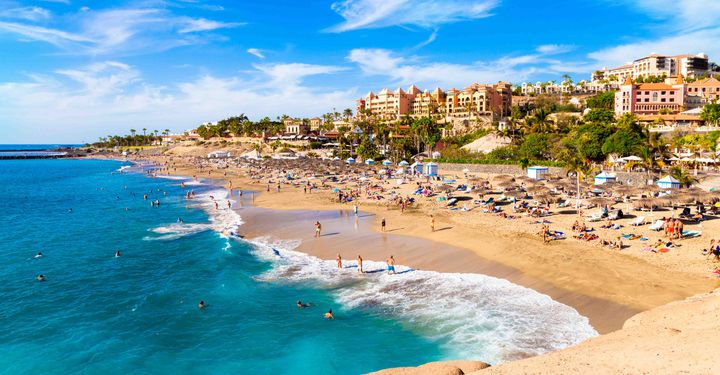 Whether you're basking on Balearic beaches or cooling off in the Canaries, a summer holiday in Spain is hard to beat. Both island groups enjoy balmy temperatures from May through to September, with highs reaching the late-20s and into the 30s.
But come winter, the Canary Islands are your best bet for sunshine. Average temperatures between December and February hover around 18C in Tenerife, while the mercury drops to around 10C in Majorca.
For a good compromise between weather and price, consider travelling in the should season months of March, April, October and November. You'll have cooler weather and a higher chance of rain, but it's an ideal time for hiking without the summer heat and sightseeing with fewer crowds.


The flight times and options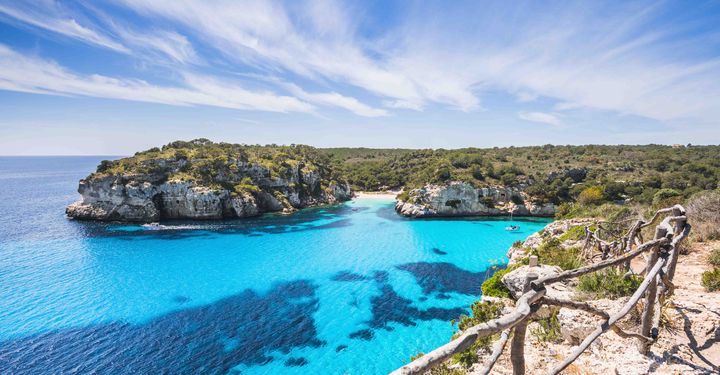 The average flying time from the UK to the Canaries is a little over four hours each way and there are direct services to five of the islands from the UK. Many operate year-round – after all, the Canaries are known just as much for their winter sun as they are as a summer holiday destination.
Getting to the Balearics is quicker, with flights taking around two-and-a-half hours from airports all over the UK. Flights here are heavily concentrated in the summer months, from around the end of March to the end of October. However, you can still find affordable direct flights to Majorca and Ibiza throughout winter and can connect to Menorca and Formentera by air or ferry on arrival. Keep in mind that many resorts close over winter, even if you still get some great days of sunshine.


The food and drink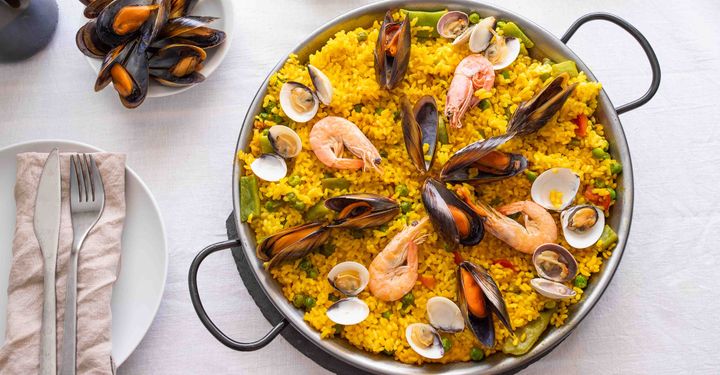 Stick to your resort in Spain and you'd be forgiven for thinking that simple tapas, pizza and burger make up most menus. Not so.
Majorca is home of the pa'amb oli, a tomato, oil and garlic-smothered bread that uses local Ramallet tomatoes. Or you could try a breakfast ensaïmada – a spiral bun topped with icing sugar that's wonderful dipped in a milky coffee or hot chocolate. For a tasty main meal, tuck into fideuà, the Balearic version of paella made with noodles rather than rice.
Drinks in Ibiza include frigola, made from wild thyme and served over ice, or the similar hierbas ibicencas made from a mix of herb and plant extracts. And then there is Menorcan gin, Xorigeur. Visit the factory in the capital, Mahon, and see how it is made.
The Canaries also have their own mouth-watering specialities. The mojo sauces used in many dishes are made with garlic and come in startling red, green and orange colours. Spiced up, it becomes mojo picon. It's most often used to accompany meat or fish, as well as vegetables such as skin-on papas arrugadas potatoes.
You can also tuck into ropa vieja, a hearty and tasty stew of chickpeas, beef, chicken and potatoes. Wash it all down with local dessert wines or ronmiel – potent honey rum.


The activities and days out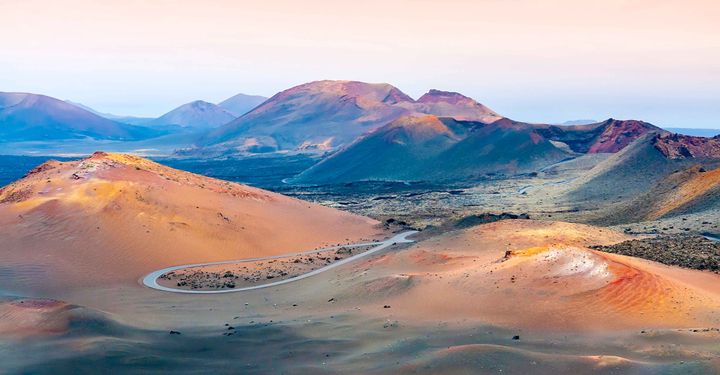 Both island groups have plenty of things to occupy you on days out, from boat trips and beaches to water parks and shopping centres. But away from the obvious, there's much more to discover.
On Tenerife, you can hike Spain's highest peak, Mount Teide, or visit Siam Park, one of the biggest water parks in the world. In Gran Canaria, you can learn to PADI dive or go hiking to the Roque Nublo for a stunning day of mountain scenery. It's also easy to spend a day exploring the amazing sand dunes at Corralejo on Fuerteventura or the moon-like landscapes of Lanzarote.
Back in the Balearics, on Majorca, take the old wooden train from Palma to Soller through mountain scenery and onwards to Puerto Soller, before heading to the village of Valldemossa for a tour of the monastery. Menorca's Ciutadella old town is worth a tour for its lovely winding streets, waterfront views and old churches. If you're visiting Ibiza, take the boat to Formentera and spend a day on the beach. The free sulphur mud baths on S'Espalmador Island, close to the main beach strip, are a good option too.


Result?
You decide. But before you book, why not consider the prices on offer? An all-inclusive deal to the Balearics in May 2023 starts from as little as £262pp in Majorca or £318pp in Tenerife. Check up-to-date prices now.
Please note: prices were correct and available at the time of writing (December 1, 2022) and are subject to change.


Have a comment or question about this article? You can contact us on Twitter or Facebook.