Balearics vs Canaries

TravelSupermarket's TV advert may have pitted Turkey against Spain in a game of beach volleyball, but there are plenty of other holiday destinations you could put in their place as a fun way of deciding where to go.
Spain alone has many fantastic destinations to explore, including its two groups of islands. So, which will win the battle of the Spanish islands – the Canaries vs the Balearics?
Both sets of islands are gorgeous sunny getaways that fall within the price range of many holidaymakers. And both have miles of beaches and scores of flights spoiling you for choice.
But don't waste any time deciding between them. Let them slug it out for themselves!
Round one: Number of islands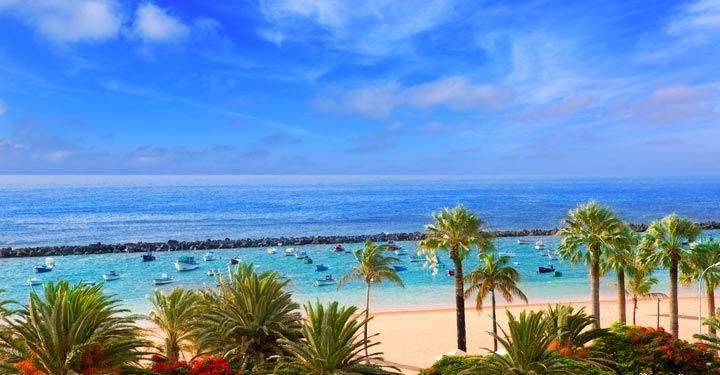 The Balearics sit in the Mediterranean and are made up of four islands: Majorca Menorca Ibiza and Formentera. Each has its own character and charm and, Majorca and Ibiza particularly, are among the most visited resorts in Europe.
The Canary Islands are set in the Atlantic, west of Africa. While many will know Tenerife Lanzarote Gran Canaria and Fuerteventura, the archipelago is made up of seven main islands including La Palma La Gomera and El Hierro. In addition, there are five smaller islands, including La Graciosa, which is rarely, if ever, visited by tourists.
Round two: Blue Flag beaches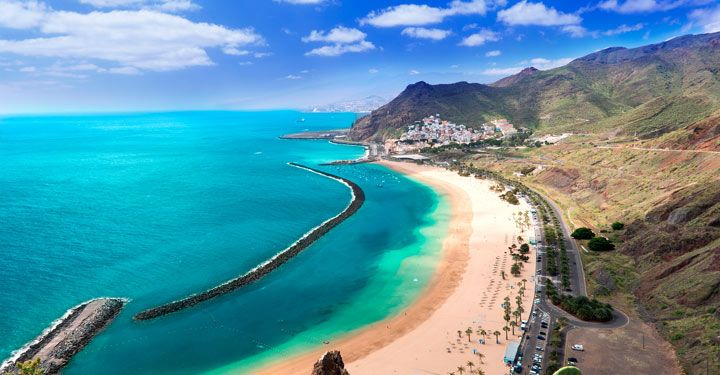 The Blue Flag beach award recognises high standards of water quality and other environmental standards and is a real cachet for any beach to hold. It gives holidaymakers the comfort of knowing that their chosen beach will give them a top-notch experience with facilities on hand.
While the Balearics are mainly golden, sandy beaches, many beaches in the Canaries have black volcanic sands, giving a really exotic feel to lazing on the beach.
One thing you can be sure of in each island group is that you'll find both full-on resort-backed beaches all the way through to small undiscovered coves where you can escape the crowds and have the beach pretty much to yourself. So whether you're a family, a group or just a couple looking for some time out, there's somewhere for you.
The Balearics have 60 Blue Flag beaches in total, including well-known destinations such as Alcudia on Majorca, Cala Lenya near Santa Eulalia on Ibiza and Cala Galdana on Menorca.
The Canaries have fewer Blue Flags, with 43 currently in play including Maspalomas in Gran Canaria, Troya in Adeje on Tenerife and Los Pocillos on Lanzarote.
Round three: Flight times and options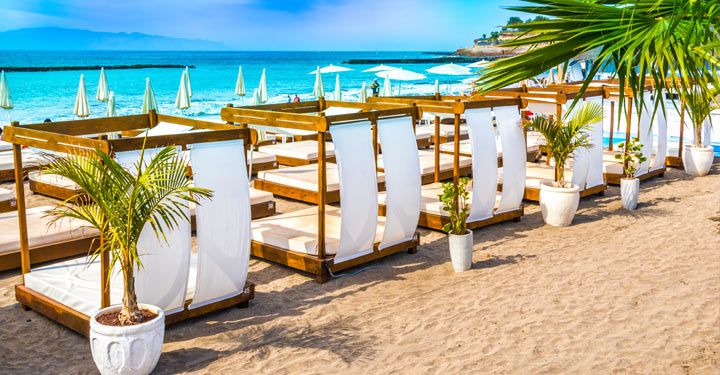 The average flying time from the UK to the Canaries is a little over four hours each way. Long enough for you to enjoy a relaxing drink or two, indulge in some food on board, get a decent way through an engrossing book or watch a film.
There are direct services to five of the islands from the UK, with many of them operating year round – after all, the Canaries are known just as much for their winter sun as they are as a summer holiday destination.
Getting to the Balearics is somewhat quicker, with flights taking from two to two-and-a-half hours from airports all over the UK. Flights to these islands are heavily concentrated in the summer months from around the end of March to the end of October, although you'll find direct flights to Majorca through the winter and could connect to the remaining islands by air or ferry on arrival.
However, in winter many resorts are in essence closed down, even if you still get some great days of winter sun.
Round four: Bring on the food and drink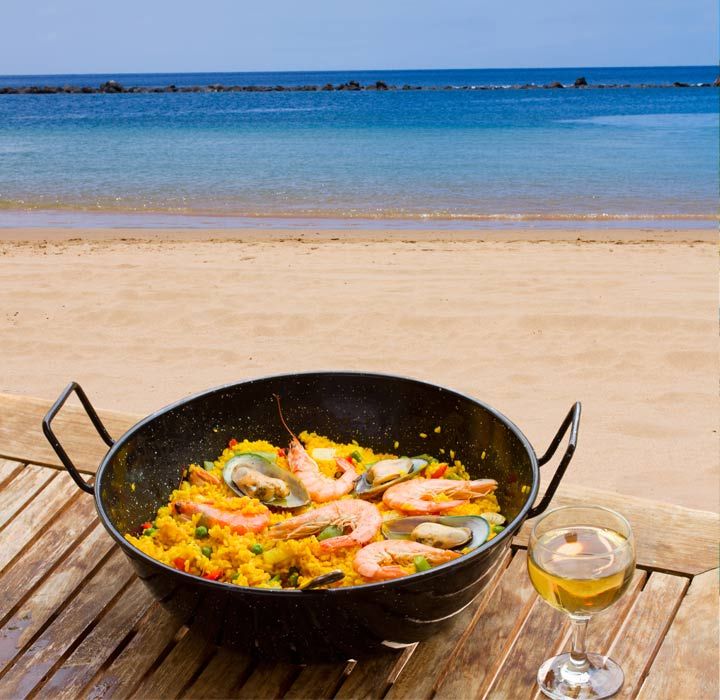 Staying on the islands, you'd be forgiven for thinking that everyone eats the same foods as in every other holiday resort in Europe – pizzas, burgers and chips.
Yet there is far more to the islands' cuisine than you might imagine. Majorca is home to the tomato, oil and garlic-smothered bread known as pa'amb oli – using the locally grown Ramallet tomatoes. It's a delicious snack or appetiser.
Or you could try a breakfast ensaïmada – a spiral-shaped bun, topped with icing sugar and wonderful for dipping in a milky coffee or hot chocolate at the beginning of the day.
For a tasty main meal tuck into fideuà, the Balearic version of paella made with noodles rather than rice.
Local drinks in Ibiza include frigola, made from thyme and drunk over ice, or the similar hierbas ibicencas made from a mix of herb and plant extracts. And then there is Menorcan gin, Xorigeur. Visit the factory in the capital, Mahon, and see how it is made.
The Canaries also have their own mouth-watering specialities. The local mojo sauces used in many dishes are made with garlic and come in startling bright colours such as red, green and orange. Spiced up, it becomes mojo picon.
You'll often find the sauce to accompany meat or fish, as well as vegetables. Papas arrugadas are small local potatoes boiled in salt water with their skins on and then served up with a generous dollop of mojo sauce. They are delicious and a local variety of patatas bravas often found on many Spanish tapas menus.
You can also tuck into ropa vieja, a hearty and tasty stew of chickpeas, beef, chicken and potatoes.
Wash it all down with local dessert wines or ronmiel – potent honey rum.
Round five: Days out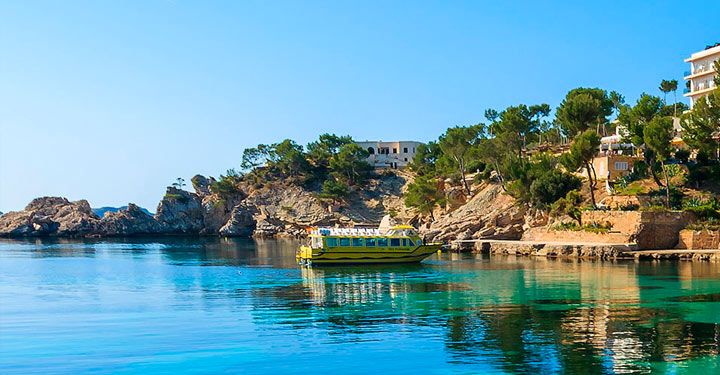 Both island groups have plenty of things to occupy you on days out, from water parks to boat trips, shopping centres to, of course, those beaches.
But there's much more on offer. For the Canaries, on Tenerife you can go up a volcano, Mount Teide, or visit Siam Park – one of the biggest water parks in the world. In Gran Canaria, you can learn to Padi dive or go hiking to the Roque Nublo for a stunning day of mountain scenery. Or you could spend a day exploring the amazing sand dunes at Corralejo on Fuerteventura or the moon-like landscapes of the interior of the island.
Back in the Balearics, on Majorca, take the tourist train from Palma to Soller through the mountain scenery and onwards to Puerto Soller by an old San Franciscan tram, before heading to the village of Valldemossa for the monastery tour.
Take the boat from Ibiza to Formentera and spend a day on the beach, coupled with having fun bathing in the free sulphur mud baths on S'Espalmador Island close to the main beach strip. Or head out in Menorca to Monte Toro for wonderful views across the island, or a tour of Ciutadella, the historic harbour town on the west of the island with its windy streets, waterfront and old churches.
Result?
You decide. But before you book, why not consider the prices on offer? An all-inclusive deal to the Balearics in July starts from as little as £259 in a three-star hotel on Majorca. The best price for a similar quality holiday in the Canaries starts from £296 in Fuerteventura. Check up-to-date prices now.
Please note: prices were correct and available at the time of writing (December 15, 2014) and are subject to change
Have a comment or question about this article? You can contact us on Twitter or Facebook.