February 6, 2023
They might all be part of the same archipelago, but the Canary Islands have their own distinctive qualities and attractions. Strung out off Africa's western coast, the seven main islands offer much more than just beaches and all-inclusive resorts.
Their personalities are wildly different – from Lanzarote's lunar-like landscapes to the lushness of La Palma – and between them you'll find an intoxicating mix of North African, Portuguese and Spanish legacies created over the centuries.
So which Canary Island is the best one for your holiday? It all depends on what you fancy: beaches, watersports, nightlife – they're all there. And, if you plan carefully, you can even do a bit of island-hopping while you're at it.


Fuerteventura
Best for: Beaches and watersports
Sparsely populated Fuerteventura has more beaches than any of its neighbours – at least 150 are spread around this desert-like island. Head to the north-eastern end to Parque Natural de las Dunas, where you really get a sense that Saharan Africa isn't that far away. Most of the 10 square miles (27 square km) of the park is seemingly endless sand dunes, including the vast beaches that make up Corralejo Grandes Playas. Even in the height of the season, you won't feel remotely crowded.
It's also surfing central in Fuerteventura, particularly in this north-eastern part. Here you'll find excellent beaches including Flag Beach, El Cotillo and Playa del Moro. And while you're at this end of the island, you can paddle or get a speedboat across to the uninhabited Isla de los Lobos and relax on its peaceful sands.
At Fuerteventura's south-western tip is the barren, windswept Parque Natural Jandía. Your goal here is the huge, beautiful expanse of white sand that makes up Cofete – it's worth the effort to reach this out-of-the-way place.
Where to stay in Fuerteventura
Corralejo offers the widest choice of hotels, most of which are low-rise buildings circling a central swimming pool. Barceló Corralejo Sands is an adults-only resort just 80m from the beach and is packed with wonderful ways of passing the time, including several pools and a fabulous spa. Further south, on the aptly named Costa Calma, take in sweeping views of the coastline from Hotel R2 Rio Calma. It sits on the clifftop by the Mirador Atlantico between two long sandy beaches, Matas Blancas and Costa Calma. Rather than going for the minimalist modern look, it's rich and colourful, with palm-fringed swimming pools.


Tenerife
Best for: Variety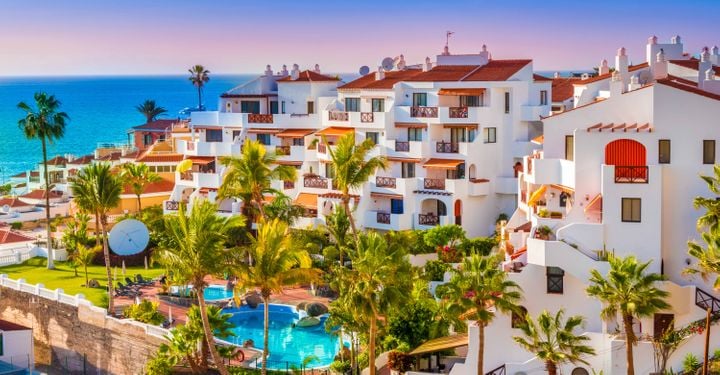 Tenerife – the biggest and most popular of the Canary Islands – is like two islands in one. The towering Pico del Teide (the highest mountain in Spain) effectively splits the island into two very different climate zones.
Go north for tropical forests, vineyards and one of the loveliest beaches on the island, Playa de las Teresitas. Go south and it's a dry, rocky landscape that includes the island's hottest beach, Playa de las Americas. It's here that you'll find a long promenade that stretches for several miles and is lined with countless bars, restaurants and shops. In the middle of Tenerife is the dramatic volcanic peak of Mount Teide, which you can explore by a cable car that takes you within 200m (656ft) of the summit.
If you visit in February, don't miss one of the world's biggest carnivals. Santa Cruz, Tenerife's capital, becomes a huge party zone throughout the month as everyone has a major pre-Lenten blowout before Ash Wednesday.

Where to stay in Tenerife
Costa Adeje on the west coast is where you'll find many of Tenerife's very chic, smart and luxurious hotels. Head to the top of the town where you get views of the coast from the stylish Meliá Jardines del Teide. All along this stretch of coast you'll get some of the most spectacular sunsets, including from the balconies and outdoor swimming pool at the aptly named H10 Atlantic Sunset. If you're staying in the capital of Tenerife, Santa Cruz, enjoy the views of the port from the rooftop pool of Occidental Santa Cruz Contemporáneo.


Lanzarote
Best for: Otherworldly landscapes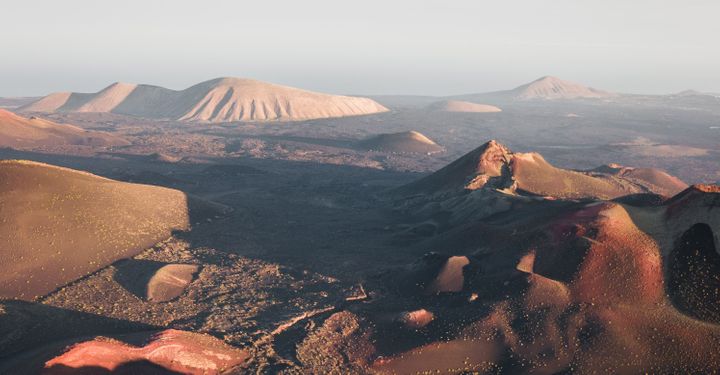 In contrast to some of the other islands, Lanzarote is dramatically volcanic, with more than 300 volcanic peaks and solidified lava covering the island. It's a strange sight at first, but its starkness has a beauty of its own. Take a tour of the moon-like Timanfaya National Park* and watch food being grilled purely from the power of the volcano. Even the vineyards here are bizarre things – half-moons of low stone walls set on black lava.
Playa Blanca is one of Lanzarote's most popular resorts, but manages to keep a nicely laidback atmosphere. Hop on a boat for a trip to Playas de Papagayo, a string of beautiful sandy beaches tucked into coves. If you have a hire car, you can also drive here.
Thanks to the late architect and artist César Manrique, you won't find the high-rise developments that blight so many other resorts. Instead, you'll see his low-rise white villages, the Jameos del Agua lava cave complex, quirky artworks and his visionary house in Tahiche that's now a museum.

Where to stay in Lanzarote
With so much to see and do around Playa Blanca, it's tempting to stay in one of Lanzarote's best hotels, the five-star Princesa Yaiza Suite Hotel Resort and make the most of its complex of pools, spas and beach access. If you want to channel your inner artist, stay in Hotel Palacio Ico, a beautifully designed, 17th-century palace in the inland village of Teguise, halfway between the coastal towns of Costa Teguise and Caleta de Famara. Near the northern coastal village of Arrieta is the bohemian Finca de Arrieta, a laidback eco retreat.


Gran Canaria
Best for: Nightlife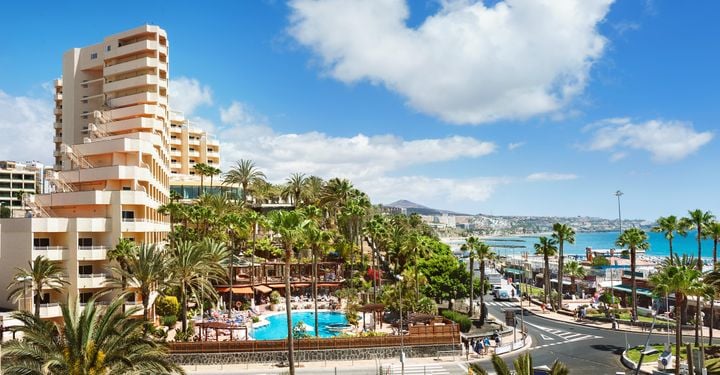 Like Tenerife, Gran Canaria has a mountain range that splits the island in two, giving it a more humid northern half and a dry southern half. It's in the south where you'll find the captivating sight of the Maspalomas sand dunes. They really are quite extraordinary, as if the Sahara Desert took a wrong turn and ended up in Gran Canaria.
Along with the beaches that line the southern coast, including the magnet that's Playa del Inglés, you'll find some of the liveliest nightlife in the Canary Islands – clubs, bars, luxury hotels and casinos keep things buzzing till the early hours.
For a change in scenery, head north to the island's capital and largest city in the archipelago, Las Palmas. Wander round the historic streets of the old town past Spanish colonial houses before finishing at the bars of Playa de las Canteras.

Where to stay in Gran Canaria
If you're drawn to Playa del Inglés, you'll want to check out one of its most sophisticated places to stay, the adults-only Bohemia Suites & Spa. Make you way to its rooftop cocktail bar and take in some fantastic views of the sea and the coast. Further north in Las Palmas, splash out at the Hotel Santa Catalina, a Royal Hideaway. Set in a historic 19th-century building with a rooftop bar, it's one of the most elegant hotels in the Canary Islands and has been the favourite of celebrity visitors for more than a century.


La Palma
Best for: Nature lovers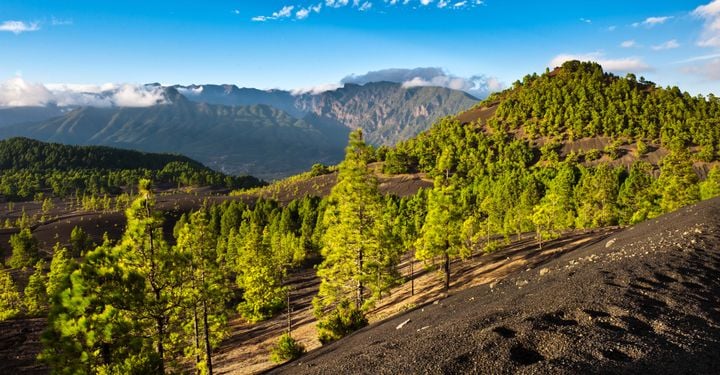 They call La Palma "La Isla Bonita" – beautiful island – and they're not exaggerating. Like the other Canary Islands, La Palma is volcanic and has vivid volcanic and terracotta-coloured sands along with the tropical forests of Los Tilos.
You'll also find attractive fishing villages and vineyards that produce La Palma's renowned wine. If you're into hiking, follow the Ruta de los Volcanes. This 19km (12-mile) route takes you along the ridges and craters of the island's most breathtaking volcanoes.

Where to stay in La Palma
Stay at the low-key resort of Los Cancajos, where Hacienda San Jorge and its large swimming pool are set in luxuriant gardens just a few minutes' walk from the village's beach. Rooms come with kitchens if you want to do some self-catering, and it also includes a small supermarket. If you want to be on the seafront, opt for H10 Taburiente Playa, which has two swimming pools and a huge terrace facing the sea. Over on the west coast at Fuencaliente, La Palma & Teneguía Princess offers sublime sunset views from its large complex of outdoor pools.


El Hierro
Best for: Tranquillity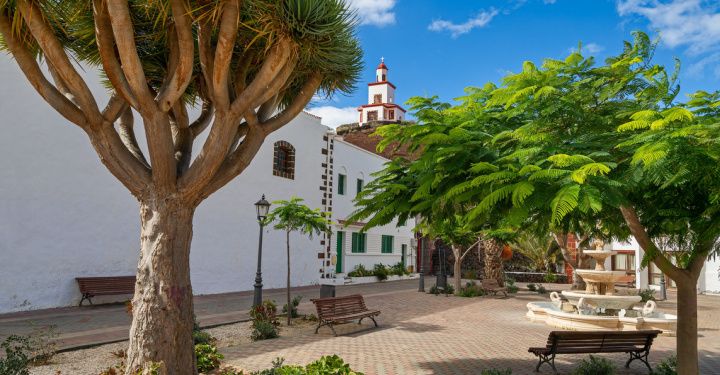 The smallest of the main Canary Islands, El Hierro is also the least touristy. If you want a chilled-out holiday in a small fishing village, with wild empty beaches that harbour some superb diving, then this is the place.
Check out the rocky pools of Charco Manso or enjoy the peace of the dark volcanic sands of Tamaduste and Las Playas beaches near the island capital, Valverde. Slip into the relaxed pace of this rugged island, which also happens to produce some of the best wines in the Canary Islands.

Where to stay in El Hierro
You really do get a sense of getting away from it all when you stay at Parador de El Hierro, set between the mountains and the volcanic sands of Las Playas on the east coast. Further west at Punta de los Palos, you can take the mineral-rich waters from an 18th-century spring at the Hotel Balneario Pozo de la Salud set on volcanic cliffs above crashing surf. Near the village of Las Puntas, on its own rocky spur, is the adorably tiny (and pricey) Hotel Puntagrande, which has the island's most-lauded restaurant and is close to the gorgeous Cascadas del Mar public swimming pool.


La Gomera
Best for: Hiking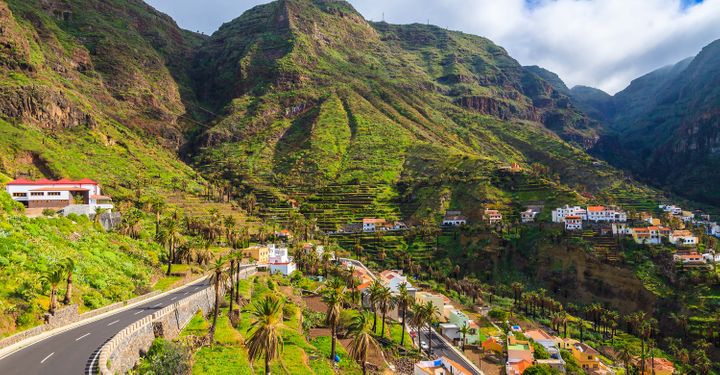 La Gomera deserves its reputation for excellent walking and hiking. Instead of long beaches with golden sands, you'll find pebbly coves and beaches with black lava sands.
They'll be your reward after spending the day hiking in the ancient woodland trails of Garajonay National Park. You'll walk through laurel forests that fill much of the park and its deep ravines. Some of the summits you reach will give you fabulous views of Tenerife.
Where to stay in La Gomera
You get wonderful views of the sea and Tenerife from the traditionally Canarian Parador de La Gomera, which sits on a cliff overlooking the marina and Playa de la Cueva in La Gomera's main village, San Sebastián. There's a choice of places on the southern coast between Playa Santiago and Punta de Marichal, including the clifftop Hotel Jardín Tecina. Here you'll find five swimming pools as well as an 18-hole championship golf course. Right on the seafront on the west coast's Valle Gran Rey is the Hotel Gran Rey, which has superb sea views and a rooftop pool.


* If a link has an * by it, that means it is an affiliated link. If you use these links, we may earn a small commission when you make a purchase through links on our site at no additional cost to you. For more details on how we make money at TravelSupermarket, visit our About Us page.


Have a comment or question about this article? You can contact us on Twitter or Facebook.